ActiveCampaign is one of the most popular marketing automation software. But the best part is that ActiveCampaign has a ton of different features to offer for all kinds and sizes of business organizations worldwide.
You can find all these features right in your dashboard itself. Here are the major features from ActiveCampaign:
Email Marketing and Email Newsletters
This is one of the core and primary features of ActiveCampaign. For creating and sending professional-looking and productive email newsletters, the software is packed with some of the most beautiful and informative newsletter templates.
Not only do you get the most business-centric and engaging templates but you also get some of the most ready-to-use email templates that don't need much tweaking.
When it comes to ActiveCampaign as an email marketing solution, it offers all the features and options that you will need to make it big.
The email autoresponder makes it simple for the users to send an automated welcome email and a welcome series that will help the new subscriber so that you can engage them and make them regular readers of our email newsletters.
Ready Email Templates
ActiveCampaign comes with over 250 ready-to-use email newsletter templates that you can use to make your email newsletter look professional.
You can select the most suitable template based on category and edit them to fit into your need perfectly.
Personalized Email Campaigns
Another advantage of ActiveCampaign is that you can segment your subscribers and group them so that you can send custom newsletters to different groups with your subscribers.
You can also personalize your newsletter based on the contact information that you have.
Automated Marketing Campaigns
The core reason for the popularity of ActiveCampaign is its automation solution for all kinds of marketing needs. The integrated and easy-to-use Automation Builder makes everything easy.
The software makes putting together a complete email campaign simple, thanks to its automation capabilities.
You can initiate campaigns and automation after selecting a single template and then making it into a complete marketing campaign.
ActiveCampaign gives you the option to create a sequence of automated emails that will go out to the group of subscribers based on your settings.
Deals: Integrated CRM Solution
Closing sales is pretty easy with ActiveCampaign as you get a complete CRM solution integrated known as Deals.
The integrated CRM allows you to automate your entire sales. It takes away most of your manual work and simplifies everything from sales to closing deals.
ActiveCampaign gives you all the features that are needed to keep a track of all your leads and manage them perfectly.
You can create a complete workflow to make sure that you don't have to do much manually.
ActiveCampaign makes it simple for you to manage all your contacts from a simple, centralized dashboard.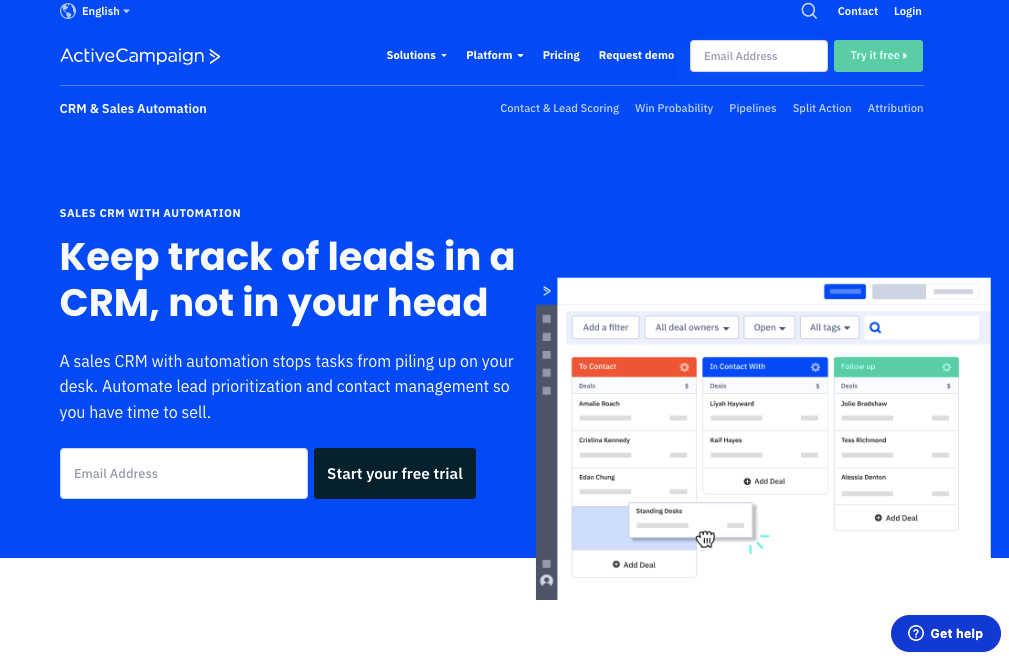 The CRM system will make sure that you have all the customer contact data in the contact management system and you don't have to manually track it. You will be able to access all the interactions with the customers at a glance.
Also, the automated segmentation by the system gives you clarity about the timing when you need to contact a customer when there is a probability of conversion.
You can integrate the CRM system with other important apps and services to streamline the whole system.
Get More Leads and Boost Sales with Integrated Landing Page Builder
ActiveCampaign allows you to convert the traffic you receive on your website into effective customers and signups with its industry-leading Landing Page builder. It's super easy, effective, and works especially well for small business needs.
The handy drag and drop landing page builder will help you to design a completely custom landing page for your product or service.