Semrush is an all-in-one SEO and marketing platform that offers a comprehensive solution for your business to analyze and make better decisions.
You will get access to over 40 different tools under one membership that will include a complete spectrum of tools for all different kinds of analysis.
While you can keep a track of your own website to sustain and improve your ranking, you can do a detailed analysis of your competitor sites to find out their top-performing pages, keywords, and their complete backlink profile so that you can replicate similar links for your business.
Ease of Use
When it comes to ease of use and user-friendliness, Semrush comes with a simple interface. You will see all the available tools in the left section, you can choose the tool you need and start your analysis.
All the tools are clubbed under broad categories like SEO, Local SEO, Content Marketing, Advertsing etc.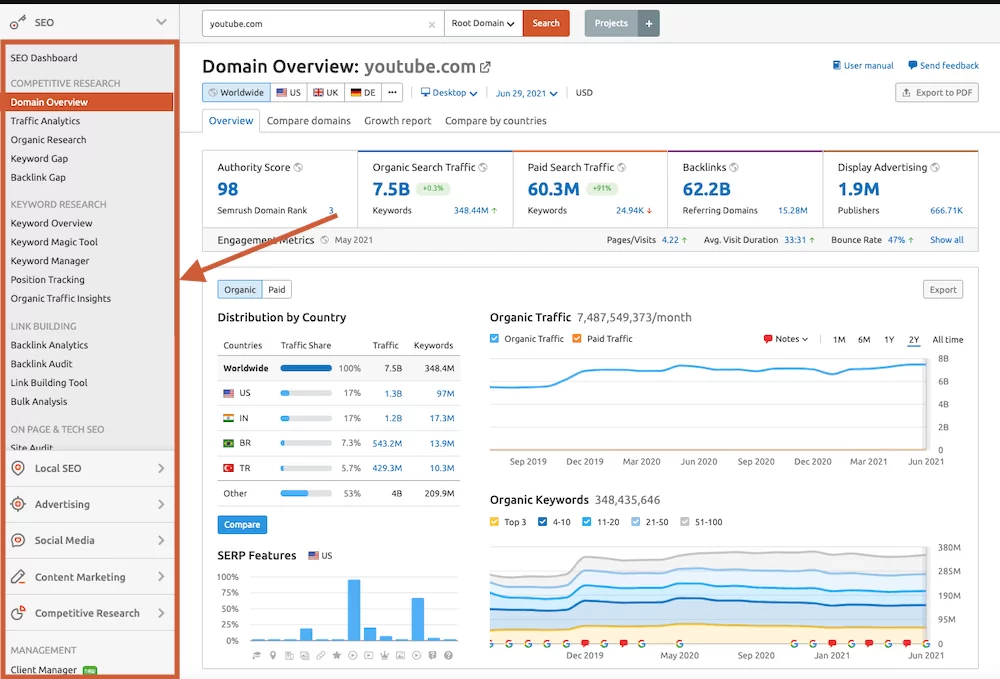 Let's have a look at some of the top tools that Semrush offers.
01

. Start with Your Site Audit

Before you start analyzing your own or your competitors' site. It is important to know if your site has any technical SEO issues. Semrush offers you a complete site audit tool that you can find under the SEO tools category.

Once the site audit is run, it will offer you reports with all the possible technical SEO issues that you need to work on. You can add your site as a project and it will keep sending you the audit reports for your project at regular intervals so that you are always updated with the health of your website.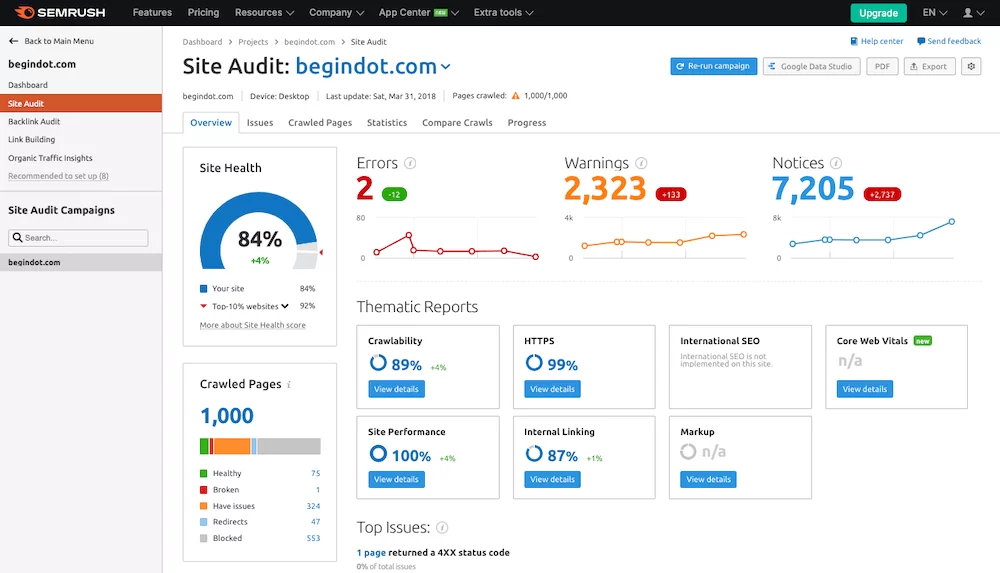 Show More
02

. Organic Analysis

Organic research starts with the domain overview report. You can make a search for your website, and it will quickly give you the important details of your site.

You will get the quick overview of the following important details of your site.
Domain authority score
Total organic search traffic & keywords
Paid search traffic & keywords
Total number of backlinks
Overall growth of your traffic
The domain authority is a score that will give you an idea about a site, how good it is. A low domain authority score doesn't always mean that the site is bad. A relatively new site will have a low domain authority as compared to an established site. It is primarily calculated based on the number of backlinks and other SEO factors.
You can also click on the traffic and backlink numbers that you get in this report to check the detailed report.
You can start with the domain analysis report for any website. You can quickly check the overall performance of your competitor sites.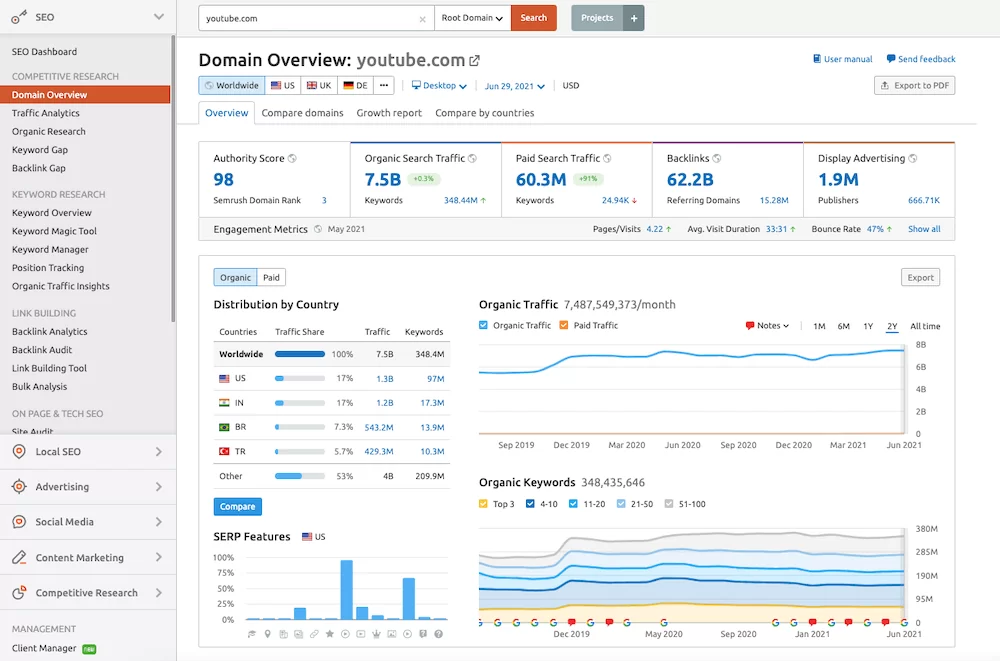 03

. Identify Your Top Competitors

One of the most important reasons why users love Semrush is the competitor analysis options. You can find almost everything about your competitor sites using the tools that Semrush offers.

The process starts with identifying your top competitors. You will find the summary of your competitors in the domain analysis report. Alternatively, you can use the Organic Research report to find all your competitor sites.

You will see two different sections of your competitor sites here, one if for organic competitors and another is for paid competitors. You can click on the view more option and go to the detailed report about all your competitor sites.

When you go to the detailed report, you will see some important elements like Common Keywords, Level of Competition with each site in the report. These parameters will give you a complete idea to list down your top competitors so that you can do a detailed further analysis of those sites.
Read our Semrush guide for more on this.
04

. Keyword Analysis

We all know that keyword research is very important for blogs to drive targeted traffic. A correct blogging strategy starts with proper keyword research and finding the right keywords to work on.

Semrush is known for its comprehensive keyword research tools to help you find the profitable keywords for your business along with all the important details for every keyword.

It offers you a number of tools within the Keyword Research category of tools.
Keyword Overview
Keyword Magic Tool
Keyword Manager
Keyword Position Tracking
Organic Traffic Insight
4.1

. Keyword Overview

Start with the Keyword Overview tool. You can make a search with a broad keyword around your niche. For example, if your blog is about digital marketing, make a search with the main keyword so that you get all other important keywords that you can work on in this niche.
If you look at the report, there are a number of important elements to look at such as the following
Total Search Volume: This will give you an idea of how much traffic you can expect from this keyword.
Country Wise Volume: This is the country-wise traffic potential for that keyword. You have the option to select the country from the dropdown.
Keyword Difficulty: This score will give you an idea about how difficult it is going to be to rank for that keyword. The lower the score is better.
CPC Rate: Other than organic traffic, you will also get an idea of the paid traffic cost for that keyword.
Keyword Variations: Get more keyword ideas related to this seed keyword that you can work on.
Questions Around The Keyword: This is another very important aspect of this report. It will give you an idea about the kind of questions that users are asking about this topic. You can include answers to those questions in your content.
When you click on more details tab in the related keywords, it will take you to the Keyword Magic Tool where you can get all the details for all the related keywords around the main keyword that you have select.
Read more about the Semrush Keyword Magic Tool in our detailed guide.
4.2. Keyword Position Tracking
If one of your important keywords is ranking at the number one spot that doesn't mean other sites can't come and beat you in SERP. It happens all the time. That's why it is important to keep your content relevant and updated regularly.
This is a very handy tool by Semrush that will help you to keep a track of all your important keywords and keep an eye on your competitors' keyword positions so that you can make the right decision at a right time.
You can start by setting up your primary domain. This tool is available under the Keyword Research tools category.
05

. Link Building Tools

One of the primary reasons why many users like to use Semrush is because of the link-building tools. You can use the tool to spy on your competitors' backlink profiles. You can find the exact pages and the anchor used for all those links so that you can get similar links for your business.

If you are planning your link outreach campaign, you can create your list of potential websites by using the Semrush Backlink Analysis tool.

It is a simple tool to use, you can simply make a search with the domain name and the tool will instantly show you all the link profile details for that domain.

You can check the referring domains, and the complete link profile. You can check link by link to understand the complete source.

We all know that backlinks are very important for ranking and it is considered as one of the top algorithm components for search engines like Google. So, you need to make sure that your site has high-quality relevant links from related sites in your niche.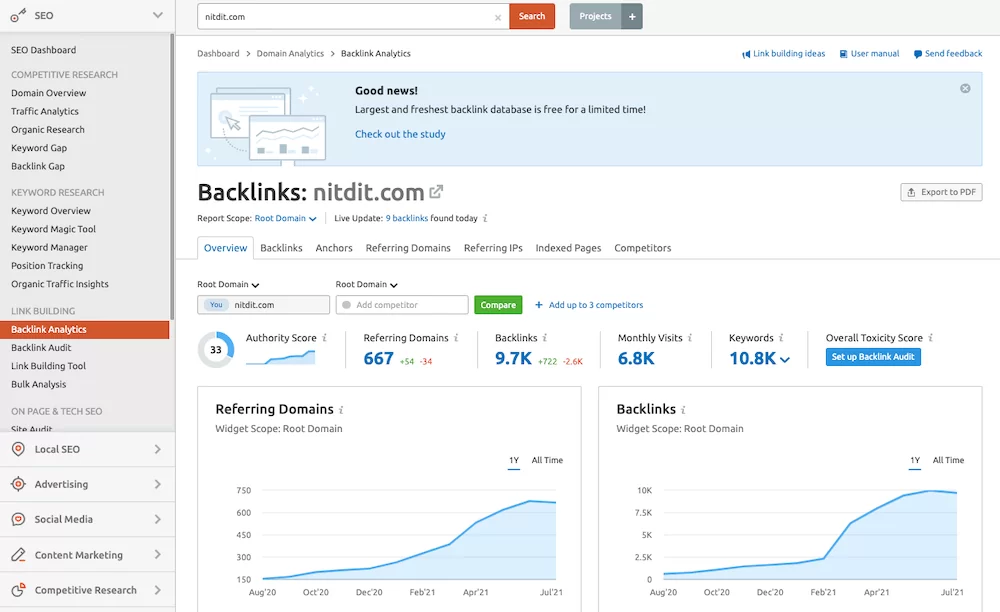 5.1

. Backlink Audit

While you work towards creating new backlinks for your site, it is important to keep an eye on the existing backlinks if they are good quality. It is important because bad links can do a lot of damage to your ranking and the overall brand.

Semrush offers you a tool to do backlink audit and find the links that are toxic for your site.

You can disallow the toxic links so that Google doesn't consider those links and your site is safe. Semrush makes it easier for the users to do an audit of the domain quickly and move to toxic links to the disavow list of domains so that you can get rid of those links.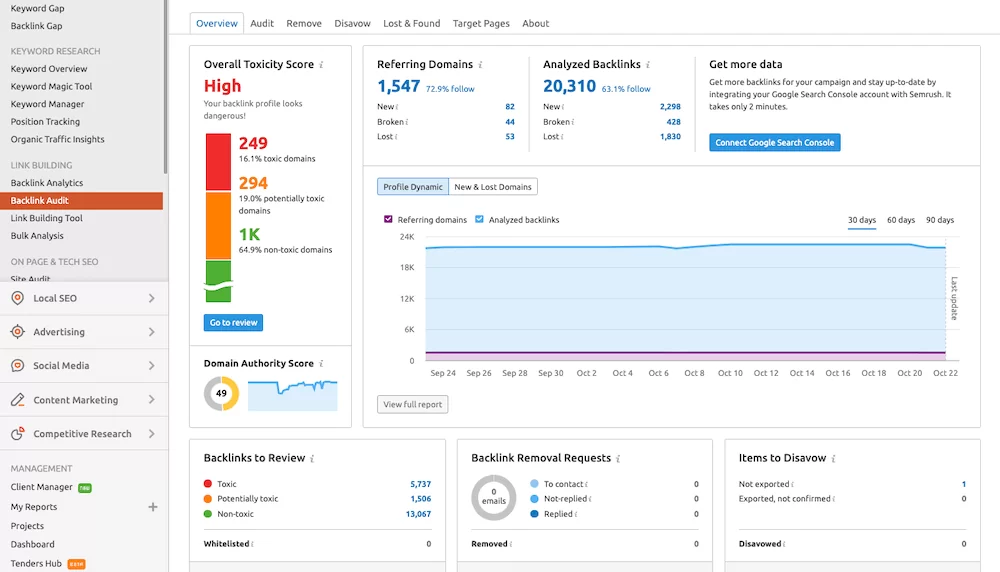 Other than this, you have the Link Building tool that you can use to find the link building opportunities based on your competitors and other factors. You can see the potential options to get a link from and create your list to reach out to those sites.
06

. On Page SEO Tools

You have a number of tools in the Semrush suite of tools to improve on-page SEO. You can start with the Site Audit tool to find the technical SEO issues your site might have.

Once you take care of those issues, you can work on improving your site with great content and the right SEO structure. Here're the tools you have for on-page SEO.
Site Audit
SEO Content Template
One Page SEO Checker
Log File Analyzer
Listing Management
We already know how the Site Audit tool can help, So, let's first look at the SEO Content Template.
This tool can help you to get SEO recommendations that can help you to improve the overall quality of your content and help you rank those articles. And it offers you a real-time content checking option for the keyword you are targetting.
The tool is simple to use. You can make a search with the primary keyword that you are going to target through your content. It will quickly make a search and present you with the recommendations.
For example, if you are creating a piece of content around the Best Digital Marketing Tools, make a search with the main keyword that is digital marketing tools and it will instantly give a number of useful recommendations such as the related keywords that you can include in your content so that you can rank the content for multiple related keywords and gives a clear idea to search engine about the content.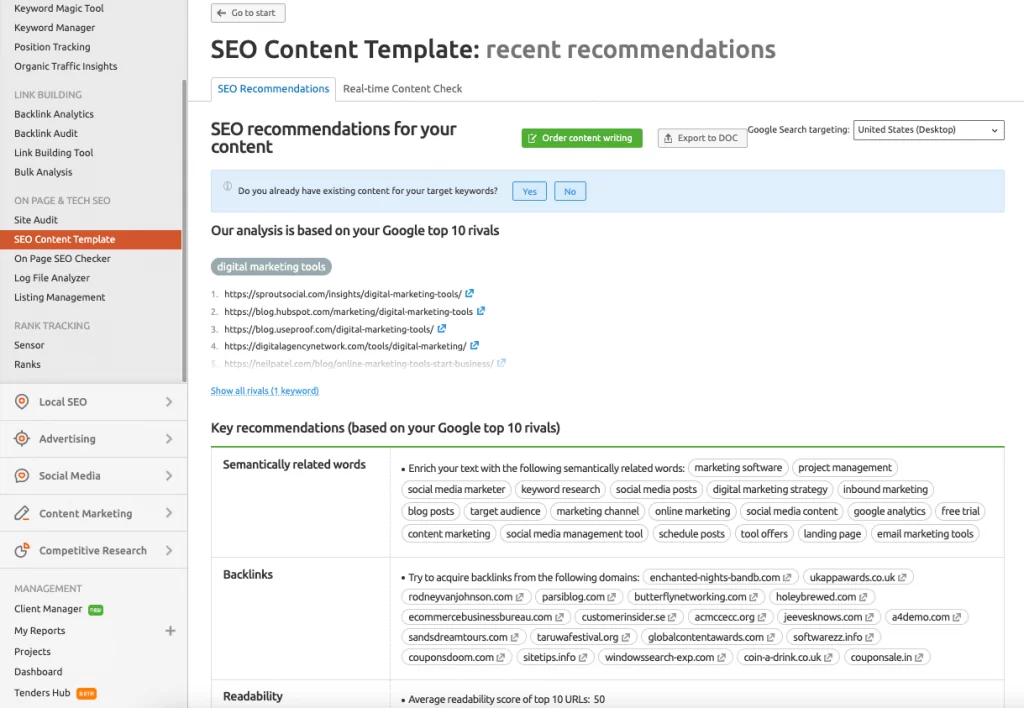 07

. Paid Traffic Analysis

Like Semrush offers multiple tools under the SEO category to check the organic SEO traffic, you will have a similar kind of toolset under the Advertising Tools category. You can track the ranking and traffic generated through paid ads.

The best part is that, along with traffic details and keywords; you can track the exact ad copy of your competitor's business to help you create an even better version of the ad.

You can go through all the ad copies of all your competitors and finalize your own ad copy. There are a number of very handy tools for analyzing advertising traffic details of any business.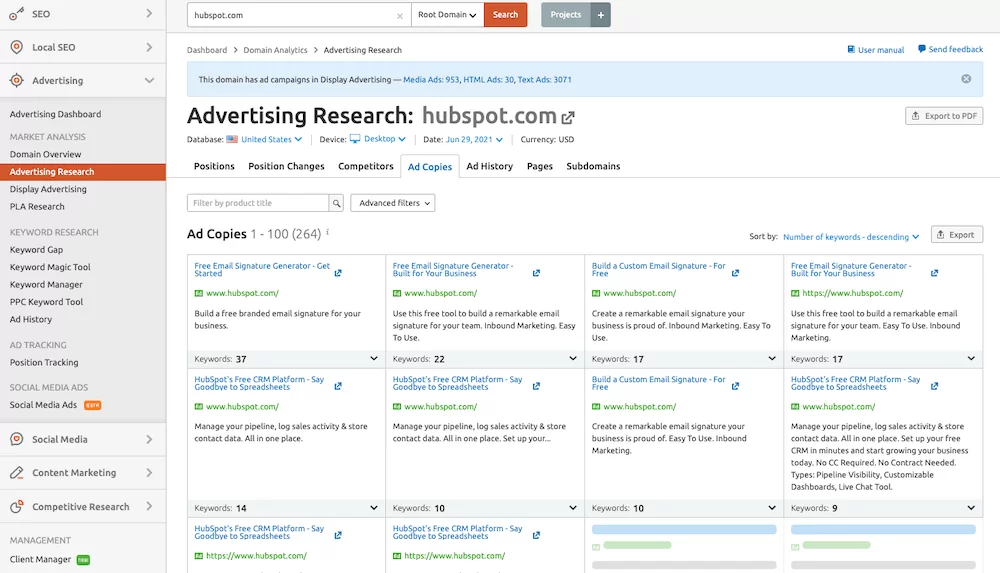 08

. Comprehensive Social Media Management

Most of us know Semrush as a popular SEO analysis tool the gives you the tools to analyze your own and your competitors site. However, it is one of the most comprehensive social media management tool as well.

It offers you all the features and options like the other top social media management tools. You can manage your social posts, track competitors and a lot more with the social media tools that Semrush offers.

Here are the best social media management features.
Schedule your social media posts
Get detailed analytics
Track the performance of your competitors
Collaborate with your team
Boost your posts
Create social ad copy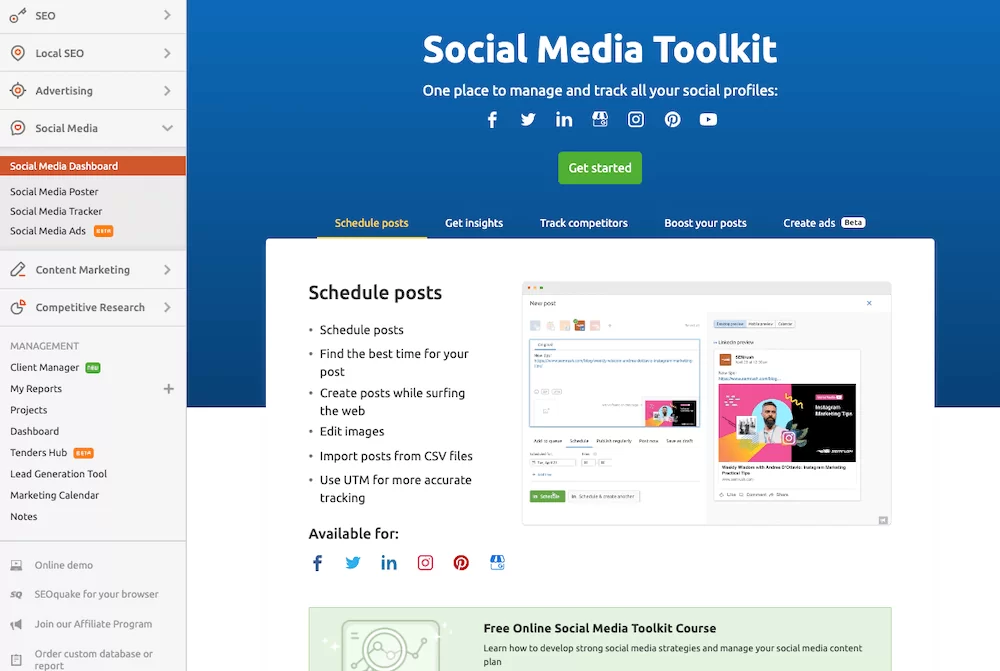 There are a number of other features that make Semrush better than most of its competitors. Read our Semrush guide to know how it can help your business grow quickly.