Ultra Theme is a powerful and multi-purpose WordPress theme offered by Themify. It is incredibly efficient and flexible, making it easier for beginners as well as tech-savvy users to create their website irrespective of your website's niche.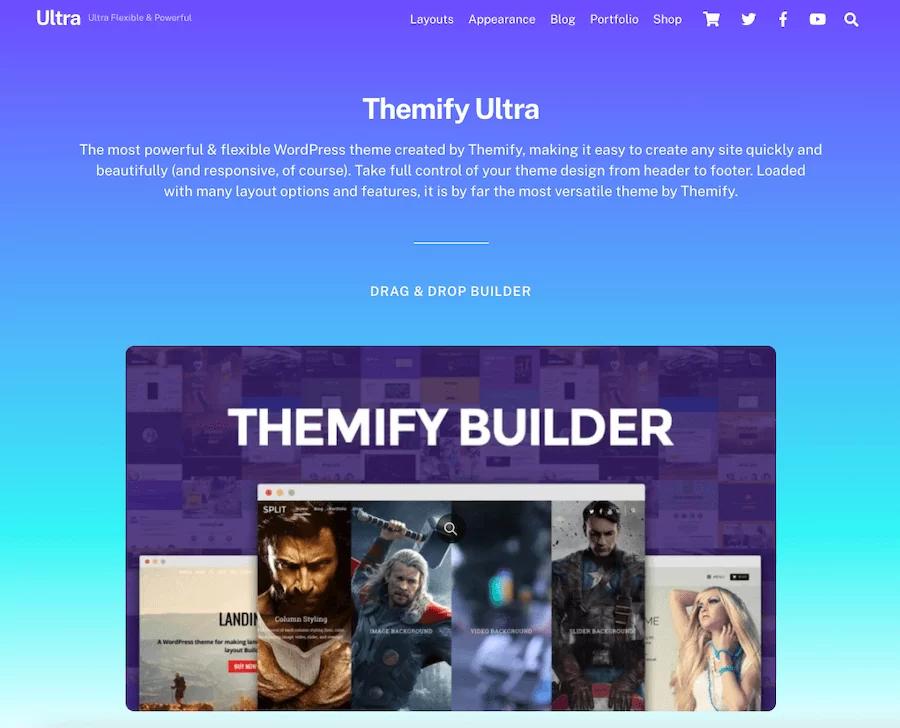 The theme offers plenty of pre-made demo sites that you can immediately import to create your website right away.
Ultra Theme is user-friendly and exceptionally convenient. One of the primary reasons being its customization options. From header to footer, the Theme gives you maximum control over your site.
One of the best parts about Ultra Theme is it is optimized for SEO for better search engine rankings. In addition, it supports WooCommerce, which means you can set up an online store that looks amazing.
Moreover, the Theme offers 12 free bonus add-ons valued at $120. You can create any layout with its drag and drop builder with plenty of cool effects.

In the following sections, we will cover other crucial aspects of Ultra Theme. So, let's proceed ahead.
Show More
Getting Started With Ultra Theme: Ease of Use
No matter how functional a WordPress theme is, if it is not user-friendly, what's the point of spending so much?
Irrespective of whether you are a beginner or a developer, you need a theme with an easy-to-use interface. When it comes to Ultra Theme, we are pretty impressed with the user interface.
Let's take a look at how Ultra Theme works -right from getting started to customizing your Theme.
Setting up the Theme:
As soon as you make the payment for the Theme, you will be able to install it on your WordPress website. Once installed, you will get an option where you can import the demo content on your site. This option is convenient and easier for beginners who want to get started with their website without manual hard work.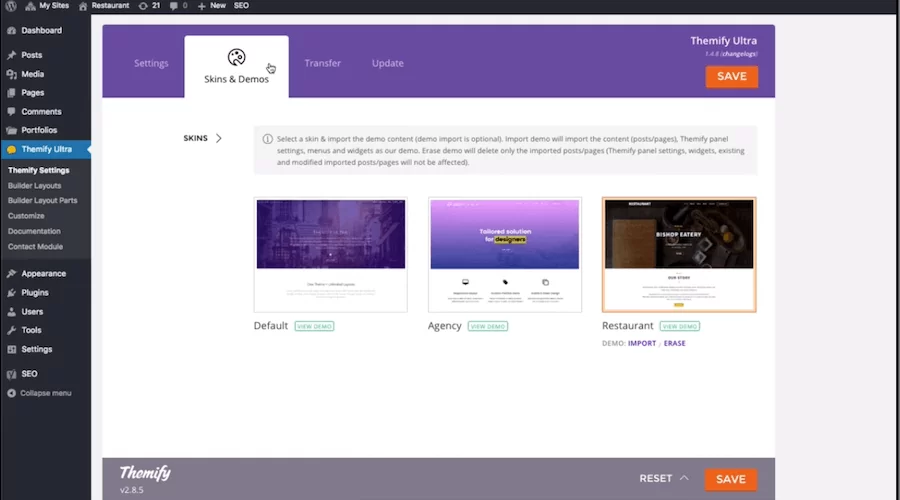 The best part is that you can pick from their various demo content available for different niches, and when you are selecting the right demo site, you will be able to see the demo version. Once you select this demo site, your website will look the same.
However, you do not necessarily have to select a demo website, but it reduces the configurations. In addition, you can customize the demo sites as per your needs whenever you want. If you are starting, we recommend starting from the demo site.
Since we wanted to test out the Theme, we picked a demo site. It took less than a minute to import. Once the site is imported, you can see that your website looks similar to your demo content.
Customizing the Ultra Theme:
Once the import is done, the next step is to customize your Theme to your needs. With the Ultra Theme, you get two different options for customization –back-end theme settings panel or WordPress customizer.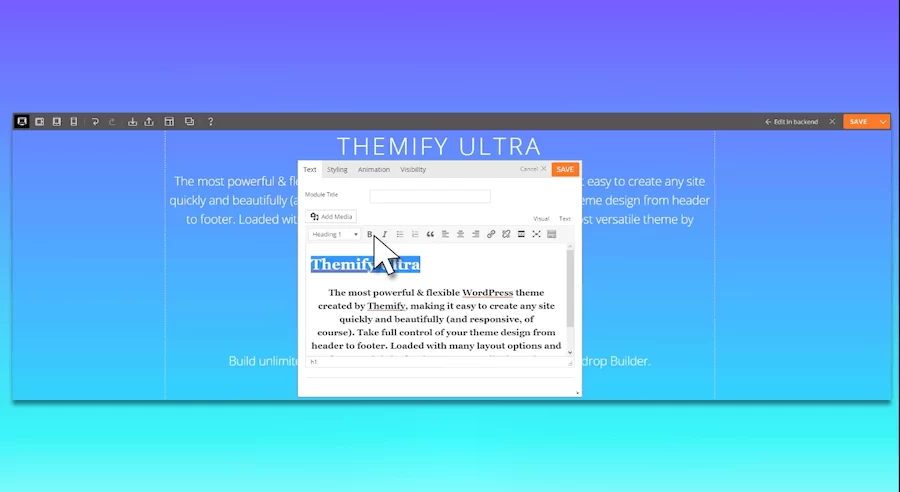 With the WordPress customizer, you can configure all the essential aspects with live preview. The WordPress customizer is extremely easy to use and beginner-friendly.
On the other hand, the back-end theme setting panel leans more towards the non-visual settings of your Theme. If you are a developer, the back-end theme will help you with advanced customization options.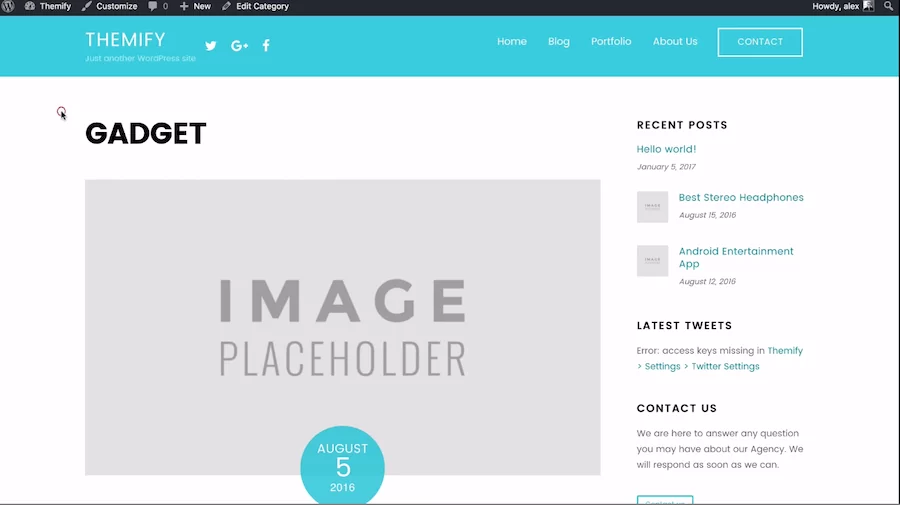 Since WordPress customizer is easier to use, you will be redirected to it when you click on the customization option from the Ultra theme dashboard. However, with Themify, you get access to additional customization options.
Using the WordPress customizer, you can simply check the customization options on the left side of your screen. Each parent setting further contains minor options which you can change as per your needs.
The best part that we like is that demo sites come with plenty of configured settings, so you do not have to set up each settings. In addition, you can preview the changes you are making on the go.
Especially if you are a beginner, you can start with demo content and use the WordPress customizer to make minor tweaks and customize it to fit your style without needing any technical know-how.
Now, if you want to customize your Theme using the back-end setting panel, you can go to the Themify Ultra > Themify Settings.
On your screen, you can see plenty of settings to configure compared to the WordPress customizer. Critical settings include header and footer, theme settings, hooks, layout controls, and more.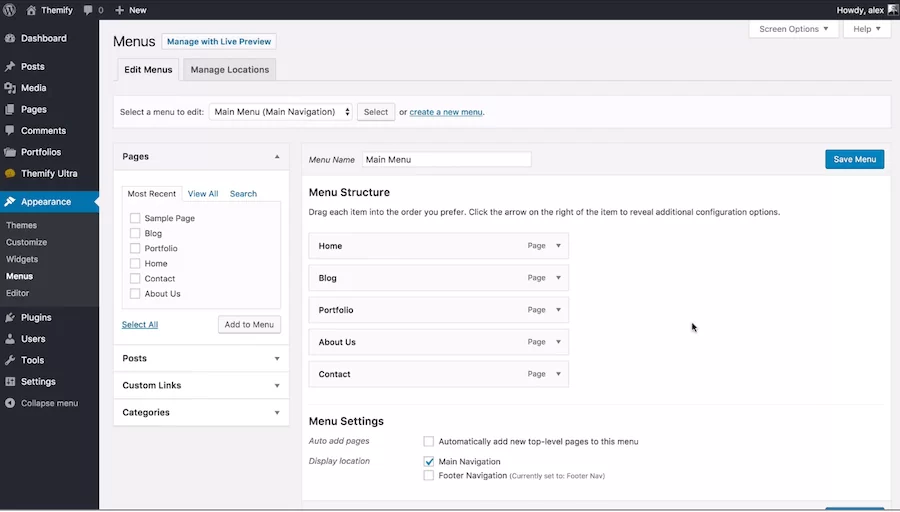 Each set comes with various minor settings inside, giving you more control over how you want to present your style. You can either customize the demo site you picked or design everything from scratch.
And that's how simple customization works for Ultra Theme.
Besides this, you can also customize the layout for a single content, page, or post. For that, you get access to the Themify Control Panel meta box, which you can find in the WordPress editor.
You can create stunning layouts for unique content to make it unique with the settings and options available, especially when you are using the Themify Builder.
You can build your content using the Themify builder easily. You can either use back-end editing or front-end editing. The page builder is also available as a standalone plugin.
Overall, our experience with the Ultra Theme's interface has been smooth and quick. We were impressed with the easy functionality and setting up of the Theme.
Ultra Theme Pre Designed Templates:
Ultra Theme offers more than 60+ pre-designed templates and layouts. These pre-made layouts help you to get started without any hassle.
These pre-made layouts save your time and make your website builder a lot easier than manually designing everything from scratch.
All you need to do is pick the theme you like, add the required content on your site and make adjustments. That's all! Your website will be all set to launch.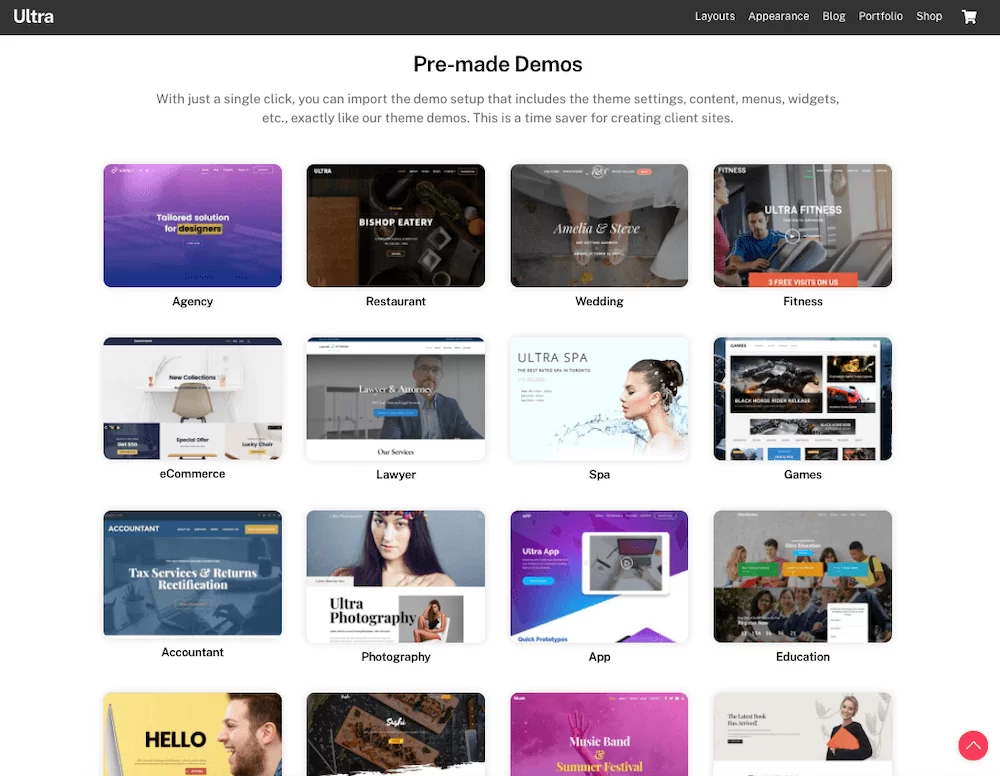 Ultra Theme Customizer:
Besides Themify's page builder tool that makes customization of your website's design more effortless, it also comes with its in-built customization options.
You can customize your site's fonts, background color, footer, sidebar, sticky header, header, page title, mobile menu, and more. You can also make advance customization, thanks to the WordPress customizer interface of Themify.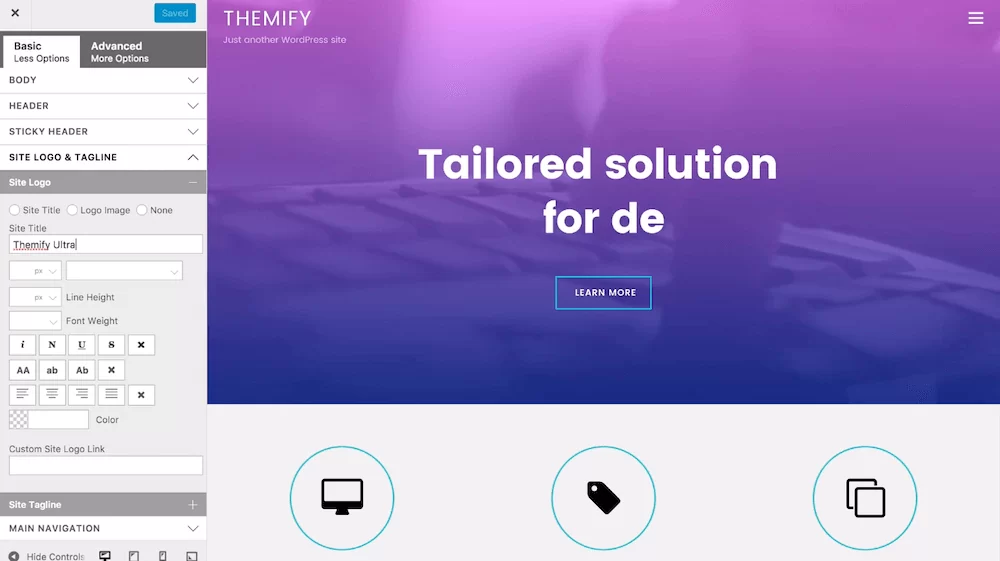 Additionally, you can make global changes to get instant changes across all your websites from one place. This saves time and reduces the manual hassle of making changes to each website.
Furthermore, with the Ultra Theme customizer, you can eliminate the need to save your work or preview in a separate browser tab. Instead, it gives you a live preview of the changes which you are making.
This function also helps you to understand how your website will look to your visitors. In case you do not like a specific aspect, you can change it on the go rather than going through the changes all over again.
Final Thoughts: Is Ultra Theme Worth It?
We have been using the Ultra Theme, and after writing down this review, we can safely say that it is genuinely the best WordPress theme in the market, irrespective of your website.
Whether you want to build an online store, blog, or business website, Ultra Theme serves the purpose well.
It stays true to its words of being multi-purpose and robust. You can customize and design your website's design the way you want to grab your user's attention.
To wrap up this review and give our final verdict, we will say that Ultra Theme is suitable for beginners as well as developers looking for an easy-to-use and multi-functional Theme.
We hope our Ultra Theme review helped you understand all the aspects of the Theme. What are your thoughts about the Theme? Let us know in the comments section below.