The list of features offered by Zoho Projects is quite long.
On comparing the service with other similar priced solutions, we found that Zoho Projects outshines the competitions, thanks to integrated features like a built-in time tracker for projects, easy to generate reports, scheduling features, and Gantt Chart, which are mostly found in the enterprise-grade, costly applications.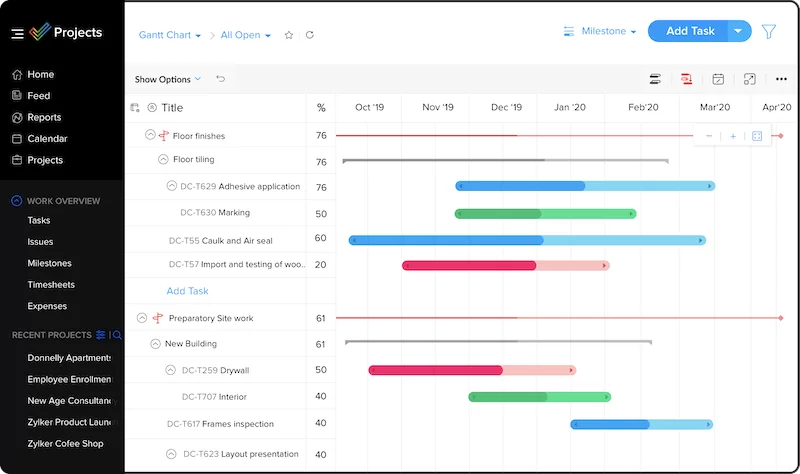 Features of ZoHo Projects
Zoho Projects offers all the important features and tools that you will need to make your project a success. You can work with a remote team to make a project and be on time.
Let's look at some of the important features that will make a change.
Task Management
Zoho Projects offers comprehensive task management solution that will make it easier for the project manager to plan everything so that you never miss a project deadline.
You can break down the entire project into milestones, tasklists, tasks, and subtasks so that you can focus on one thing at a time and give it your best possible attention to improve quality.
Assign tasks
Assign tasks to your team members and track the progress. You can set priority, add reminders so that none of your team members miss a deadline. If a task is complicated, you can further break it down to subtasks.
Set Milestones
Milestones are very important in a project. With the Zoho Project software, you can set milestones for every project and assign a person responsible to make sure that all the milestones are attained on time.
Create a Kanban Board
Kanban boards are very popular among the project managers. It gives a visual representation of all the tasks to be completed and the project milestones.
Kanban is the Japanese word for "cards" or "visual signs".
Zoho Project gives you the option to create a Kanban board for each project your team work on. It will make things easier for the team to manage and understand where a project currently stand.
The drag and drop Kanban board system makes it really simple for the project owner to create a visual representation of the current status of a project.
Gantt Chart
The Zoho Project software comes with the option to create Gantt Chart to make it easier for the team to create graphs around the planning and progress of a project.
Gantt Chart software is very handy when you need to create a project graph along with timeline. You can set the milestones for each task and make changes as the project moves ahead.
Automation & Customization
Software like Zoho Project is all about making your team more productive. The software comes with amazing automation tool to manage the issues. You can set rules of automation and notify all the concerned team members on time so that your team never miss any deadline.
The software also gives you the option to customize the entire workflow and you can add custom fields as per the need of the project.
Task Detail
While you plan a project, you can keep all the details of every task in the single card so that is any new member is added to the project it is easier to understand everything around the project.
Descriptions, discussions, associated docs and bugs, hours logged, followers, and priority assignments are all presented right where you need.
Automate Recurring tasks
This is a really important requirement in a project management software to have the automation system to make sure that you don't have to manage the recurring tasks separately every-time. You can automate the process to save time of your team.
Set Reminders
Timelines are every important in a project, and the reminders can update you about the upcoming deadlines.
You ca set reminders about the due date of any task so that the overall project runs on time.
Ready Project Template
Every project has different requirement in terms of how you design and plan a project. The Zoho project software comes with ready to use template to make it easier for the users to get started.
Team Collaboration
Team Collaboration is a very important part of any project management software. You have to be able to share all the details with your team and communicate effectively so that the overall productivity goes up.
Zoho Project software comes with a number of useful collaboration features like project feed, chat system and more.
Project Feed
You are already aware of Facebook or Twitter feed right?
So, this feature will work in a similar way so that each member in the team is updated with the latest developments around the project. It woks similar to a social site feed but only for the project and for your team.
Chat Rooms
Zoho Project comes with real-time chat system and chat rooms so that you can quickly communicate with your team and you don't have to go for to and fro emails.
If you have a new issue, you can create a new chat room around that and have a discussion with any team member or a group of members who are working on that issue making the overall communication clear and quick.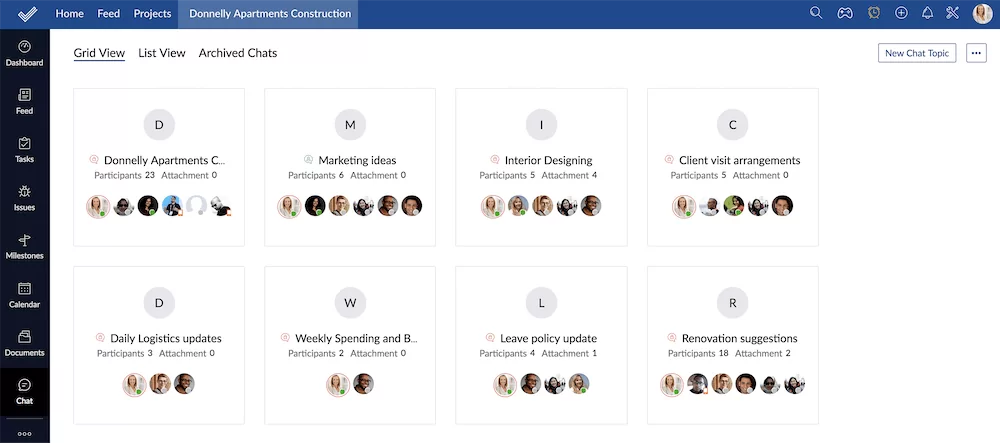 Zoho Integrations
Zoho Project comes with deeper integration with all the Zoho products and other popular apps that you might need to work on a project successfully.
Other than the Zoho products, it can integrate with many third-party tools, some of them are as following