No matter what kind of site you are going to create on WordPress, the Newspaper Theme will fit your need. It comes with a big list of features and unlimited design possibilities.
Newspaper Theme is perfectly compatible with some of the important plugins for the WordPress platform, such as bbPress, BuddyPress, WooCommerce, etc. So, you can take the advantage of this feature-rich theme to create your own community site or your eCommerce store.
When it comes to content-driven sites, be it a news site or a blog, the Newspaper Theme is potentially the best theme that you can get. While we generally look at the big features, the Newspaper Theme has so many small features that can make your content highly engaging.
For example, you must have seen content locker option that can increase social share and engagement to a large extent. So, that kind of feature needs an external plugin. The Newspaper theme comes with such features within the overall theme package.
You can also take the advantage of the content locking feature to create a subscription-based content site like New York Times and many other big authority sites. It can be your added revenue model.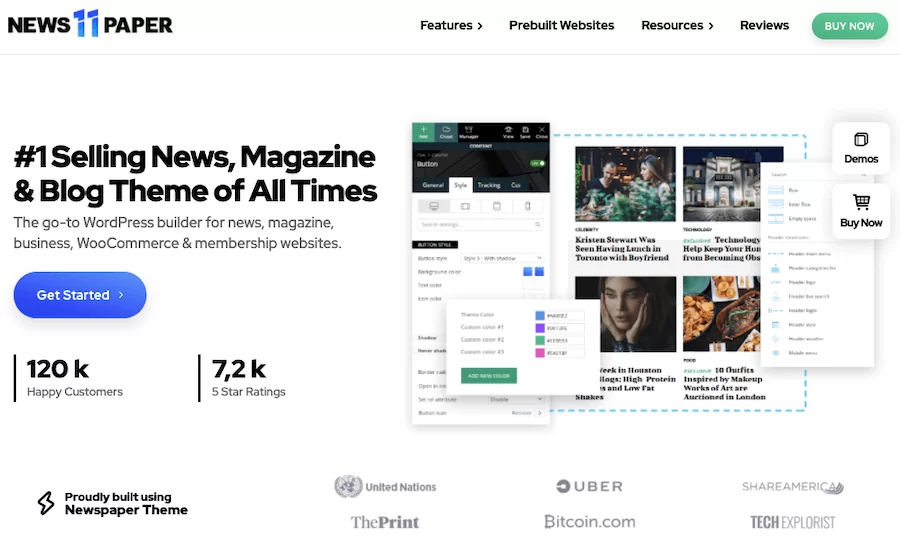 The best part about using a theme like the Newspaper is that your site will be ready with all the modern features and options within no time.
Pre-Built Demos
The Newspaper Theme offers you over a hundred ready-to-use demo website templates. You can import any of these demo templates and use it to create your website. So, you don't have to spend hours designing your website.
However, you have the choice to build something new from the scratch by using the website builder.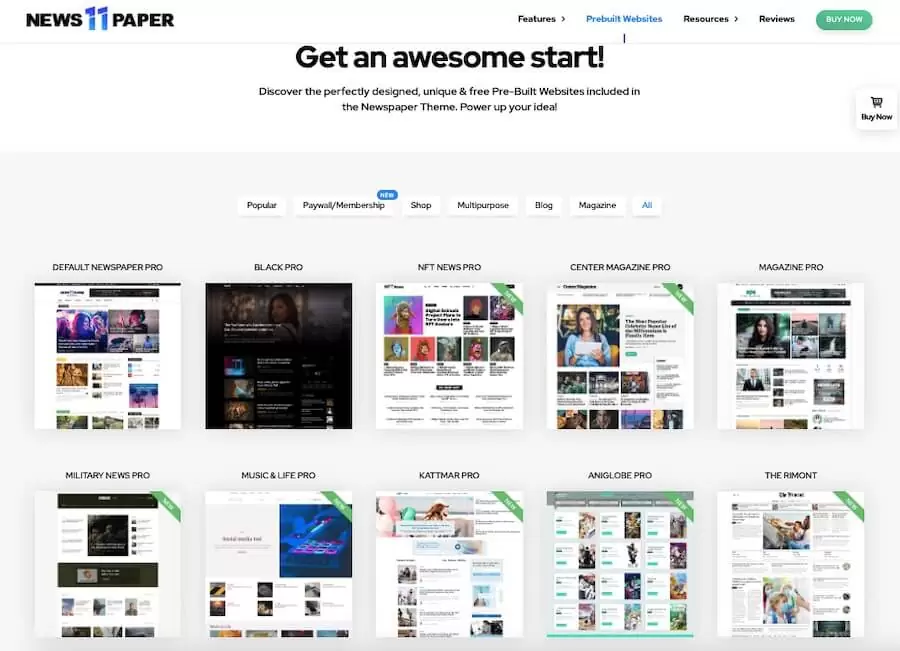 tagDiv Cloud Library
You can use the tagDiv Cloud Library to find more than 1800 design elements and templates that you can use to design any page of your site.
You will get a layout template for almost all kinds of sections that you may need on your site. You can browse the library and search by the section you need.
tagDiv Composer
tagDiv Composer is a visual drag and drop website builder that you can use to create a completely unique design for your site without any coding.
It is a complete front-end builder, so you can quickly drag any of the design elements to your page and start editing it. You don't need any technical or coding skills.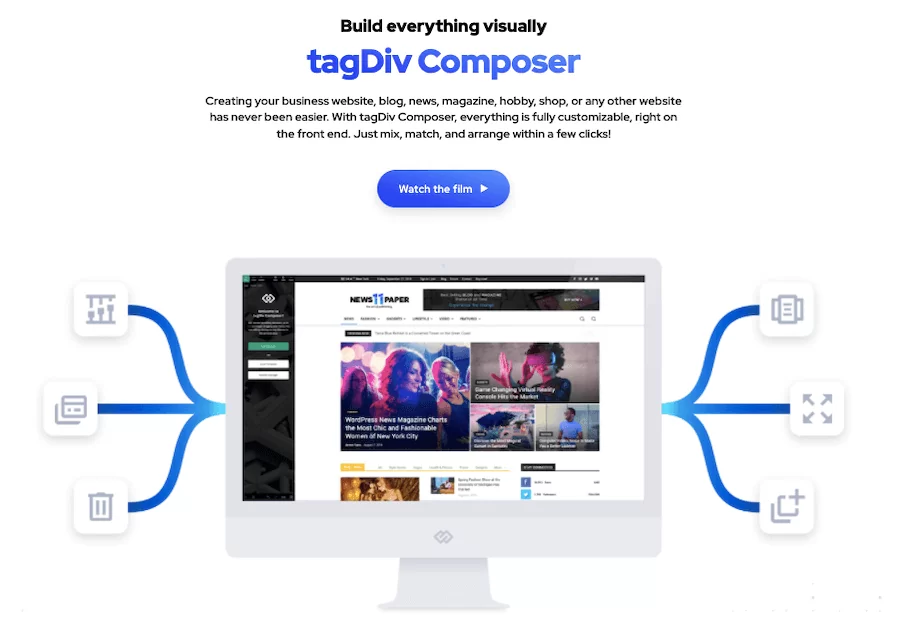 Templates Builder
You don't have to stick to any of the default design layouts or templates as you can create your own template for your articles, header & footer, 404 page, and all other important pages on your site.
The tagDiv Composer makes the process very simple for the users.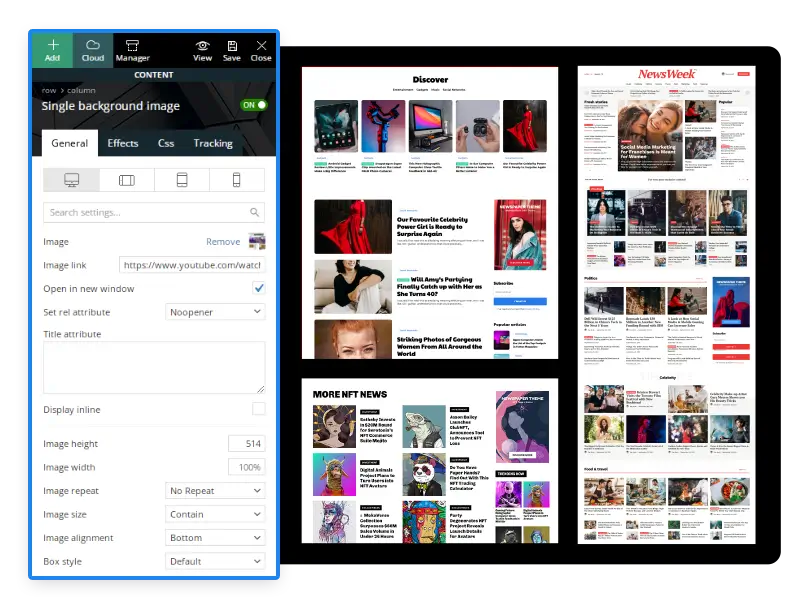 Header Builder
The header section is very important for every website. Along with adding the logo & important links within your site, it is important to make the header section look attractive.
You can use the Header Builder offered by the Newspaper theme to create a completely unique design from the scratch or you can choose to use a readily available header design template and customize it as per your need.
Another best part is that it offers live search with Ajax and up & down key navigation. So, you can add the search option in the header to make it simple for the users to search through your site.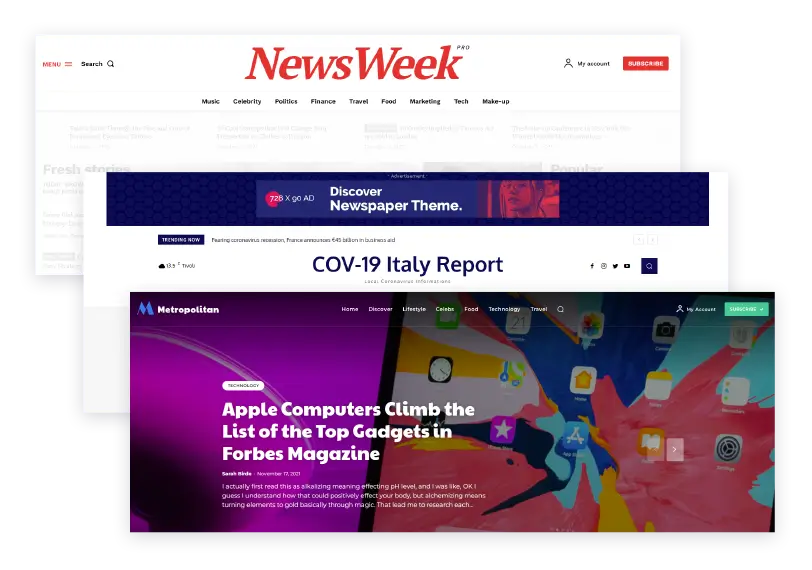 Footer Builder
Similar to header builder, you can create a completely unique footer section for your site to make it look attractive and useful for the users.
If you wish to use a ready template, you have the option to choose from 100+ fully customizable, professionally designed footer templates in the tagDiv Cloud Library.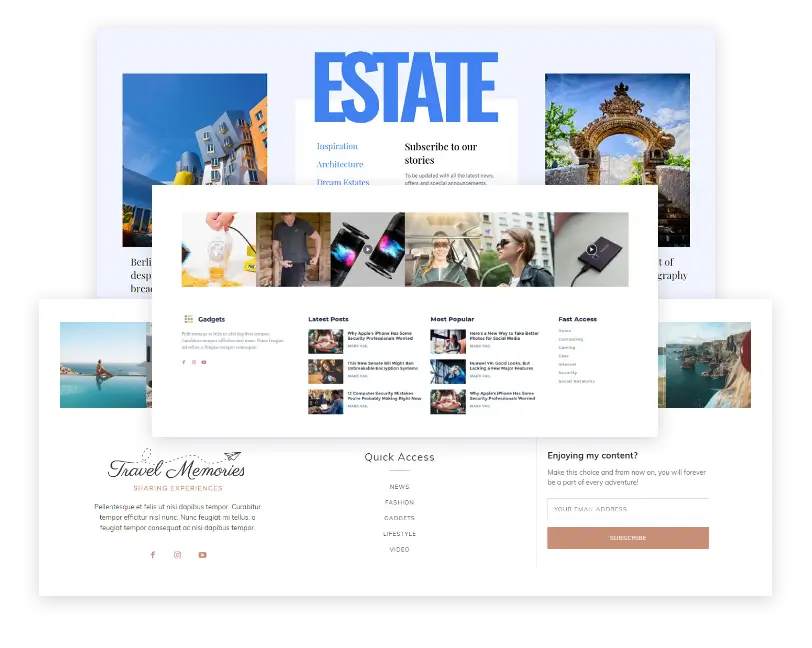 Engaging Post Templates
As the Newspaper theme is primarily created for content-based websites, the post templates are a very important part of it.
The default WordPress article template is not attractive which you can overcome by using a ready-to-use article template offered by the Newspaper theme or design one from the scratch.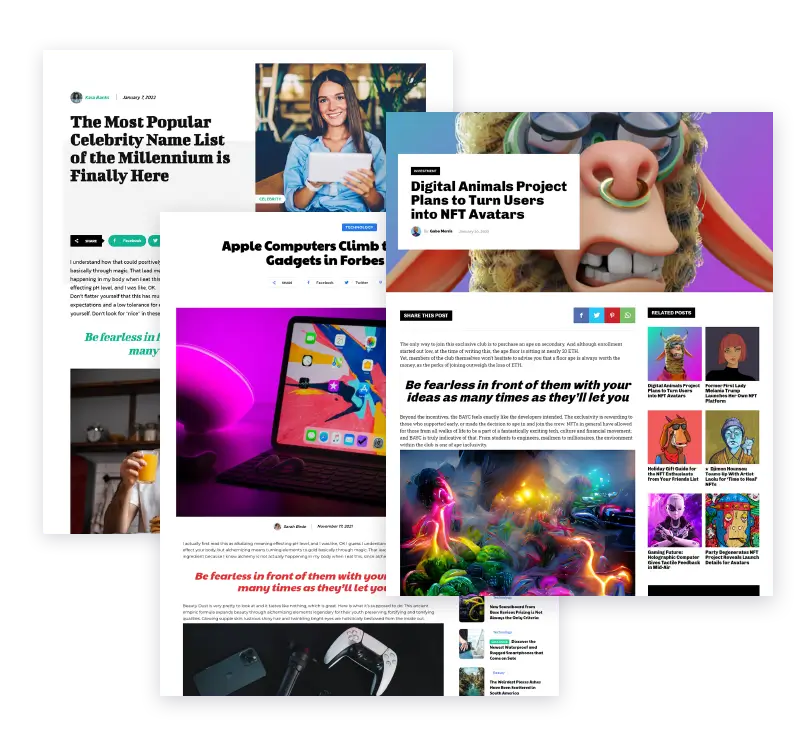 Category Page Templates
For most WordPress sites, the category archive pages are dead pages. In fact, many users add noindex tag to the category pages while they can be a great resource to drive traffic.
the category pages are dynamic pages with fresh content constantly getting added. So, you can take advantage of the Newspaper theme category page templates to have a great-looking design for the archive page and make them more engaging.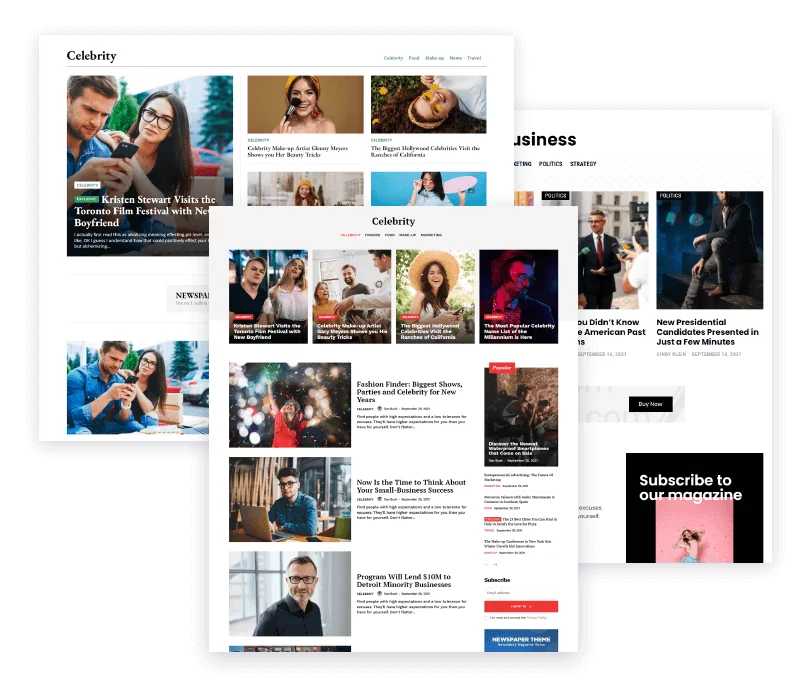 Create A WooComerce Store
Along with the news and other content sites, the Newspaper theme largely focuses on the eCommerce sites created with the WooCommerce plugin.
The theme is completely compatible with the WooCommerce plugin and comes with some stunning designs that you can use to create your online store.
WooCommerce Elements
The Newspaper theme comes with a collection of design elements that are custom-created for the WooCommerce stores so that you can improve the overall look and feel of your store.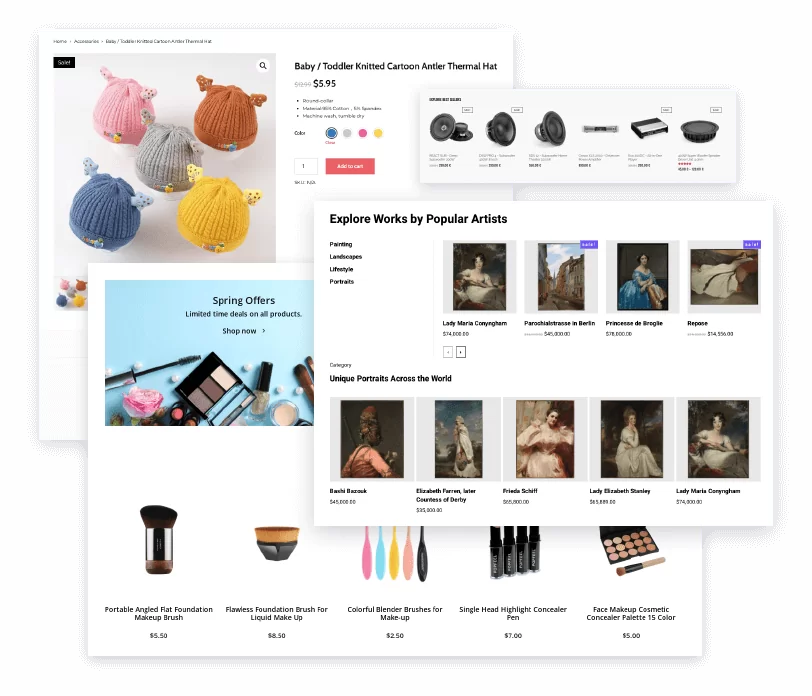 Beautiful Product Page Layouts
You have the option to use the beautiful product page designs that are ready to use. You can explore the available options in the design collection and make sure that your product pages look attractive and engaging.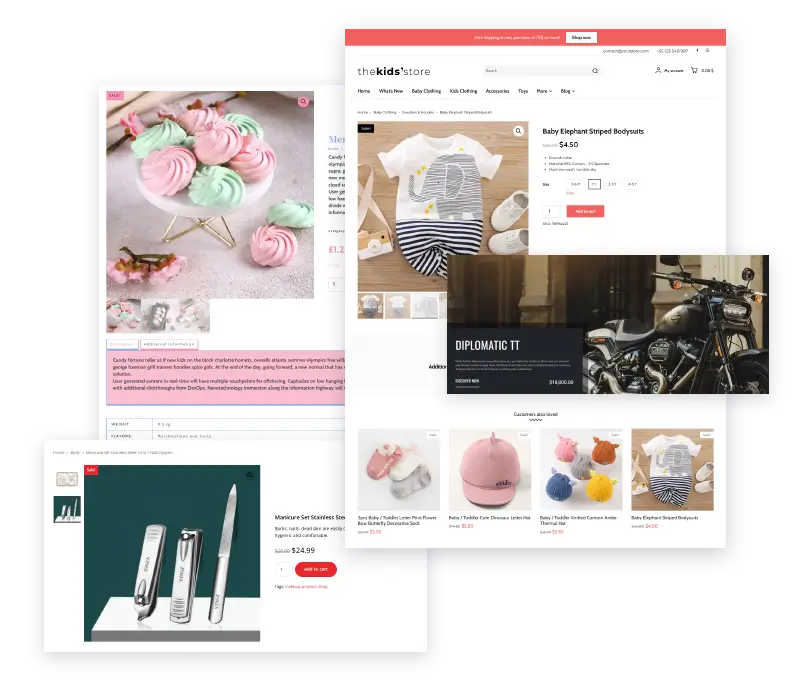 tagDiv Opt-in Builder
Another advantage of using the Newspaper is the built-in opt-in plugin that you can use to grow your email list. You can quickly activate the plugin and create different kinds of opt-in forms.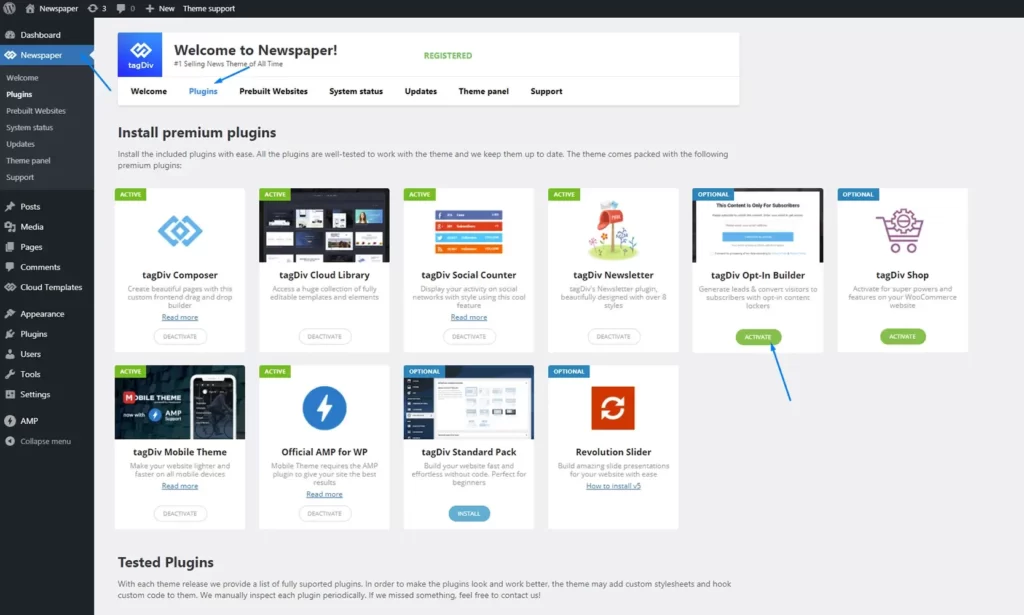 Social Media Plugin
Social media is an important part of any content site. The Newspaper theme comes with its own social media counter plugin that gives you the option to add modern and attractive social buttons.
You can also customize the buttons as per your choice.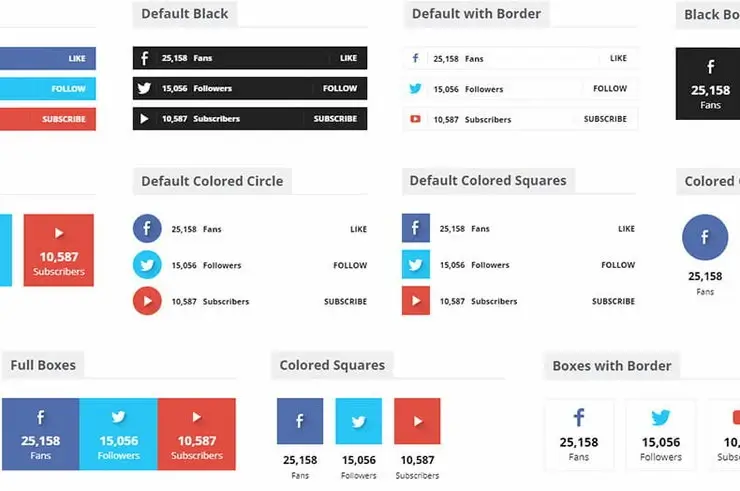 Newspaper Theme Performance Optimizer
We all know that the loading speed of a site is very important these days. Bad loading speed might impact the ranking of your content along with user experience.
The Newspaper theme improved the performance substantially in the latest version of the theme. The tagDiv CSS Analyzer Tool works on it and does all the heavy lifting and excludes all the unnecessary CSS in a page to make it faster.