The Uncode theme is loaded with features and options to make it easier for the users to create a website without any coding.
Have a look a the top features that makes Uncode a great choice.
Live Page Builder
Uncode supports a live page builder with a drag and drop front-end builder. Without coding knowledge, you can use its page builder to create the website of your dream. 
Uncode supports the following editors:
Classic Backend Editor
Powerful Frontend Editor
Depending upon your convenience, you can choose any of these two. Uncode theme comes with its own custom website builder so that you can design your website with real-time preview of the changes you make.
You can also check how your site is going to look on every device while your are making changes so that it looks pixel perfect on every device.
There are a number of design modules within the website builder that you can use while designing your pages.
Additionally, it supports the enhanced version of WPBakery Page Builder.
Wireframes Plugin: Uncode Design Modules
Wireframers Plugin comes along with Uncode. This plugin supports more than 500 section templates. You can combine these section templates to either create the entire website or just the landing pages.
The wireframe layout is available in the following 18 categories:
Contents
Icons
CTAs
Counters
Quotes
Headers
Cart and checkout
Portfolio
Blog
News
Shop
Galleries
Grids
Shop Utilities
Pricing Tables
Forms
Maps
Team members
Special
Footers
Products
With these wireframe layouts, anyone from beginner and professional can design a professional website and quicken the entire web design workflow. 
These are basically design modules that you can use on your pages so that you don't have to start every section of your site from the scratch.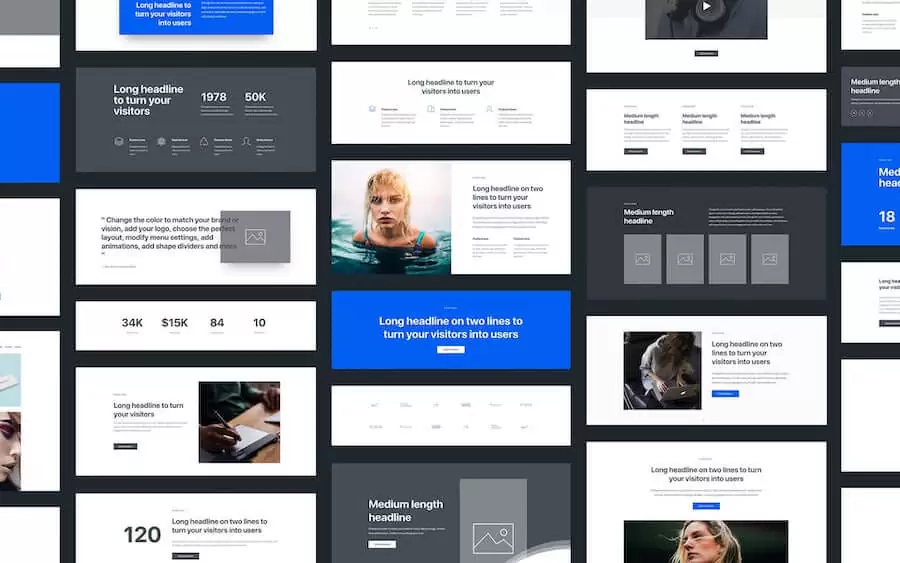 Uncode Theme Review: WooCommerce Custom Builder
If you plan to build an online store on your website, the WooCommerce Custom Builder of Uncode is the only thing you will ever need.
One can easily create single product templates using the theme's page builder. Additionally, it supports many other shop layouts too. 
Special features that it supports are:
Quick-view
Wishlist
Side-cart
Widgetized post module
Catalog mode
Other dedicated e-Commerce features
Widgetized filters
Also, it supports many other advanced tools to sell online products and services. You can customize your product pages by creating custom product templates.
It comes with perfectly optimized cart and checkout page options to improve the overall user experience on your eCommerce site.
You can customize all other important pages such as user account page, login page, empty cart pages etc.
Post Modules 
You can use Uncode's posts module to create:
Post
Page
Portfolio
Product layout
You can use its build query feature to display different contents and posts from multiple sources. Additionally, it supports more than a hundred options that can be experimented with to create a layout of your choice.
It also supports a vast number of layouts like:
Masonry
Fit rows
Cell by row
Vertical
Packery
Grid
Metro
Slide
Fluid
Also, you can use its carousel features to display massive content in a small space without compromising functionality.
Further, if you want to create any advanced layouts and custom grids, use the "Post ID" and "Matrix" options.
Dynamic Modules 
Uncode's dynamic modules help create pages with custom dynamic content. You can then use these to generate a matrix for layouts. You can display custom data on the dynamic page content using custom fields. 
The posts module is handy for creating a category layout or archive and optimize them perfectly for receiving additional SEO traffic. Additional features that the dynamic modules support are:
Dynamic display of the featured image in row and column
Text block to display different text sources
Media gallery to display page media of other elements
Furthermore, with dynamic elements, you can try your hands at creating both custom templates and dynamic headers.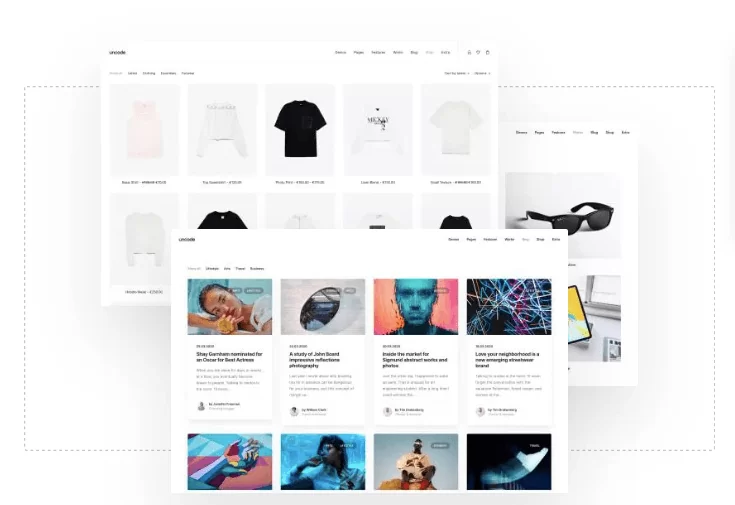 Content Block 
The content block helps create content fragments that you can easily import. Further, you can go ahead and share them on multiple pages or even go for a dynamic template.
You can publish the work everywhere with just one update on Content Block. The centralized workflow eases managing a website. 
With the Content Block, you can re-use the same content for different purposes by quickly editing it. The blocks make the process simple and quick.
Also, it serves many additional functions like creating dynamic single product templates, shared page contents, categories, and more.
Srcset Responsive Images
It is crucial to optimise the images to ensure they are displayed correctly on different devices. Unicode uses the Dynamic Srcset Image system.
This system detects the users' screen size and re-scales the image version appropriately.
Here's a look at how images are scaled according to different devices:
Desktop (2880 X 1639px)
Laptop (1440 X 820px)
Tableta (1032 X 588px)
Smartphone (516X294px)
With this optimization, the loading time of the website drastically improves.
Uncode Theme Ready Demos Templates
The theme comes with a large number of ready to use demo design templates that you can use to design your website. You can jumpstart to create your website with any of these demos. 
All it takes is one click to import the template. The demo designs are categorized as per niche, you can quickly select the one that is close to your requirement and import to use on your site.
Once imported, you can customize it to meet your brand's requirements.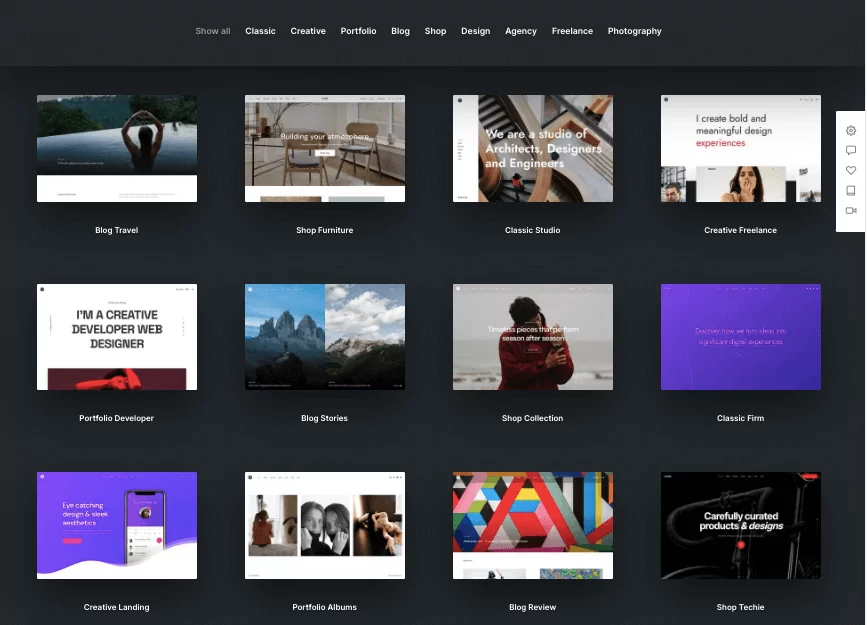 Light and Dark Skins 
An optimal contrast in the website's color can improve its look dramatically. Uncode provides the references of light and dark skins to its users.
This feature automatically allows you to switch the color of the text and other themes in the context of the background coloration, which helps create an optimal balance of contrast in the website.
Shape Dividers 
With the help of Uncode's shape dividers, you can design attractive section separators on the website.
The theme supports a number of default shapes. However, feel free to use SVG code to upload your very own shape divider. 
A few of the shape dividers available on the platform are:
Curve
Curve Opacity
Arrow
Mountains
City
Pyramid
Gradient
You can further customize these shape dividers by:
Flipping
Inverting
Resizing
Coloring
Use shape dividers to bring life to your website pages.
Additional Features 
Uncode supports other features like animated headings, privacy plugins, and album galleries.
Also, it supports ten menu layouts which further supports advanced effects and options. You can also integrate typographies from Fontdeck, Fontsquirrel, Adobe Fonts, and Google Fonts on Unicode.
Lastly, Uncode regularly updates its feature list to bring new and exciting features to its existing users. All these updates are free for anyone who has a license.