Jasper is a powerful software that uses Artificial Intelligence to deliver the user original and creative content. It is one of the most powerful AI-powered writing software that will help you write your content quickly.
Jasper is taught how to write creatively with the help of SEO and Direct Response Marketing experts. Jasper can help you create original content that is plagiarism-free and rich in keywords, which together ensure a good SEO ranking.
It is also helpful in creating better copy variations to increase sales with less effort. With Jasper, you can also say goodbye to your writer's block.
All you need to do is allow Jasper to write for you. Also, you can save bucks by eliminating the need to hire new writers because it can also repurpose any existing content to craft totally new content.
The real question is can Jasper write better than you? Well, it is tough to answer that but we are pretty sure that it can give you a tough time for sure.
Keeping the comparison between a human and an AI software tool aside, Jasper is one of the best AI writing tools and it's now the time to know why.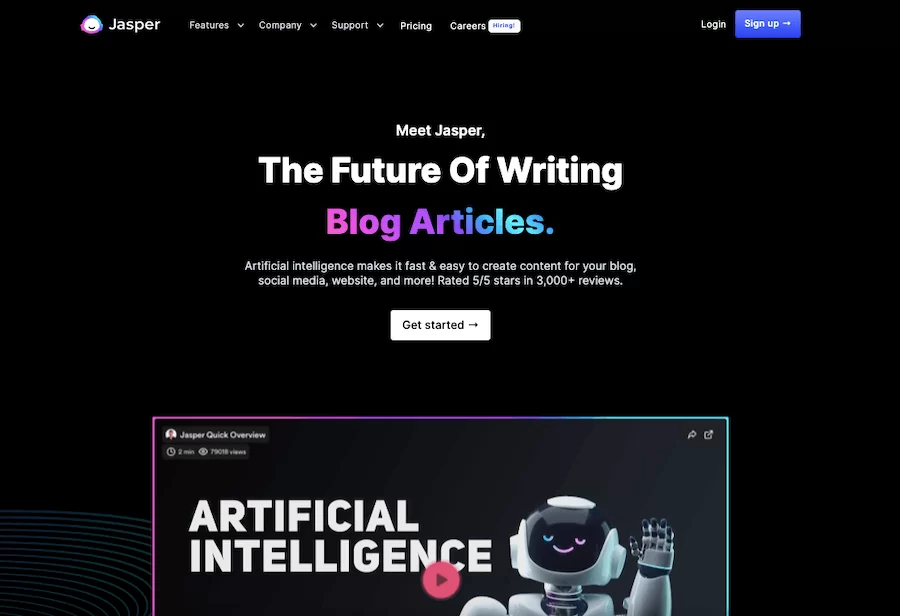 How Jasper AI Writer Can Help Businesses?
As a business owner, you are always looking for ways to improve your bottom line. One way to do this is to find ways to automate your business processes.
Jasper AI Write can help you by providing high-quality automated content for your blog so that you can attract more traffic to your website. This means that you can focus on other aspects of your business while we take care of the content writing for you.
It will help you create original content for your website or blog. The cutting-edge artificial intelligence technology to help you come up with fresh ideas and topics for your content. This means that you don't have to spend hours coming up with ideas yourself or creating the blog outline.
You can use more than 50 different content templates to get things done quickly.
Get More Traffic With Quality Content
The better your content, the more traffic you will get to your website or blog. With Jasper AI Write, you can be sure that your content is of the highest quality. This will help you attract more visitors to your site, which can lead to more sales and conversions.
Save Time With Automated Content Writing
Content writing can be a time-consuming task. With Jasper AI Write, you can save time by letting us handle the writing for you. We will create quality content that is optimized for the search engines, so you can focus on other aspects of your business.
Write Original Content With Jasper
Duplicate content can tremendously bring the rank of your website down. This is why bloggers and website owners try to ensure that the writing work that they are outsourcing is plagiarism-free.
You can check whether Jasper is producing original content or not because Copscaper powers the plagiarism checker of this software. This option can only be availed as an add-on to a plan.
It's no secret that creating original content takes time. If you're not writing it on your own and outsourcing it, you'll have to carry multiple checks to ensure it is worth publishing. In short, you will be investing both your time, money and effort.
You can end this painful experience by letting Jasper create the original content. Jasper can quickly create content for your email, social media posts, and blogs. However, for creating the perfect content, you need to provide Jasper with information like
Brief of the content
Title
Keywords
Once the system has the proper idea about the information you need in the content, the AI system takes it ahead from there.