To make the best use of this easy to use project management tool, one must take care of a few different things, such as the organization has to decide how they are going to use Asana. Take a call on how Asana can be implemented for your use and why would you need Asana.
One of the secrets to success for Asana in the project management software market is that it is highly secure and requires no other additional security configurations at all. It uses the latest TLS 1.1 protocol and hosts data in highly secure data centers in the US.
Design Your Workflow
Use Asana to design a highly optimized workflow to improve your teams' efficiency to make sure that you never miss a deadline again.
No matter what kind of business you are managing, be it a sales or marketing team, HR team, or any other vertical, Asana will fit perfectly into your need and make sure that you have a perfectly optimized workflow.
All your planning, discussions, requirements and all other details will be in one place.
Starting with the core objective of your organization, you can align all your planning and project details towards the main objective.
Successful Project Management
Asana is one of the most comprehenisve teams collaborationa and project manament software. So, starting from project planning to final delivery, you can manage everything from this single platform.
You will be updated with the status of your project at any point of time so that you can easily manage changes to work allocation and other management related issues right on time.
You will never miss a deadline again.
Save Time, Automate Tedious Processes
There are certain processes in a workflow that are tedious but important. With Asana, you can automate a number of regular processes so that you can save a lot of your productive time to focus on more important tasks in the project.
You can convert common processes into a custom template so that you don't have to repeat the similar kind of processes every time.
Asa readily offers you a number of templates that are created for all different kinds of projects that you can use so that you don't have to start from scratch.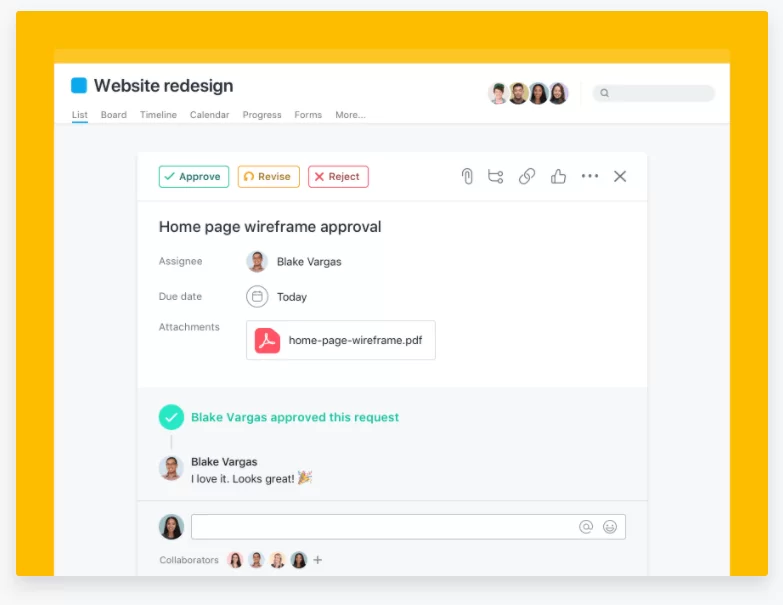 Different View Types
When you plan a project, the view makes a big difference and makes it easier to understand. Asana offers you multiple different views such as list view, board view, timeline etc.
If you have planned a project in a spreadsheet in the past, you can import those spreadsheets and convert them to a beautiful timeline design that is a lot easier to understand for a new team member.
Remote Team Management
Working with remote team is the new normal. Most of the business hire team members from all different locations in the world and collaborate online to discuss and get things done.
Asana offers you all the features and options to manage a completely remote team and keep everyone on the same page by using the tools offered by Asana.
Discussing any aspect of a project with multiple team members from different parts of the world was never so easier. With Asana, you can discuss, comment, and update the status so that all the team members working on a project get updated instantly.
You don't have to move between different tools and apps to update and message other team members, you can get all that done within the Asana dashboard.
Complete Productivity Management
Asana is a great productivity management app that comes with a number of different tool to help you enhance the overall productivity of your team.
keep a To-Do List
Create a simple and easy to use to-do list by using the Asana platform so that none of your team members miss anything important. You can create a to-do list and assign tasks to your team members.
Forget the Spreadsheets
Spreadsheets are confusing at times. You can keep all the information and meeting notes in a project plan that is a lot more productive and simpler way.
Use a Template
Asana offers you a number of ready to use a template that is created for different kinds of pf projects. So instead of starting from scratch, you can use a template to save time.