With the help of EngageBay, you can easily automate various aspects of your business and set it on autopilot. From email marketing to sales, CRM has got you covered with many robust features.
The best part, the interface of EngageBay is easy and intuitive compared to other CRMs and software. If you're a beginner with little to no technical experience, you can easily get started with EngageBay. 
What's more, EngageBay comes with various templates to help you get started quickly. The templates of EngageBay are available on different modules such as email templates, custom landing pages, and so on.
EngageBay Featured Highlighted
So here are the robust key features of EngageBay:
Marketing automation
Leads Capture
Email Marketing (Email broadcast, Email Templates Builder)
Landing Page Curation
Project management
CRM (customer relationship management)
Appointment scheduling
SMS Marketing
Lead Management
Automation
Custom reporting & Workflow
These are some of the most popular features that EngageBay offers.
Who EngageBay best suited to?
EngageBay is suited best for various audiences. However, these are the audiences who EngageBay is specifically designed for:
Marketers
Freelancers
Small and Medium business
If you are looking to generate leads real quick
If you're looking to leverage email marketing
If you're looking for streamlined marketing, sales, and customer service.
So these are the audiences whom EngageBay suits the best.
EngageBay Platform Review: (All Features & Modules Explained)
In this section, we will review all the major modules and features that EngageBay offers. This section will help you get insights into EngageBay and understand how it works.
EngageBay has three main modules:
Marketing Automation
CRM & Sales Bay
Live Chat & Helpdesk
Let's understand each module in detail.
Marketing Automation Module (Marketing BAY)
The marketing automation platform has a set of robust tools.
Once you login into the dashboard of EngageBay, you are presented with marketing Modules — it's set to default.
This is how the dashboard looks:
Also, the marketing automation module has various sections for detailed reports related to your email list, forms, sequences, and landing pages.
The best part you can also customize it with an easy drag and drop interface to arrange these sections.
If you choose different reports, there will be different customization options and settings available. What's more, you can just click on the "Edit Button" to make changes.
Some of the key highlight features of the EngageBay marketing automation module:
Inline & Popup Forms: You can easily create and add inline and popup forms from the dashboard itself. You don't need to be a coding ninja to create forms, just drag and drop elements. It's super easy to create robust inline and popup forms.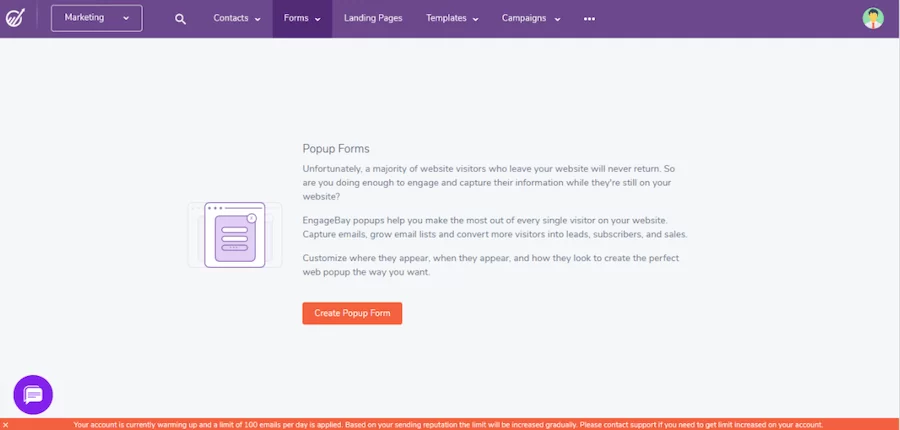 Landing Pages: To build converting landing pages, you can just click on the "landing page" section right on the dashboard. The design process is straightforward and has a drag and drop interface.
Also, it has ready-to-use templates to build stunning landing pages on the go.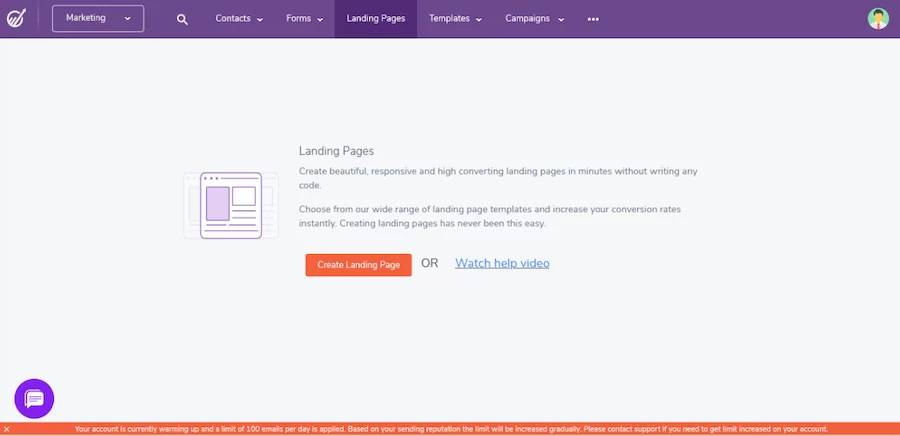 Email Marketing: Well, EnagageBay has a robust email marketing module. From email broadcast to automation, you can do everything with EngageBay. It has a robots email template builder, which helps you to curate class emails draft on the go.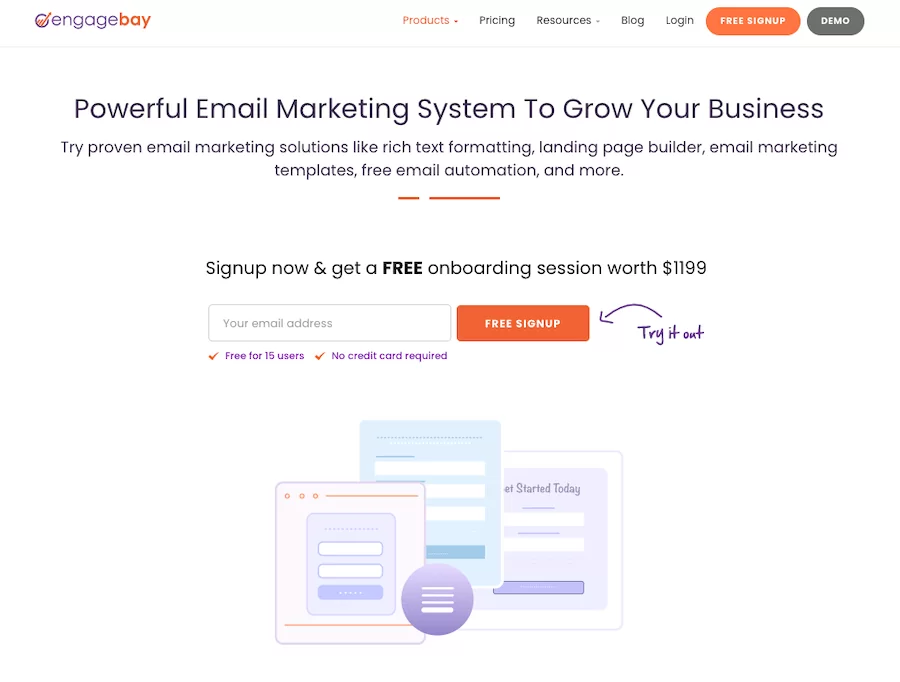 Video templates: This feature helps you upload videos to your emails. You can easily select the "Video template" right from the "templates" section. You can record a new video right there or upload a new one. 
Sales & CRM Software Solution (CRM & Sales BAY)
In this section, we will review the sales & CRM section of EngageBay.
To navigate to this module, you need to choose the first drop menu on the dashboard, and then you need to click on "Sales".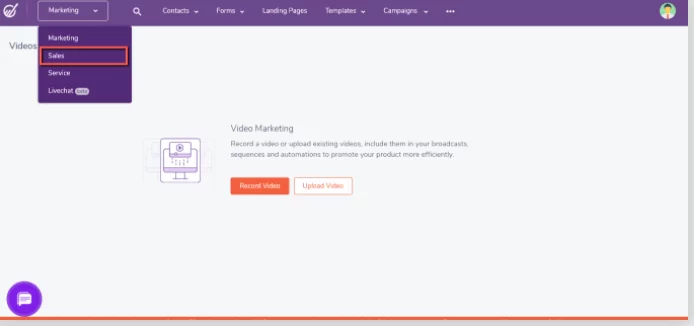 This will easily open the sales dashboard, which will have various sub-features to cover. You can easily get all the important reports from there, such as deal funnels and sales performance.
Here are some of the robust features of the Sales & CRM Module:
This is the first option in the sales dashboard. Once you click on the "Contact" menu, you will see three different options: Lists, Contacts, and Companies.

The best part you can import your contacts from the dashboard right away. To add any new contact, you need to click on "Create New."
With this option, you can create lists in the sales dashboard. For that, you need to click on the "Lists" option from the contact menu. This option helps you create your own list on EngageBay easily.
The is the powerful and additional feature that is available in the sales dashboard. Using this feature, you can create multiple company profiles to keep track of your customer's journey easier.
This section in the sales dashboard provides a birds-eye view of the process of knowing whether the deal is converted or lost. You can simply get a complete idea of how the business is shaping and how your sales strategy and funnels look like.
The Tasks section is there to help you get to know whether your sales team tasks are aligned properly or not. For example, this section will look similar to Trello, where you can assign different tasks to your sales team.
Service Bay
This is another module that EngageBay offers. Well, when you open the service module on the dashboard, it will open a dialog box popup.
Right on the dialog box popup, you can easily add the service domain. After finishing that popup box, another dialog box will show up, guiding you about the next step.
Some of the cool features of Service Bay:
So this is the complete review of EnagaeBay features and helps you get detailed insights into it.
Verdict: Does EngageBay Worth The HYPE? 
So this is our complete review of EngageBay.
Yes, Engagebay is worths the hype. It's no doubt, EngageBay has an easy interface with flexible pricing options that makes it the reliable and affordable one-stop solution — marketing, sales, and support platform.
Over to you, what do you think of EngageBay?