The best part about monday.com is that once you get along with all the features and tools integrated, you get to explore tons of different views for your project board. The basic and integrated view is called a Table view, or simply a Table.
You also have access to a Map view, Calendar view, and the Kanban board. The purpose of all these views and tools is to make all the views have the same effect. If not actually a Gantt Chart, the features and possibilities with the integrated "Views" are the same.
Also, the tons of integrated and easy-to-configure features make monday.com a very easy and quick to use task management application. You can choose from a list of different automation features easily for every detail of your work.
Over 200 Ready Templates
monday.com is a visual platform and you will love how it looks. The colorful templates make it playful while you manage even a very serious project.
It offers you over 200 ready to use templates to choose from. It includes almost any kind of project for any kind of industry. So, it is quick and simple for the users to get started on this platform.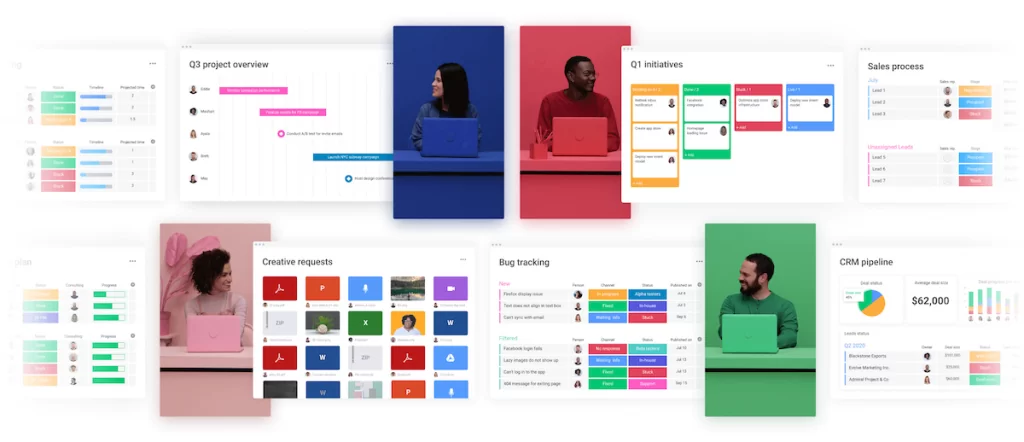 Different Types of Views Depending on Project Type
Every project is different and needs a specific type of view to look at the data. monday.com comes with a number of different types of view such as Kanban, Calendar, Timeline, Gantt, map, form, workload and more to make it suitable for your project.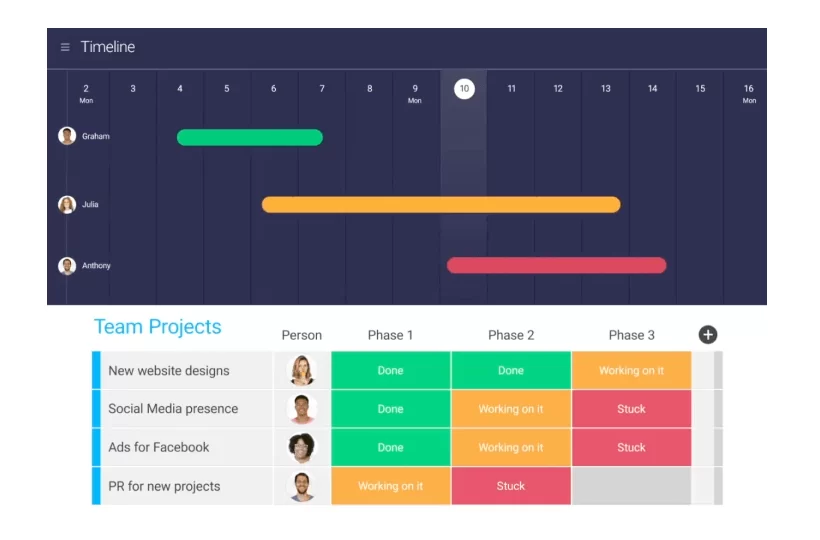 Automate Daily Tasks
monday.com makes it very simple to automate the daily tasks and processes so that you have plenty of time to focus on your core business. Tasks that you need to perform on a regular basis and takes a lot of your time, why not automate those using the tools and robots offered by the platform.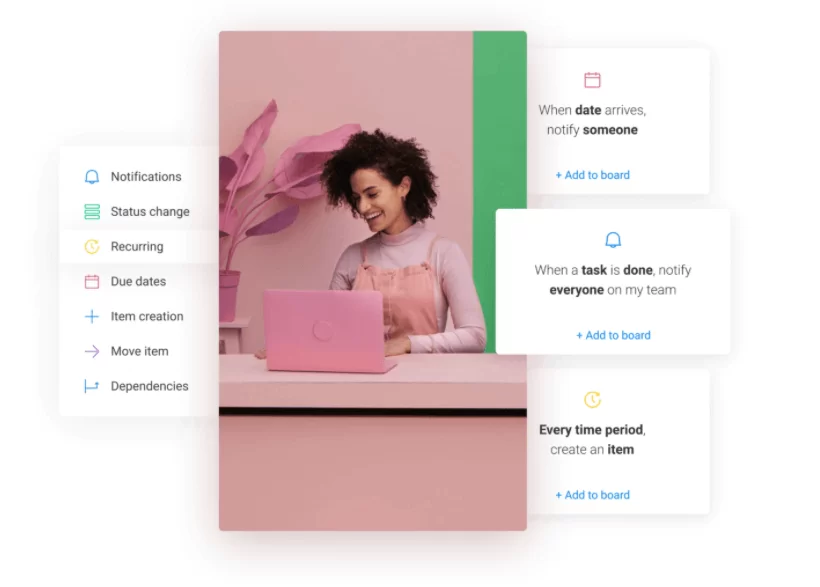 Third Party Integration
As a business owner, you are probably be using a number of different tools. Now with monday.com, you can integrate all other tools together so that you can work through a single platform to make your processes quicker.
monday.com gives you the option to integrate with over 40 different software that includes all the leading tools that you may need yo use.
Manage Your Files
You can upload all your important files that your team might need in one place so that anyone with access can retrieve the files whenever they need. This will save the to and fro emails that you need to write to access a file when a team works on the same project.
monday.com offers you a simple solution to upload all your files and keep them safe. You will have an advanced search option to find old files in the system, so nothing will be lost.
Advanced Team Collaboration
Think monday.com as your online office where everyone meets and shares the details related to a project. The advanced team collaboration tools make it simple for the managers to keep a track of a project from anywhere at any time.
The visual dashboard of monday.com will keep everyone on the same page by offering simple project view with the latest updates.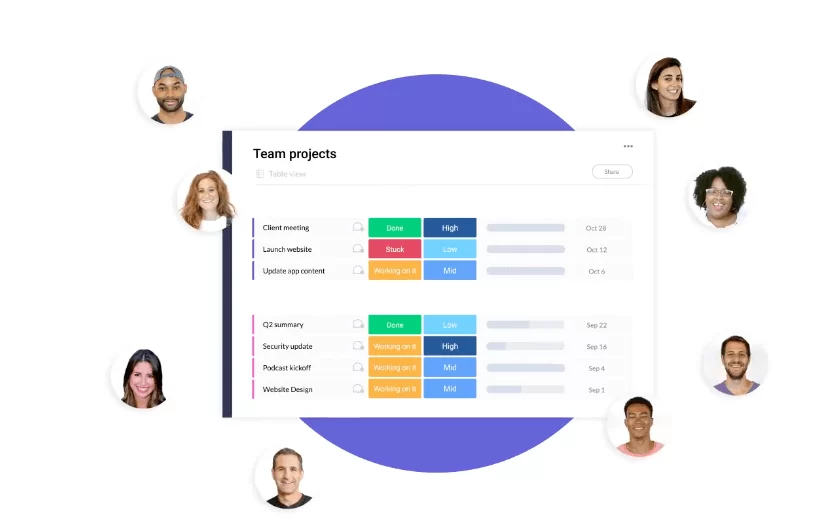 Top CRM Tools
monday.com is not just a Project Management tool by a complete Customer Relationship Management platform where you can collaborate with your team to manage the entire sales and customer service process.
Manage process like
Lead management
Pipeline performance
Customer relationships
Lead handover
Build your own workflow with the visual dashboard and share it with your team to discuss the performance on a regular basis. You have the option to automate a number of processes while you manage your sales pipeline. You can automate notifications, reminders so that one of your potential customers go unnoticed.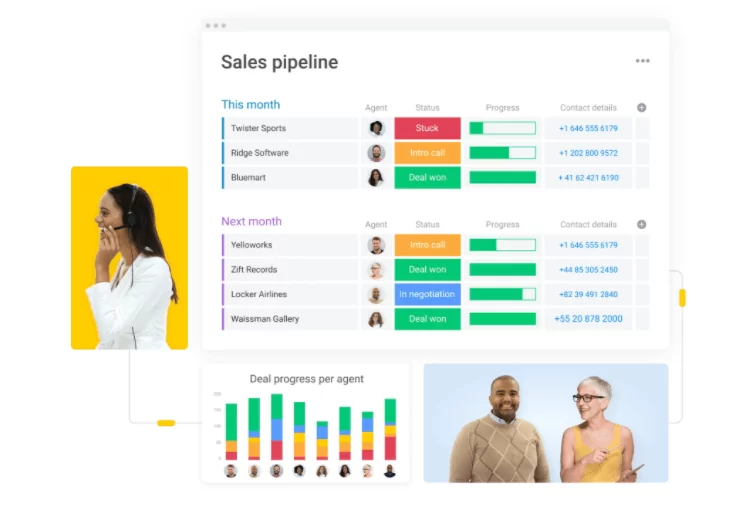 Start a Remote Office
These days, working from a remote location is not a new thing. Remote businesses are the new normal. So, if you are managing a project from the United States, you can hire someone in Australia and work together.
However, you will need the right kind of tool so that even if your team is working from remote locations, things are organized.
monday.com is a platform that will simplify the overall process of managing team working from remote locations. It comes with a number of ready templates that you can use to get your team onboarded quickly.
Manage Your Business from Anywhere
monday.com is a mobile-friendly platform. It comes with advanced iOS and Android apps so that you are updated with your business deals no matter where you are. You can track the performance of your team, latest stats, and project-related updates right on your mobile phone.