Picking the right SEO tool for your business and blog can be tricky. There are tons of different features, pricing models, and results to take into consideration.
So how do you decide which SEO software is best?
We have already reviewed Semrush which is one of the most popular SEO paid traffic analysis toolset that comes with a number of very handy tools. Serpstat is another platform that offers more than 30 tools.
This post highlights what makes Serpstat stand out from the crowd and why it's one of the best all-around SEO tools on the market right now.
Serpstat is an all-in-one, comprehensive search engine optimization tool that can provide you with a wealth of information about your content and your competitors' sites.
Here's a quick overview of the tool.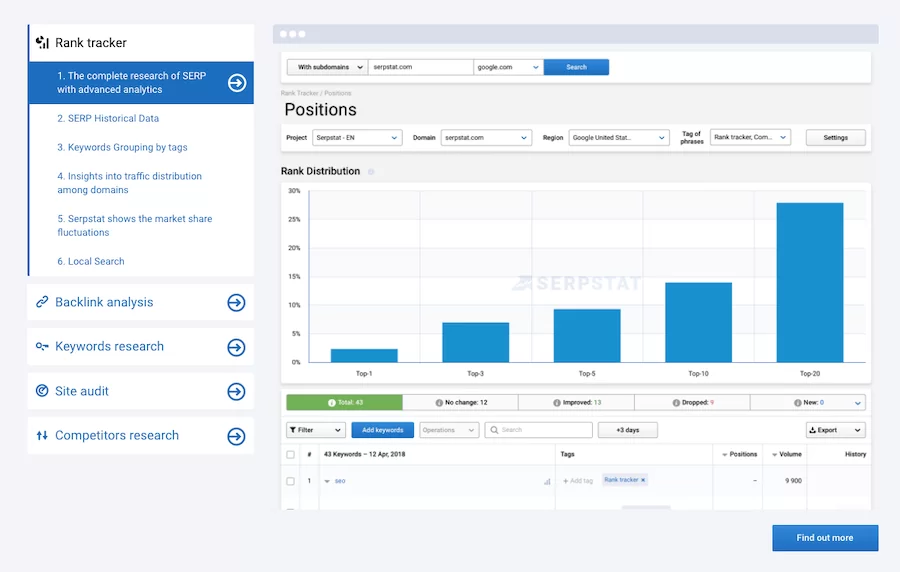 Complete and Detailed Website Analytics
When you first log in to Serpstat, it will give you all the important metrics for your business. However, there's so much more this tool can do. Serpstat offers you complete website analytics in two formats: domain analytics and URL analytics.
It is also considered one of the best keyword analysis tools.
When you log in to the platform, you can choose the tool you want to use from the dropdown or in the left sidebar.
Show More
Domain Analysis
Serpstat gives you a complete picture of your website's visibility. As you make search for any domain, you will have all the important data like organic traffic, organic keywords, paid keywords, etc.
At one glance, you can see the top keywords for any site and you can click and go to the details page to see all the ranking keywords that drive the maximum amount of traffic to the site.
The domain analysis page also shows a number of important graphs to understand the traffic trend, keyword trend, and overall visibility of the site.
This report page is very handy to get a quick idea about any of your competitor sites.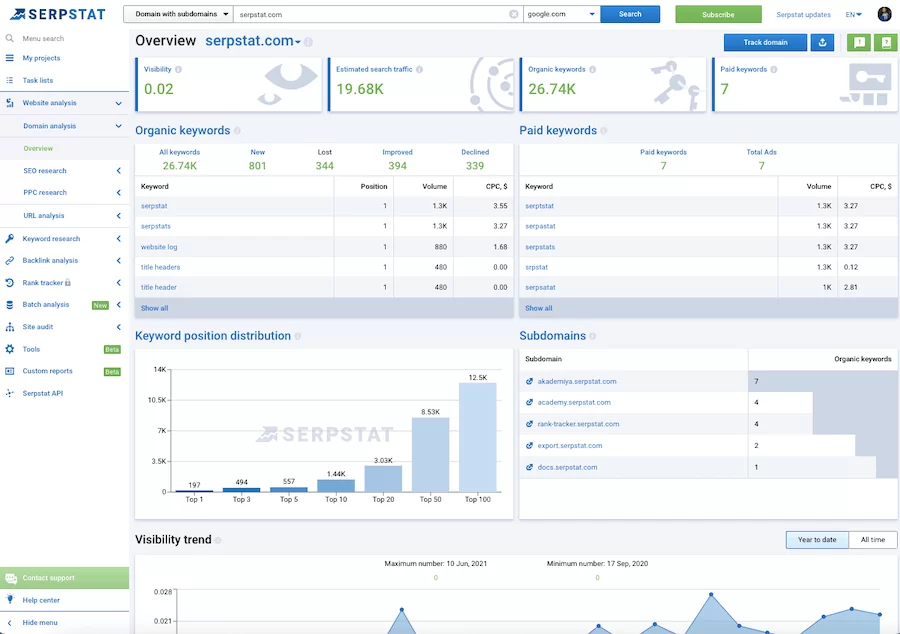 URL Analysis
Serpstat also allows you to analyze the activity of each page on your site. This is extremely useful as it shows you how strong your SEO efforts have been over time and if a particular page needs more attention.
All you have to analyze a URL is to type in the target URL in the search box and hit "Search". Serpstat will then show you the keywords that this URL is ranking for, you can also check the competitors in organic search so that you can do further analysis of those pages.
You will then get a summary of the page's SEO ranking, and the keywords. And you will also see the keywords that you have missed in your content that may help you bring more traffic to the page.
This report can be very handy if you are trying to rank a particular page.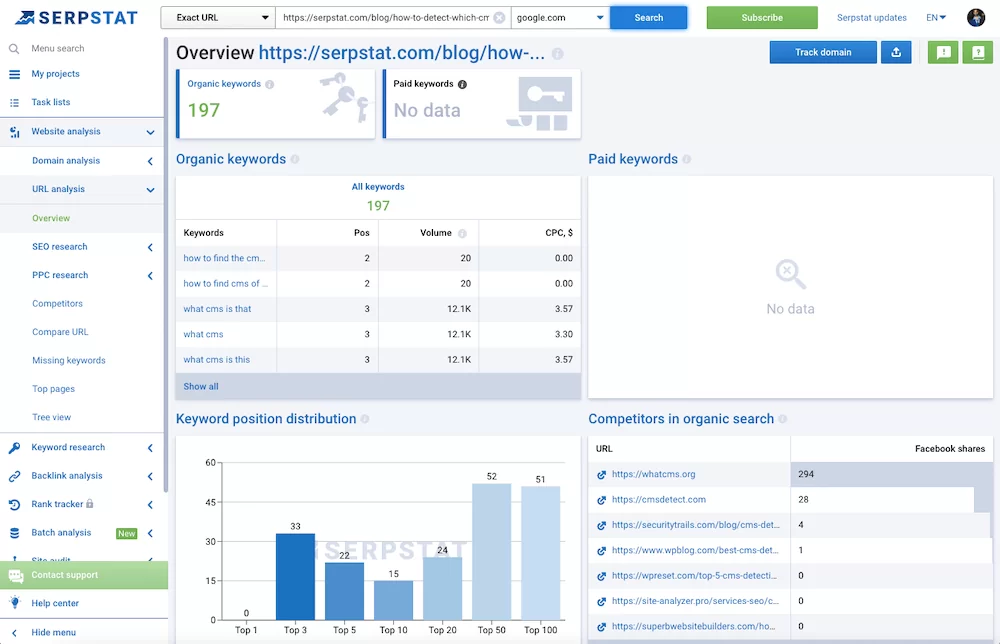 Competitor Analysis
When we look at tools like Serpstat, competitor analysis is one of the primary aspects that we look at. While there are a number of quality free SEO audit tools that you can use to check the SEO issues on your own site, a look with Serpstat is primarily known for going through competitor sites in detail.
Serpstat also gives you information about how well your competitor ranks for any potential keywords so that you can adjust your marketing techniques accordingly.
The tool also offers you an in-depth report of all your competitors' SEO activities, giving you a complete picture of how they are doing and what results they have been getting over time.
You can start with your own domain analysis to find the top organic competitors for your site so that you can go ahead with further analysis of all your competitors.
You will find a list of top competing sites in the domain overview report, you can click on "Show All" to find all the sites that are targetting similar keywords.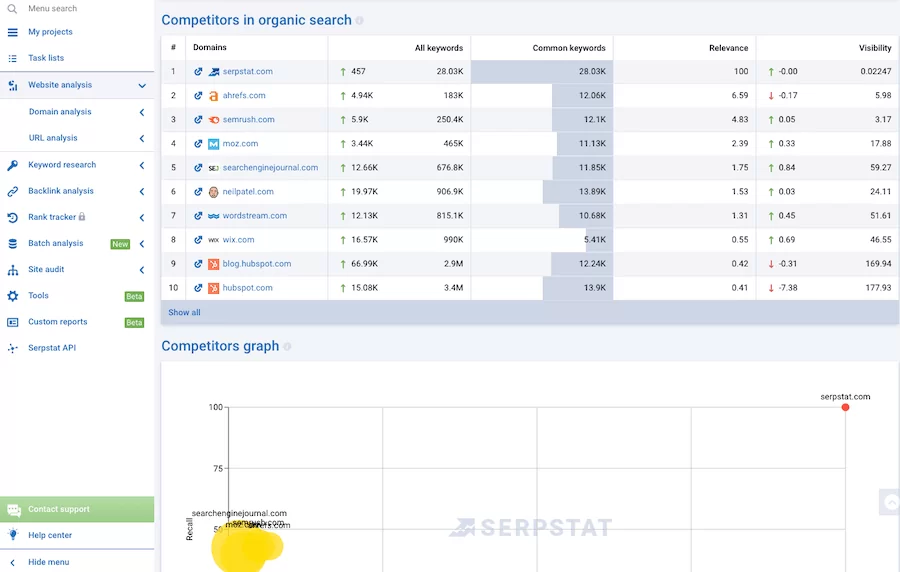 Once you identify all your competitor sites, you can click on any of those sites to start the analysis.
Domain Vs Domain Comparison
When we talk about competitor analysis, Serpstat also offers a domain vs domain comparison report. You can add your own domain and the system will find all your top competitors. You can select the domains that you wish to compare your site with and start the analysis.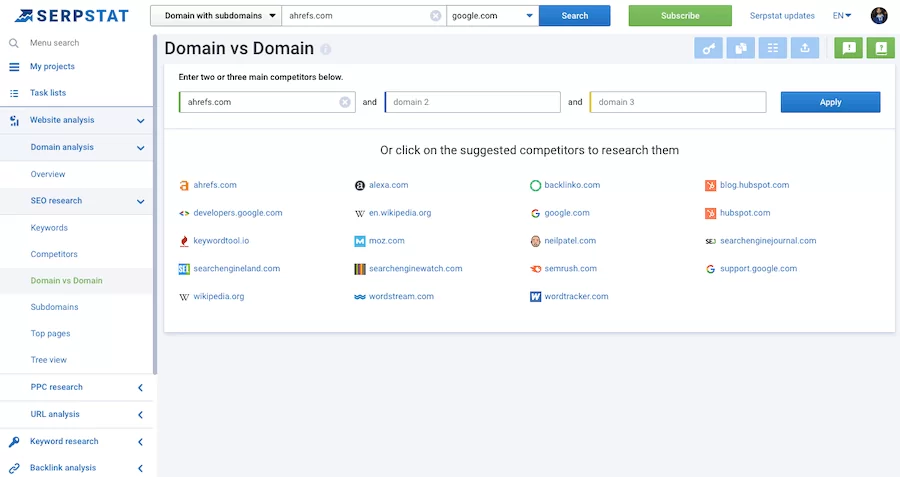 Find Top Pages of Any Website
Continuing the competitor analysis options provided by Serpstat, you can analyze the top traffic-driving pages of any website. Go to SEO research and Top Pages from the menu and check the best-performing pages of any website.
When we talk about organic search, a single page can rank for hundreds or thousands of different keyword combinations. So, this report will give you an idea about the number of keywords a page is ranking for and the total amount of traffic that all those keywords bring in.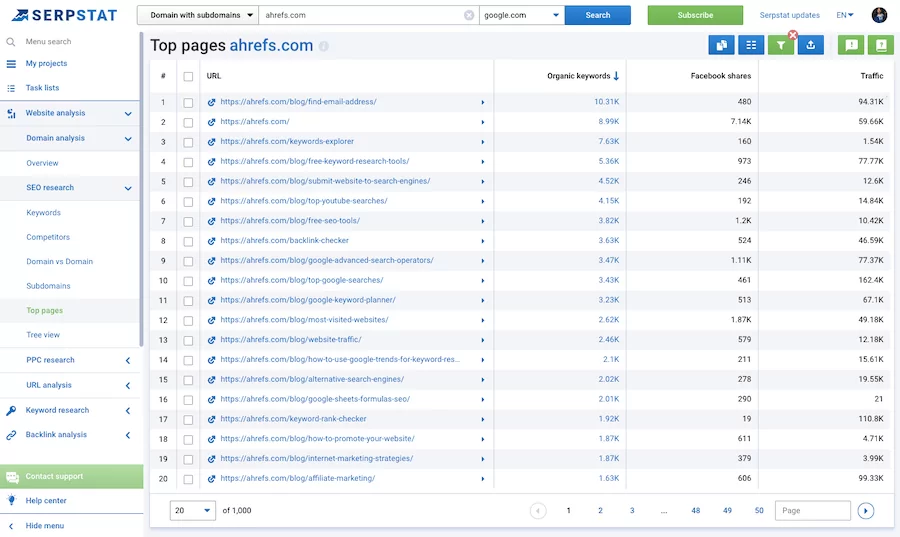 Now, you can click on any of those pages and it will take you to the URL research report that we have discussed above. It will have a number of important details about the page such as ranking, total search volume for all the keywords that the page is ranking, and the amount of traffic it is bringing it.
You will also have CPC rates and PPC competition for all those keywords.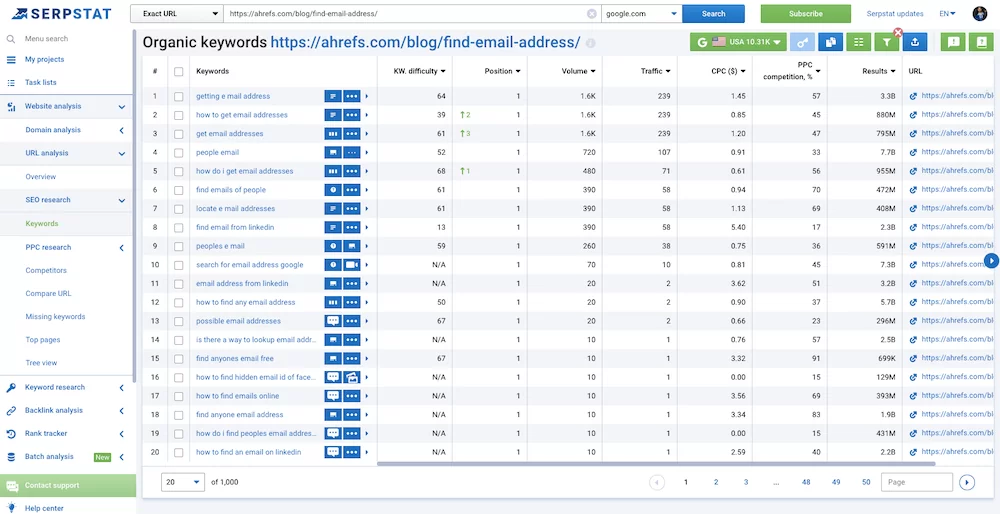 Missing Keywords Report
Missing keywords report is a very useful report provided by Serpstat. If you are doing research on any of your important pages that are already ranking well for a number of keywords, you can keep on updating it with more content so that it sustains the ranking and starts ranking for more related keywords.
You can use the Missing Keywords Report to find the keywords that can be added to the post along with the overall search volume for those keywords.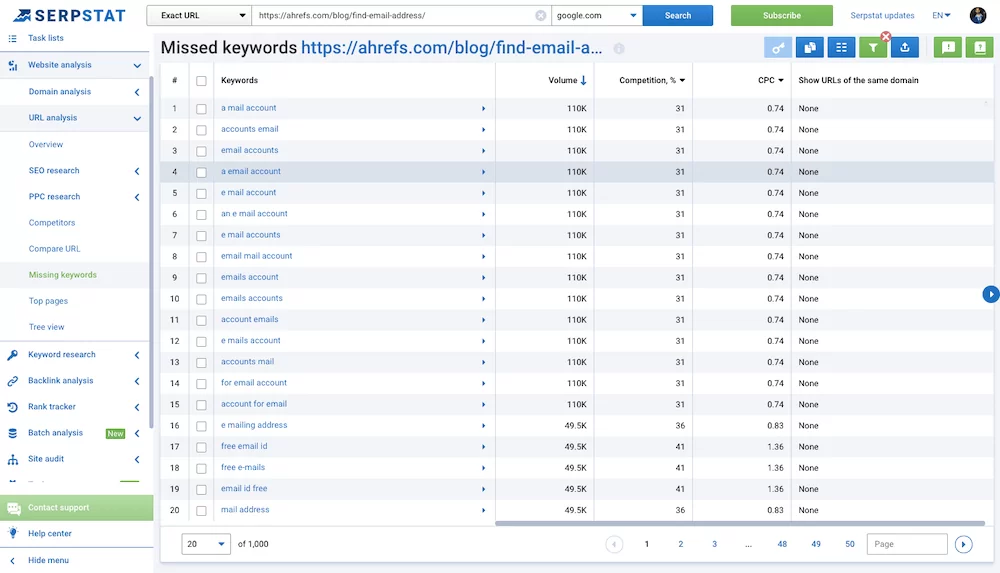 Keyword Research
Serpstat is a great tool to get help with your keyword research. It will show you what keywords are the most popular based on how often they are searched by people all over the world and by which areas they generate the most traffic. The more popular a particular keyword becomes, the more potential traffic it can bring to your website if you implement it well.
Serpstat also gives you a list of all the search keywords that can potentially bring traffic to your website along with their CPC and competitors' ranking. This way, you not only get complete keyword ideas but also get insight into what keywords are already popular in the market and which ones haven't been fully optimized yet.
All you have to do is to enter the seed keyword in the search box. Serpstat will then show you a list of related keywords that other people use to find the same content. The tool gives you all the possible search queries that can be used to generate traffic for your site, taking into account certain details about your website as well, such as its location, age, etc.
Let's get started.
If you are managing a digital marketing business, "Digital Marketing" can be your seed keyword and you can start your search with that keyword.
Here are a few aspects of the keyword research report.
Volume: This is the overall search volume for that keyword per month. You can set a minimum search traffic volume that you wish to target through tour content, it could,d be 100 or 10,000.
Competition: The overall competition for that keyword. It will give you an idea of how many websites are targetting that keyword.
KW. Difficulty: Keyword difficulty is the score to help you understand how easy or hard it is going to be to rank for that keyword.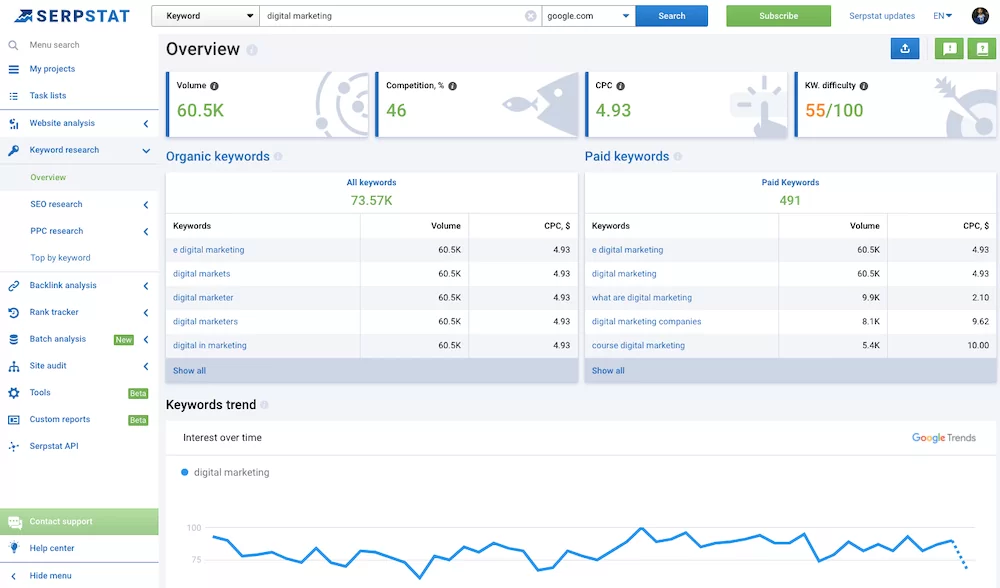 Keywords Selection
When it comes to keyword research using Serpstat, the Keyword Selection report is the most important. When you start the research, the primary intention is to find a quality keyword with a higher search volume that can be ranked for if the motive.
The Keyword Selection report will show you all the related keywords to the seed keyword along with all the important data for each keyword such as search volume, and keyword difficulty.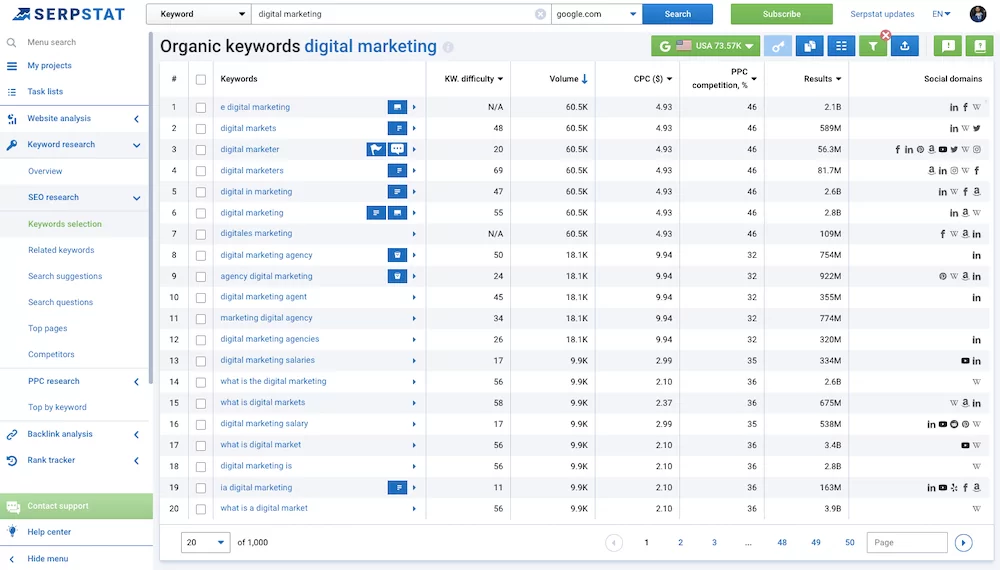 Search Suggestions
The Search Suggestions report gives you an idea of all the related keywords that users are searching for on Google. So, if your seed keyword is "Digital Marketing" you will see all the related keywords that are searched for around this keyword.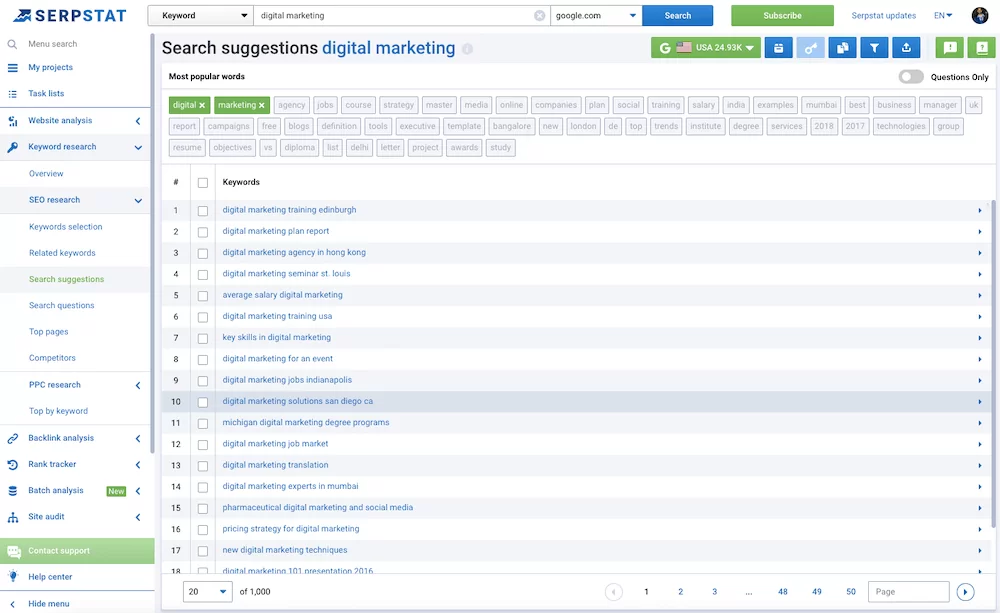 PPC Keyword Research
The PPC Keyword Research report by Serpstat is really handy. If you are managing any product or service business, these reports are going to be very useful.
You can check all the keywords that your competitors are targetting for the paid ads. You can check by keywords to find the competition that you are planning a campaign for.
You can do further analysis. You can find the landing pages for all those keywords. You can see the number of landing pages, just click on the number and it will take you to the exact landing pages for that keyword.
For example, there are 45 landing pages for the key phrase "digital marketing certificate"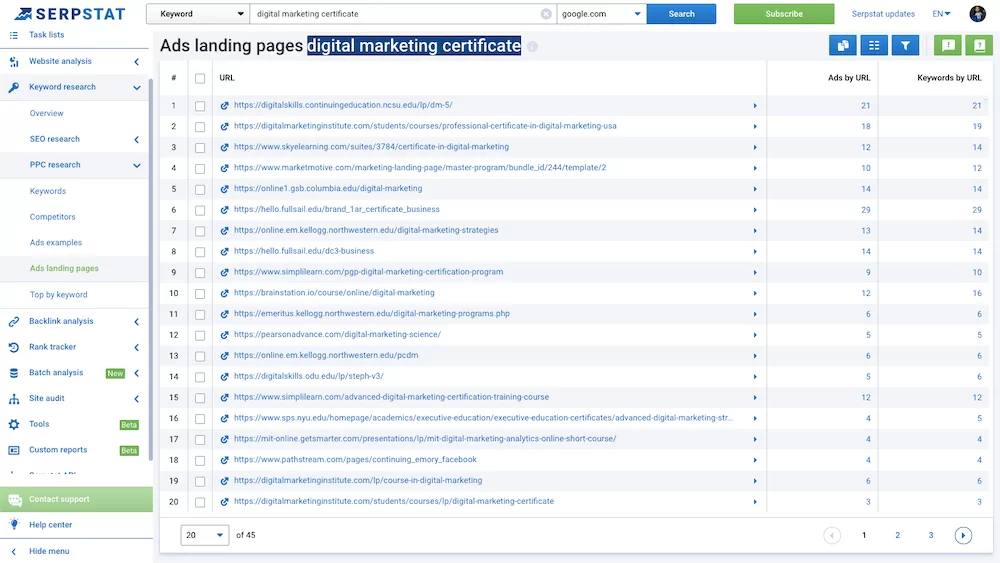 Backlink Analysis
Along with a comprehensive keyword research toolset, Serpstat also offers backlink analysis tools that you can use to keep a track of all your backlinks and to analyze the backlink profile of your competitors.
You can start with any domain that you wish to analyze and find all the backlinks for the site.
The backlink overview report offers you all the link-related summaries that you need to know. You can check the number of referring domains, total backlinks, redirected links, etc.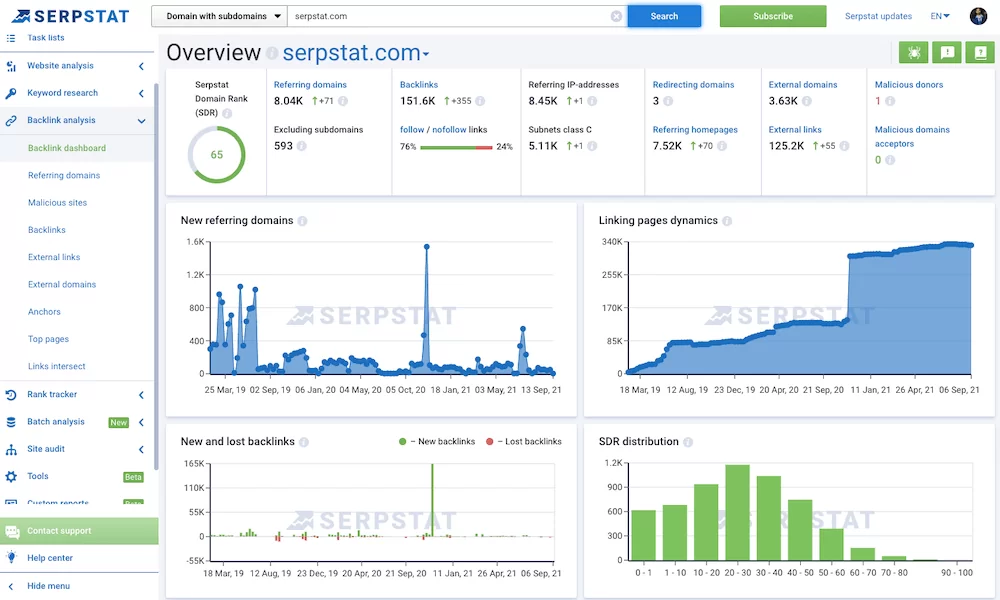 Top Pages by Links
While doing a backlink analysis of your competitor sites, the top pages by links can be another very useful report. This will give you an idea about the kind of content that attracts most of the links.
While the homepage is the top page by links for most of the site, you can check all the other pages and then do further analysis for those pages.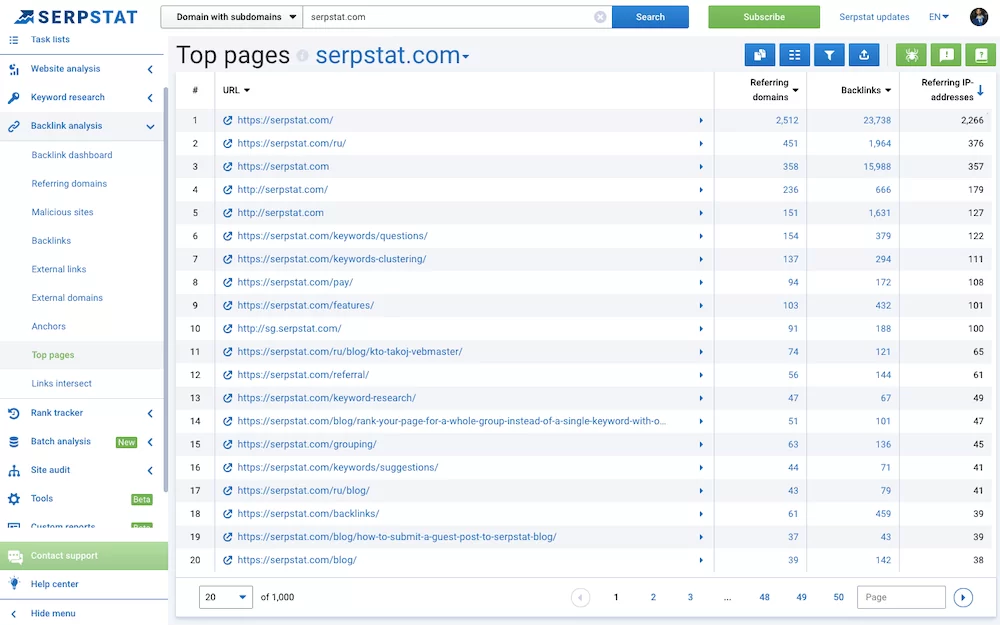 Rank Tracker
You can use the Rank Tracker tool to keep a track of all your important keywords & SERP changes so that you can plan an update of your important pages. You can create a report and set the frequency.
You can set the geolocation for the report as well as the keywords that you wish to track and complete the process.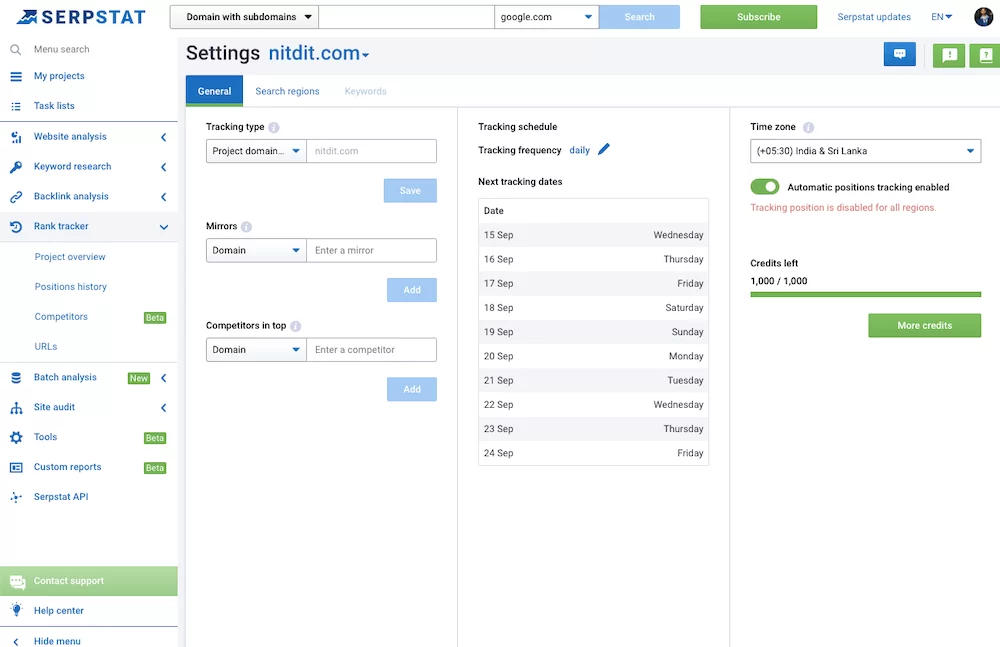 SEO Audit
Along with all the other reports and tools we discussed, Serpstat also offers you a comprehensive site audit tool that you can use to do an SEO audit.
It is important to know the SEO errors in your site so that you can fix those before it starts impacting your organic traffic. You can add your project detail and set the report.