If you are managing a website, you are probably aware of Google Webmaster Tool (Search Console) or Bing Webmaster Tool that gives you access to the data of your site and things that you can improve.
However, the reports you get on Google or Bing webmaster tool is very limited and they offer only a few details to analyze.
Ahrefs Webmaster Tools promises to fix that gap by offering a number of actionable data for SEO analysis. Also, as the tool is just launched; you can expect even more data in the time to come.
How to Get Started With Ahrefs Webmaster Tools?
Visit the Ahrefs Webmaster Tools page here, and sign up.
You will receive the confirmation email from Ahrefs, check your email and confirm.
In the next step, you will be asked to add your details.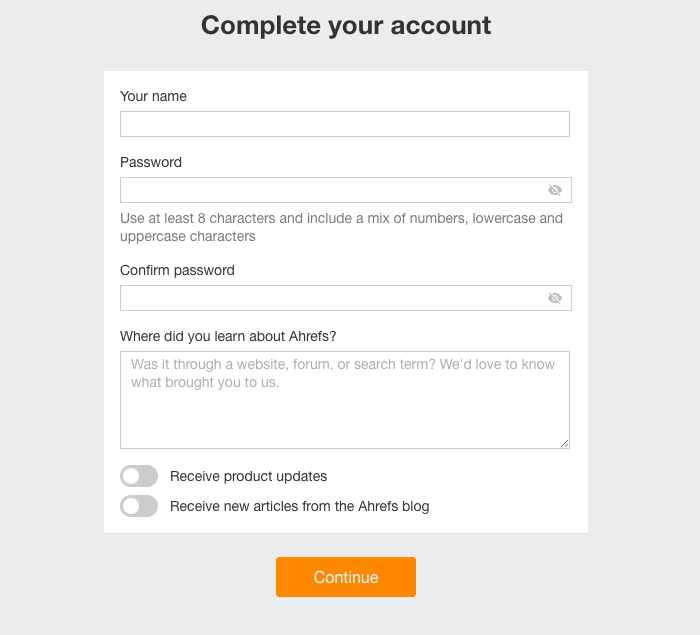 Fill in all your details and create a password.
In the next step, you will be asked to verify your ownership that you own the project you are going to add to the webmaster tool.
You have two options
I would recommend you to go for the manual verification and leave Google Search Console alone.
Add your project and move to the next step.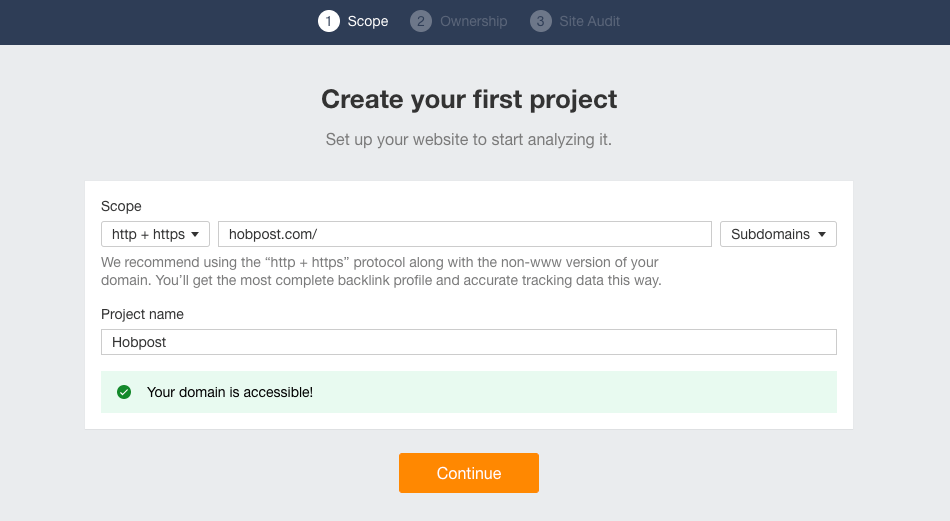 Now, you need to verify that you own the project that you have just added.
Here are the options
Though the verification process using Google Search Console and is quick and simple, we will stick to one of the other options from the list.
If you are going for the HTML file, you can download the file and upload it to your root domain.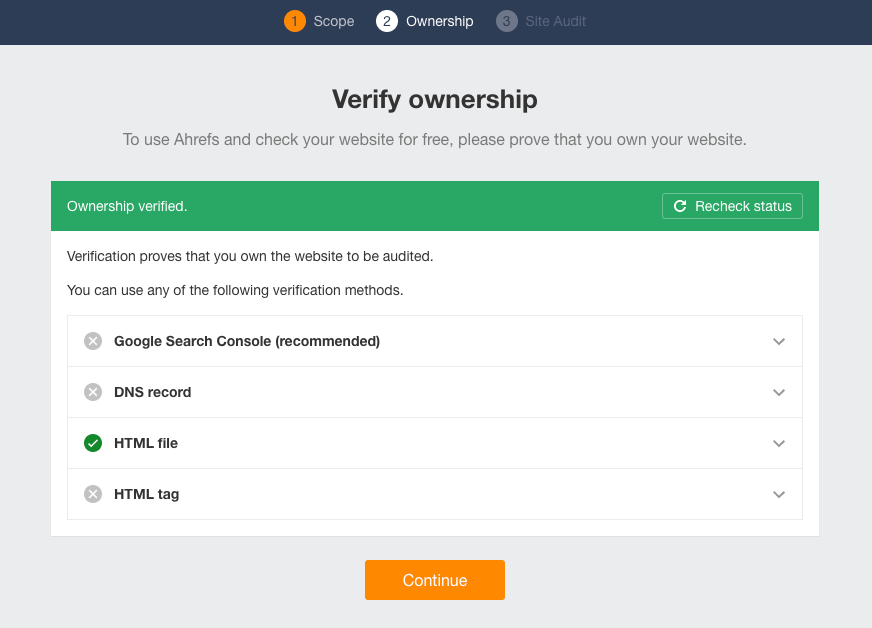 Schedule Site Audits
In the next step, you can schedule site audits. You can set the crawling frequency to daily, weekly or monthly. We will set it to weekly and proceed.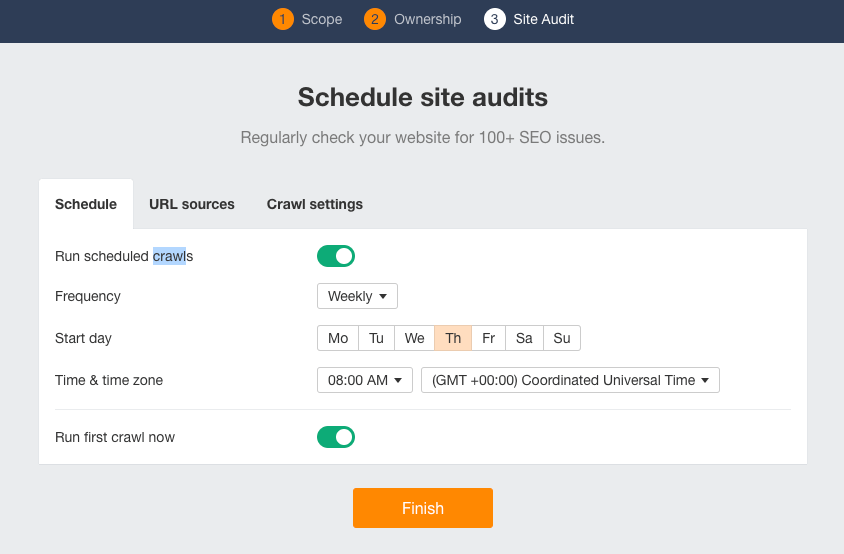 Ahrefs will take some time to fully crawl your site and present you the complete data.
What Do you Get Access to?
Once you sign up for the Ahrefs Webmaster Tools, you will get access to two of their main tools.
Let's look at these tools.
Site Explorer Tool
Here is the deal, you can only use the Site Explorer Tool for your verified domain. If you are a paid member, you can use this tool to analyze any of your competitor site and find all their top keywords, backlink data and a lot more.
Nevertheless, you can access this tool for free now for your own domain and find a ton of useful data that you can work on.
The Site Explorer Tool gives you access to a ton of insightful data for your site that will help you to improve your site.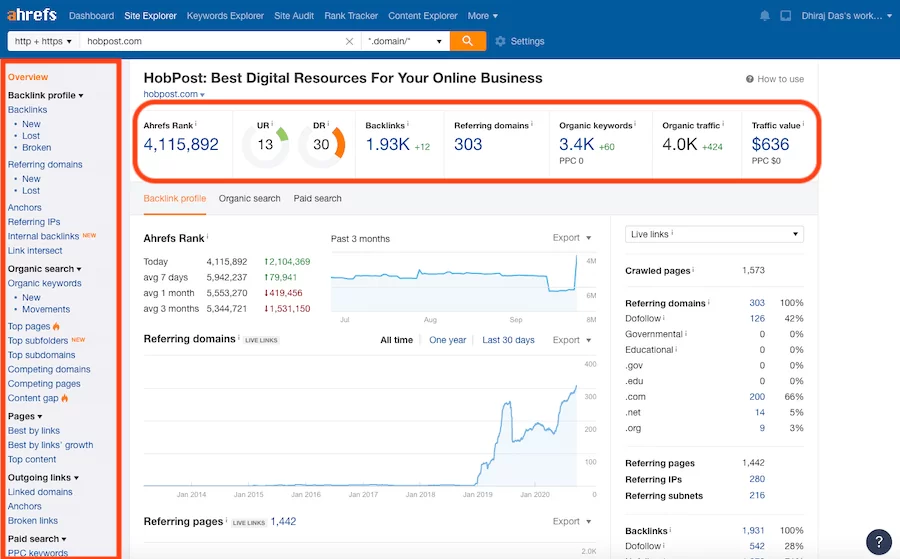 You can use this tool to get a quick update on
How Ahrefs Webmaster Tools Can Help?
If you are not aware or have limited data for your site, you will not be able to improve it. The Ahrefs Webmaster Tools will give you access to a number of useful data that you can analyze to improve your business.
Here are a few actionable tips for you with the Ahrefs Webmaster Tools.
01. Find Your Top keywords
You can use the free Site Explorer Tool to find the top keywords for your site along with a number of useful data such as the traffic volume for those keywords and difficulty score to rank for.
You can find the top keywords that brings the maximum traffic to your site or check the position for those keywords and work on improving the ranking further.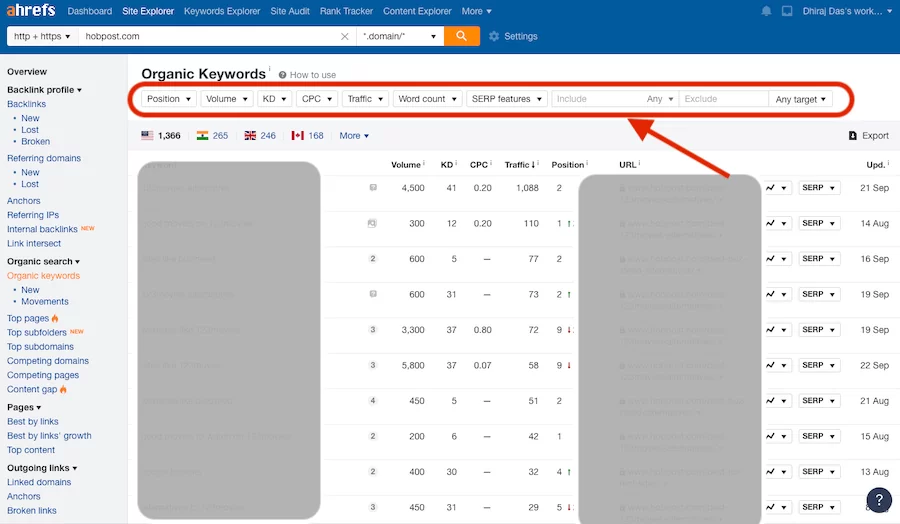 It gives you a number of actionable filters that you can use to analyze the keyword data in detail. You can track them as per volume, difficulty to rank and a number of other parameters.
02. Track New Organic Keywords
There is a complete report on the new organic keywords that you can check the find the new keywords for your site.
Generally, if a page of your site starts ranking well for your main targeted keywords bring in regular traffic. It will slowly start ranking for multiple different keyword variations.
You can use this new organic keyword report to find those variation and update your content by including those keywords to rank even better for those additional keywords.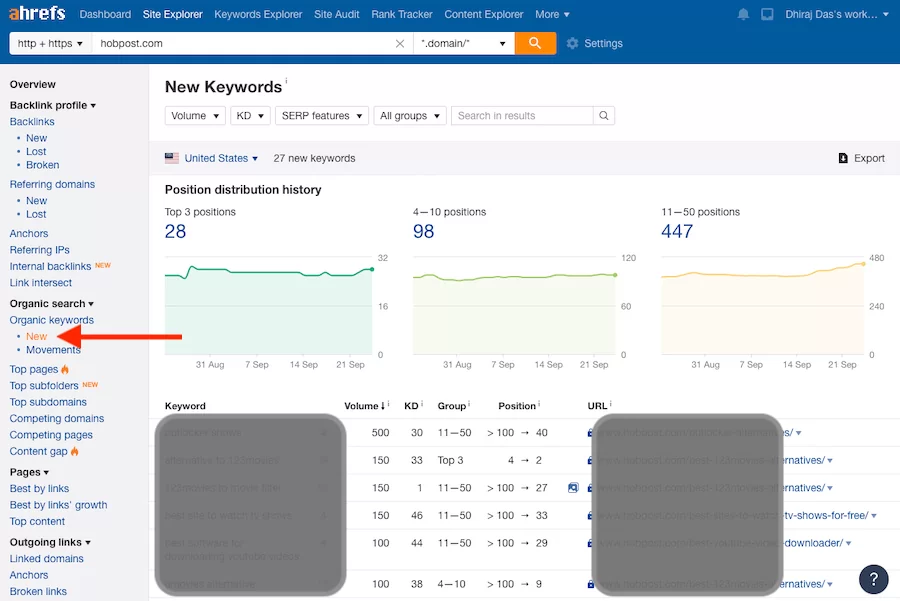 03. Complete Backlink Data
You will have the access to your backlink data along with a number of details that you can analyze.
You can use this report to analyze the following.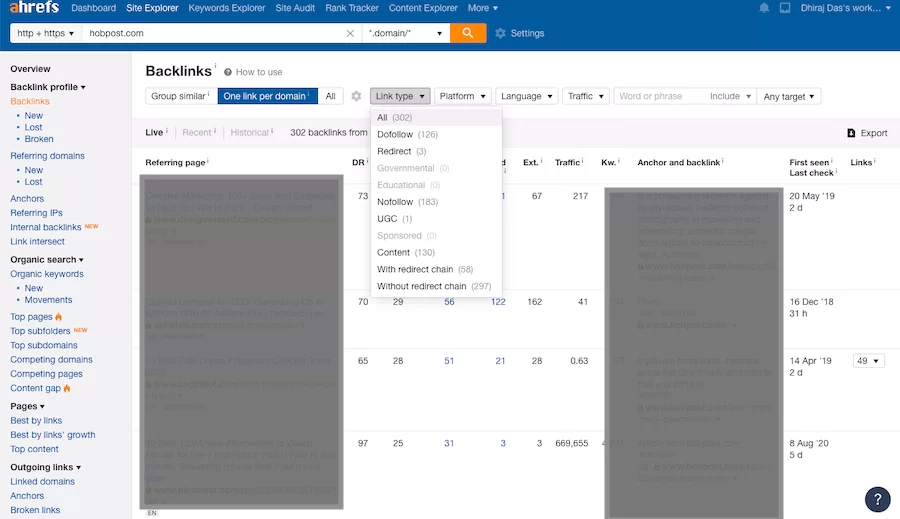 You can also download your complete backlink data for further analysis.
There are a number of filters at the top such as the link type, language of the linking page and so on.
You can also use this tool to find the best pages by links (the pages that have the maximum number of backlinks).
You can use this report for internal linking. An internal link from the pages with maximum backlink will have a much better impact than a page with no backlinks at all.
04. Complete Site Audit
Even the best in the industry can make mistakes, so regular SEO audit is very important for every site.
The Ahrefs Site Audit tool will crawl your site and create comprehensive audit report that will offer you in-depth insight on the health of your site.
Here is how the data for our site looks like.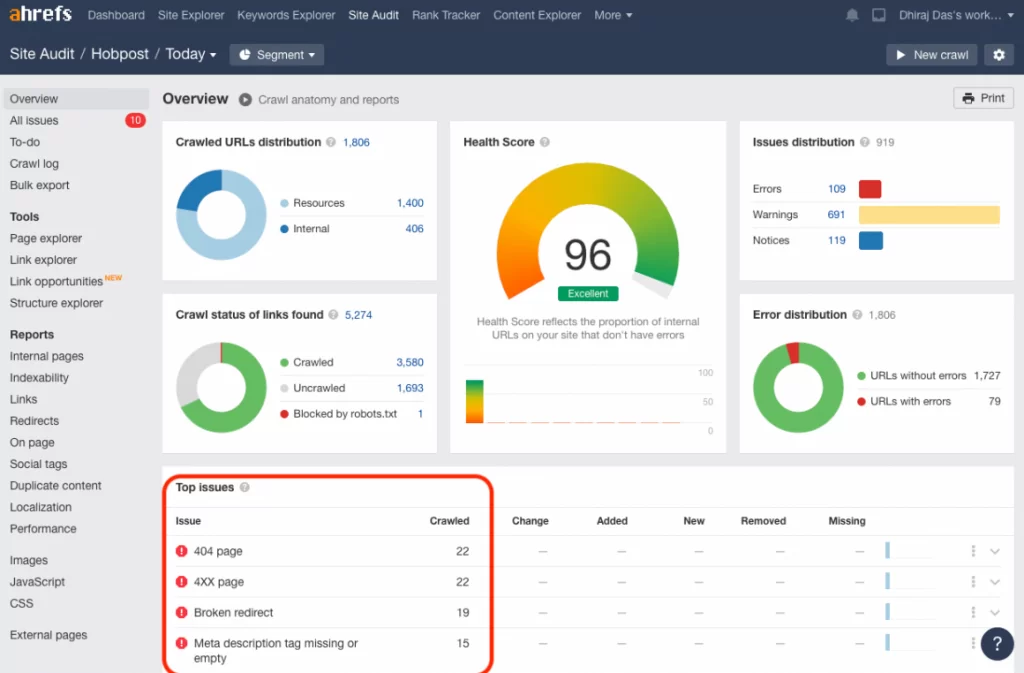 So, we have 22 404 pages to fix, there are a number of broken links as well. However, the overall health looks good.
Along with the Site Audit Summary, you get access to a number of different reports that you can use in the Site Audit Section.
There are some really useful reports such as..
Performance Report
We all know the performance of a site is very important from the SEO and user experience point of view. This performance report will give you detailed information on loading speed of yoursite.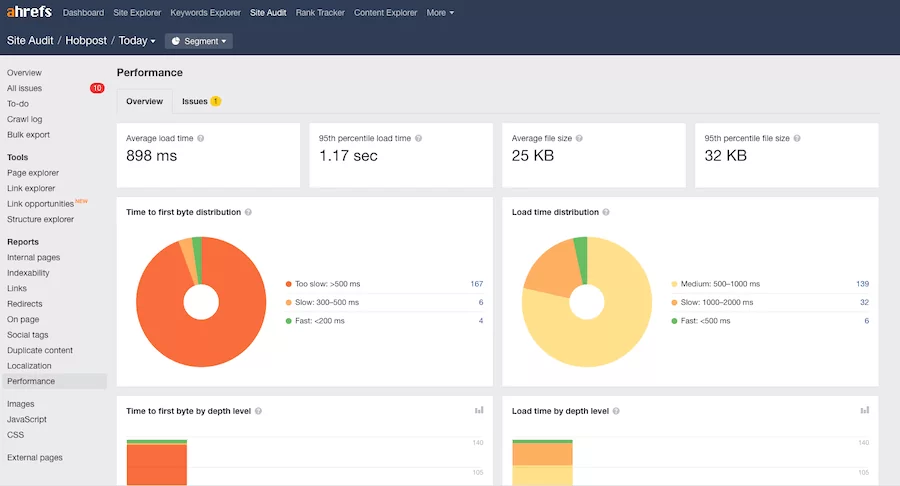 Duplicate Content Audit
The duplicate content audit report is another important report that you should check.
The report gives you duplicate content analysis around content, H1 tag, description etc. A good amount of duplicate content can even lead to Google Penalty, so make sure to check this report regularly.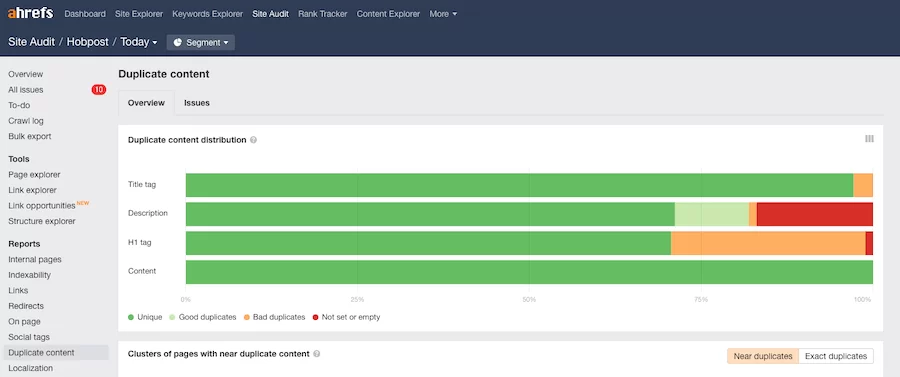 Link Opportunities
The Link Opportunities report offers you detailed insight on the internal link opportunities within your site. It will give you the source page, target page along with the anchor text that you can link from.
This is a very important report that will help you to enhance the overall SEO for your site.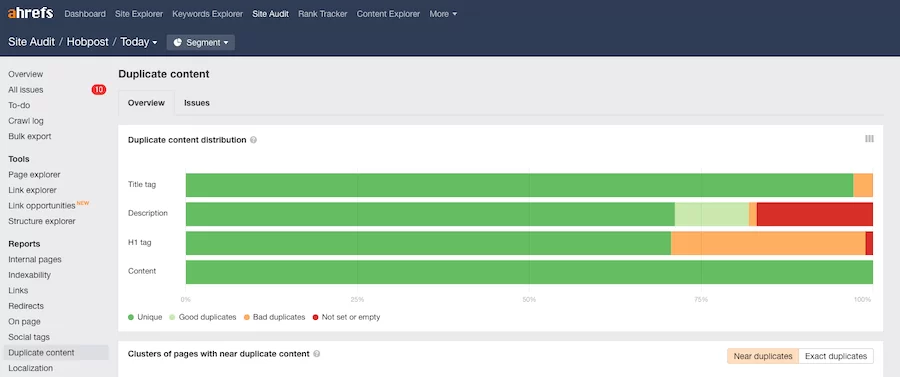 Pros and Cons of Ahrefs Webmaster Tools
First of all, if you are a paid member of Ahrefs there is nothing new in the webmaster tools. So, you can avoid it.
However, if you plan to use the tool; here are some pros and cons that you should know about.
Pros
01. Free to Use
This is undoubtedly the best advantage of the Ahrefs Webmaster Tool, it is FREE to use.
There are millions of webmasters who can't afford extra $99 every month to go for the paid plan. So, this free option become very handy.
02. Access to Some Important Tools
The free webmaster tools gives you access to some of the top tools of Ahrefs for free. This is a big advantage for newbie users.
03. Details Backlink Analysis
Do a detailed backlink analysis for your site for free. The Backlink analysis tool of Ahrefs offers some very useful insight around on every backlink to your site.
04. Detailed Site Audit
Regular site audit is very important, it gives you report of the quality and health of your site. The free Ahrefs site audit tool will give you access to some very important reports for your site.
---
Cons
01. Ahrefs Will Have Access to Your Data
A tool like Ahrefs anyways have your data to a large extent. However, if you start using their webmaster tools they will have even more data of your business. Specially if you link Ahrefs Webmaster Tools through Google Search Console, you will have all the data that will empower your competitors to get even more insight of your business.
02. Empowers Your Competitors
As already mentioned in the point above, your competitors will have most accurate data for your business making it even more simple for them to replicate your winning strategies.
This is a process for Ahrefs to collect more accurate data for every domain who uses the free webmaster tool so that you can make their paid version even better and accurate.
So. it's your call if you wish to give them access to your Google Search Console data.
03. No Competitive Analysis Tool
One of the primary advantage of using the Ahrefs tool is their competitive analysis reports which you don't have access to in this free version.
You can do analysis of your own site that you have added through this webmaster tool but not your competitors.
| SEO Health | AWT | GSC |
| --- | --- | --- |
| SEO issues monitoring | 100+ SEO issues | Limited |
| How to fix issues | Detailed | Limited |
| Backlinks | | |
| How many links shown | All known links | Top 1000 |
| Detailed SEO metrics | Yes | No |
| Broken links data for internal and external links | Yes | No |
| Link type data | Yes | No |
| Search traffic & keywords | | |
| Number of Keywords shown | All known keywords | Top 1000 |
| SEO metrics for pages and keywords | Yes | No |
| SERP snapshot with competitive data | Yes | No |
| SERP features for every keyword | Yes | No |