Crowdfire is a leading social media management software that focuses on sourcing the best content and scheduling for your different social media channels.
The product is easy to use and newbie-friendly. The simple interface of the platform makes it easier for the users to get the maximum out of the software.
You can start by signing up with your social media account and add different profiles that you wish to manage through the Crowdfire app.
Once you login, you will have the option to add your social profiles and connect your blog or other channels to source content from.
Go to the Accounts tab to connect your profiles.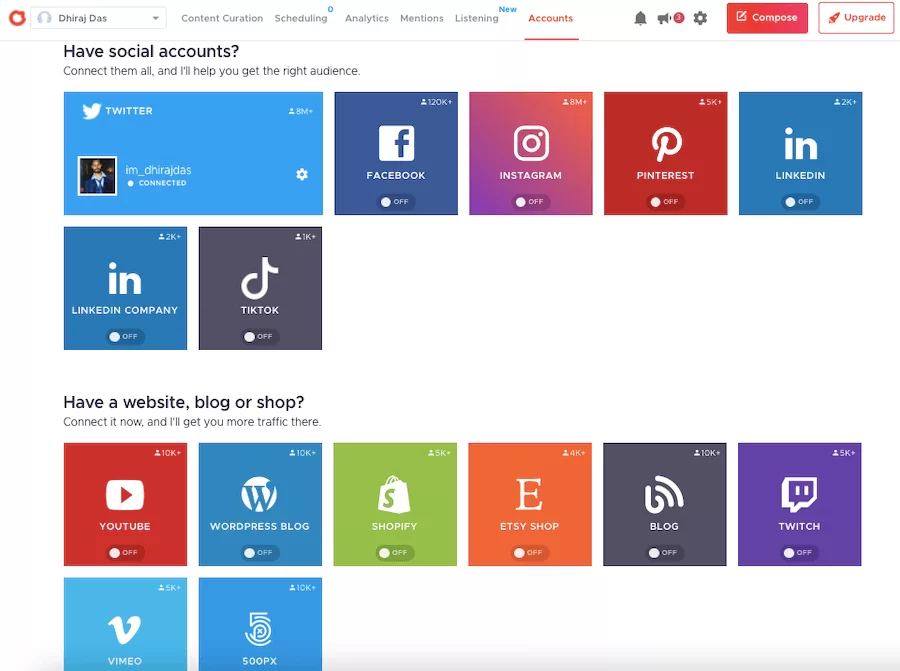 You can link Twitter, Facebook, LinkedIn, Instagram, Pinterest as well as TikTok accounts.
Content Curation
When it comes to sourcing content to share on your social media channel, you have the option to add your blog so that it can fetch your latest posts as well as source content from the internet based on your interests.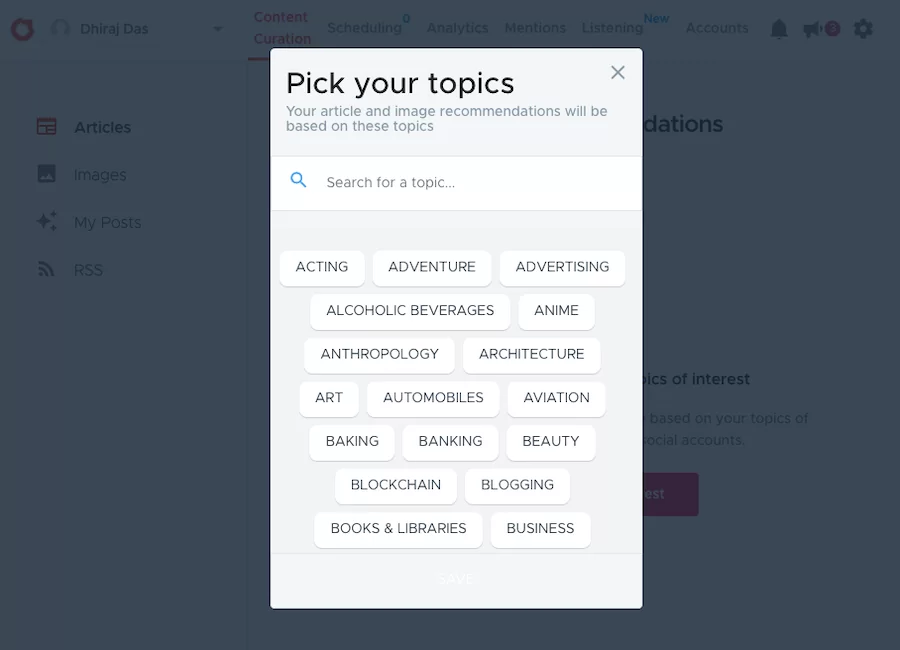 Now, the software will suggest trending content based on the interests I have selected. You can select multiple interests so that you get a variety of content to share.
You can click on the share option next to the article and then it will give you the option of your connected profiles where you would like to share it.
You also get the option to share it now or schedule it for later.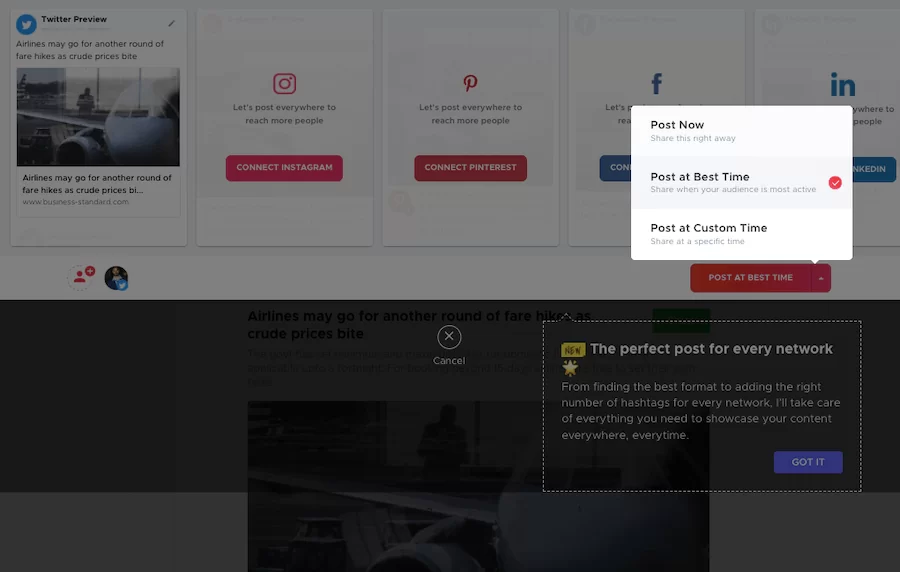 Add RSS Feed
Other than sourcing content from the web, you have the option to add your desired RSS feed of any content source and get the latest updated right on your Crowdfire dashboard.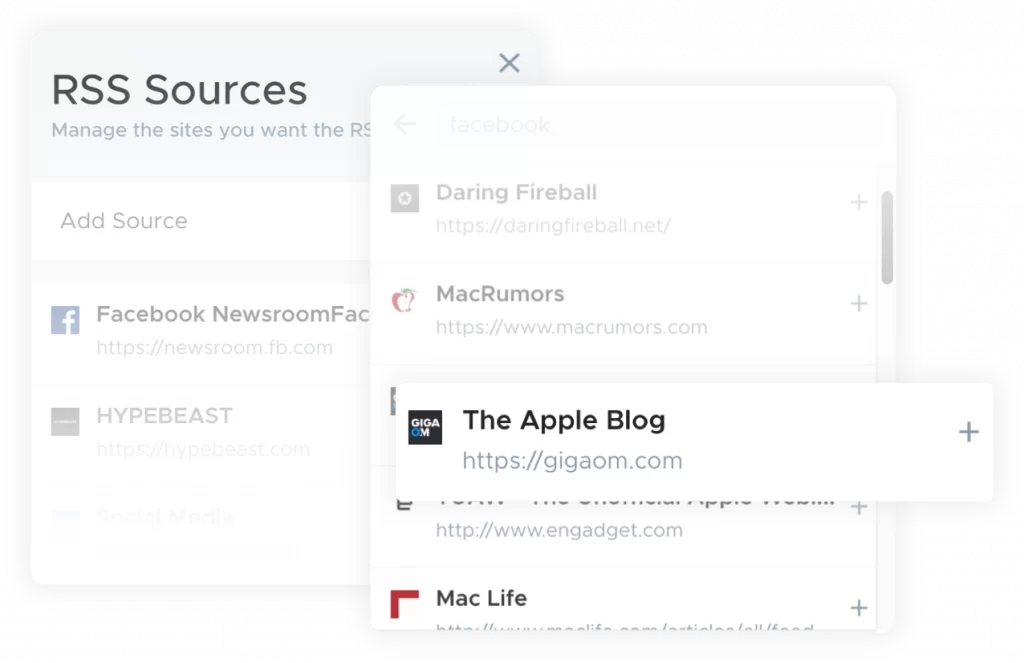 You can also curate images for sharing on Instagram. This is a really unique feature that Crowdfire offers.
Publishing Content Through Crowdfire
We have already discussed how you can source content and set them for publishing on the Crowdfire interface.
You can check for new content on the dashboard and post them to your social profiles from computer as well as mobile phones. You can also publish them later at any desired timing.
Content Scheduling Option
Crowdfire gives you the option to schedule all your social media content in advance, so that you have plenty of free time.
You have the option to set your own custom timing for publishing you can go for the automatic option for best time to post suggested by the software.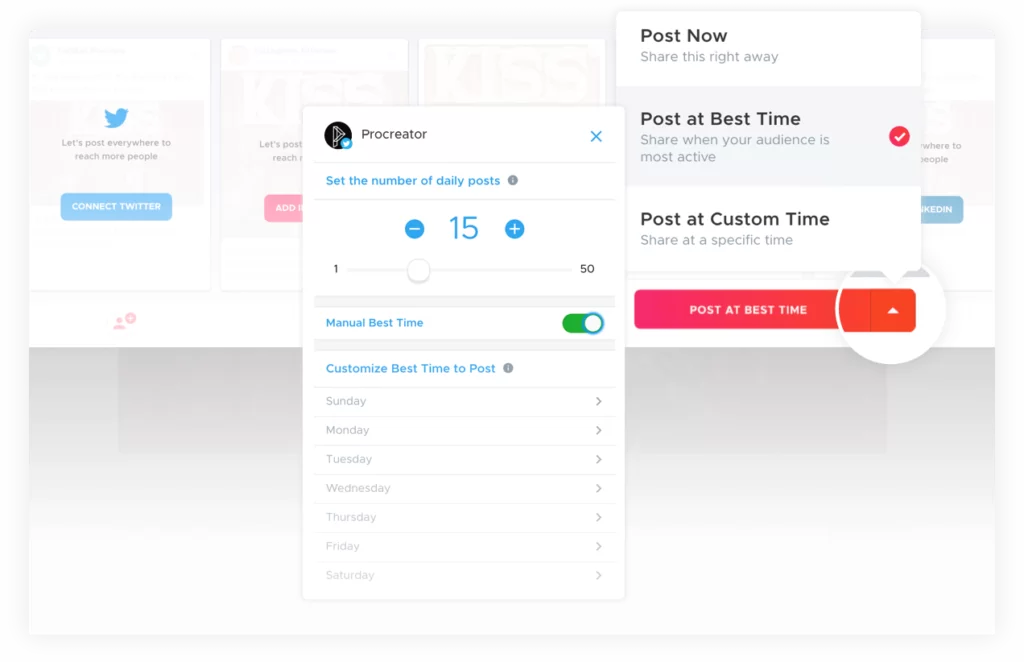 Detailed Social Analytics
Crowdfire come with detailed analytics option. You can add all yoru social profiles to get the important data that you can use for analysis. You can customize the datapoints that you need in the report.
Social Mentions
Crowdfire comes with one single social inbox for all your social media channels so that you never miss any important message from any of your followers.