Instagram growth is an important part of any social media strategy, and this Kicksta review might help you grow your following more quickly.
Businesses are using social media and engaging in influencer marketing more frequently now as a way to connect with their customers, market their products and engage in conversations.
While there's more to Instagram success than a large following, having more followers does make it easier to spread the word about your brand, have conversations, and see a return on your investment – both monetarily and time-wise.
So where does Kicksta fit into the picture? Well, Kicksta is an Instagram growth service. They help you automate your engagement strategy for follower growth, which can help save you time while still growing your following in an organic, non-spammy way. We'll dive more into how the company works in this Kicksta review and why it might be a good idea for your business.
How Kicksta Works
One of the best ways to grow your Instagram following is through a process called engagement marketing. With this method, you would reach out and like or comment on posts of people you'd like to have following your account.
This is one of the best ways to find real, organic followers. As you can imagine, though, finding, identifying and engaging with each of these accounts can be time-consuming. This is why you need an Instagram growth service, and this Kicksta review should help you find one.
Kicksta becomes an extension of your marketing team, providing real engagement with your potential followers. Their advanced AI technology is able to engage on your behalf without coming across as spam or a robot. This helps you protect your reputation across the board.
After you sign up, you'll need to provide a few target accounts. These aren't accounts you want to have following you. Rather, these are complementary (or maybe competitive) accounts who have the same followers you want to have. Kicksta will begin with these followers, and then their AI will learn and branch out to identify other potential followers.
Beginning with the followers of the target accounts you provide, Kicksta will go into Instagram on your behalf and "like" a post or two from those accounts.
This "like" isn't spammy or annoying. Instead, it shows your potential follower that your account exists. From there, it's up to them to visit your account, explore your content and decide whether or not they want to follow you.
Because of this, Kicksta can't guarantee you a specific number of followers. The only way they could do that is if you were to buy Instagram followers as a set.
While that might sound nice, it's actually quite dangerous. It's actually against Instagram's rules to purchase followers. So, if you're caught doing so, you could be suspended or banned from the platform.
Beyond that, though, buying followers isn't a good idea. You could also be hurting your marketing efforts in the long run. Having a large number of followers isn't helpful in and of itself. Follower counts don't pay the bills after all.
Instead, you want followers who will one day turn into customers. When you buy followers, most of the time you're buying bots and fake accounts. That's the only way these providers can guarantee you a specific number of followers.
Fake accounts and bots won't turn into customers. They might auto-like your posts or leave comments full of emojis or generic compliments, but they won't genuinely engage with you, and they aren't interested in buying your products or services.
So, when you're looking to grow your following, steer clear of people selling followers and instead invest in a growth platform that will help you generate real, organic followers.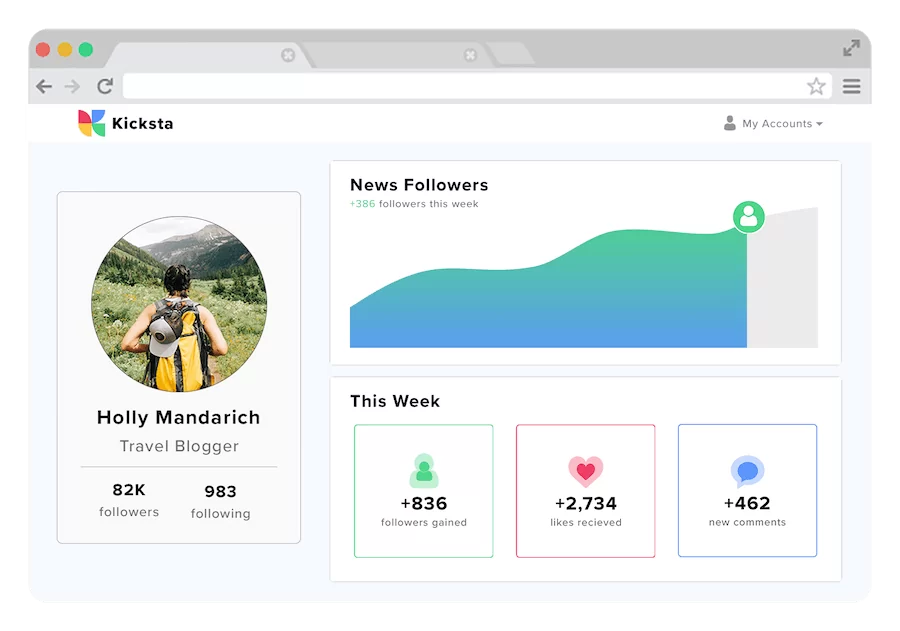 Kicksta offers a dashboard so you can easily see the progress your account is making, as well as manage your target accounts. You can see if one target is generating more followers for you than the others, and you can tell the system you want to find more target accounts like that one.
You can also use advanced filters to target certain demographics, accounts with particular follower counts or just about anything else you can think of to filter. You can even filter out accounts that use bad language.