Tailwind is a robust scheduling tool for — Pinterest and Instagram.
The question is — Is it live upto the HYPE?
If you're someone, having second thoughts on Tailwind, and still unable to decide whether to go with it or not. This post is for you, as we have done an in-depth review of Tailwind.
In this review, we tool various parameters to review Tailwind such as — ease of use, interface, reviewing Pinterest and Instagram marketing suite, pricing, and so on.
By the end of the post, you will get to know whether to go with Tailwind or should look elsewhere.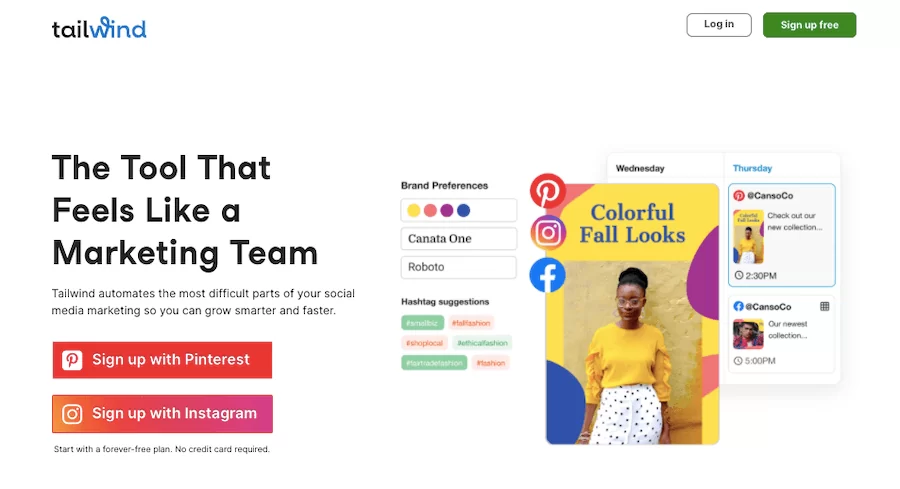 Tailwind Ease of Use & Interface
Tailwind has an easy and intuitive interface with many robust features. You will get all the tools and features in a streamlined dashboard — one click away.
Well getting started with Tailwind is easy and straightforward. You need to signup for an account and then easily connect your Instagram and Pinterest accounts. After that, you're good to go — Tailwind will take care of the scheduling of posts and other things.
The standard publishing tool is a bit nested, however other tools and features are pretty easy to use. Making use of the app you can easily — discover relevant content, schedule your post in the calendar, monitor conversations, and whatnot.
What's more, the powerful analytics module of Tailwind allows you see get a sneak peek of the performance.
On top of that, Tailwind also has a flexible browser extension. Using the Tailwind browser extension you can easily save images, schedule posts, and do various things on the go. The browser extension is extremely easy to use and get started.
Top Tailwind Features
In our Tailwind review, we'll explain the features of Tailwinds' — Pinterest Marketing and Instagram Marketing. So let's dive in.
Pinterest Marketing Features
Initially, Tailwind started as a Pinterest marketing suite, so it has robust features for that. Well, here we'll review all the Pinterest marketing suite.
Schedule Pinterest Pins
The scheduled pins for Pinterest is the main functionality of Tailwind. Using the scheduled pins you can visually plan and schedule pins. You can easily create beautiful pins, grow your reach, and measure results with a robust Pinterest scheduler.
Tailwind comes with a SmartSchedule which allows you to create a personalized schedule for your audience. What's more, you will also get recommended times and you can schedule your pins when they are most engaged.
You also have the functionality for interval pinning where you can schedule pins faster. This will give Pinterest more information about your Pins just by sharing it with relevant Board at present intervals.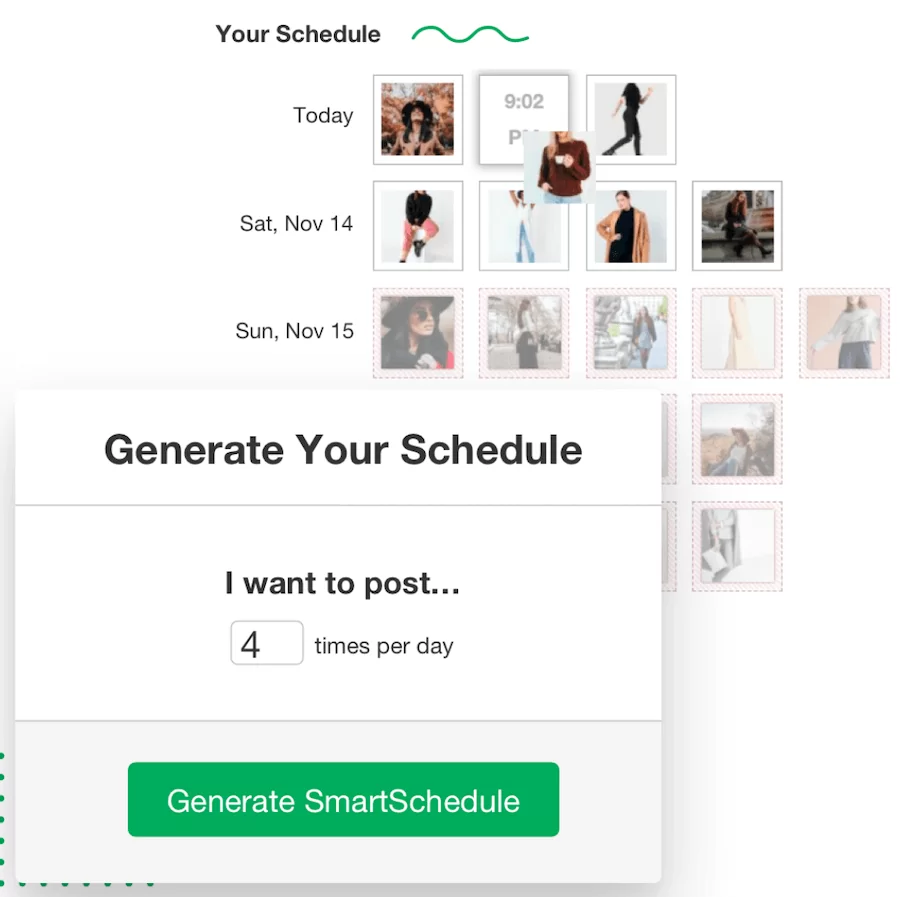 The Scheduled Pins comes with a drag and drop calendar which helps you fine-tune your schedule easily.
Tailwind Create
This feature helps you automate your social media designs. Tailwind automatically generates hundreds of posts that are optimized for Instagram, Facebook, and Pinterest.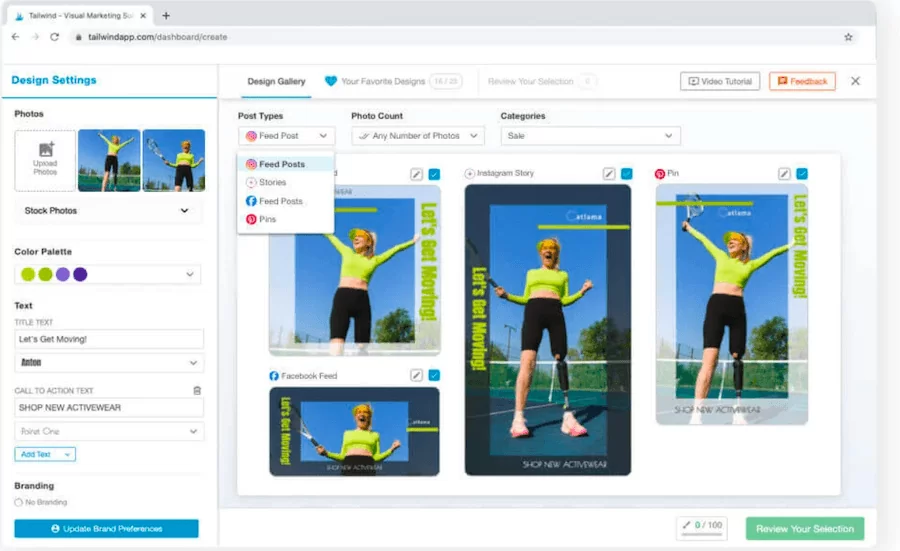 With the Tailwind create, you can easily create a design with confidence — it automatically generates hundreds of almost done designs. You can also create personalized designs for your brands only.
Tailwind Tribes
Tailwind Tribes is the more popular feature of this tool. Basically, Tribes are the groups of Pinterest members who create content in similar niches. Well in the Tribes you can post your pins right into the groups for other members to add to the queue.
All the groups have different pin rations, which will show the number of pins you have to save for every image that you add. What's more, by making use of the community feature you can easily grow your reach.
Tailwind Analytics & Reporting
It is the most powerful Pinterest analytics available. Well using this feature you can measure the performance and analyze all your Pinterest efforts.
You can track follower and engagement trends for repins and comments. What's more, Google Analytics and Omniture Integration shed light on your Pinterest ROI.
Tailwind Monitoring & Trends
This module helps you monitor Pinterest Activity for your brand. You can easily track your content, industry trends, engagements, and conversations across Pinterest.
Moreover, you can also monitor competitors across your industry. You can easily enhance your Pinterest strategy with high-level industry trends and detailed competitive insights.
Instagram Marketing Features Explained
Tailwind has launched Instagram marketing features as well. So let's check what it got to offer for Instagram marketing.
Instagram Scheduling and Planning
Tailwind Instagram scheduler enables you to schedule a week of Instagram posts in a few minutes. It has a smart Instagram scheduler that allows you to plan, create and analyze your Instagram posts.
You can also auto-post to Instagram, it will automatically publish your posts and videos to Instagram. This even allows you to schedule and carousels and stories, and even multiple-image posts and stories.
The best part is that you can even schedule Hashtags in the first comments.
The SamrtSchedule allows you to schedule Instagram posts at the time when your audience is likely to engage with your content. It also has a robust hashtag finder that helps your posts discover.
Instagram Planner
Well using the Instagram planner you can easily plan a week of Instagram posts in a perfect must-follow feed — in minutes. You will also have full control of your feed. What's more, you can also drag and drop the grid as per your needs.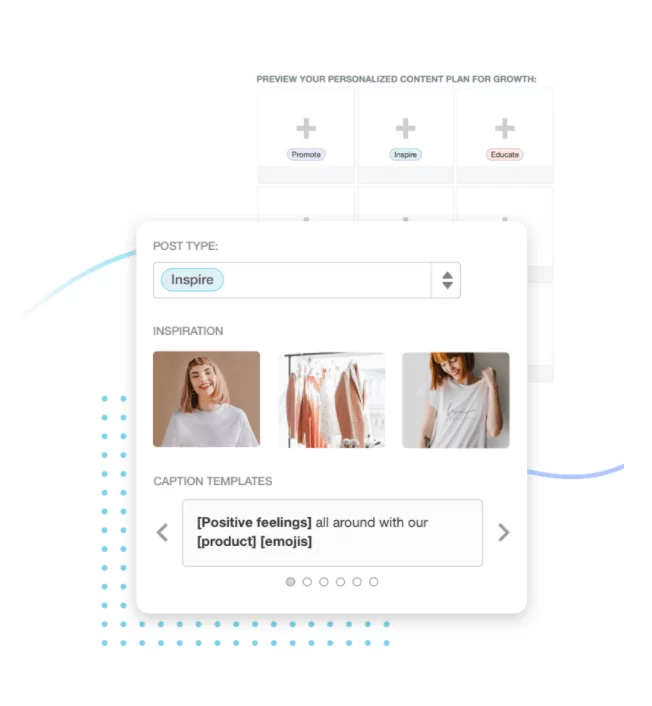 You also have the option to preview your feed before you post. This module also helps you provide personalized post inspiration. There are many available caption templates. Also, you can view your color-coded plan in your 9 girds.
Instagram Post Planner
The Instagram post planner enables you to plan posts from your phone itself. You can easily plan a follow-worthy feed right from your phone. You can easily plan, optimize and schedule all of your Instagram content in one place.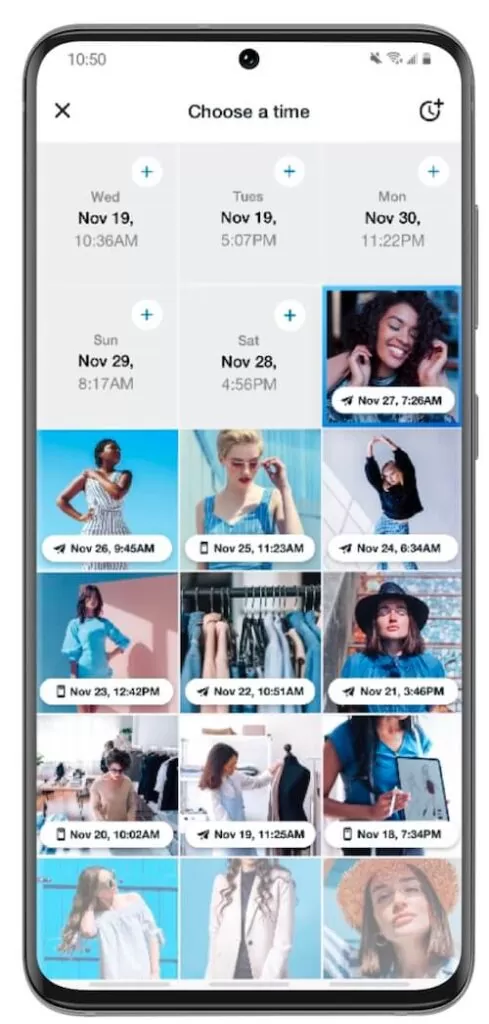 It also has a robust Instagram visual planner which helps you to easily organize — preview and plan your Instagram 9-grids directly in the app.
Instagram Hashtag Finder
The Hashtag finder eliminates the process of copying and pasting hashtags to stand out on Instagram.
Well, the hashtag finder enables you to find perfect-fit hashtag picks for every post. It gives intelligent hashtag recommendations.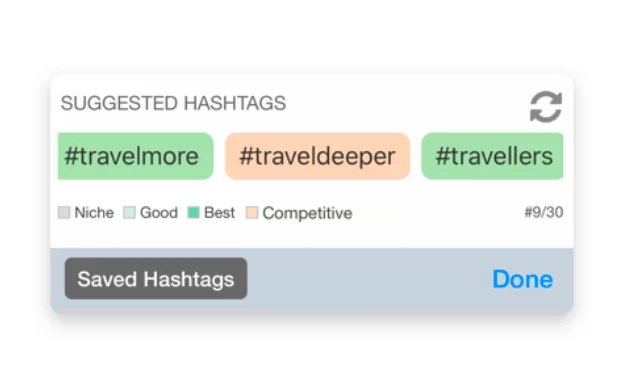 You can easily auto-post your content adding hashtags to your first comments in seconds. What's more, you have the option to save top-performing lists, and add fresh tags on the go.
Smart.Bio
It's a robust link bio tool that Tailwind offers. Using this tool you can easily create branded landing pages that send consistent traffic from your Instagram bio. This tool helps you add the most important links available through your bio links.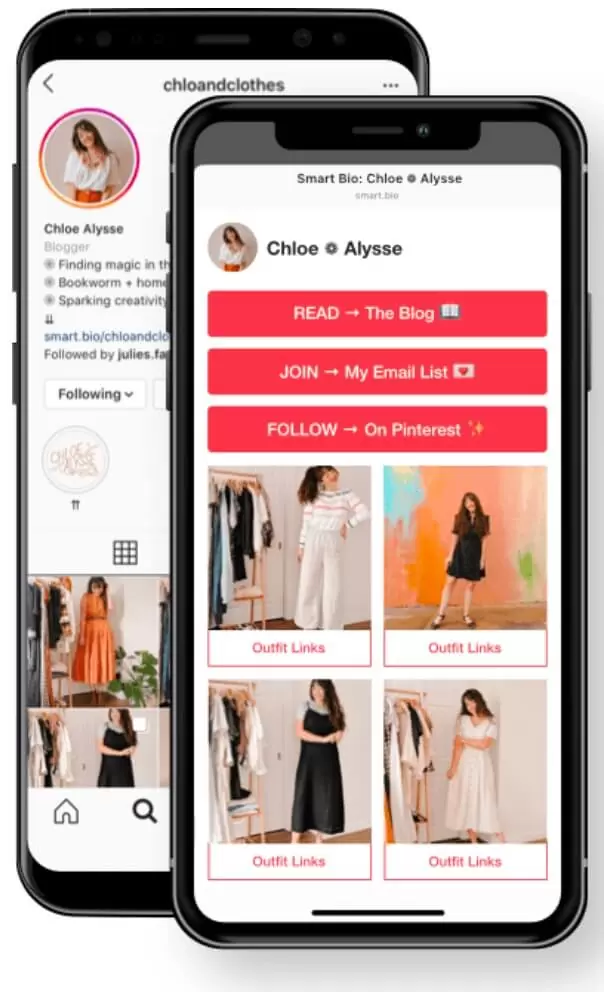 You can make your bio brandable, using the Smart.bio you can easily create a personalized landing page with your Instagram images and brand color.
So these are all the modules and features that Tailwind offers for Pinterest and Instagram marketing.
Conclusion: Is Tailwind Worths The HYPE?
So this is a detailed Taildwind review, we hope this post server your purpose well. Yes, Tailwind is worth the hype, it's a robust Pinterest and Instagram scheduling tool. It's a power-packed solution if you're facing the hassle of managing and posting content on Instagram and Pinterest.
The Advanced Analytics module of Tailwind provides you with detailed insights into your Pinterest and Instagram performance. Overall, it's a robust social media marketing toolkit for Instagram and Pinterest.