Missinglettr is a social media scheduling tool for today's busy marketer. Unlike traditional scheduling tools where you have to create all your social posts yourself, Missinglettr's advanced AI detects when you've published a new blog post and automatically builds a drip campaign promoting your content.
Once you've reviewed the developed campaign, you just have to hit approve, and all the posts will get scheduled to the appropriate social media platforms.
In addition to smart social post content ideas and scheduling, Missinglettr also makes it easy to curate content from other industry pages as well as submit your own content for curation.
The Missinglettr analytics dashboard brings all your connected profiles into one place so you can easily see which campaigns perform best, when your audience is most likely to engage with your content, and where your clicks come from.
Missinglettr Drip Campaigns
Drip Campaigns are the core of what Missinglettr provides. After adding your site to Missinglettr, the tool automatically detects each new blog post you publish and begins developing a smart social media campaign based on that content.
You can customize the length of your campaigns, the number of posts, and more when setting your account up.
Then, for each new article posted, you just need to review and approve your campaign in Missinglettr. Missinglettr users love that they save hours each week on developing content and altering it to fit each platform.
Missinglettr Curate Library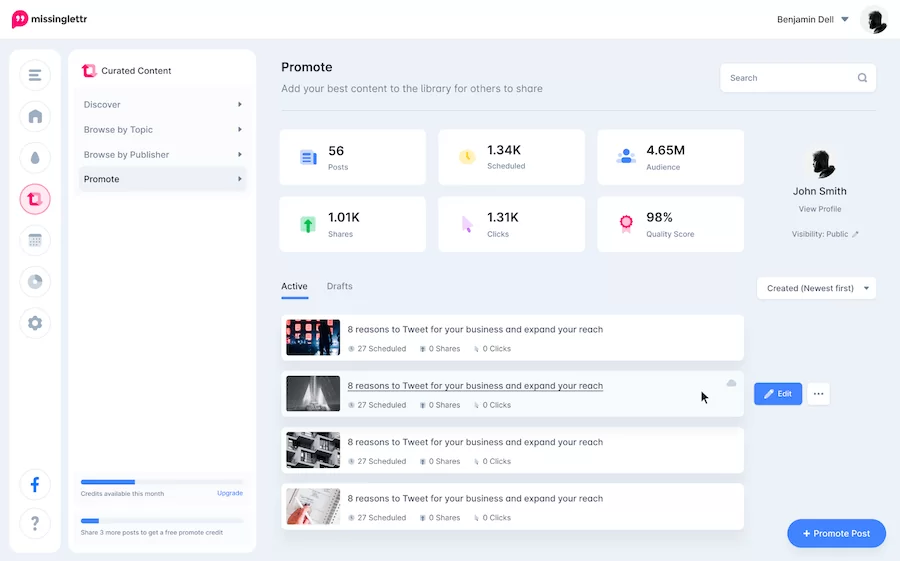 Missinglettr Curate serves two purposes: 1 – you can share content from the library to bolster your social media presence, 2 – you can add your content to the library to be distributed by other relevant accounts.
Curating content to fill out your social strategy can be one of the most time-consuming aspects of social media management. With Missinglettr Curate, you can grab ready-made social media content and add it right to your schedule.
The Curate library makes it easy to find relevant content with categories based on your interests and stats that make it easy to screen content, like word count and media type.
Sharing to the Curate library works similarly. You add a post promoting your blog, or choose one from a drip campaign, then select the relevant categories.
Curate's user base is growing each day, with high-quality content seeing dozens of re-shares in less than a week. Missinglettr has provided best practices for content curation to optimize your content.
Missinglettr Social Media Calendar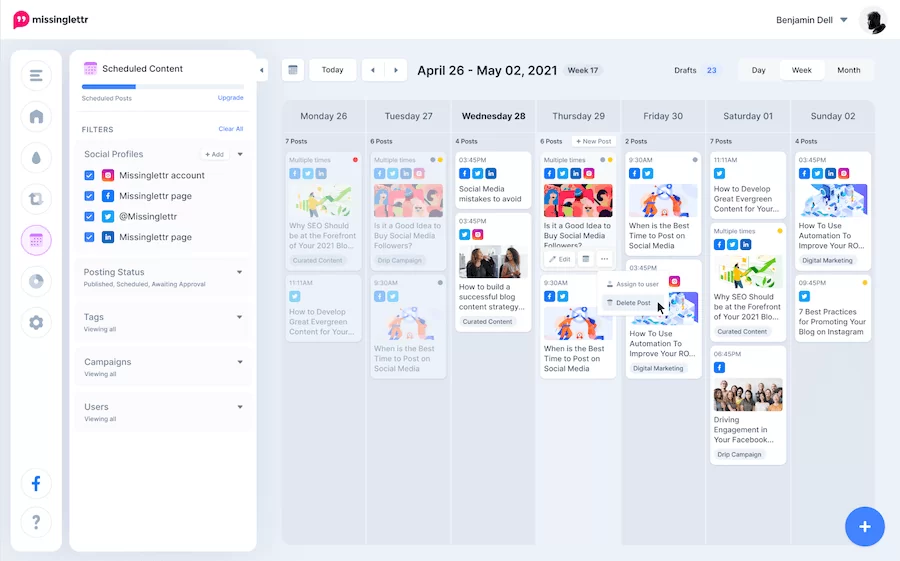 When you're managing content across platforms, it can be hard to remember what campaigns you have running where. The Missinglettr Calendar makes it easy to see exactly what posts will go out on which platforms and when.
See at a glance how your content is distributed across drip campaigns, one-off posts, and curated content. You can also filter by platform, campaign, type of content, and more to quickly find the posts you're looking for.
Agencies enjoy being able to see scheduled posts for all of their clients from one centralized dashboard.