Keyhole is designed and developed to offer almost everything you could ask for in a social media campaign of your brand. Comparing the available features with that of its competitors, you will find that Keyhole has a wider range of modern business solutions. 
Keyhole has an edge over its competitors with features like hashtag analytics. This might now sound like a very crucial feature but has been a game-changer for many brands on social media platforms like Facebook, Instagram, Twitter, and so on.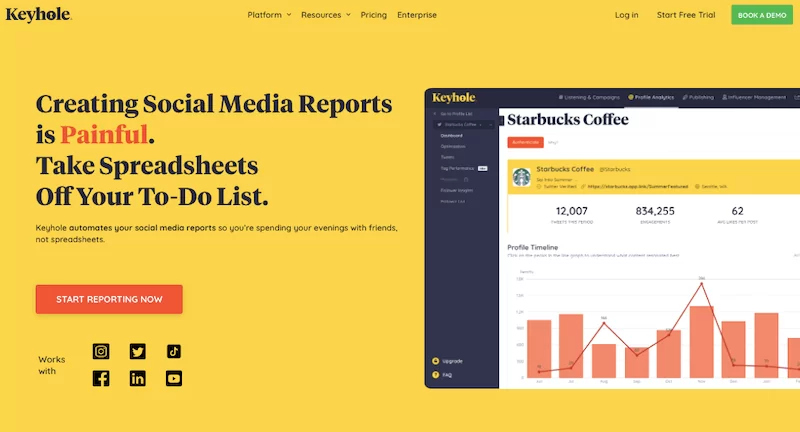 The importance of hashtag analytics is evident from the fact that people today are searching for almost everything on social media apps.
They search using hashtags and it is more likely that posts with the right hashtags will attract the right person easily. 
Keyhole goes a little further with the hashtag analytics feature. It integrates the power of AI and enables brands to successfully predict the success possibility of their new hashtags.
The fact that the team has offered so many amazing features into a single solution is hard to find in any alternative. The complete analytics solution is the core selling point of Keyhole.
Another important feature of Keyhole is its hashtag tracking, which allows you to set custom alerts by user time and sentiment. This is a unique tool that you won't find in any other alternative whatsoever.
As you spend more time with its features, you will see that Keyhole is powerful, and eliminates all kinds of management hassles for social media influencing. The interface is clean, simple, and very useful for all kinds of organizations.
Users also get the feature to scrutinize all of their data using the given API access. Keyhole also offers you a complete insight into the events, news, forums, and blogs that it integrates into the solution itself. This allows you to enhance your social media handling.
How Keyhole Can Help?
Easy Reporting
No reporting means no insight into the progress. Marketers on social media across the globe are having a hard time analyzing the true outcomes of their social media campaign strategy.
Keyhole streamlines this hassle completely with its powerful reporting feature. 
Data Re-Analysis
Tracking keywords is one of the most important things you have to do at the start of your social media campaign. Keyhole allows you to learn more about your keywords in a unique and personal way, unlike any other alternative.
Re-analysis of your data, as well as keywords, allows you to make your campaigns strong and highly profitable.
Customer Support
The customer support setup of Keyhole is powerful and very informative. Though it is limited to one or two 30-minute calls for professional corporates, you still get a well-built database with tips and how-tos of social media branding and Keyhole support. 
Post Scheduling and Publishing
Keyhole comes with a comprehensive social publishing option to help you schedule all your social media posts in advance and save a lot of your time.
It will help you to remain active on all your social media profiles round the clock while you are busy doing other tasks for your business.
It will also make sure that your content goes out while your followers are most active offering your maximum visibility for your posts.
Build Social Media Strategy
Another advantage of using Keyhole is that you can create a perfect social media strategy for your business by looking at analytics and engagement.
Keyhole's calendar view of your scheduled posts will give you an idea about your content in advance and you can easily make changes if you need to.
Collaborate With Your Team
Keyhole gives you the option to collaborate with your team and make sure that you can work together on your social media posts with your team.
It will also help you to make sure that every piece of social media content goes through an approval process. Your team members can work on the content and schedule it for posting and you can check it before it goes live.
Overall, Keyhole is one of the most comprehensive social media management software that you can use to manage multiple social media profiles from a single dashboard.