Circleboom has two products: Circleboom Publish and Circleboom Twitter.
Circleboom Publish provides all-in-one management and scheduling services for multiple Twitter, Facebook, Instagram, Pinterest, LinkedIn, and Google Business Profile accounts.
Circleboom Twitter, on the other hand, is for in-depth analytics, insights, and statistics for Twitter accounts.
We believe content design is the most important part of effective social media management. Thanks to its built-in extensions: Canva, Unsplash, and Giphy users can design amazing social media content with ready-made materials.
Users can curate high-quality photos and articles. Also, RSS Feed connection is possible with Circleboom Publish. This way, you can automate your posts for your multiple social media accounts.
Once you have created your content, you can publish it immediately, or schedule it for a future date and time. You can also set time intervals and send your posts automatically. If you want to continue working later on your content, you can save it as a 'draft'.
Circleboom for Twitter
Circleboom Publish allows users to connect and manage multiple Twitter accounts in one dashboard. You can create, design, share immediately, schedule for a later time, and automate your tweets. Also, you can create and schedule Twitter threads without any limits.
Circleboom Twitter provides amazing statistics, analytics, and insights about follower/following growth, tweets, language/gender distribution, and many other crucial topics. You can have detailed Twitter follower demographics and characteristics.
You can have nice graphics showing you the best time to post on Twitter by analyzing every activity of your followers. This is an advantage to schedule your tweets for the best time and get higher results.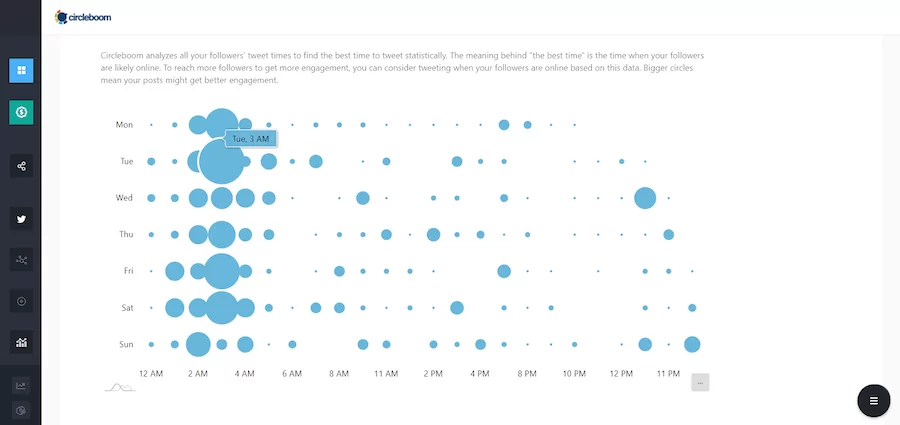 Also, you can find what your followers are tweeting about most. Circleboom analyzes every tweet of them and provides a cloud-like graphic showing you the hottest topics. It is amazing because you can create related tweets and boost your impressions/engagement.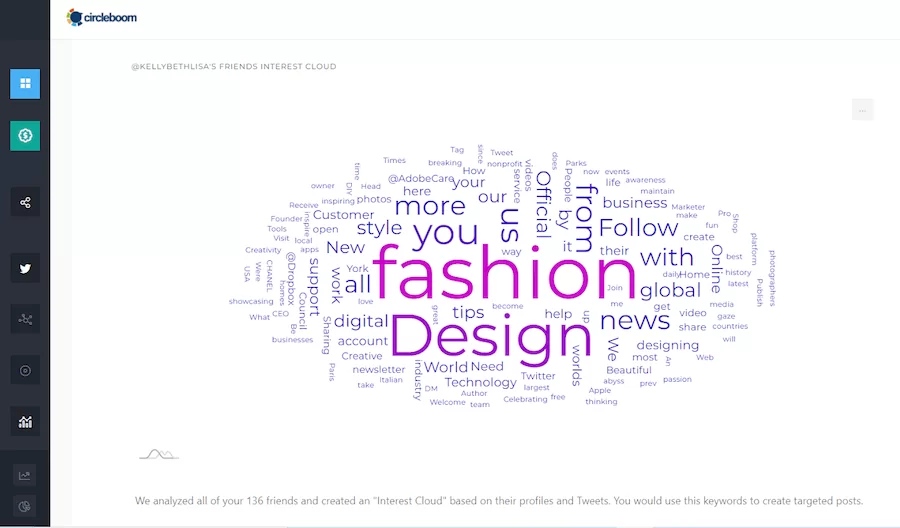 Users can detect inactive, overactive, fake, bot, spam, verified and non-following back followers/followings. They can visit their profiles and unfollow them if they wish. Also, thanks to the brilliant Twitter list manager, you can create Twitter lists.
Smart Search tool makes it possible to search keywords and hashtags on Twitter. It is an amazing feature, especially for marketers who want to target special searches. You can also filter down your searches by location, time, language, etc.
Last but not least, you can also delete your all tweets, retweets, likes, replies, media, and all Twitter archive on Circleboom Twitter.
Circleboom for Facebook
Circleboom Publish supports Facebook Groups and Facebook Pages. Users can connect and manage multiple Facebook Pages and Facebook Groups in one dashboard.
You can create creative, eye-catching Facebook content with ready-to-use Facebook templates, photos, filters, effects, gifs, animations, graphics, etc.
You can post immediately or schedule your Facebook content. Also, you can set time intervals and automate your Facebook posting.
You can connect multiple RSS feeds to your accounts and keep your Facebook accounts always fresh.
Also, thank the "Discover Articles" feature, you can find related articles from globally famous magazines and journals and share them with your audience.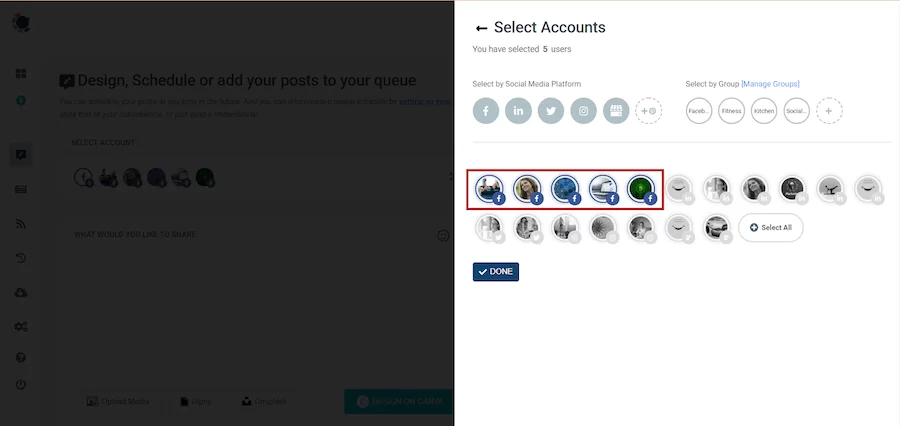 Circleboom for Instagram
You can manage your multiple Instagram accounts with Circleboom in one, simple dashboard.
For Instagram, design is the most important element. Thanks to Canva's built-in extension on Circleboom Publish, you can create and design excellent Instagram content with ready Instagram templates, images, filters, special effects, fonts, etc.
You don't need to worry about Instagram dimension and image size requirements. Circleboom provides the best and the most suitable templates. Also, you can customize your own templates.
On Circleboom, it is possible to create, design, publish, and schedule Instagram carousel posts.
Circleboom for Pinterest
If you have more than one Pinterest account and don't know how to manage them efficiently, you need to use Circleboom Publish. You can manage your multiple Pinterest accounts and boards at once.
You can create amazing pins with great pin templates, pictures, filters, grids, elements, and kinds of elements. You can schedule and automate your pins.
Circleboom for LinkedIn
It is possible to manage LinkedIn profiles and LinkedIn company pages on Circleboom Publish. You can add and manage multiple LinkedIn profiles and LinkedIn business pages. You can publish, schedule, and automate your content.
You can create media for your LinkedIn updates. You can connect RSS Feeds to your LinkedIn accounts and keep them always fresh. Also, you can set your interests and find related articles to share with your LinkedIn audience.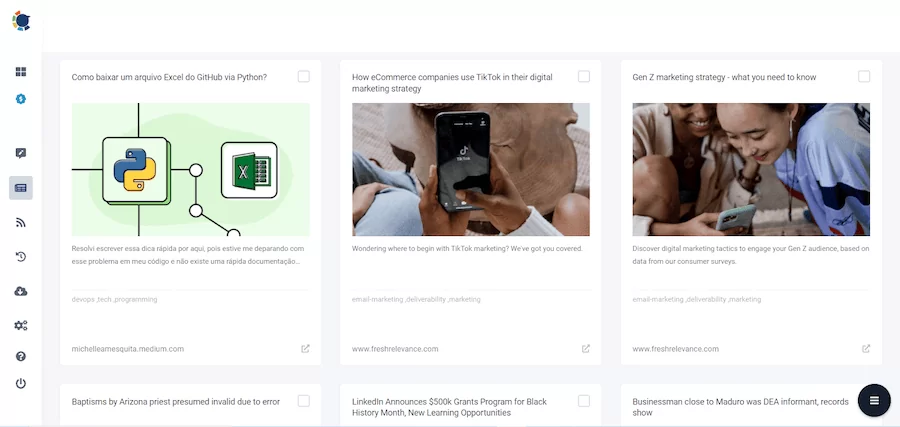 Circleboom for Google My Business
Circleboom Publish provides a Google My Business management service better than Google. It is very easy to manage multiple GMB accounts in one dashboard.
You can create Google Business 'Event' and 'Offer' posts and add CTA buttons, coupon codes, and other necessary information to your posts.
You can post, schedule, and automate your Google posts without any limitations. You can use handy templates, photos, menus, fonts, and effects to create Google photos for your business.