Creatopy is a robust ad design platform that is intuitive and easy to use, yet offers powerful customization, animation and automation tools, as well as collaboration features. With Creatopy, you can easily design ads for all your needs — display ads, banners, social media visuals, print assets, animated graphics, videos, and so on.
In this detailed Creatopy review, we'll cover different aspects such as key features, interface, ease of use, design & templates, dashboard, automation module, pricing, and so on.
So let's dive in.
Creatopy makes it super easy to customize designs and add your personal touch. You have the option to upload your assets and easily maintain brand consistency. It enables you to set up your brand kit by adding logos, custom color pallets, and fonts.
Keep on reading; we'll cover more in-depth insights into Creatopy in this review.
Creatopy Review: Templates, Interface & Ease of Use
This section of the Cretaopy review will cover the interface, ease of use, and other important aspects of Creatopy.
Creatopy ready to use templates
Multiple templates are available for different industries, such as education, eCommerce, automotive, real estate, healthcare, finance, etc.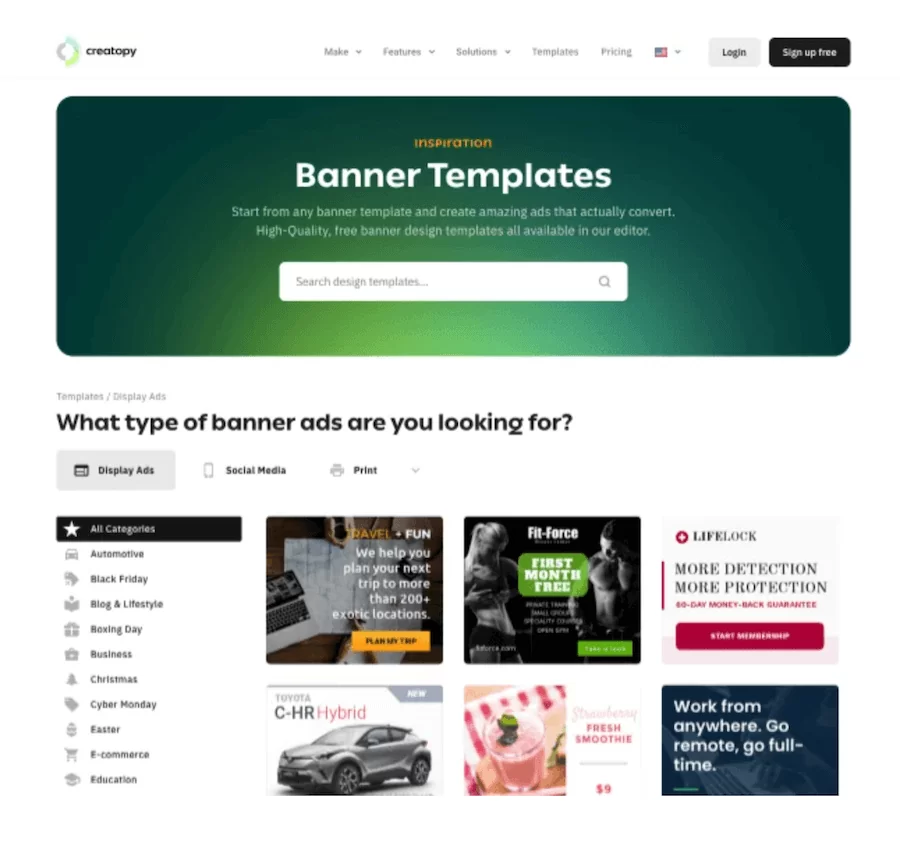 What's more, Creatopy also provides specific sizes for display ads banners along with social media ads and print ads.anners along with social media ads banners and prints ads.
All the templates are fully customizable, which means you create stunning designs as per your brand needs and requirements.
Creatopy Interface & Ease of Use
The dashboard and design interface of Creatopy is clean and intuitive. Once you log in to your account, you will enter a streamlined dashboard where you will see different designs and customization options.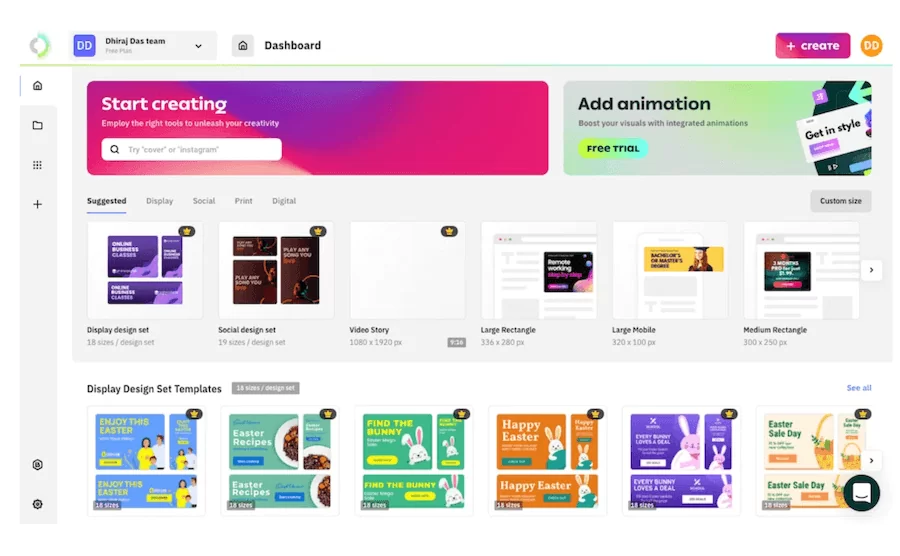 All the design and template options are available on the dashboard. To start creating your design, you can click on the "+ Create" button or simply choose one of the options you can see on the page.
You can start from a mobile banner, Facebook cover image, Instagram story, complete display ads set, or even a custom size, whatever suits your needs.
Editing Elements of Creatopy
The editor of Creatopy is easy to use and snappy. You will see all the handy customization options on the left sidebar.
You can customize the background color, add text, images, icons, original illustrations, GIFs, Call-to-Action buttons, animation, etc. You can also upload your own assets.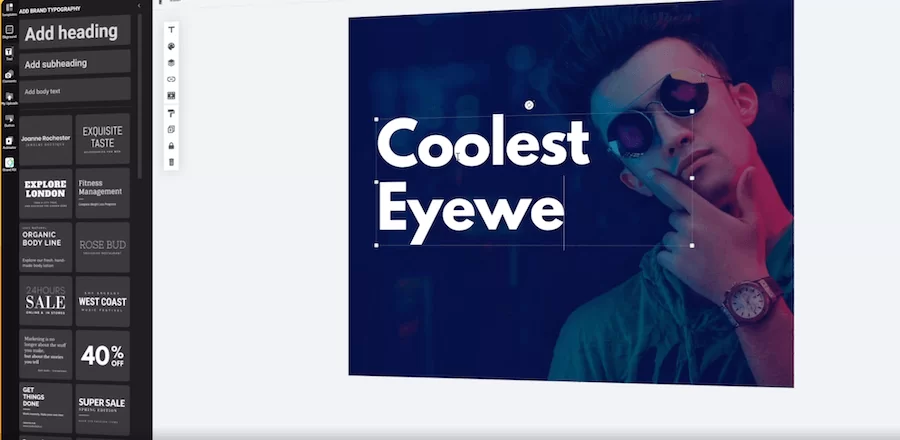 The best part, Creatopy allows you to set up your own Brand Kit, which enables you to quickly add your logo, color palettes, fonts and so on to your designs.
This feature helps you maintain your brand consistency and create designs as per your needs.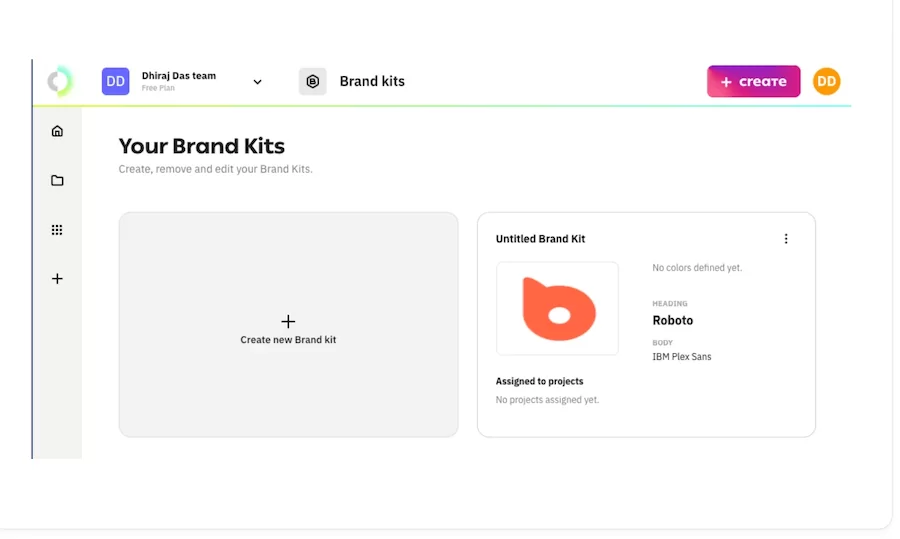 Downloading & Using Designs
Well, Creatopy excels when it comes to downloading and using designs. The tool enables you to download designs in multiple formats. Various formats are available such as JPG, PNG, PDF, AMP, GIF, HTML, MP4, etc. You can choose any of the formats and download the designs on the go.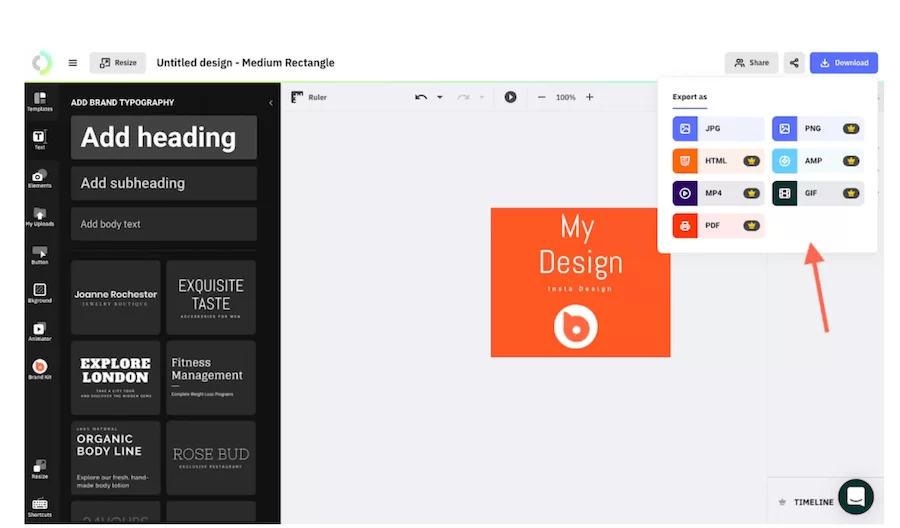 Creatopy Video Editor & Animations: What's NEW?
Creatopy has powerful animation and video editing options. These modules bring life to your designs and make your visual content stand out.
Well, Creatopy enables you to create advanced HTML5 animations without writing a single line of code. Creating animations with Creatopy is fast and easy; you can choose from a variety of preset animation effects or customize the transitions yourself.
Creatopy also makes it super easy to edit videos on the go. They have easy online video editing tools, which allows beginners and intermediates to tweak videos easily. You can use the Creatopy video editor to create videos for different platforms such as YouTube, Instagram, Facebook, TikTok, etc.
What's more, there are different video sizes available to choose from. For example, you can choose the YouTube video size or Instagram stories post size. This feature is really handy for newbies. As a standalone thing, with Creatopy, you can also create videos for your product ads.
What Makes Creatopy Stand Out?
Well, there are many standalone features of Creatopy, such as the Automation feature.
Creatopy Automation Features
With the automation features of Creatopy, you can avoid repetitive tasks and easily speed up your workflow. To shed some light, you can easily create entire design sets that have all the relevant sizes for your display or social media campaigns and then tweak them as per your needs.
You can also save valuable time by using the Feed Ad Builder feature, which allows you to instantly generate ad variations from a CSV document. This comes in handy when you want to deliver personalized ads or run A/B testing campaigns.
Creatopy Team Collaboration
Another outstanding feature of Creatopy is setting up your team according to your needs and requirements.
You can collab with your team, assign roles, giving controlled access to each team member, and even create groups. What's more, Creatopy allows you to share your designs with both external and internal teams without even downloading and uploading the design again and again.
You can also leave and resolve comments right on the designs, for quick feedback on projects.
Creatopy Review: Final Verdict
So this is our in-depth Creatopy review which includes detailed insights into this powerful ad design platform.
Now it's time for the final verdict — Is Creatopy worth the HYPE?
Yes, Creatopy is flexible, affordable, and easy to use. It offers 8000+ ready-to-use and easily customizable templates, as well as multiple design elements, making it super easy to create the ads you need.
Additionally, you can take advantage of the platform's automation, animation, and collaboration features, and its ad serving add-on to really step up your advertising game.
So, if you're a company looking to improve your ad creation process, Creatopy has everything to help you craft engaging ads with ease.