DocHipo is a graphic design software whose highlight is its ease of use. The simple and intuitive user interface makes it smooth and easy to work with the application.
The fully-customizable templates showcase the perfect chemistry of colors, fonts, and other visual elements.
Fully Customizable Templates
DocHipo offers beautiful templates for personal and business design requirements. Some document types include flyers, posters, web banners, social media posts, advertisements, etc.
The templates, preset following the ideal dimensions, are further categorized under various industries and occasions. You can use them right away. However, to stand out, you can tweak a little to speed up your design process. You can also design from scratch.
You can explore all the templates without signing up for the application from the Templates page on the DocHipo website.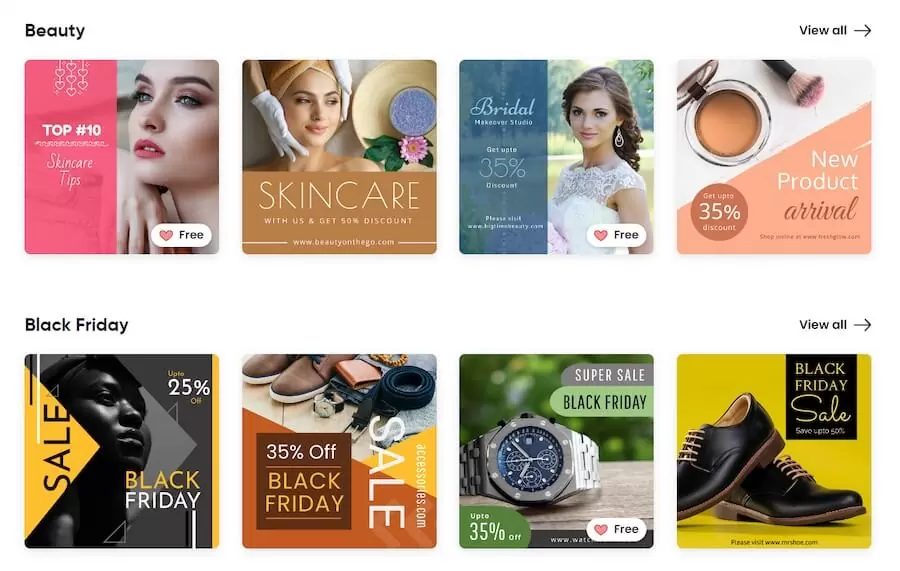 Design Assets
The design elements offered by DocHipo are illustrations, stickers, animations, icons, shapes, lines, etc. If we talk about illustrations, it covers a massive range of niches like fashion, food, marketing, social media, work from home, etc.
The stickers are captivating; they'll quickly help you stand apart from the competitor brands' marketing collateral designs.
We feel that the design assets are the highlights of DocHipo as they are exclusive to the tool, and we found them nowhere else. So just using them appropriately will make a significant difference in your designs.
Intuitive Interface and Ease of Editing
Another thing that attracted us to DocHopo is its neat and uncluttered interface. After a simple sign-up process, you'll land on the 'All Templates' page.
On the search bar, search for the document format you want to work with. Choose a template you like or align with your design needs, and customize it to suit your branding.
You can create a stunning design within a few minutes, even if you're new to graphic design.
One-click Image Background Removal Capability
DocHipo offers an in-built image background removal feature. This nifty feature will come in handy, especially when you need to highlight your product in any marketing collateral or creatively use your own image.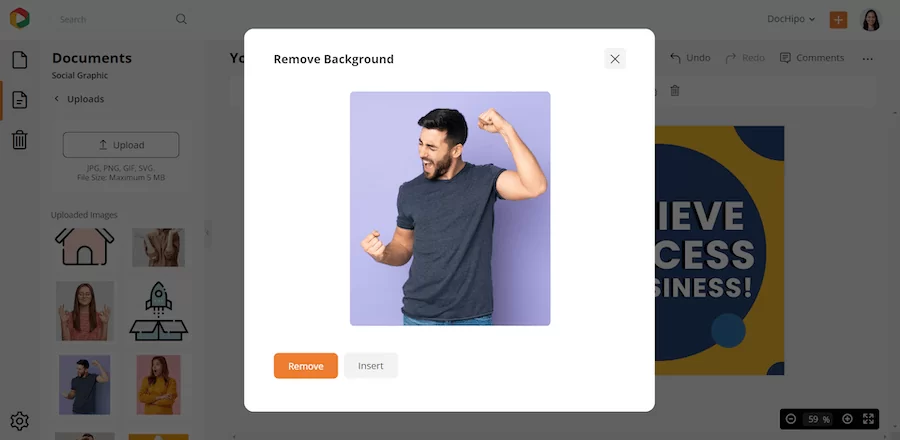 So, you can remove your unnecessary image background in just one click, and you're ready to use it in any document you want.
Download in Different File Formats
DocHipo allows you to download a document in multiple formats like JPG, PNF, PNG (transparent), PDF, MP4, and GIF.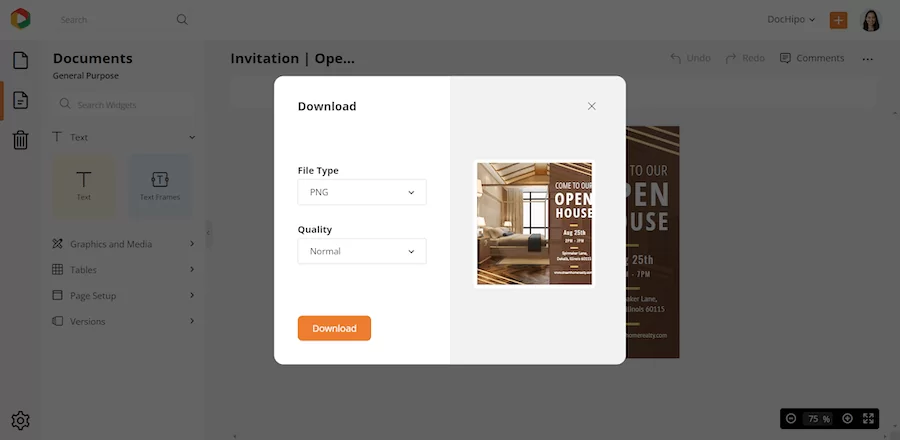 DocHipo Review: Final Verdict
While reviewing DocHipo, we came across on-click background removal, smart resizing features, team collaboration, and multi-company capability that makes it win over various other graphic design tools in the market.
Most importantly, the design assets created by their award-winning artists make it one of the best choices for graphic design.
Per our conversation with the DocHipo team, they're up for many new enhancements, a mobile responsive version, and tons of new templates and design assets. So you can give their free plan a try and decide for yourself.