Visme is designed for those that require a data presentation and visualization solution.
This application is used by professionals in the domains of education, business, marketing, and many other professions. It helps to create captivating information and aesthetically appealing infographics and presentations.
Visme is a web-based application that may also be used offline. Teams and individuals may collaborate on new projects using Visme.
With all that being said, let's get started with a thorough review of this incredible tool.
How Visme Works
Under this segment, we'll go through the basics of Visme's functioning as well as the key features.
Visme has a number of features. It can quickly create the most professional presentations, slides, infographics, and charts. The only job you have to do is give material, choose an appropriate format, click, and use the professionally prepared templates accessible within Visme.
It's easy to alter the logo colors using Visme. Choose from pre-designed colors and change the theme with a single click.
We'll go over all of the features available further to give you a better idea of what they're like.
Visual Representation Of Data
The display of massive datasets using visuals, such as pie charts, scatterplots, bar graphs, or any other chart type or data visualization is known as a visual representation of data.
It's not simple to analyze and interpret massive data sets and data analytics, and it's even more challenging to transmit that knowledge to colleagues who aren't data-driven or data scientists.
That's where data visualization for data comes in. You can effortlessly communicate your data points to fellow decision-makers by converting massive data sets into aesthetically appealing infographics or interactive charts.
Templates For Projects
Developing a project management strategy is critical to ensuring that your project goes smoothly and is completed effectively.
The project plan templates provided by Visme can give you a good start. Creating a comprehensive and presentable project plan has never been simpler than with these templates.
The best aspect is that you don't need a designer to come up with a project plan that is both useful and appealing to the eye. You can accomplish anything yourself with the help of the user-friendly drag-and-drop editor.
You can select a template as per your need. The templates are categorized depending on the platform and project type.
You can select from presentations, social media graphic templates, video-related templates, mockups, and other designs.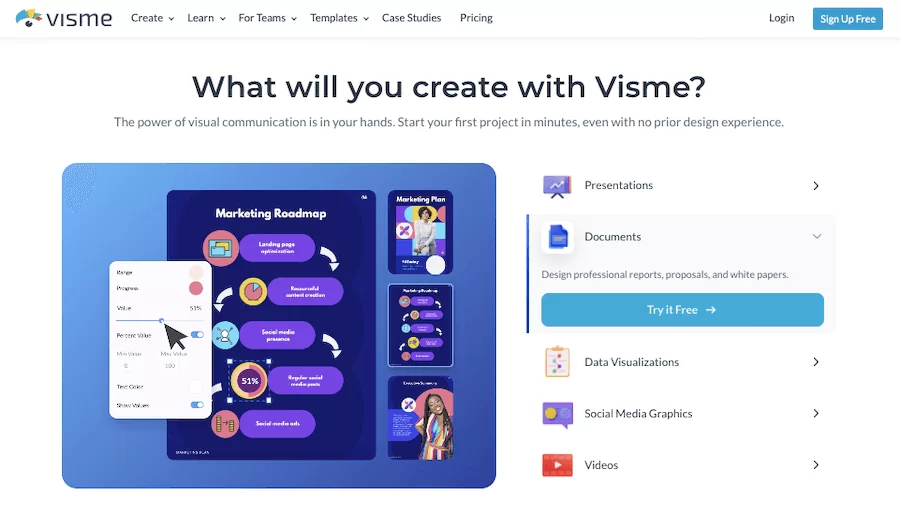 Templates For Documents
Visme has a massive range of templates for your every need. You'll enjoy the entire templates for your reports, eBooks, white papers, proposals, and more if you liked the table of contents templates.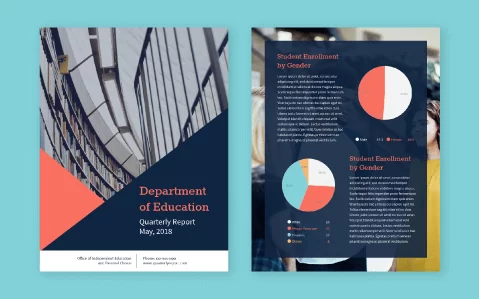 Offline Mode
One of the most significant benefits of utilizing an online presentation tool like Visme is that you can access your slides from any location without installing additional software or open PowerPoint.
You only need a browser, such as Google Chrome, Internet Explorer, or Safari, to get started.
Visme allows you to download your presentation as HTML5 (the newest generation of HTML). This saves all of your presentation's animation effects, audio, and interactivity whether you have slow Wi-Fi or no Internet connection at all.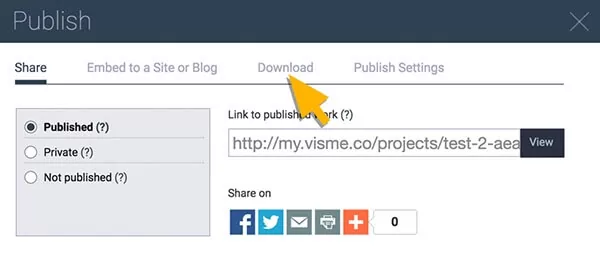 Statistics On Customer Activities
Using a user activity line graph template, you can create a meaningful display of your app or website data. Use a variety of colors to distinguish between different data sets, and add an explanatory legend to the bottom of the infographic to tie it all together.
Modify the basic line graph infographic into an informative infographic by adding vector icons, images, and other text blocks to offer additional information.
To level it up your infographics, use maps, pictograms, and other interactive data widgets to provide supporting facts and numbers.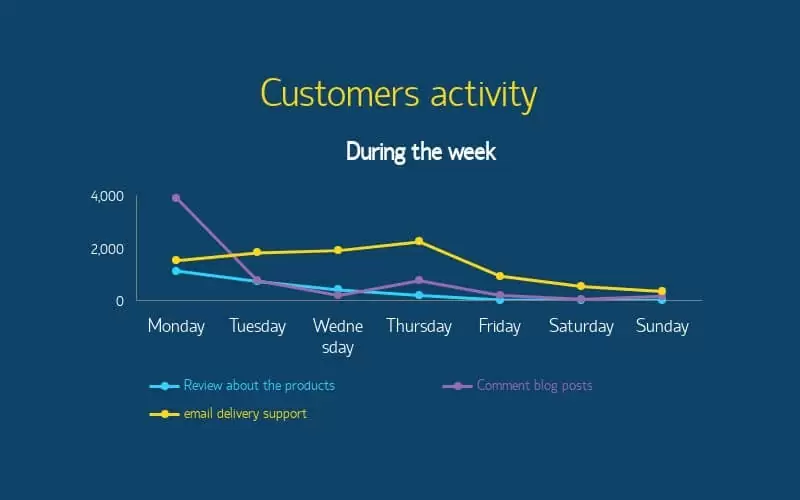 Drag And Drop Capabilities
Visme's editor allows you to quickly sketch interfaces using pre-built UI components and iconography.
Use drag-and-drop functionality to easily move elements around on the screen. This will result in a wireframe that accurately represents your vision for your web page or app.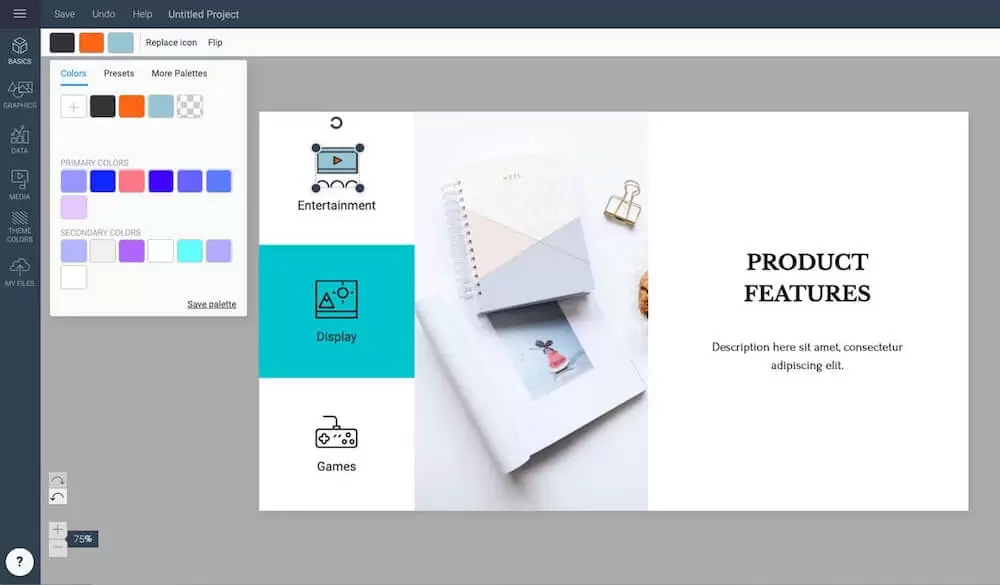 Visual Effects
Including motion and interactivity in your infographic is a great approach to not only engage but also rapidly capture the attention of your target audience.
The majority of infographic programs make it simple to generate great pictures in minutes. But just a few allow you to incorporate motion and interaction.
Visme allows you to build both static and dynamic infographics, complete with animated drawings and interactive components like links, quizzes, polls, and even movies integrated directly within the infographic.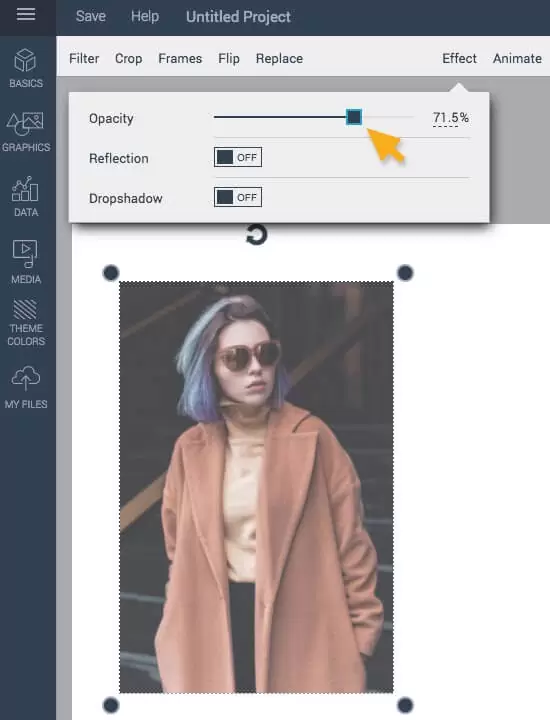 Connectivity with Microsoft Office
You can import data from Google Sheets, MS Excel, Google Analytics, and SurveyMonkey in addition to building custom charts and graphs to showcase your data.
By choosing Select File for an MS Excel file, you may connect to and import from both an XLSX and a CSV file. The additional data may be viewed in the Chart Data tab.
Click resync data if you want to re-sync the data values here with your linked source. Select the Import Data tab again and click Detach to disconnect your chart from the import source. Return to the Chart Data tab to make changes to your data values.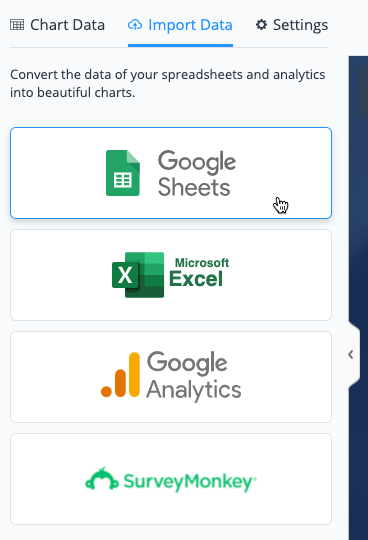 Confidentiality And Security
A big issue has arised and many individuals refuse to use internet technologies; why? Because of the presence of a large elephant in the room. It's referred to as "privacy."
Visme is working to solve this challenge because we think that the cloud is the future of collaboration and content production. It can enable large businesses to interact and generate content more quickly while controlling and overcoming most of their privacy concerns.
Individuals may choose to password secure or hide their material from the general public. But businesses may wish to share their work internally while maintaining the capacity to hide private projects from the public eye.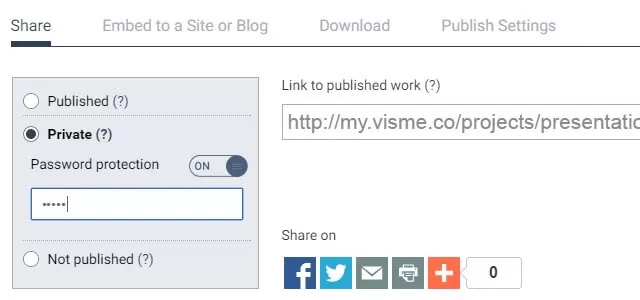 Charts And Graphs
Generate unique charts to assist your audience to understand any form of data or statistics. With our free online chart generator, you can generate pie charts, line charts, bar charts, and more.
Use these online charts in your infographics, presentations, social media visuals, reports, and anything else Visme allows you to create.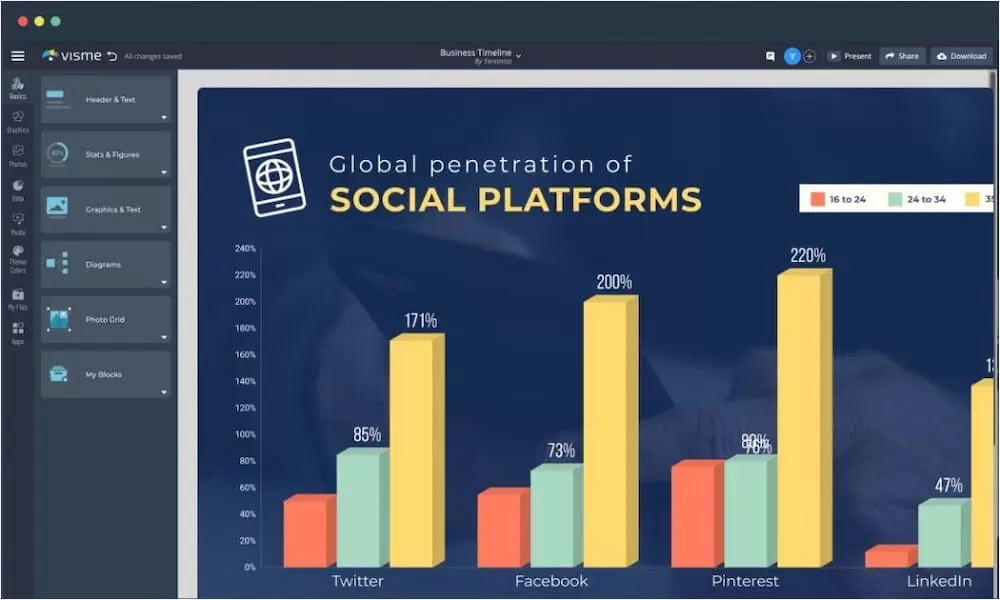 Team Collaboration
Visme gives you the option to collaborate with your team and make sure that you can manage all your designs and graphic works for your business even with a remote team.
As the business owner, you can allocate work to your team and comment on the designs to let your team know about the changes that need to be done.