Scrapingdog is a web scraping API provider that started back in the year 2020. With almost 200+ recurring users around the globe, scrapingdog is thriving every day to deliver you the best experience.
Web scraping has become an essential part when using the internet. Web scraping has different use cases that include price monitoring, lead generation, market research, brand audits, monitoring customer sentiments, and many more.

One of the best ways to do all of that in a quick and easy way is web scraping.
Scrapingdog is one of the leading Web scraping API providers. With features loaded and a 99% success rate of the significant website, you cannot go wrong with it.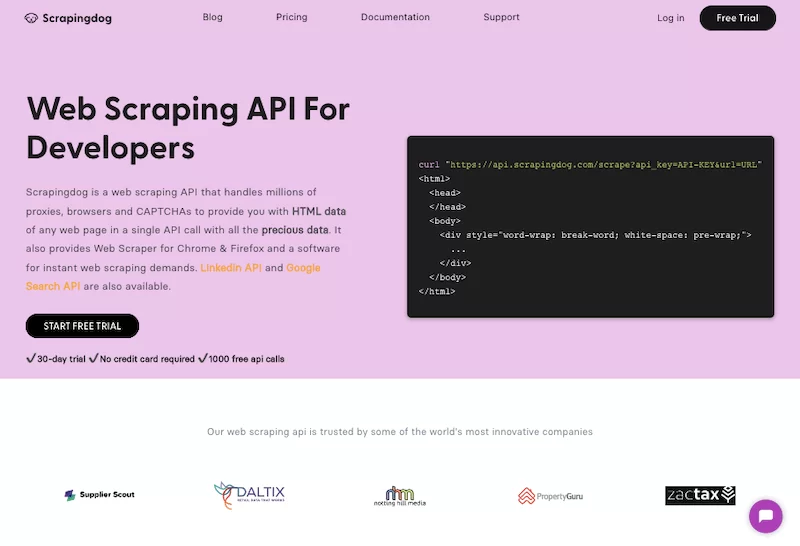 Benefits of Scrapingdog
Web scraping is a challenge and when not done right it can be tedious. Below are some benefits of web scraping.
1. Web scraping without getting blocked
It rotates IP addresses with each request from a list of millions of proxies. It also bypasses every CAPTCHA so you can get the data you need. Your web scraping journey is free from Deterrence with Scrapingdog.
2. Rendering Javascript
Web Scraping with headless Chrome browser from websites in Angular JS, Ajax, JS, React JS, etc is easier with Scrapingdog. This will increase your data collection frequency.
3. Webhooks
Push website URLs as required and receive crawled data to your desired webhook endpoint. Scrapingdog handles all queues and schedulers for you. Just call the asynchronous API and start getting scraping data.