This platform lets you customize the parameters of your digital fingerprint to ensure safety and anonymity. Your online identity is unique, and GoLogin understands the need for the security of each profile on different websites.
You can create multiple profiles to make sure you are not traced back to your original identity, thus giving you the option of simultaneity with different identities. In addition, it comes with the ability to have 40+ connection characteristics to quickly create a unique browser profile and hide the real identity.
Each account on the web is different, and there may be some differences in your work and preferences. Hence, this online tool offers flexibility to its users as they can customize their profiles as per their preference.
In addition, it offers exclusive features that are not available on other platforms.
It is Easy to Set Up GoLogin
Setting up the platform is very simple and quick. All you have to do is download it on your device, choose your preferred browser and enjoy multiple accounts simultaneously.
You will be able to access all your profiles without any hassle. The best part about this platform is that it does not slow down the internet speed of your system; rather, it enhances it for a better browsing experience.
Moreover, its lightweight nature allows you to multitask easily while managing various online identities.
Using this software guarantees peace of mind as the user need not worry about being hacked or tracked back. GoLogin provides protection against viruses, malware, Trojans, etc.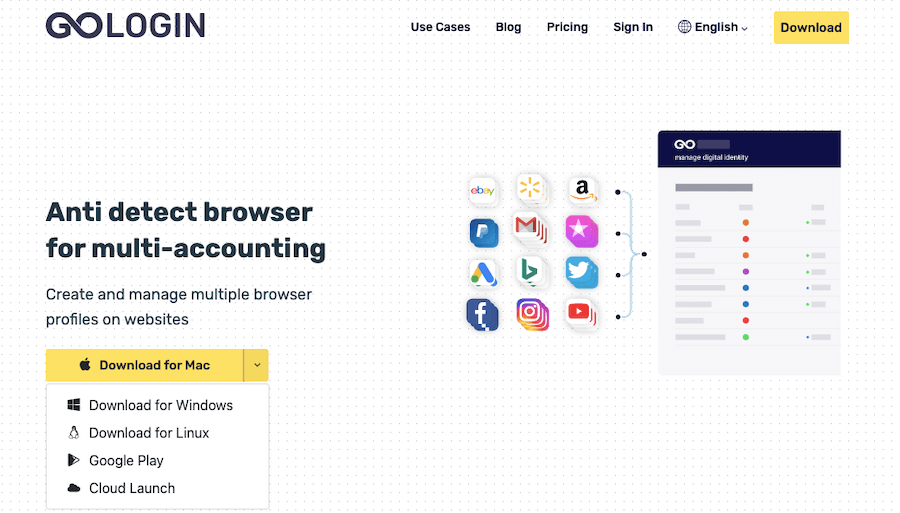 Offers Highly-Stable Proxies
GoLogin provides you with reliable proxies to ensure secure browsing. These proxies are specially created by keeping the user's identity in mind so that your online presence is masked and not tracked back.
In addition, these proxies have been optimized for all browsers and offer a high level of stability, so you can efficiently multitask without any issue.
Its primary function serves as a platform to let you manage multiple accounts on various platforms from one place without being detected or hacked.
Multi-accounting is made easy with GoLogin as it offers safe browsing. If you need to switch between multiple proxies daily, GoLogin is the one-stop solution that allows you to do so effortlessly.
State-of-the-art AES Encryption
This program uses advanced AES encryption to secure your identity. GoLogin lets you create private proxies that are entirely safe for use.
It encrypts the information sent from one computer to another using this robust algorithm, thus keeping all your sensitive data hidden and protected. It also offers various benefits such as low ping time, high uptime, & quick connection speed, making it an ideal software platform for multi-accounting safely online.
AES encryption is powerful enough to let you browse the internet with total anonymity and uninterruptedly. GoLogin is a user-friendly platform that ensures your identity, passwords, and all other data remain hidden from third parties.
It also offers an ad-blocker for safe browsing: If you need to use several browser profiles at work and home, it becomes crucial for you to block ads on different browsers as there may be some differences in users' preferences.
Robust Browser Fingerprint Checker
The platform comes with a browser fingerprint checker that lets you verify your identity and ensure no one is impersonating you. This feature is handy if you wish to remain anonymous online, preventing data theft.
It also offers multi-level protection, providing the user's IP address remains unknown, thus giving complete anonymity without any loopholes.
It checks and tests the fingerprint in real-time and ensures the user's safety from being hacked. Further, it protects your devices from virus and malware attacks by offering a safe platform to browse the internet.
It considers multiple parameters while checking the fingerprint, such as your browser version, extensions, plugins, location, etc.
It also offers automatic updates to ensure that all software packages remain up-to-date. This tool is highly recommended for users who want to stay protected at all times while browsing the internet.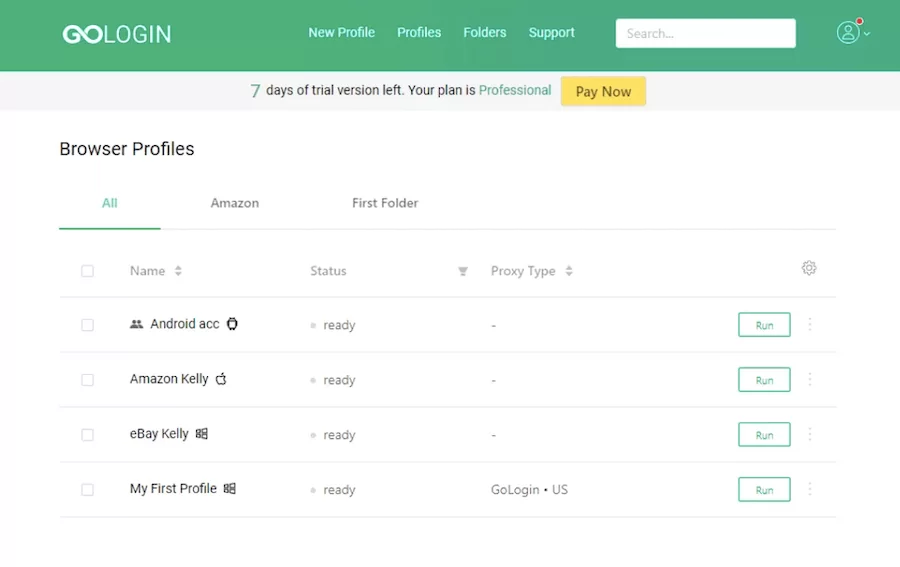 It Offers a Native Virtual Browser — Orbita
This virtual browser allows you to browse websites safely and securely without the fear of being tracked back. In addition, GoLogin offers an Orbita native browser which can be set as your default browser with only one click. It also includes unlimited proxies that remain live for 24 hours.
The security suite offered by this software is compelling, easy to use, and offers complete anonymity online. The users need not worry about their privacy anymore as it keeps them protected against all kinds of malware, spy, viruses, etc.
This product has become an overnight success among long-time users owing to its highly advanced features and hassle-free interface.
Easy Browser Profile Sharing With Peers
You can share your existing browser profiles with your peers with its paid version. This tool allows you to create separate browser profiles for your professional and personal use. It also lets you share these profiles with different peers, especially when you need to access multiple accounts on various sites simultaneously.
Different sharing options are created for individual use, making it mandatory for the user to enable the same before sharing it with their peers. Sharing private information can be dangerous if not done carefully.
To avoid any issues, go through this software platform's 'sharing section' before creating or using any shared profile.
How Does GoLogin Software work?
It is a web-based platform to manage multiple accounts on different websites & social media networks. It offers real-time support to keep your identity hidden from third parties. It also allows you to surf the internet without being traced back or hacked by creating private proxies for each account.
GoLogin has been developed using advanced encryption technology that ensures high-level security to the user.
The information sent through GoLogin remains encrypted until it reaches its destination, thus ensuring the complete safety of sensitive data even if an intruder intercepts it. In addition, this tool offers embedded hosting features that let you quickly access each site with just one click, hassle-free!
This software is completely safe and secure as it uses HTTPS protocols while sending and receiving information. The users can access the public & private proxies shared by other users to remain anonymous online.
It has a very responsive support system that works round-the-clock and ensures total customer satisfaction at all times.
Get Started With GoLogin Today!
Secure your online presence with GoLogin and browse the internet safely with GoLogin. It's free software that is ready to use. Install GoLogin today!