As already mentioned, Brizy offers two options for creating your website. One with WordPress CMS and another with their own hosting. You can create a complete new website using the Brizy Cloud platform.
We will look at both options in detail.
Brizy Website Builder
Brizy is one of the leading website builders for WordPress at the moment and you can create a unique design for your business without writing a single line of code. Brizy offers you all the features and options as well as control to make sure that your website is exactly like you imagined.
The Brizy drag and drop website builder comes with an intuitive interface to make things easier for the users. You can quickly add any element to your page and start editing it.
The real-time editor will help you to preview the changes you make so that you can make sure that everything is perfect before you make the changes live.
Brizy Header & Footer Builder
Not just the pages, but create an entire website with a unique design. Brizy offers you a custom header and footer builder so that you can make these important sections of your site unique.
Brizy Responsive Website Design Builder
Now your website needs to be mobile-friendly. If your site doesn't work properly on mobile devices, you will surely lose traffic and ranking.
So, make sure that the design you create with Brizy works perfectly on all different devices. The builder offers you 3 different viewports, Desktop, Tablet & Mobile to make sure that your website looks pixel-perfect on all the different devices.
Brizy Review: WooCommerce Builder
Brizy is a great product to create an eCommerce site. Like Elementor Builder, Brizy also comes with a comprehensive solution to help you create your online store.
You can customize your store as you want without any coding. You can simply drag and drop elements to create your homepage or your product pages.
It gives you the option to add dynamic elements to your pages such as Product Title, Product images, Price, rating or any additional information as per your need.
Brizy Global Styling
The global styling feature offered by Brizy will be very handy while you design your website. You don't have to change color and text design on every section separately, you can make all the changes with a single click using the global design option.
This is one of the unique features offered by Brizy The global styling option allows you to change the color, fonts, typography, and design of the whole site with just a click.
You can centralize and manage all of the design elements so that they are consistent with one another.
Using the global styling option, you can save a lot of time, and you can also make sure that the site is uniform and consistent.
Brizy Design Kit
Brizy Builder comes with over 500 ready-to-use design blocks that you can use while designing your pages. You can select from several different categories of blocks such as Hero Section Block, Features Blocks, Gallery Blocks, Team Showcase Blocks, and so on.
This will help you to make your design process quicker. You can select the block that you wish to use on your page and edit it as per your need.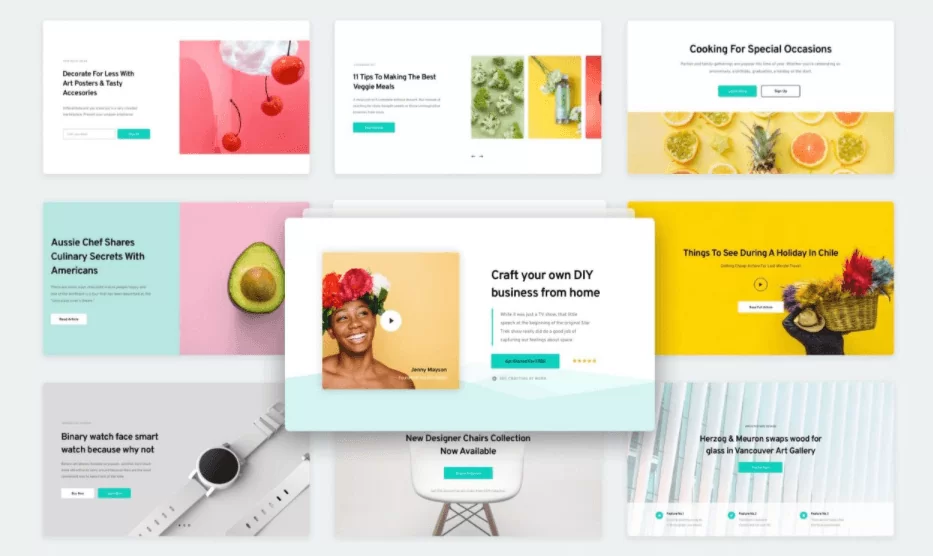 Brizy Contact Form Blocks
Your contact page is one of the most important pages on your site. Brizy offers you a great collection of contact us blocks that you can use on your site as it is and make your contact page look very professional.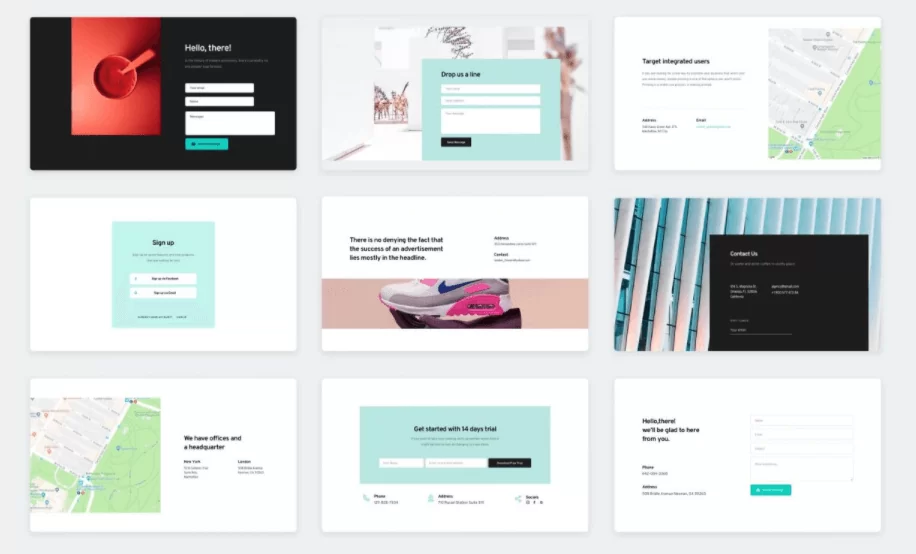 Similarly, you have testimonial blocks, team blocks, and so on.
Brizy Ready-to-Use Web Page Templates
Web page templates are one of the fastest ways to taggable content blocks. Drag-and-drop content blocks are an easy way to add text, pictures, or videos.
This feature is handy for creating a blog page with different sections of posts. Brizy comes with over 400 ready-to-use unique templates that you can use to create your website.
All of the layouts and templates offered in Brizy are responsive, meaning that your website will look just as good on a mobile device or tablet screen. You can edit templates in a highly detailed and insightful manner. You can also create your own custom templates with the help of Live Preview.
You have the choice to browse the ready templates category-wise and select the one that is close to your need and then edit it as per your need.
Brizy Form Builder
Brizy also offers a complete form builder, so you don't have to install another plugin to create various forms that you will need on your site.
You can create and manage all of the different types of forms, from lead generation to feedback surveys, all in a single interface.
The tool allows you to select from various form layouts so you can find the one that suits your needs. You can simply drag and drop elements to create profitable forms.
The form is available in both the free and pro versions of Brizy. If you are not a member of the pro plan, your form will be hosted on the web page where it was created.
Brizy Popup Builder
Popups are one of the greatest ways to get users to subscribe or buy products. With Brizy, you can easily create popups for your web pages and get them just the way you want by tweaking their size, positioning, and easing type, so they look great on any device.
You won't need any third-party integrations to get them set up on your site.
Brizy is a powerful WordPress page builder that doesn't require any coding skills for adding popups, so it's easy for anyone with no programming knowledge or experience to make changes and create pages on the fly.
You don't have to install another popup builder plugin for any kind of popup because Brizy popup builder comes with all the features and options that you will need.
You can create the popup for all different kinds of requirements be it for lead generation, showcase best offers, announcements, and others.
Here's how you can create a great-looking popup by using the Brizy popup builder.
Popup Triggers
When your users see the popup makes a lot of difference to the conversion rate. You have to make sure that the popup is triggered at the right time for the best possible conversion.
Brizy comes with a list of detailed popup display conditions as well as automatic triggers to make the best out of it.
There could be certain scenarios when you want the user to click on a button to trigger the popup, whereas certain popups will best perform when automatically triggered at the right time.
Predesigned Popup Templates
To make things easier for you, Brizy comes with a collection of ready-to-use popup templates that you can use on your site. You can also make changes to the selected template as per your need.
Brizy Dynamic Templates
We have spoken about creating a page template, website design, etc, What about the dynamic WordPress pages?
For example, your single blog pages, archive pages, 404 error pages, etc.
With Brizy, you can create a template for all those dynamic pages and it will be executed across your entire site. When you create a single blog post template, all your blog posts will follow this template, and so on.
Brizy Marketing Integrations
You can integrate Brizy with all the leading email marketing service providers, WordPress plugins to make things easier for the users.
You can integrate services like Campaign Monitor, MailChimp Sendinblue, Hubspot, Zapier, ConvertKit, Mailer Lite, Active Campaign, Drip, E-Goi, MailJet, and Get Response.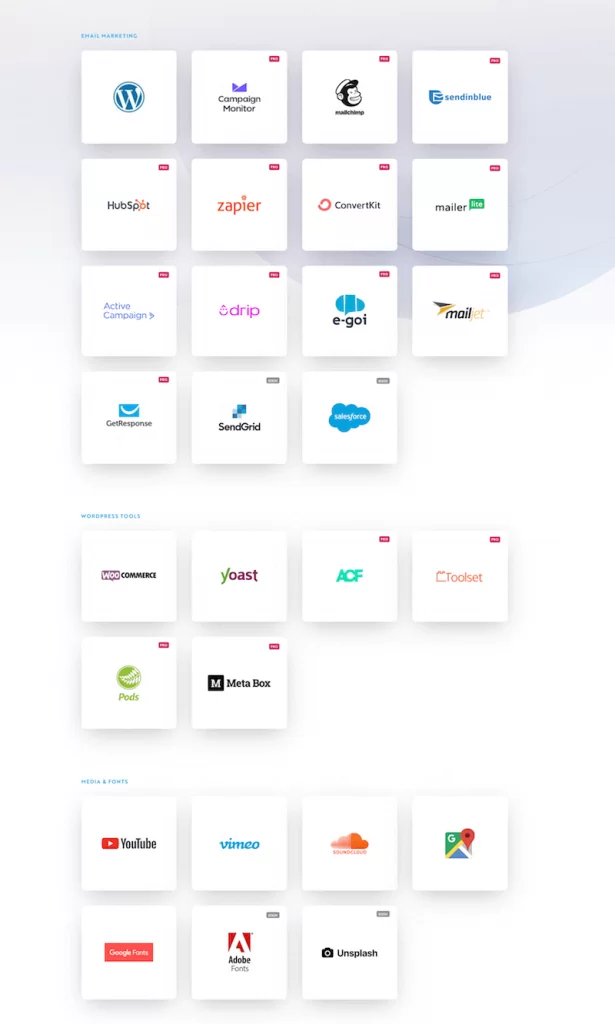 Brizy Cloud
Brizy Cloud is an all-in-one solution to create a website, landing page, or blog. You can simply use this single platform to create, host your site as well as capture leads and increase conversion.
You don't need any third-party CMS or any other platform to create your site. You can quickly add the section that you need with ready blocks or use a complete template to make your site ready.
It offers you team collaboration tools, detailed analytics of your website, the option to create funnels, and more.
Getting Started With Brizy Plugin
Brizy is essentially a WordPress plugin when you use it with WordPress. You can install the plugin like any other WordPress plugin and then start creating your website.
Installing Brizy Plugin on WordPress
Install the Brizy.io plugin on your site by logging in to the dashboard and clicking Plugins -> Add new -> Search for "Brizy" and then click Install Now button next to the "Brizy Page Builder Plugin." Once you've installed it, go back until you see a menu option on the left side called "Brizy Page Builder," which will take you to the Brizy dashboard.
As you can see in the image below, over 90K sites are actively using the Brizy website builder.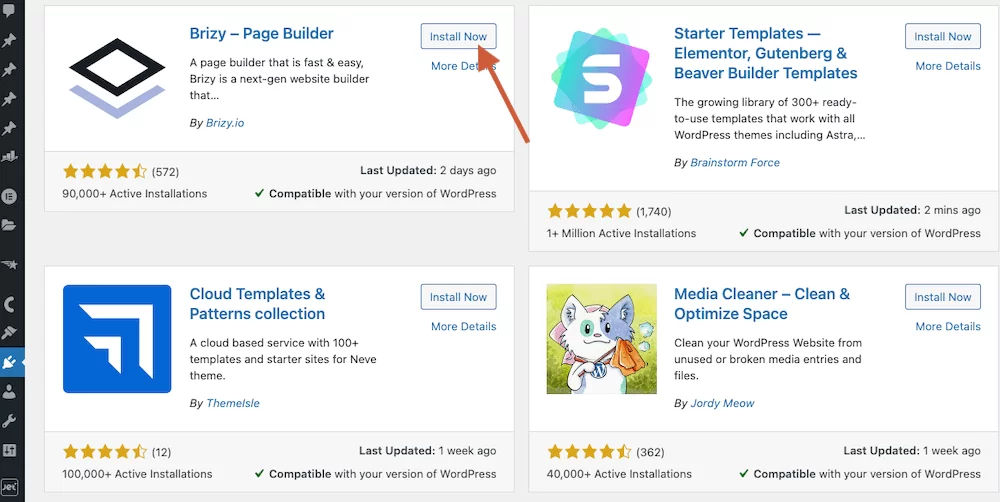 Create and Design a New Web Page
To create a new web page, click +New Page on the Brizy dashboard, and you'll be taken to a screen where you can design your new web page.
You can start creating and designing new web pages in Brizy by clicking on the button "Edit with Brizy" on the top of your screen. You can add a header to begin designing your website by clicking on "Insert Header. "
Brizy page builder allows you to edit content for every section of your website, including adding images or videos to any text box.
You do this by going to the left side of your screen and clicking on the "Brizy" menu option. On this left-hand menu, you'll see different options, including images, videos, and text boxes.
You can also use the integrated web page templates to easily design and publish your website. Web page templates are available for many different purposes and industries, including business or corporate websites, event websites, and restaurant websites.
Editing Elements in Brizy
You can use Brizy.io to edit your website or blog's content and design, including adding images or videos to any text box. You can also easily find web page templates for various purposes by using the integrated search bar in Brizy Page Builder.
The tool offers you a floating bar for editing all of your individual elements. You can use the editor on your desktop or laptop computer at home, as well as a tablet or smartphone while you're on the go!
Brizy Free Version
Along with Brizy Pro, it offers a completely free version that you can use to create your website and take advantage of real-time drag-and-drop website builder.
You get access to all the important elements even in the free version of the plugin. You will have access to the drag-and-drop builder, global styling options, complete responsive control, sliders, contact forms, global blocks, and more.
Brizy Free vs Brizy Pro