Crocoblock developed JetPlugins keeping in mind the Elementor community. The focus of all these add-ons is to make your website faster and more optimized for search engines without hiring a developer.
You can get the JetPlugins individually or in a set. They are all well documented, with proper instructions on how to install and use them.
In this Crocoblock review, we will look at the products offered by the platform. If you are looking forward to creating a dynamic website with custom fields and creating custom posts types, the plugins listed below are going to be very handy for you.
Let's get started.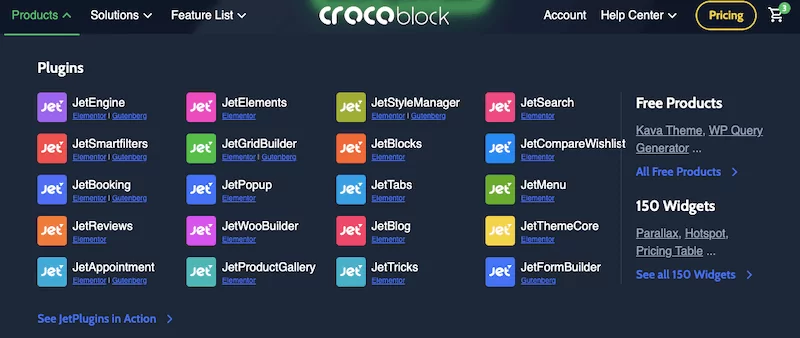 JetElements plugin lets you add 40+ Elementor widgets to design any kind of Elementor website that you can think of.
Some of the popular widgets are Lottie files, Advanced sliders, pricing tables, posts layouts, portfolio image gallery, testimonials, advanced maps, progress bar, animation charts, and so on.
JetElements provides third-party integrations so you can showcase all the content from Youtube, Vimeo, Instagram feeds, Twitter handles, etc. If you're an avid designer, you can play along with the parallax effects, creative headline animations, flip boxes, and comparison boxes.
It will cost you $24 per year in case you decide to buy JetElements as a standalone plugin.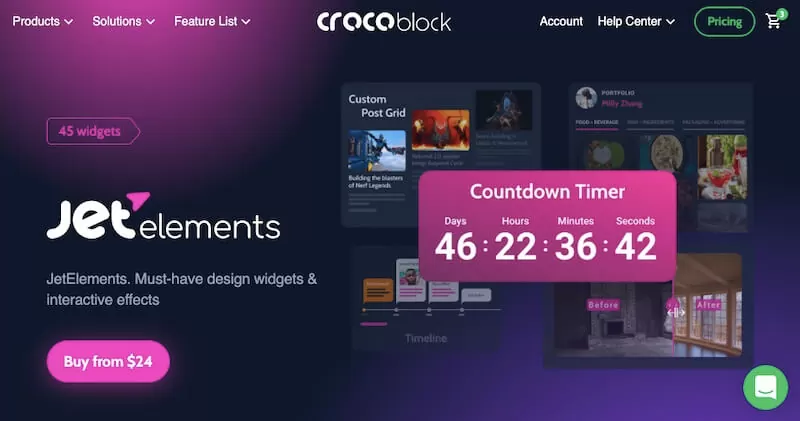 In case you're using third-party plugins like advanced custom fields, or PODS for creating a dynamic listing website, then JetEngine is here to replace them.
JetEngine is provided as a dynamic content management system that can be used as an alternative to Elementor Pro's custom fields. With JetEngine you can create content types, custom classes, dynamic post types, taxonomies, and custom meta boxes with ease!
It is fully compatible with Elementor PRO, WooCommerce, ACF, Pods, CPT UI, RankMath, Yoast and is now integrated with Gutenberg builder as well so you can benefit from the dynamic listings from the block editor as well.
JetEngine standalone plugin will cost you $26 per year which is quite affordable as compared to other dynamic field plugins.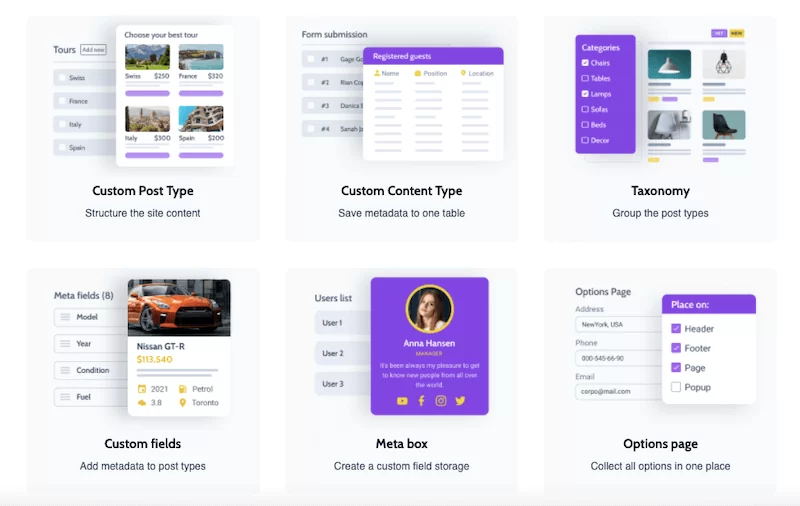 If you have used ElementorPro, you might have come across the sticky option and motion options available in the advanced settings for widgets. JetTricks lets you add more visual effects to your Elementor website at just $19/year.
JetTricks brings in motion-centered widgets like Tooltips, Hotspot widgets, Sticky column options, Parallax effects, and background particle effects. You can play with these effects to add more life to your business website.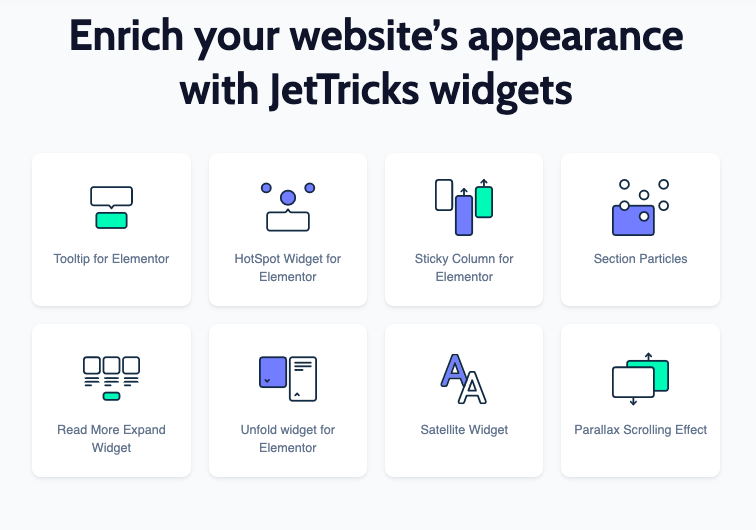 Next on the list is a dedicated plugin for creating a mega menu on your website. With Jetmenu you can create a mega menu to broadly showcase the different categories and improve the customer navigation on your website.
With easy drag and drop options, you can add Elementor elements like images, icons, maps, and many other widgets. You get options for creating horizontal, vertical, hamburger menus and set them to different breakpoints.
JetMenu is optimized for speed and provides all the necessary styling settings so you can match the look and feel of your website without any compromise. You can purchase JetMenu at just $24 for a single-year subscription.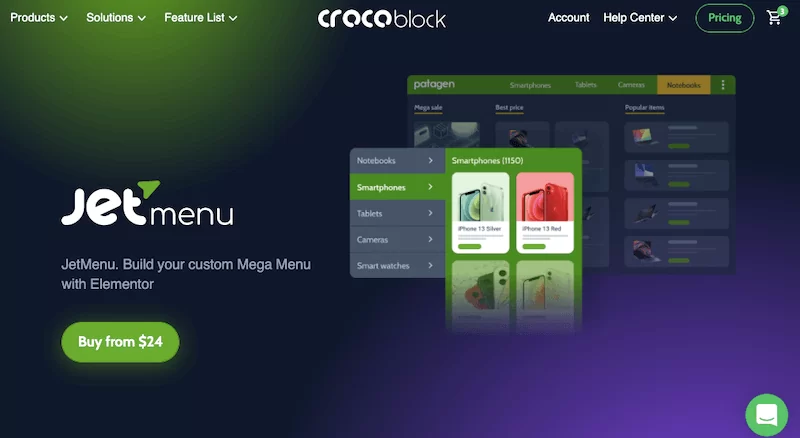 If you use the free version of Elementor, you'll know it doesn't support floating popups or slide-ins. That's where JetPopup comes in. As an add-on for Elementor from Crocoblock, It is designed to create popups and slide-ins that work seamlessly with Elementor.
JetPopup has all the features of Elementor's popup builder: display conditions (where the popup should appear) and action triggers (for example showing a popup when someone lands on a page). You can also set custom styles on your base template so that the theme will take care of everything else!
This plugin is very affordable at $22 for a single-year subscription.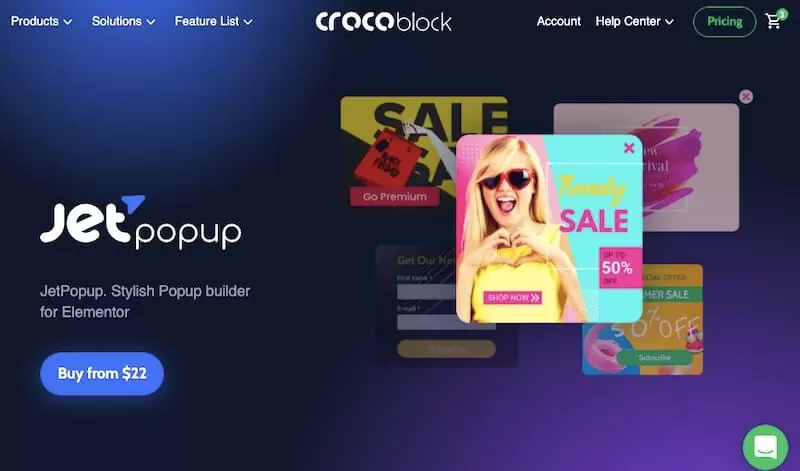 JetAppointment is a plugin developed for appointment booking capabilities. It allows appointment settings such as fixed time slots, recurring appointments, filterable calendar settings, etc.
The plugin is well integrated with popular payment gates and automation tools like Zapier so that users can easily register for appointments or send reminders by making use of these toolsets.
You can set appointment forms on a single page or through pop-up windows on your website and extend the functionality of the form using JetEngine which is a companion add-on for this plugin.
JetWooBuilder is the first WooCommerce plugin on our list in the eCommerce website space. It sets the base for other WooCommerce plugins that are a part of the JetPlugins bundle.
You can create an entire WooCommerce store from scratch. Simply create templates and replace them with the default pages like account page, products page, cart, checkout, and thank you page.
JetWooBuilder offers all the necessary layouts, designing settings, custom behavior options to match the look and feel of your products. It won't make sense to buy this individual plugin because you will miss all the configurations with other WooCommerce modules.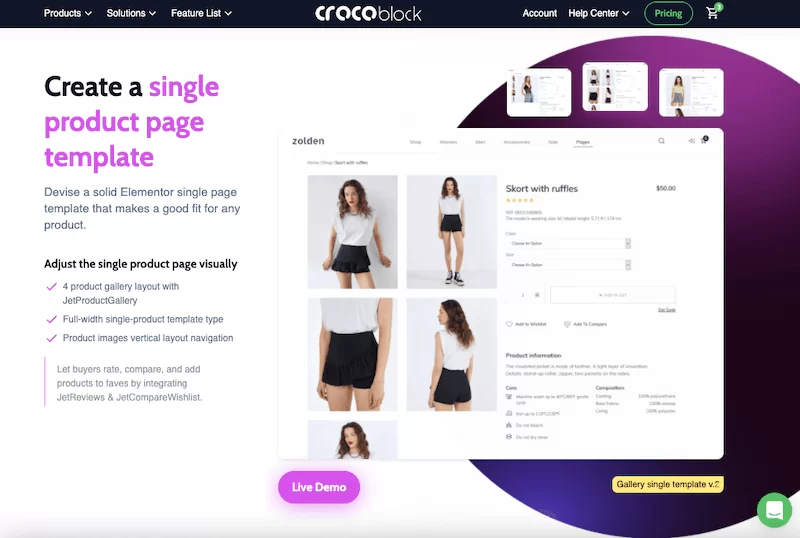 The name itself defines the use of this plugin. JetProductGallery allows you to add beautiful product images and create WooCommerce galleries in classic and modern formats.
You can add the images from the WordPress media gallery and set a featured video for any product and adjust the parameters for the product page. JetProductGallery offers fresh designs for creating product sliders, navigation options, and advanced image click features.
With 4 product layouts and slider options, JetProductGallery looks attractive at just $15 per year.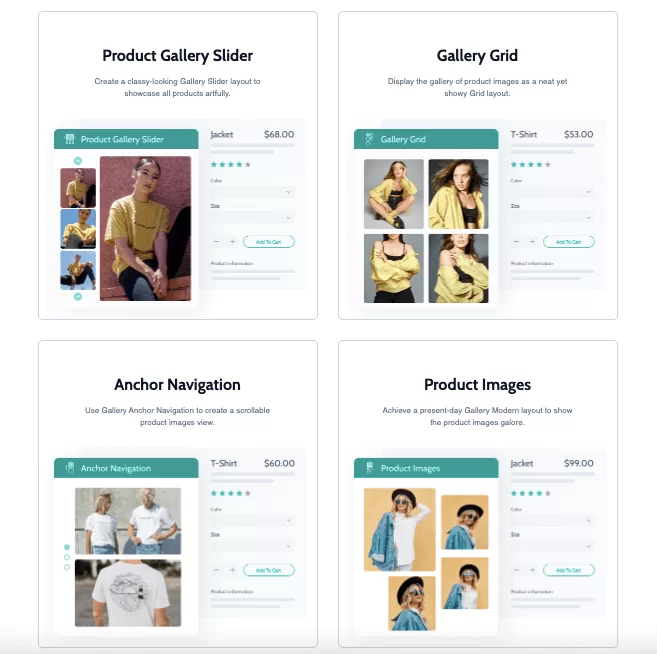 Jet Reviews is a great addon for generating reviews and making the process for website owners and users easier. It'll allow you to get more engagement and grow your business by creating a space where content creators can leave meaningful ratings, comments, and likes on a specified piece of content.
You can analyze the insights provided by this plugin to create better copies of your website pages to boost engagement. The only drawback is it lacks schema support for reviews.
Still, it's a good buy at $22 for a single-year license.
JetSmartFilters is the perfect solution to add advanced AJAX filters for your custom post types and WooCommerce products. And it's so easy! With just one click you can start adding Elementor's dynamic AJAX filter modules to your WordPress site.
Users have the ability to cut down product choices using the 9 layered filter types and find the exact product for their requirement. In case you have a niche site, the hierarchical filter in JetSmartFilters is a good way to organize the categories on your website.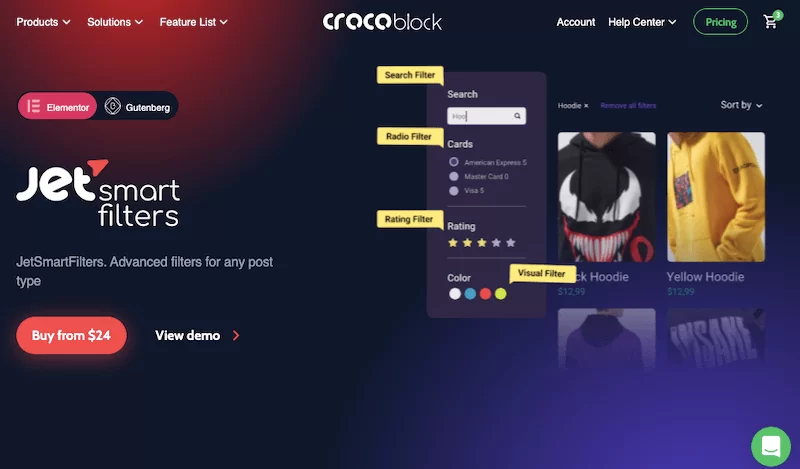 Most of the customers usually compare products before finalizing a purchase on any website.
You can use JetCompare&Wishlist to compare products from multiple brands or sellers on a single page. This gives the customers an ability to save and share products for later purchase or comparison!
Also, you can add this plugin's additional feature called Wishlist which also allows customers to add a product to their wish list for later purchase.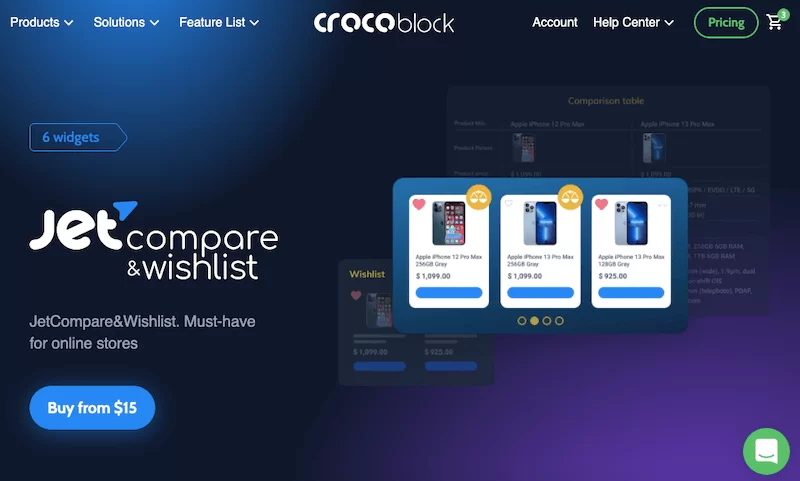 JetBlocks is a dedicated Header and Footer builder plugin from the JetPlugins team. This plugin is especially useful if you're creating an eCommerce website where users need to register and login into their accounts.
As mentioned, you can use this plugin to add advanced features in headers like the hamburger menu, breadcrumbs, navigation options, search buttons, and login widgets that are commonly used on popular eCommerce websites.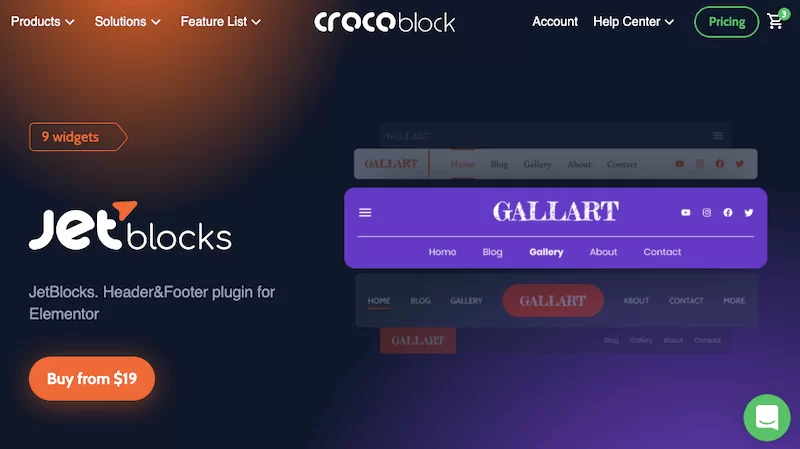 JetSearch is a powerful standalone plugin that you can use for making customer's life easy. It comes with powerful Ajax search capabilities that narrow down the results from post types, taxonomies, category pages, and so on. Since it is based on Ajax, the results load blazing fast without even refreshing the page.
This plugin makes searching on your website easier and offers some of the advanced features like adjusting the excerpt length, styling, and pagination options for the results.
Overall, it's a good plugin at just $19 per year for your Elementor website.
JetTabs is one of the widgets that were designed specifically to help you display content in a way that's better for your visitors.
Content can be displayed in an accordion or tab format, and you can even configure it to show images as well! For added convenience, JetTabs comes with three different widget styles ready for you to use with just about any template.
This feature exists in the Elementor Pro plugin, but unfortunately, it does not support different content templates. In case you need this feature, JetTabs is a perfect plugin for your needs.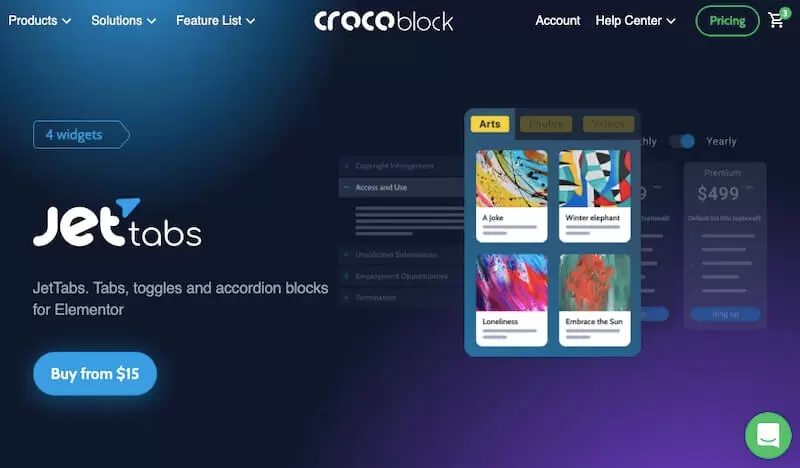 JetBlog plugin is one of the best blog plugins for Elementor. It is the best-suited blog plugin if your niche is a content-focused website like a magazine, blogging, or newspaper journal.
As mentioned earlier, the JetBlog plugin is suitable for writers, bloggers, magazine editors to build beautiful blog sites. The best thing about JetBlog is that it has very nice typography and grid layout which makes the site look awesome on all devices (Desktop, Tablet & Mobile). It is a fully responsive and retina-ready Elementor blog.
You can use the advanced pagination options and even embed a Youtube playlist to show videos from a Youtube channel on your blog page.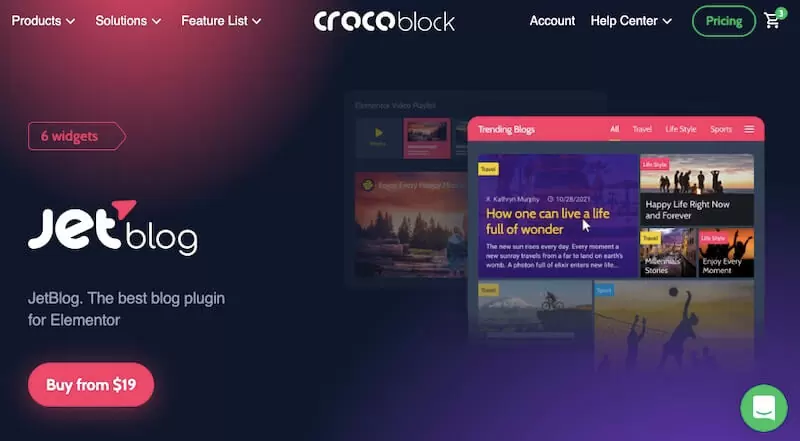 JetStyleManager is a lightweight plugin that you can use to add styles to Gutenberg blocks. The plugin extends the WP editor's core functionality and adds more options for styling the frontend look using blocks.
The plugin is free and works with all the JetPlugins without any issue. You can use this plugin to add style control settings like borders, padding, and margins. It also lets you add a responsive style controller so you can alter the settings for different sized devices.
JetStyleManager is compatible with other Gutenberg plugins and helps you load beautiful skins without causing any website speed delays.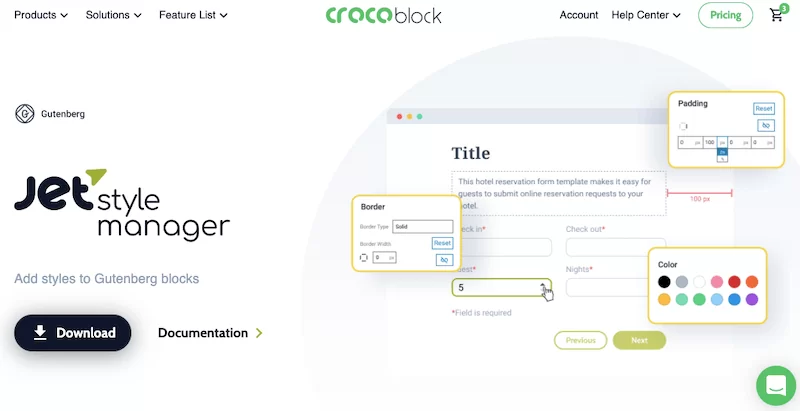 Till now, we have covered almost all the modules that the Jet plugin provides to cover a particular aspect of the design like a popup, comparison module, filters, and so on. None of these modules provide an easy way to edit the templates that are provided by the theme.
JetThemeCore is similar to the theme builder editor that comes in the Elementor Pro plugin. You can create readymade templates for core pages like archive pages, single pages, product pages, taxonomies, etc.
JetPlugin proudly provides a magic button that provides access to hundreds of pre-built templates so you can simply click and design the core theme in minutes.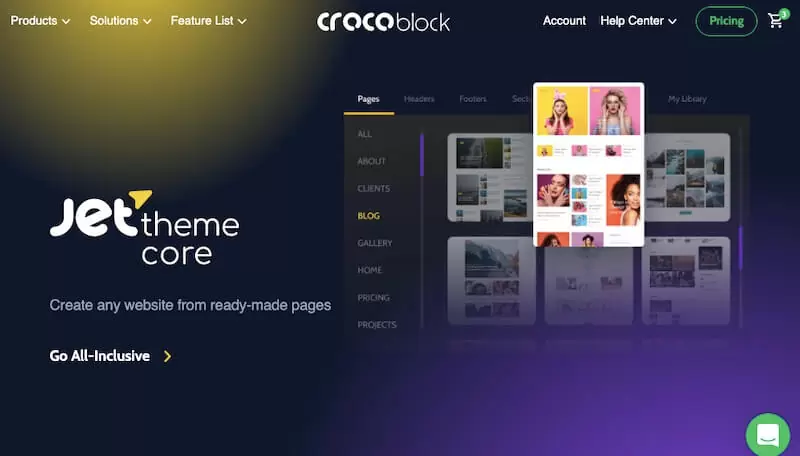 That's it! We have discussed a lot about the paid modules. Let's have a look at some of the free Crocoblock add-ons:
Kava theme: A free theme offered by JetPlugins that integrates well with all their plugins.
JetSticky: Set important sections on your website as sticky to grab customer attention.

JetGridBuilder: For creating grid layouts for posts, products, and images on your website.
Jet Content Widgets: For organizing the content on your website in a clean way to match the UI of other JetPlugins.
Besides these, JetGridBuilder, JetFormBuilder, WP Query generator, etc. are some of the other free widgets offered by the JetPlugins team.
The free plugins are compatible with the latest Gutenberg updates. You can utilize the benefits of free JetPlugins along with paid plugins without any speed loading issues.