Welcome to Divi theme review, one of the most widely used and popular multipurpose WordPress themes available in the market.
You're trying to pick the perfect WordPress theme for your website, right? I know how hard it is wading through the thousands of themes out there, trying to find the one that fits your site just right.
It can feel like your Goldilocks sometimes, can't it? Too large, too small. How do you find the perfect theme?
Well, one way is to find a multi-purpose theme that gives you complete control over how your website functions. And that's what the Divi theme does.
Join me today as I go in-depth with my Divi theme review. I'll show you heaps of screenshots of the actual interface (installed on my own server!) and show you how this powerful theme functions.
Don't miss our Divi Theme discount offer.
Divi Theme Review
Divi is considered one of the most popular multipurpose WordPress themes that you can use to create any kind of website. Many leasing business sites are already using Divi for their site. Divi brings in unlimited design options to your site and you will never need to hire a developer for any changes on your site ever again.
What's So Unique About Divi?
Divi then is designed so that even people without any coding skills can create a beautiful custom website on the WordPress platform.
It's multipurpose and highly customizable. It comes packaged with a number of pre-made layouts. And if you want to strike out on your own, you can use the highly flexible Divi Builder to create unique layouts for your posts and pages.
Divi also makes full use of the WordPress Customizer so that you can customize both your website, as well as the individual modules that you'll use in the page builder (more on that later!).
And if you're into conversion optimization, you'll love that Divi includes a powerful A/B testing tool called Divi Leads. Divi Leads lets you A/B test every element you use in the Divi page builder so that you optimize your site's performance.
While you can get most of these features using external plugins, Divi is so powerful because it brings everything together under one easy-to-use integrated system.
What Kinds of Websites Can You Make With Divi?
As I mentioned, Divi theme is multipurpose. That means you can create nearly any type of website. For example, you can build:
You can even create eCommerce stores using WooCommerce! Divi is truly multipurpose.
For example, this website is built using Divi Theme by ElegantThemes:
And so is this one: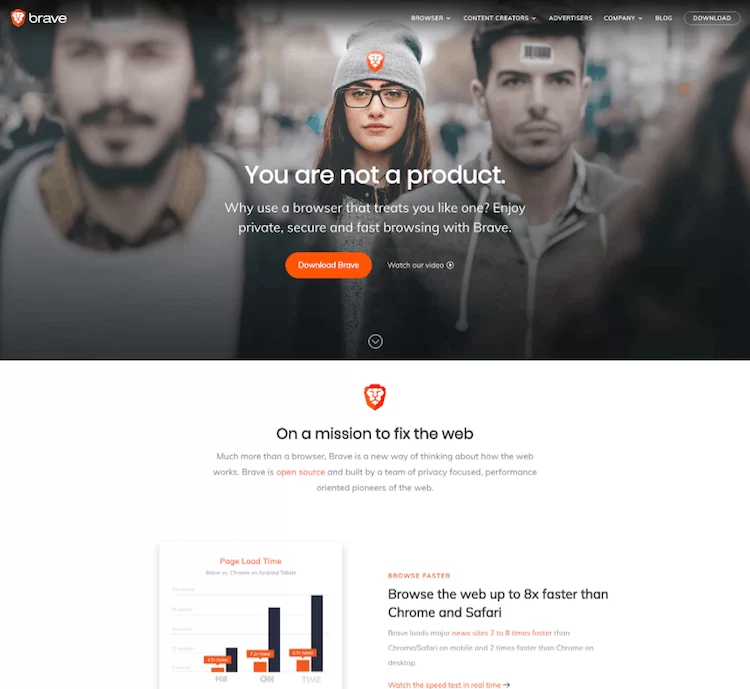 What I'm trying to say is…Divi can handle most uses that you throw at it!
It's All About the Divi Builder
If you ask a Divi user what makes Divi Theme so powerful, their first answer will almost always be the Divi Builder.
See, the Divi Builder is what allows you to create complex designs without needing to know a single lick of code. Without it, you'd have to dig into PHP and CSS. And let's be honest – who has time for that?
With Divi Builder, you can build layouts using something called Modules. For example, if you want to add a table of prices, you can just drag over the Divi Pricing Tables Module instead of trying to code it up from scratch:
Creating a Website With Divi
---
Backend vs Frontend Page Building
Normally, when you choose a WordPress page builder, you can either edit the frontend or the backend. Here's what those terms mean:
In previous versions of Divi, you could only edit in the backend. But that all changed with Divi 3.0.
In Divi 3.0, you can choose to edit in either the frontend or the backend. And you can even switch back and forth as needed!
Honestly, being able to switch between modes offers the best of both worlds.
For me, I like to set up the basic layout of my page using the backend editor. But once that's set, I like to jump into the frontend visual editor so that I can see exactly how my final page will look.
Frontend Builder in Action
Editing your WordPress site was never so easy. You just have to click and add any module to your pages and start editing.
You will have a real-time preview of the changes you are making on your site. If you wish to add any text content on your page, just click on the section where you want the text and start editing, it is that simple.
You have over 45 different page elements that you can use on your site to make it modern and complete. It is super simple for the users to quickly select any of the elements for the page and edit it.
Another important aspect to look at is ready-to-use page templates, you can choose any of the available templates and edit quickly.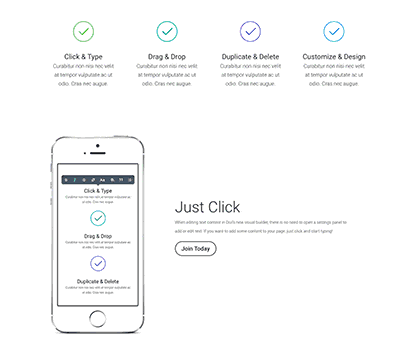 What Elements Does the Divi Builder Offer?
If you've ever used a page builder before, you know that a page builder is only as good as the elements that it offers.
Divi includes different elements (called modules), which gives you a great deal of flexibility for creating your posts and pages. In addition to the basic elements like buttons, headers, and text, Divi also includes specific modules for:
Add Modules on The Fy
Creating a website was never so easy. With Divi, you can add any element to your page on the fly. Just hover over the section where you wish to add an element and get started.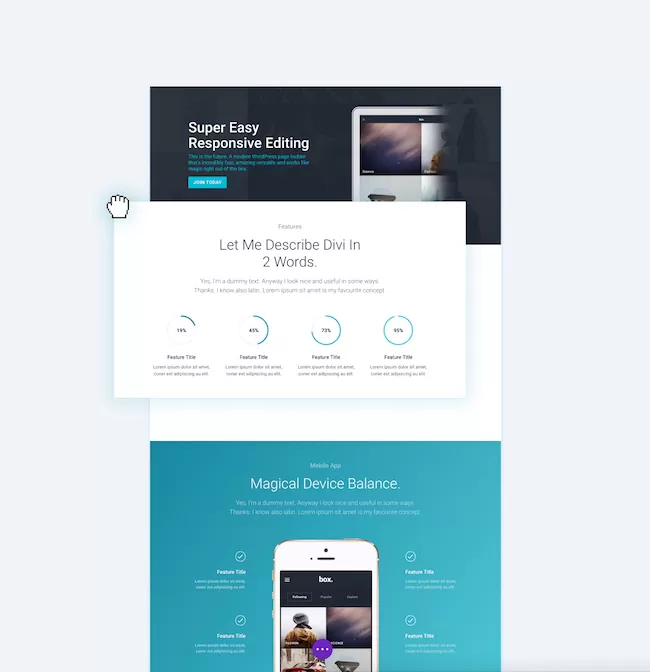 As far as page builders go, the Divi Builder's set of modules can go toe-to-toe with any other premium builder.
Hands-On With the Divi Builder
I want to dig in a little deeper and show you exactly how to use the Divi Builder to create pages.
When you create any new post or page, the first thing you can do is set its basic layout: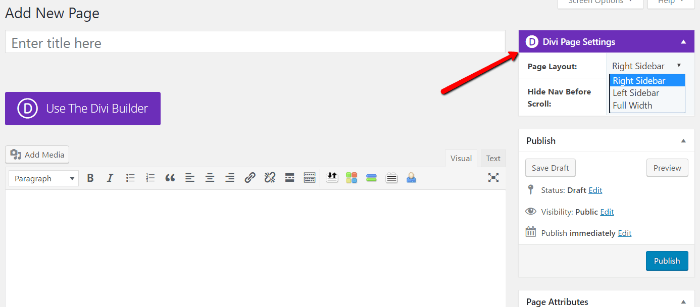 You can move the sidebar around or choose to just go with a full-width page.
Then, you can jump into the actual Divi builder by clicking the button: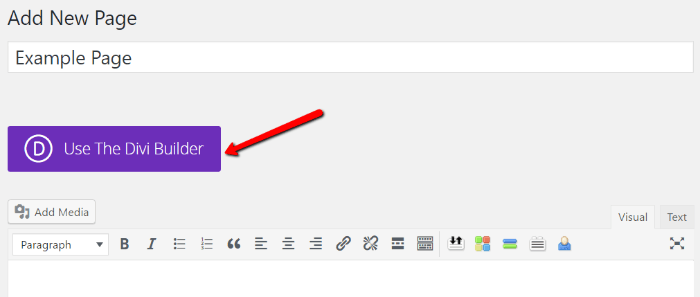 First, you insert some columns. These basically dictate how you want your canvas to be divided. If you want to take up the full canvas, you can just use one column. But if you want to divide the page in half, you can choose two or more columns:
You can also make columns take up different widths. So one column could take up 70% of the page, leaving 30% for a second column.
You'll also be able to add rows if you want to use different column alignments on the same page.
Once you've got your columns figured out, you're ready to start adding modules. Columns and rows define the layout – modules are where you actually add content: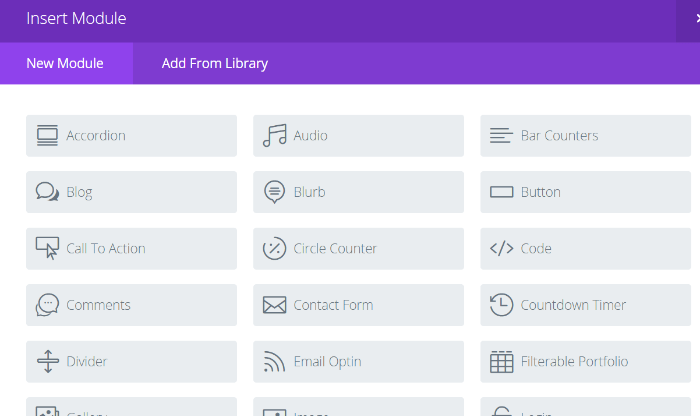 Say, for example, you add a button module. It will look like the below when you're using the backend editor: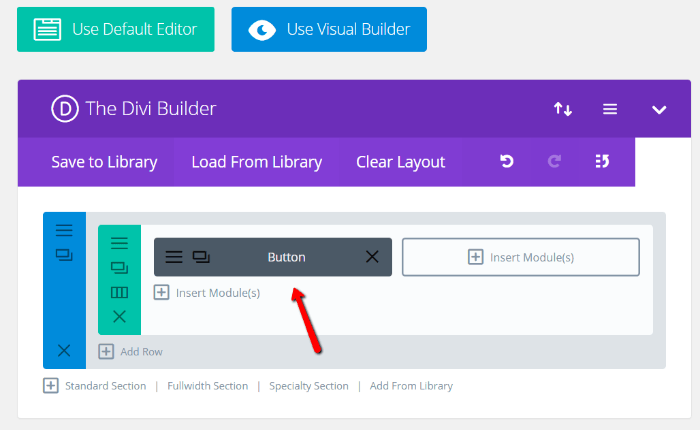 And if you switch to the frontend visual editor, it will look like this:

Like most page builders, it might take you some time to get the hang of the Divi Builder. But once you figure out your way around the interface, you can absolutely create complex layouts without needing any code skills.
Easy Undo/Redo
One great thing about Divi is its easy undo/redo functionality. If you've ever used Microsoft Word, you're probably a fan of the undo and redo buttons.
Well, you can do the exact same thing with Divi. If you ever make a mistake, you can instantly undo that change without breaking anything: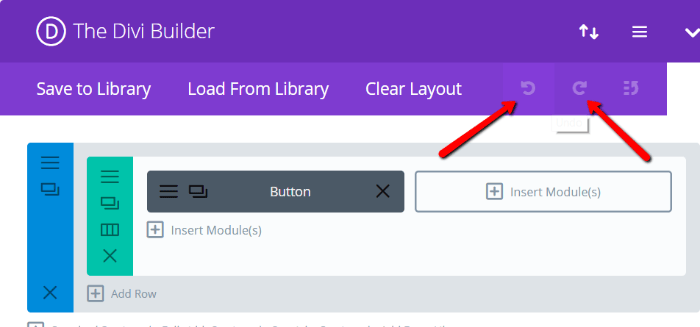 It's a small thing, but great for your productivity.
Responsive Layouts
Another great thing about Divi is that it lets you create responsive layouts. That means your layouts will look beautiful whether your visitors are browsing on their desktop or their smartphone.
But here's the really cool thing about Divi:
You can choose to only display some modules for certain devices. For example, say you have a video that takes up a lot of space. You might want to include the video for desktop users, but not for mobile users.
To do that, all you need to do is check a box in the Divi Builder to disable that specific module for mobile devices:
This feature makes it very easy to create platform-specific designs.
Fluid Visual Builder Interface
You will love the visual builder interface, the builder brings in a perfect solution to make your site look pixel-perfect on bigger and smaller screens.
The new visual builder is perfectly optimized for small screen devices to make sure that you are able to edit your site on the go anywhere anytime.
The visual builder is also optimized for the vertical screens so that you have the perfect view while editing your site.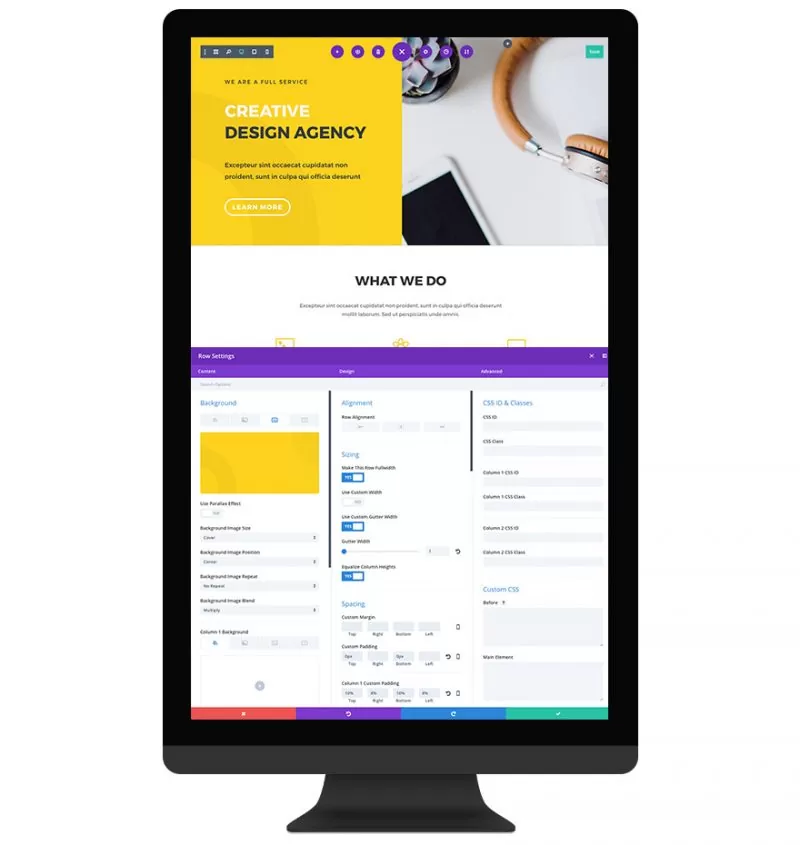 Full-Width Layouts for Landing Pages
Here's the problem with most page builders:
They only let you build pages within the existing framework of your theme. That means that you can edit the body of the page, but you'll still have your theme's standard header and sidebar.
It's fine for most pages, but impractical if you ever need to create a dedicated landing page.
One of the major advantages of Divi is that it lets you build pages from a 100% blank canvas. No default header. No sidebar. No footer.
All you need to do is choose the Blank Page template:
Then, you can create your page using a 100% blank template:
Saving Layouts to the Builder Library
Last thing I'll show you about the Divi Builder!
If you're like most sites, you'll probably have specific layouts that you want to use over multiple pages.
To avoid requiring you to duplicate your efforts, Divi lets you save layouts to the Divi Library:
And then you can instantly load those layouts on a new page:
This feature will absolutely save you a ton of time.
A Theme Settings Panel That's a Joy to Use
Ok, so I'm a fan of the Divi Builder. But how about the rest of the theme options?
First off, the Divi Theme Options page is a breeze to use. It's well-designed and lets you quickly set up basic styling, navigation, layout, and SEO options. You can also easily add AdSense ads to your site: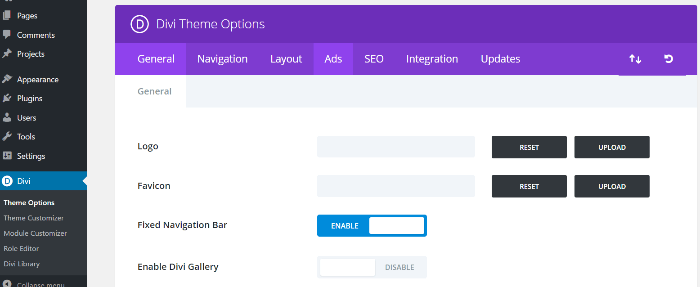 The Divi Theme Options also allows you to quickly add custom code snippets and CSS. No need to set up a child theme!
Great Use of the WordPress Customizer
Divi doesn't just rely on its Theme Options settings, though. You can also use the WordPress Customizer to style your design in real-time.
Using the Customizer over a static menu is a huge advantage as you can make your changes using the familiar WordPress WYSIWYG interface.
General Theme Design
First off, Divi lets you use the WYSIWYG Customizer to style your regular website. You can customize: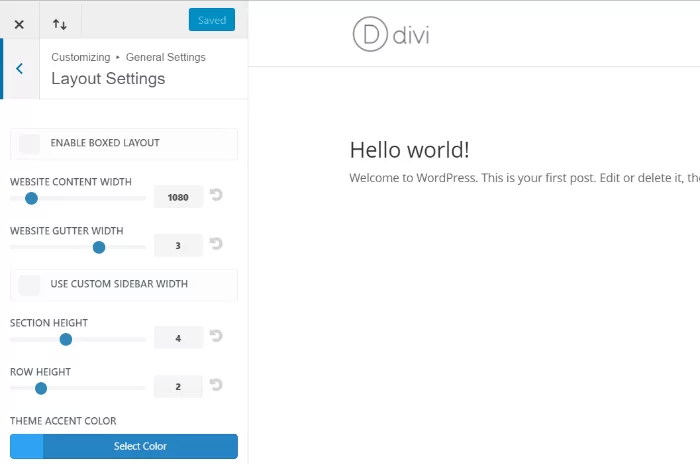 You can even use it to customize unique settings for the mobile version of your site. I've never seen any other theme let you do this!
Customizing Modules
But Divi doesn't stop at general theme styling. Remember those modules from the Divi Builder? Yeah, you can customize how they look by using the Customizer!
For example, if you wanted to change the default style for the Pricing Table module, you'd head to Divi → Module Customizer. There, you can change the style for any number of different modules:
Then you could click on the Pricing Table option to specifically style that module's fonts.
I guess what I'm trying to say is this:
The Divi theme gives you an incredible amount of control over how your website looks, without requiring you to know a single line of code.
Bulk Editing
This is a very effective feature offered by the Divi Theme, you can Cmd or Ctrl on your keyboard and select multiple modules on a page and edit them at the same time.
This feature will be very handy while you create creating a number of different sites for your clients and doing a similar kind of editing to help you save a lot of time.
Find & Replace Styles
This is another very effective feature to save time and increase your efficiency. Divi offers you a quick option to find and replace any style on a page.
Copy & Paste Styles
You also have the option to copy and paste style from one module to another making your editing process quick and easy.
Draggable Widths
The draggable width features make it super simple and easy for the users to fix the width for any module. If you have a section in the header or the body you can quickly drag and change the width.
Custom Header Designs
The header is the first section of your website that is visible to incoming visitors. So, the header section has to look great to create an impression.
Divi offers you an amazing option to create a custom header for your site. You can play around with the layout of the header section.
You can fully customize the menu of your site as well as change the placement of the logo of your site. You can even create vertical navigation and change the complete orientation to make it completely unique.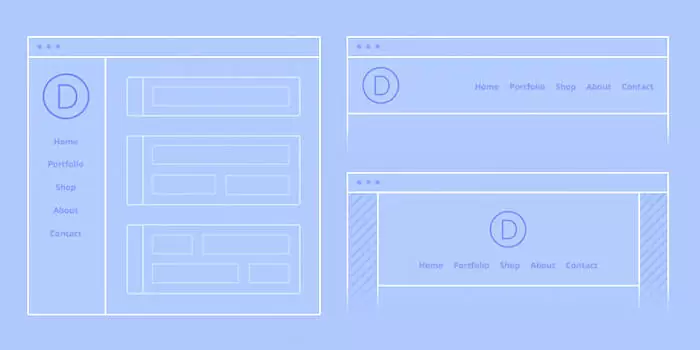 Marketing Elements
---
Easy A/B Testing With Divi Leads
If you're a marketer, you're probably always trying to improve your website. The Divi theme makes it possible to A/B test essentially any module in your site using something called Divi Leads.
Once you activate split-testing, you'll be able to easily A/B test any module you add to the Divi Builder: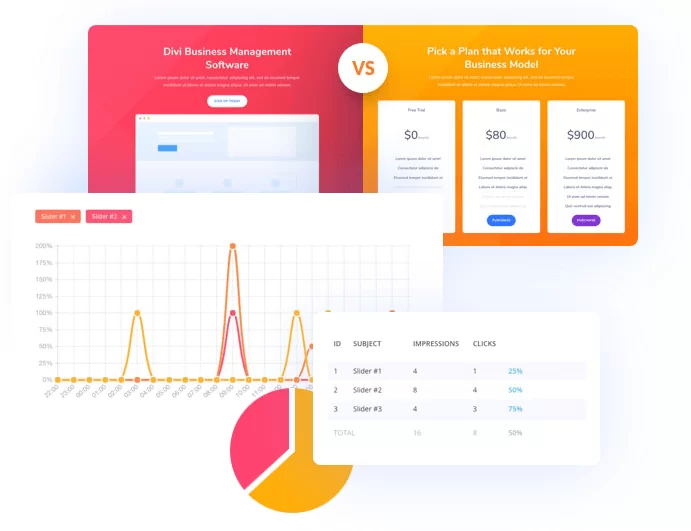 You're not limited to two options, either! You can also use Divi Leads to run multivariate tests.
While there are third-party plugins that can help you A/B test your WordPress site, none are as well integrated as Divi Leads.
Email marketing & Social Sharing
When it comes to marketing your content, social sharing and email marketing is an integral part of the process.
Divi offers you a comprehensive option to manage your email marketing and social media marketing and make sure that you don't have to look outside for other tools.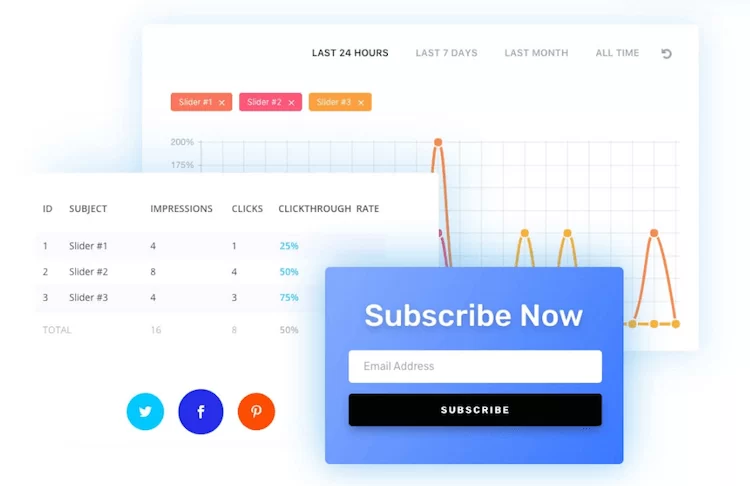 Premade Layouts to Help You Save Time
Creating every layout from scratch can feel overwhelming. That's why Divi includes a number of premade layouts with the Builder.
So, instead of needing to start from a blank canvas each time you create a new page, you can just choose an existing layout and customize it to fit your needs.
Whenever you create a new page or post, you'll have access to all of these premade layouts:
And like I mentioned above, you can always use your own templates that you've saved to the Library.
Navigation Options
Divi offers you some amazing designs for your navigation menu. In fact, you can create vertical navigation for your site if you don't wish to use the regular one.
You can play around with the logo and the menu placement to give it a unique look.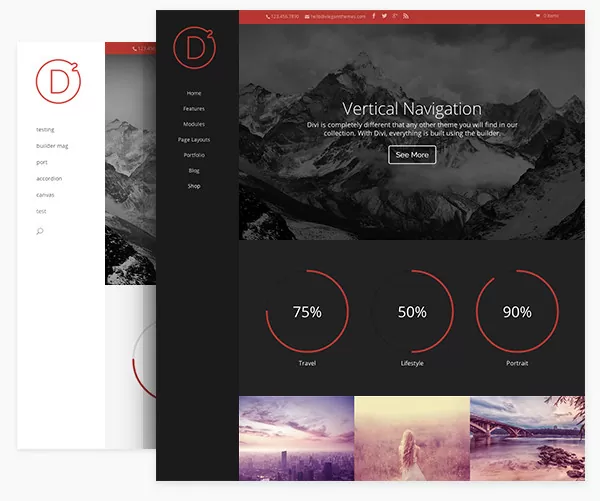 Divi Post Builder
While the default post layout in WordPress is reader-friendly and neat, it doesn't have any fancy design option to spice up your important posts.
The Divi post-builder gives you amazing options to create a rich post design that will create a strong impact on your readers.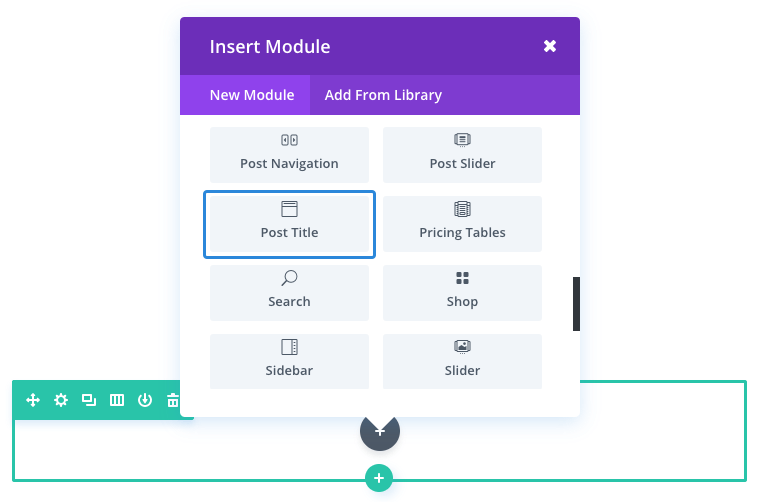 Divi Color Manager
The Divi color management is the new feature introduced. The system automatically keeps track of all the colors that you recently used and presents you with a new window when you come to edit your site.
You have amazing color schemes that you will love, and it is fun to implement color and make each and every section of your site look attractive.
Create an Online Store
eCommerce is a big business these days and if you wish to create your own online store to sell your own product or any third-party product, you can use Divi theme to create your store.
As already mentioned, the Divi theme comes with the complete support of the WooCommerce plugin so that you are able to create your store easily.
You will get beautiful ready design templates to use on your eCommerce site so that it is easier and quicker for you to get started on your site.
The Divi Builder offers you a number of modules to create great-looking layouts to showcase products on your site.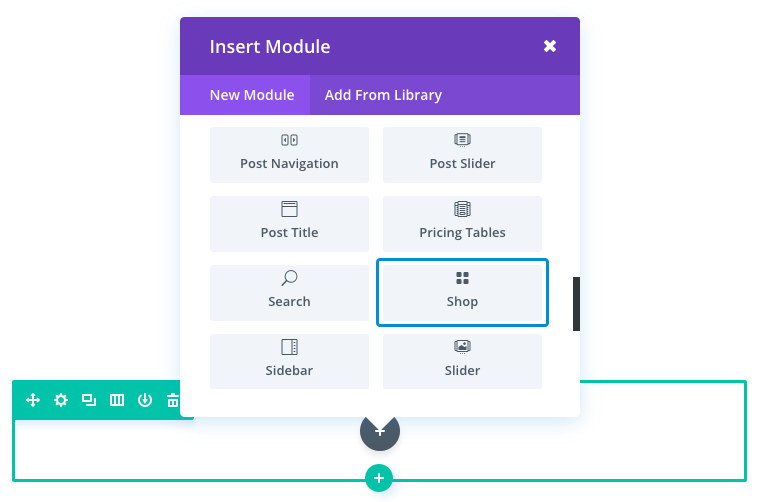 Language Options
Divi is a very popular theme and it is used by many different language speakers. Hence, the theme offers you an easy option to translate the entire theme (in and out) to 32 different languages.
Strong Security
Safety of your site is one of the most important parameters to look at when you select your hosting or your theme.
Divi theme takes security very seriously and made sure that your website is not invadable by the bad guys.
Excellent Knowledge Base and Support
Another great thing about Divi is that it has a massive support base. Not only has Elegant Themes created a huge knowledge base filled with video tutorials and detailed guides, but they also publish articles on their blog designed to help you get more value from Divi:
And if that's not enough, you can even find whole third-party websites dedicated to providing Divi tutorials.
Divi Speed Update
Divi Theme got a very important update recently to improve the overall loading speed. After Google rolled out the Core Vital update and it became part of the Google Search Algorithm, the loading speed has become even more important.
If your site doesn't load instantly, you will lose users and ranking. Now, for a theme like Divi with so many modules, it is difficult to keep the loading speed under control as there are so many CSS files that need to be loaded.
However, with the recent Divi update, everything has changed. You can achieve a perfect 100 100 on Google Page Speed and 100% on GTMetrix after this update.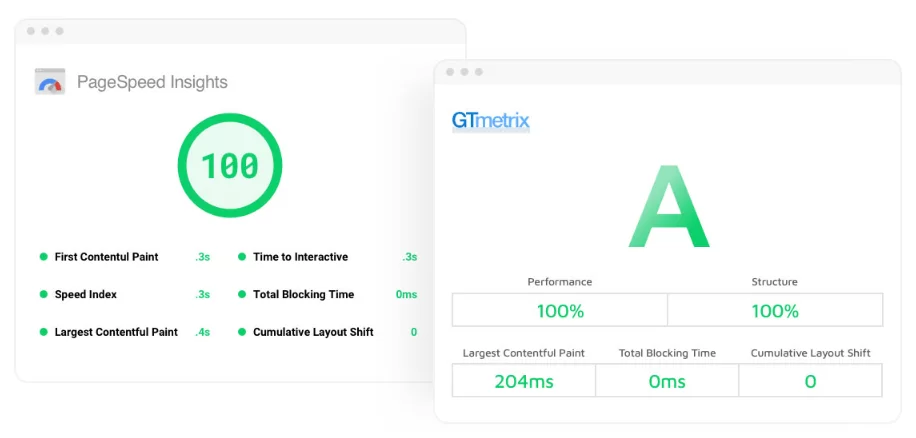 So, how does Divi achieve this?
Earlier, when a user loaded a page, all the elements were used to load even the modules that are not required on that particular page. Now, with the Dynamic Framework, only the modules that are needed on a page are loaded.
So, if a page used only 5 modules out of over 50 design modules that Divi offers, the system will load only those 5 modules and not all the 50 modules making the page load remarkably quicker than before.
It also introduced Dynamic CSS and files are broken into hundreds of files to make sure that not everything is loaded but strickly the required ones. JavaScript is loaded only if it is required for a module.
Divi's critical CSS system identifies the CSS needed to style content above the fold and it defers everything else to make sure that your page is lightning fast.
Divi also optimizes the Google Fonts by caching them and loading them in-line.
Divi also published a comparison with some of the top Divi Theme competitors. You can have a look at it on the Elegant Themes site.
Are You Stuck Using Divi Forever?
A common criticism of Divi is that the Divi Builder "locks" you into using Divi forever. That's because the Divi Builder uses shortcodes to build pages. This is a valid criticism, but it's not as relevant as it once was…
That's because Elegant Themes has listened and made a key change to mitigate the issue. You can now use the Divi Builder as a standalone plugin.
That means if you ever want to switch themes down the line, the pages you built with Divi will continue working as long as you keep the Divi Builder plugin.
While you will still need to use the Divi Builder plugin, you're free to change themes whenever you want without fear of breaking your existing pages. No more theme lock-in.
Divi Community
The Divi theme review will not be complete without mentioning the community around the theme. In fact, the community is one of the key strengths of the theme making sure that you are able to achieve almost anything with this powerful theme.
The Divi community is constantly sharing goodies that you can use on your site created with Divi.
Though it is extremely simple with Divi Builder to create a unique design for your site, you might not have the time or that minimum skill required to create attractive layouts, this is where the community comes to your help.
The Divi community is regularly sharing stunning ready templates for the site that you can use on your site. One of the best places to start your search will be the ElegantThemes blog.
Divi Theme Review: My Final Thoughts
Divi is popular for a reason. It makes it possible for anyone, regardless of their design skill, to create a beautiful website.
If you want to unlock the power of WordPress and create a unique, beautiful website, then you should absolutely consider using the Divi theme.
You'll get a powerful, multi-purpose theme as well as a great support base if you ever need help with anything.
I hope my Divi theme review covered your questions. But if you still need more information, don't hesitate to ask in the comments!
Divi Theme Discount
Get 10% OFF with our link below