Elementor is the most popular website builder for WordPress at the moment used by over 10 million users.
In this article, we will deep dive into the popular website builder and see how it can help us create any kind of unique design without writing any code.
There was a time, we had to stick to the design options that were offered by the themes with very limited customization possibilities.
Not anymore..
Though the classic minimal design is still a popular option to go with, there are certainly unlimited design possibilities these days.
If you look at any popular theme store or marketplace you will see that almost all the WordPress themes offer multiple design options, and most of them are packed with a popular website builder to bring in unlimited design possibilities.
As far as my experience with the Elementor builder is concerned, I was one of the first few members and I have seen the plugin grow by multiple folds in the last few years.
And today, Elementor is the most preferred website builder if you ask in the WordPress community.
Not only the homepage, but you can use Elementor to customize every corner of your WordPress site and make sure that you have a site people will stop by.
The basic Elementor website builder is free to download from the WordPress repository.
In this Elementor page builder review, we will try to go through the plugin in detail and see how it works.
The Advantage of Using Elementor
Create a beautiful design without any coding
Installing Elementor Plugin
If the WordPress theme you are using for your site recommends Elementor as the preferred website builder, you can have a look at your theme documents and get started accordingly.
Or else, you can install the Elementor plugin like any other free WordPress plugin.
Go to the WordPress admin panel >> plugins >> add new and find Elementor. You can install the plugin and activate it.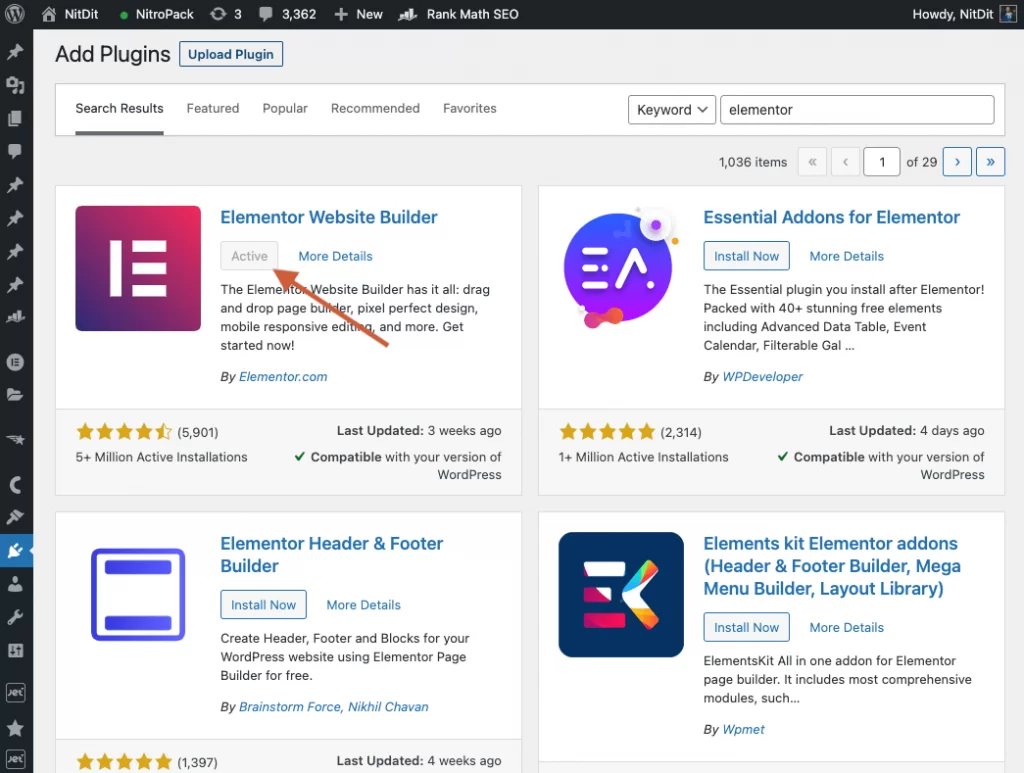 Now, if you look around the main plugin you will see a number of add-on plugins for Elementor that will extend the functionalities of the default plugin with a number of amazing features.
We have created a list of some top Elementor add-on plugins here.
You can use Elementor to create a WordPress page as well as post to present your content in a unique design.
Default Settings
You can start with the default settings for the Elementor modules. You can go to the settings from the Elementor settings options in the WordPress admin panel or you can choose it when you are creating any page or post.
You can set up the global settings once and get started. You will find site settings, theme builder etc.
Click on the icon at the top left corner of the Elementor panel, it will bring in the default settings.
In the next panel, click on the site settings, theme builder, etc. You can click on Site Settings to set your default fonts, typography settings as well as the color scheme for your site.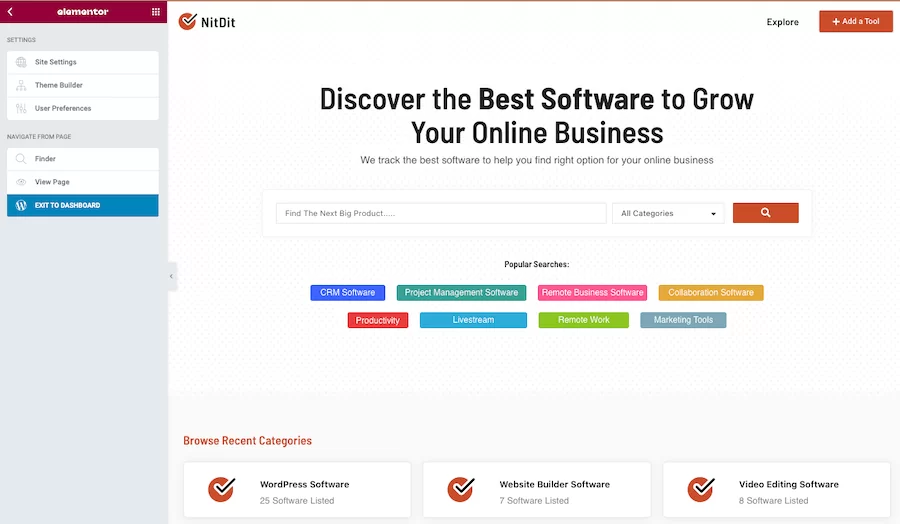 Elementor Template Library
Elementor is packed with over 200 ready-to-use demo design templates that are available in the library. As you browse through the collection, you will surely find a suitable template for any kind of website you wish to create.
If you are a complete newbie user, the template library will be of great help.
You have two choices when you start a new page.
Start from scratch by adding modules to your pages
Start with a ready design template
Click on the add template option to select from the available template options.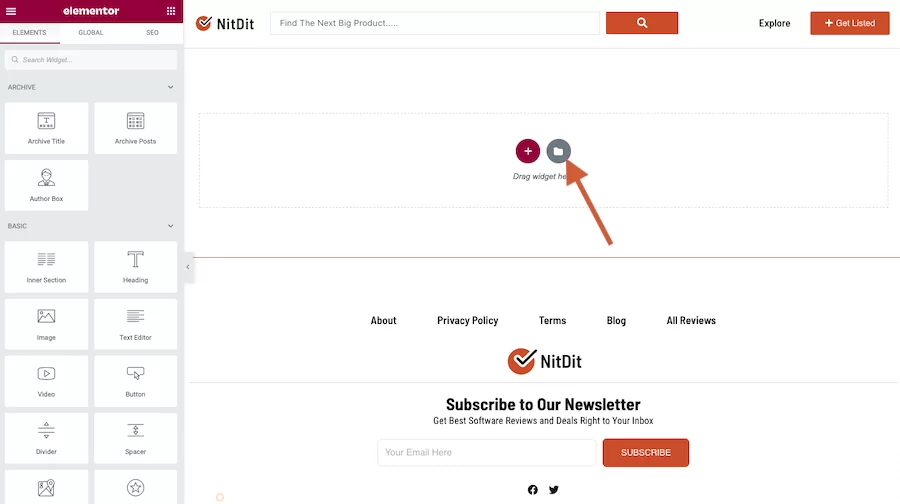 As you click on the add template option, it will show you all the available templates. You can choose one that looks close to your requirement.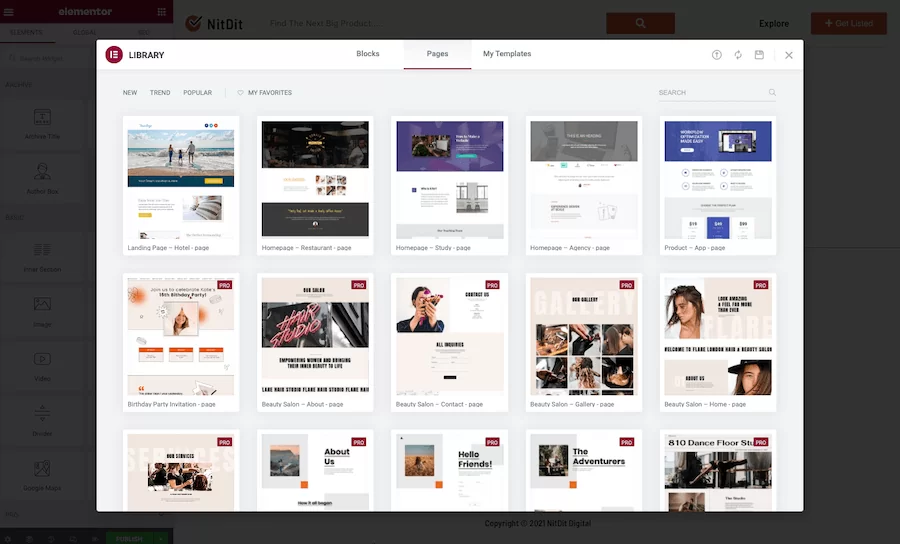 We have imported a template to check how it works. To do that, we just selected the template and clicked on insert.
Here is how the page looks now.
Edit The Demo Template
The demo design template makes the process even faster. You can quickly add each section of the theme.
You can simply hover on any section that you wish to edit and start editing right away.
When you hover on any section on the page, you get the respective option on the left side settings panel as well, you can add your content in the settings panel as well.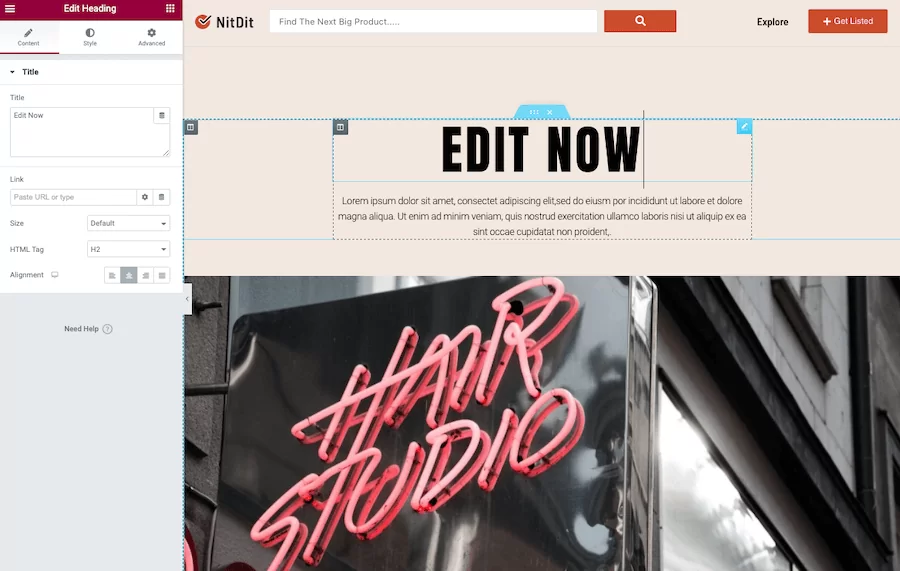 Typography Style Options
For each section of each module, you have comprehensive style options. If you are editing a text section be it a title or a paragraph, you can style it according to your need.
You can hover on any text section and change the color of the text. You can change the font for that section offering you complete flexibility in terms of font selection.
Advanced Typography Settings
For each section, you will have advanced settings as well. You can completely customize the typography of your site using advanced settings.
You have settings like the text animation (choose from multiple options) background of the text, text border, custom positioning and more.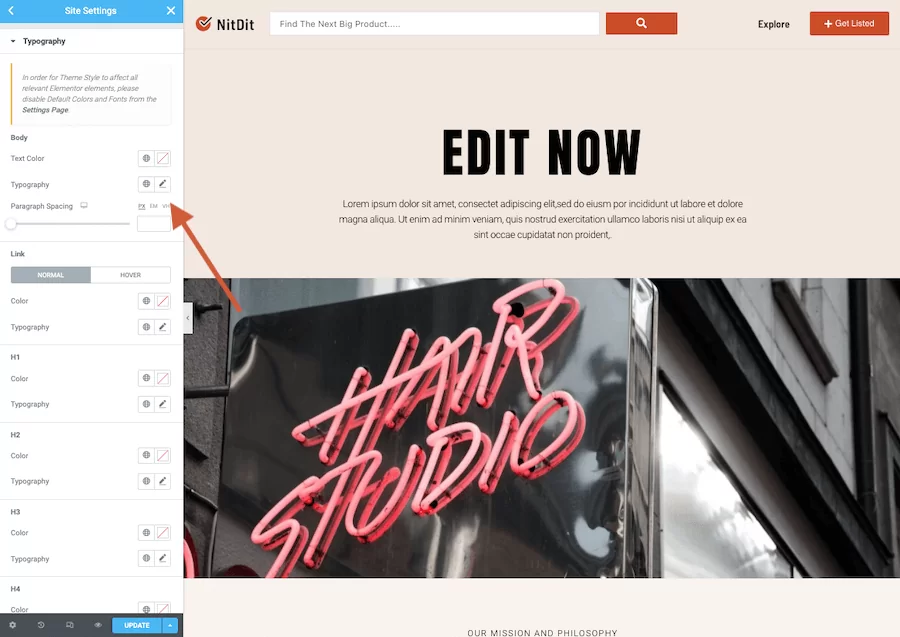 Similarly, when you click on an image, you get the option to edit the image, fix alignment, select the size, add custom links etc.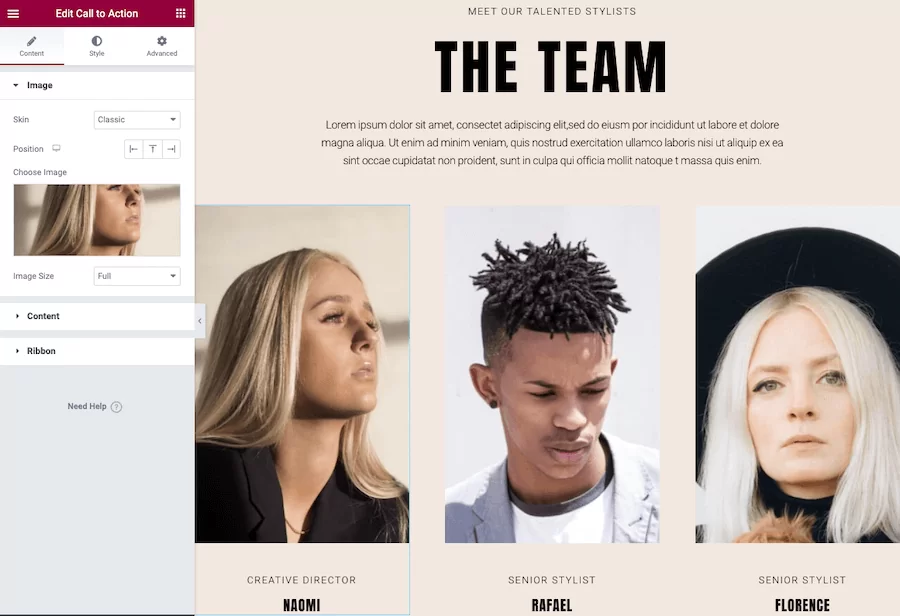 Image Style Settings
Similar to typography, you get a complete styling option for the images as well.
You can simply drag and adjust the size of an image, just like that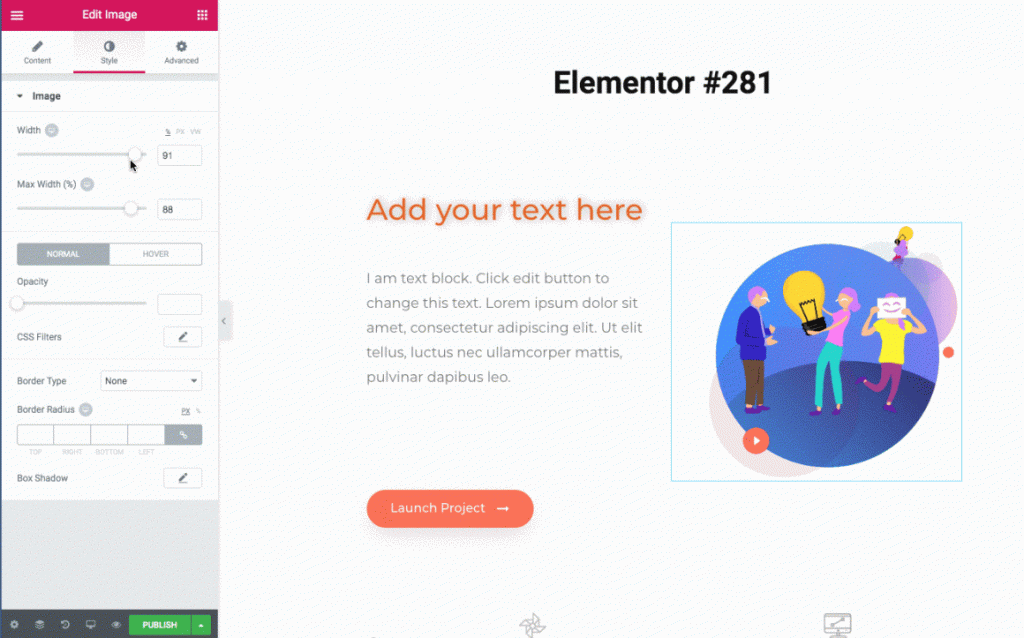 Animate your image as you like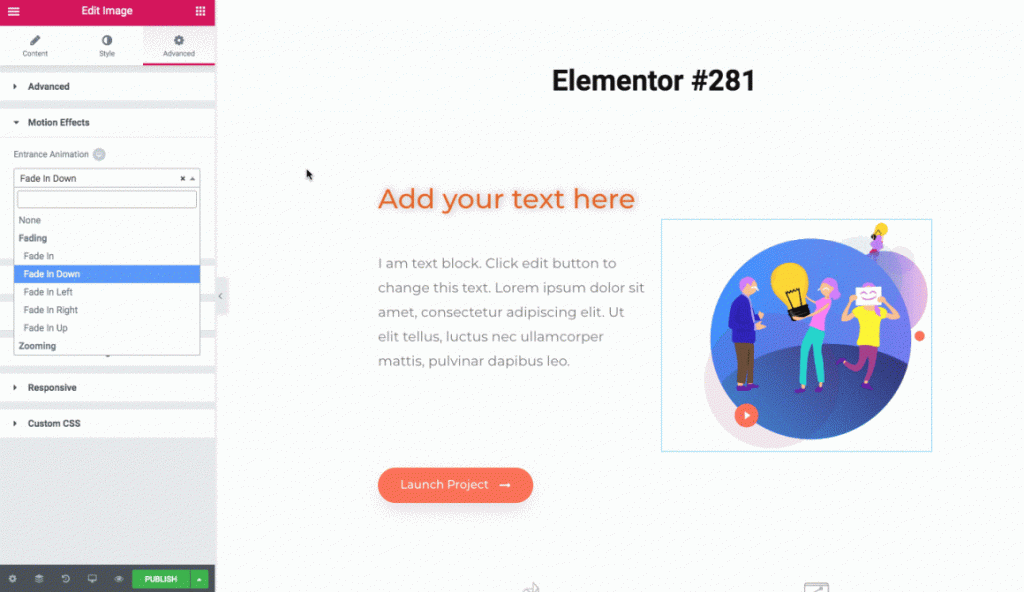 Creating A Page From Scratch With Elementor
In the section above, we have gone through how to import a template and edit it to create your page.
Now, let's have a look at how to create a template from scratch.
Click on the + sign on the page and select the layout for the section you are creating.
Or, you can choose to add a widget directly from the Elementor panel.
Now, select one layout from the available options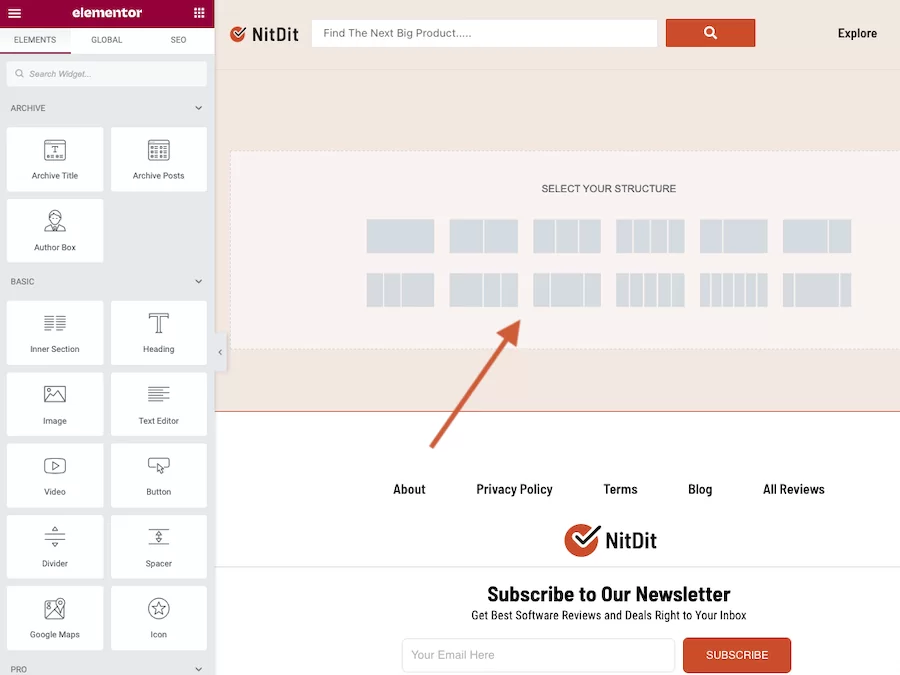 Create a Product Landing Page With Elementor
Elementor can take care of everything that you will need while creating your site. No matter you are creating a simple blog or an affiliate product landing page.
Let's create a landing page.
While you can add different elements to create your page as shown above. Selecting a landing page template with making the process quicker.
Another advantage is that you can preview your landing page on a tablet, mobile and desktop right on your Elementor settings panel to make sure that everything is perfect before making the page live.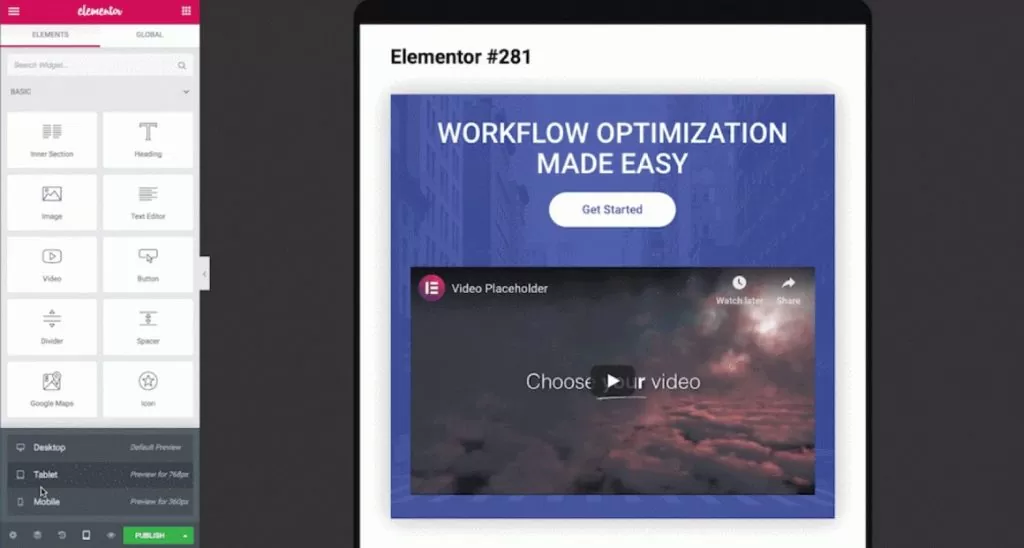 Retrieving History
Elementor gives you a simple option to go through the history of changes that you made on a page, and you can quickly retrieve any of the previous versions of the page in case you need that.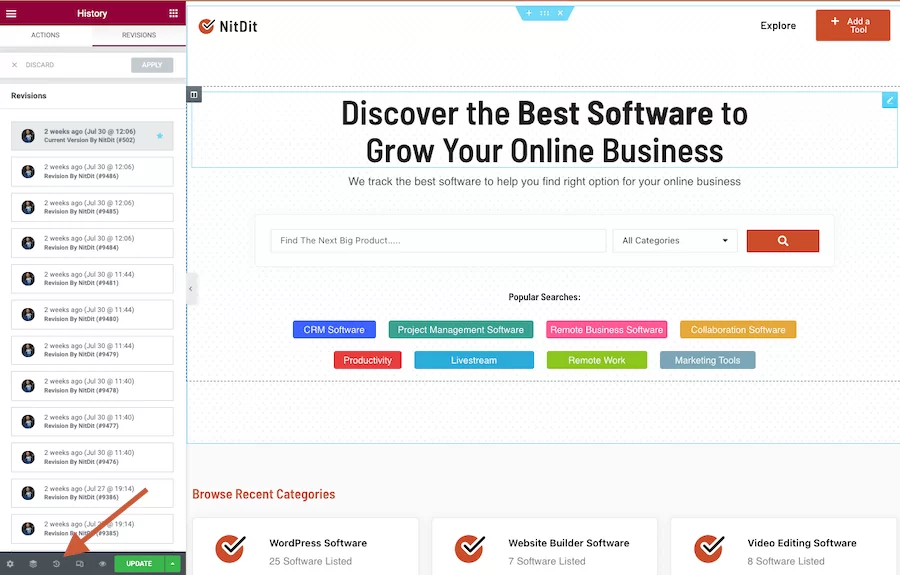 Elementor Widgets
Elementor widgets are nothing but modules that you can use to create your pages. When you can create a page, you will need Text, Google Maps, Buttons, bullet points, images, image galleries, and other kinds of modules.
You have a long list of widgets that you can use on your pages. Depending on your Elementor account type, you will have access to the modules.
The following basic Elementor modules are available in both free and pro versions of the plugin.
Pro Elementor Elements are available only for the members with pro plans.
If you are using Elementor to create an online store with the WooCommerce plugin, the page builder offers a number of custom WooCommerce modules that you can use to create your store.
Other than the modules mentioned above, you will also see the theme-specific modules as well as the default WordPress modules in the Elementor panel.
Save a Template
Elementor gives you the option to create different designs and save them as a template so that you can use them in the future and save time.
The process is simple, once your design is perfect go down in the Elementor panel and click on the option next to publish
Click on the save template option
Select the name for your template and save it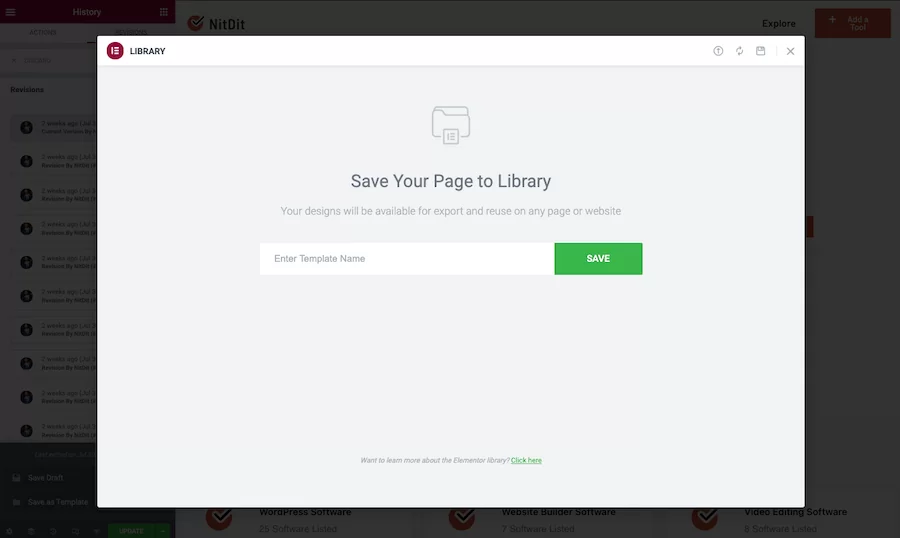 Custom Archive Designs
With Elementor, you will be able to create a custom Archive design and style it as per your need.
Create beautiful grid designs and present your content in a neat layout.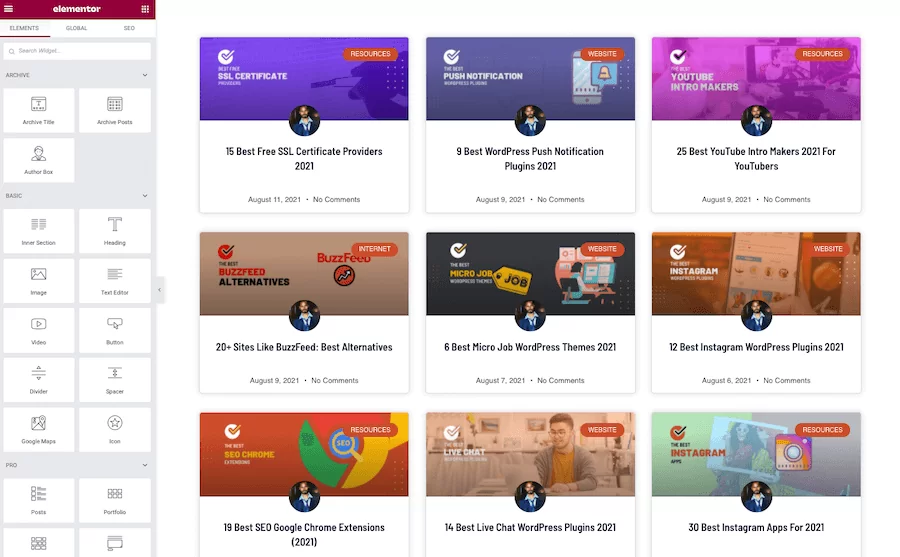 Create Ecommerce Business Site With Elementor
Ecommerce businesses are growing with time. While there are so many eCommerce sites, there's still scope for new sites. If not a site like Amazon with all different types of products, a niche eCommerce site can be a great business idea.
All you need is quality products, easy to use interface, great offers and a professional-looking design for your website so that users trust your business.
While there are so many eCommerce website platforms, WordPress is still one of the leading platforms to create an eCommerce site. You can spice it up with the Elementor website builder to create a perfect and completely unique design for your website.
The advantage of using Elementor is that you can create a template and use it across all your products. You can completely customize how your wish to display your products.
You also get the custom pop-up builder with Elementor Pro that you can use to display the custom offers to attract more buyers.
Create a Dynamic Website with Elementor
Creating a dynamic website with Elementor is easy and simple. If you need a website with data pulled from different fields of your site and display it on a page, it used to be a big task that needed expert developers and hundreds of dollars.
But not anymore..
You can create a completely dynamic website with ready intelligence to pull data from an already set location is possible with Elementor and you can take this multiple folds higher with custom fields plugins that are perfectly compatible with Elementor.
Creating & Using Elementor Template
Elementor gives you the option to create a template and use it for multiple different post types or pages. You can set the data that you wish to display while creating the template and set specific post types, post, page, category or tag you want to use the template on.
So, create one template and use it on multiple post types, categories or pages as per your need.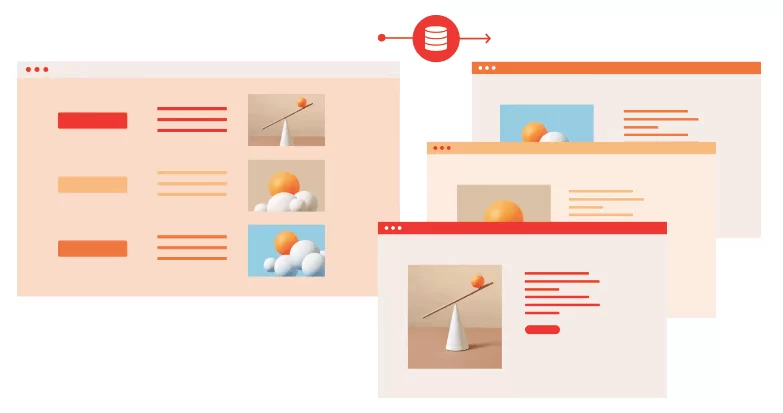 Use Dynamic Custom Fields
What if you need certain custom fields that you wish to display on a page? Well, you can do that by using a custom field plugin such as JetPlugins, ACF, Toolset etc.
These plugins give you the option to create custom post types and custom fields as per your need. The field could be a text field, an image field, an URL or others.
Once you create the custom fields and associate them with a post type, you will see those fields in the select post type. Add the content to those post types and Elementor will give you the option to pull those fields while creating your template.
So, you can create a completely custom website with multiple custom fields which is not possible with the default WordPress.
Elementor Popup Builder
You must have already come across the popup builders for WordPress that you can use to create your email opt-in and for other reasons.
If you are using Elementor website builder, you don't have to go for another expensive plugin to create popup forms as it offers you that already.
Elementor is a powerful popup and email opt-in form builder with unlimited design options.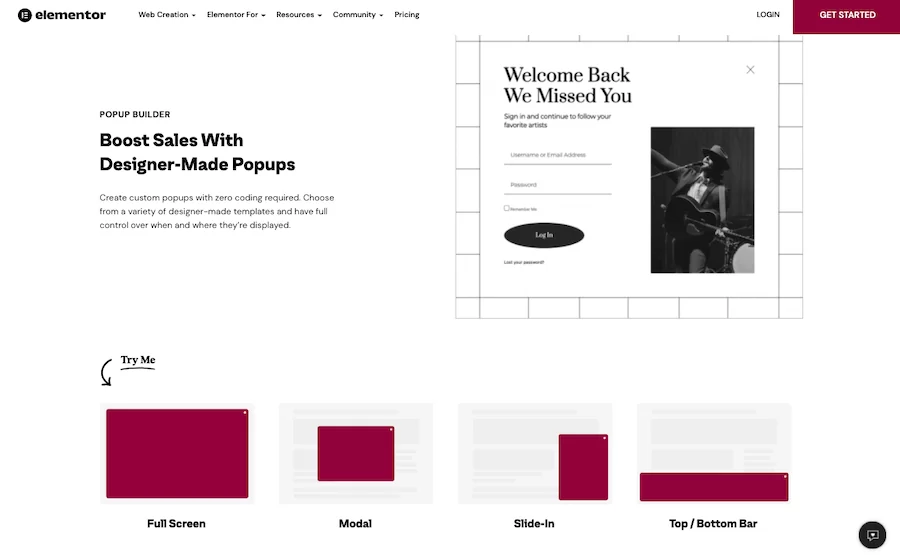 Full Page Custom Message
The full-page mat popups are very popular these days, it is one of the top converting popup types because you can trigger it with your custom offers and the user will have to take action editor by accepting the offer or by closing the mat.
So, the possibility of conversion is very high as compared to any other showcase.
Advanced Targeting and Trigger
Like top lead generation plugins, Elementor offers you high flexibility in terms of targeting and trigger for your offers and opt-ins.
You have the option to showcase different popups with different pages depending on the content on the page.
You can increase conversion with page-level targeting so that the offer in the popup goes along perfectly with the content on a page making it the best tool for upselling.
Another important aspect of increasing conversion is the timing of the popup. With Elementor, you can decide when you wish to trigger the popup.
Email Service Integration
Elementor offers you the option to integrate your pop-up or lead generation form with popular email marketing service providers such as MailChimp, ActiveCampaign, Drip, ConvertKit, HubSpot and more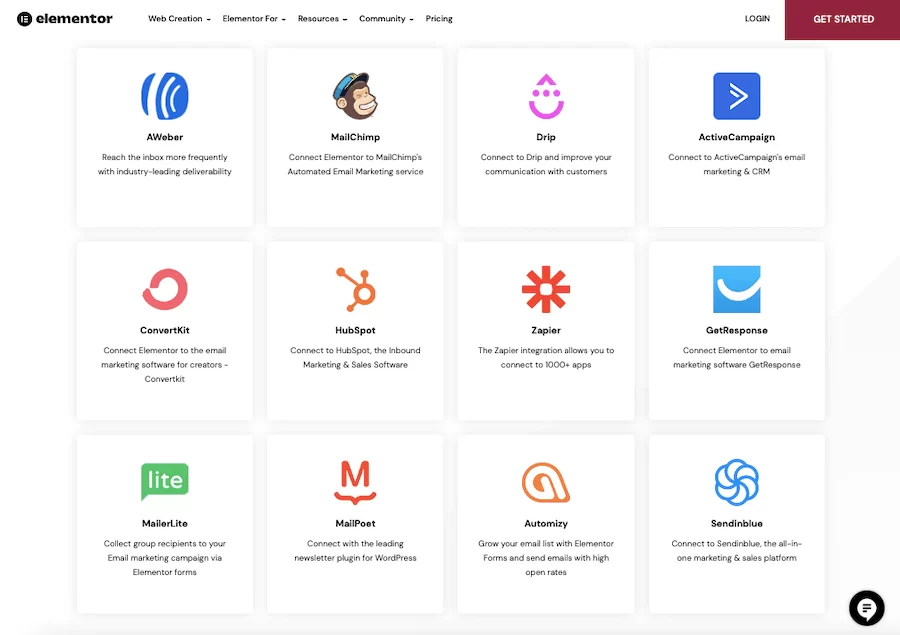 Elementor Speed Improvements
After Google Core Vitals became a part of the algoridham the loading speed has become even more important. While Elementor can affect the loading speed of a sote with a lot of assets that needs to be loaded, they have introduced teh speed improvement options to help the users speed up websites.
These options are very handy to load the assets when it is needed rather than loading all of them everytime a page loads.
The options are not activated by default, you can go to the Elementor settings to chek and activate the options.
You will find most of the options here Elementor Settings > Experiments.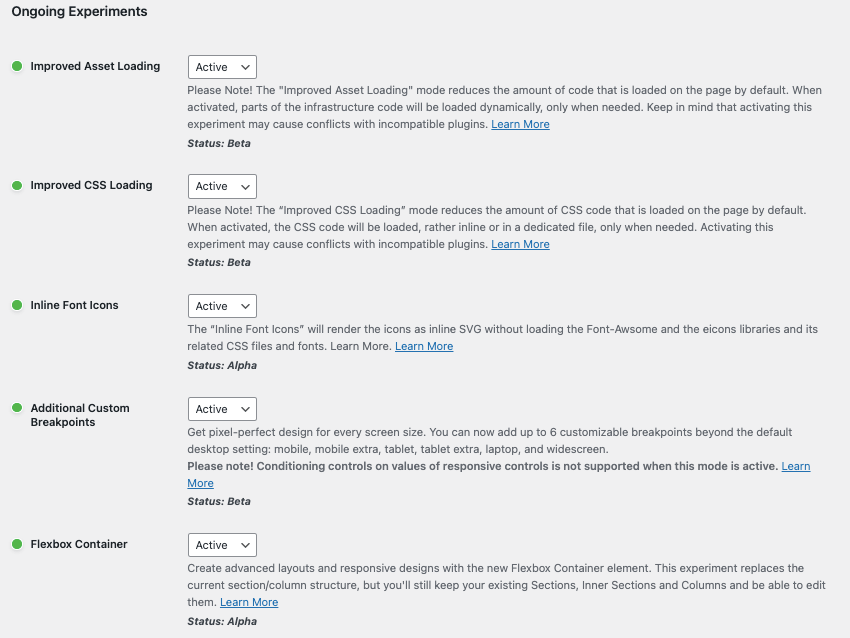 Examples of Websites Created Using Elementor
NitDit: We have created NitDit using the Elementor website builder.
Final Word
If you look at the Elementor by numbers section at the top of the article, you will understand how Elementor is considered the top website builder.
The advantage of Elementor is that it is constantly evolving and incorporating the changes as the design trend is changing which keeps it fresh and the first choice all the time.
Many big brands are using Elementor to create their website.
The design of your website can certainly make a difference to your overall revenue, so why not use a tool that makes the process easier.