The online learning industry is big these days, and because of the pandemic, almost every small or big education establishment understands the importance of a good online learning platform.
It is almost mandatory to have a good online presence for every education business these days. eLearning business is a billion-dollar industry at the movement and it is expected to grow exponentially in the coming few years.
So, why not take a piece of the cake?
No matter you have a big budget or not, you can start your own online platform, thanks to products like LearnDash that offer you the option to create your own eLearning platform with minimum investment.
LearnDash is one of the most popular WordPress LMS plugins that offers all the modern features and options to create an online learning portal of any size.
It is a great product for solopreneurs as well as big educational hubs. Many big eLearning sites are already using LearnDash as their preferred LMS system.
So, let's dive in and see how LearnDash can help.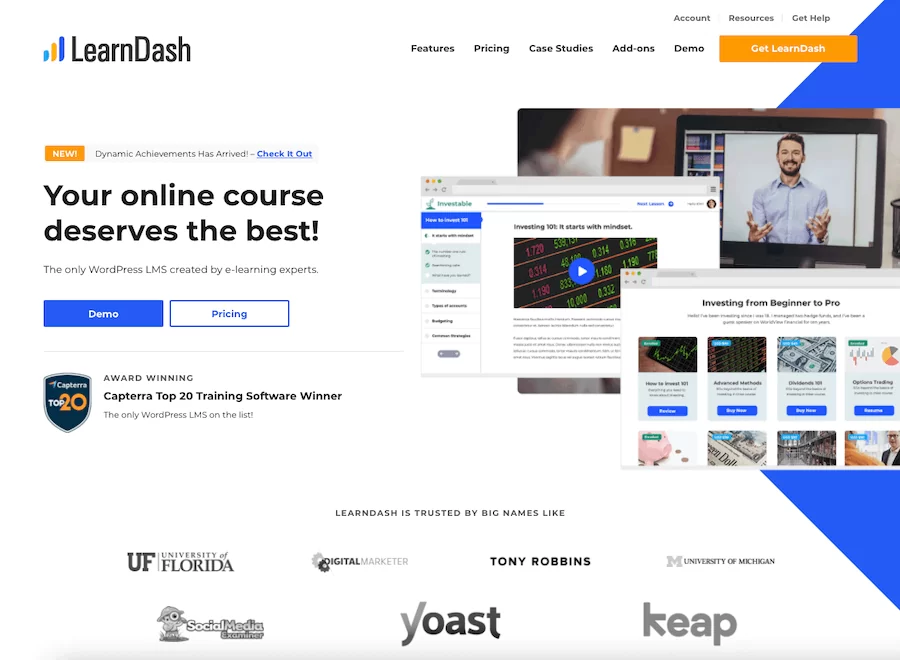 The primary advantage of using LearnDash is that it is a cost effective solution for creating an online learning platform. While it might take thousands of dollars if you go to create all the eLearning features from scratch, LearnDash will offer you the same features in a couple of hundred bucks. Also, it is quick and easy to get started than many other platforms.
LearnDash Review: How LearnDash Works?
LearnDash is a pretty flexible and affordable learning management system that is perfect for people who want to run their online courses or tutorials.
It's an excellent option if you're looking to create professional and interactive content, train your employees in different software programs, and build and host a membership site with the tool. Here is how LearnDash works for creating courses:
Setting Up LearnDash
The first thing you'll want to do is sign up for the LearnDash LMS system. You can then get started with the software by following these steps:
LearnDash is a WordPress plugin, so you have to install the plugin to get the features of this plugin. You can go to your WordPress dashboard and upload the plugin folder. Go to WordPress admin >> Plugins >> Add New and upload the file.
Step one, of course, is to create your account on LearnDash and log in, which will automatically take you to the dashboard page. The tool launches a simple to use a guide called "BootCamp", which will walk you through the setup process.
In the next step, you will have to activate your LearnDash license. Enter the license details and save them.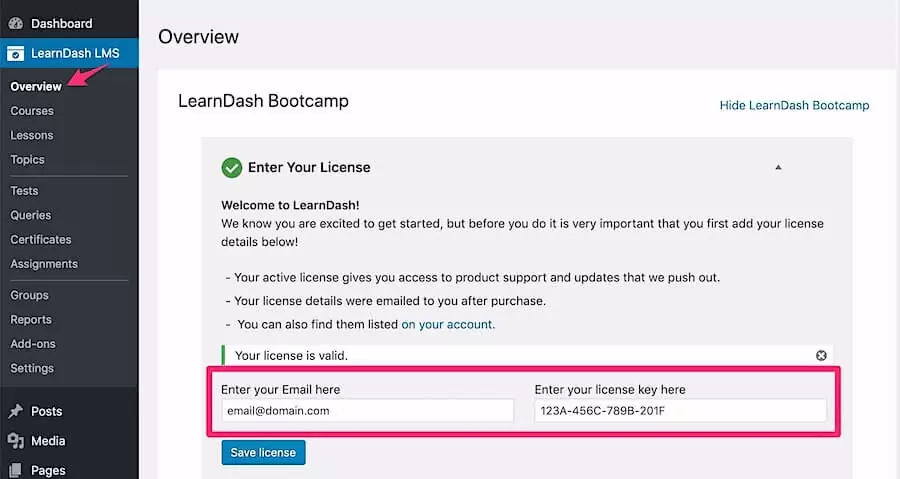 Every step in the BootCamp is outlined, and you'll be able to customize the process according to your needs. The steps are packed with texts and videos to help you stay on track. You can mark every step on completion for better management.
Also Read: LifterLMS review