The online learning industry is big these days, and because of the pandemic, almost every small or big education establishment understands the importance of a good online learning platform.
It is almost mandatory to have a good online presence for every education business these days. eLearning business is a billion-dollar industry at the movement and it is expected to grow exponentially in the coming few years.
So, why not take a piece of the cake?
No matter you have a big budget or not, you can start your own online platform, thanks to products like LearnDash that offer you the option to create your own eLearning platform with minimum investment.
LearnDash is one of the most popular WordPress LMS plugins that offers all the modern features and options to create an online learning portal of any size.
It is a great product for solopreneurs as well as big educational hubs. Many big eLearning sites are already using LearnDash as their preferred LMS system.
So, let's dive in and see how LearnDash can help.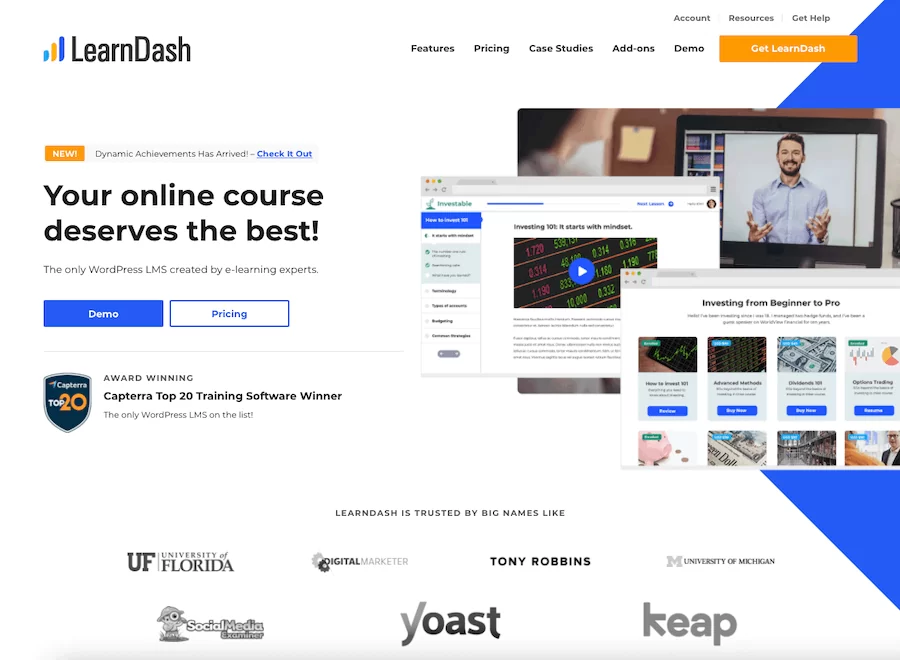 The primary advantage of using LearnDash is that it is a cost effective solution for creating an online learning platform. While it might take thousands of dollars if you go to create all the eLearning features from scratch, LearnDash will offer you the same features in a couple of hundred bucks. Also, it is quick and easy to get started than many other platforms.
LearnDash Review: How LearnDash Works?
LearnDash is a pretty flexible and affordable learning management system that is perfect for people who want to run their online courses or tutorials.
It's an excellent option if you're looking to create professional and interactive content, train your employees in different software programs, and build and host a membership site with the tool. Here is how LearnDash works for creating courses:
Setting Up LearnDash
The first thing you'll want to do is sign up for the LearnDash LMS system. You can then get started with the software by following these steps:
LearnDash is a WordPress plugin, so you have to install the plugin to get the features of this plugin. You can go to your WordPress dashboard and upload the plugin folder. Go to WordPress admin >> Plugins >> Add New and upload the file.
Step one, of course, is to create your account on LearnDash and log in, which will automatically take you to the dashboard page. The tool launches a simple to use a guide called "BootCamp", which will walk you through the setup process.
In the next step, you will have to activate your LearnDash license. Enter the license details and save them.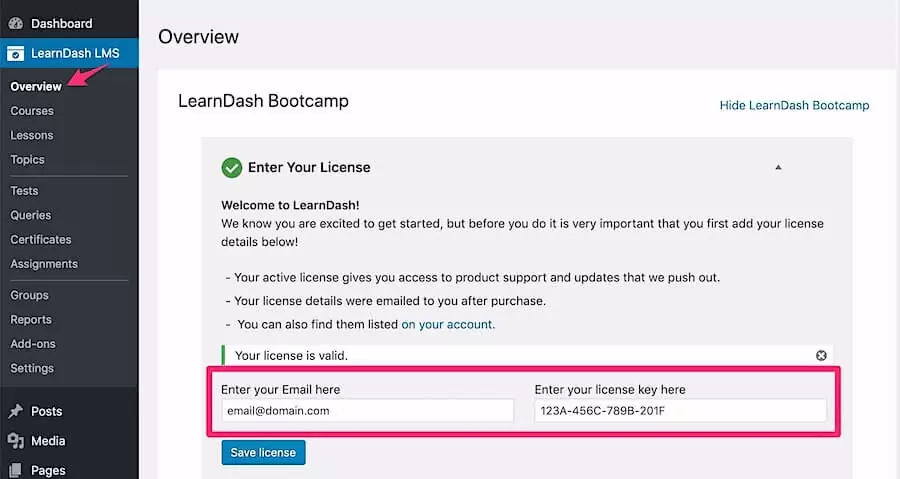 Every step in the BootCamp is outlined, and you'll be able to customize the process according to your needs. The steps are packed with texts and videos to help you stay on track. You can mark every step on completion for better management.
Creating a Course in LearnDash LMS
One of the best things about LearnDash is its flexibility. You can create courses in a variety of formats: interactive, virtual, video-based webinars, or presentations.
The course creation process doesn't take much time, and you'll be able to have your desired learning content ready within minutes.
First, you will have to click on the Add Course button, where you'll be able to create an unlimited number of lessons, courses, assignments, and assessments. You can also create a course from scratch, upload your content, or purchase one of the already available on the LearnDash marketplace.
While creating the course in LearnDash LMS, you will get to use the native WordPress editor, which will make adding text to your course much easier. The WordPress editor has a simple yet effective interface that makes it possible for you to write in the same style as if writing on any other blog or website.
You can also create courses with no coding skills and without having to understand complex templates.
You can simply click on Add New and start creating your course.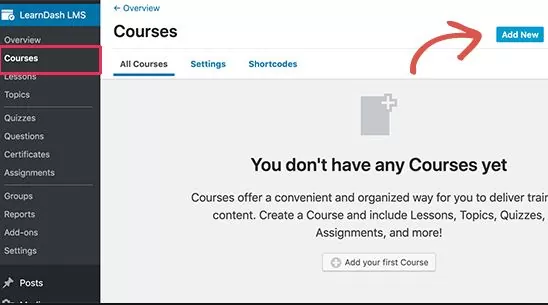 Using the Course Builder to Create Courses
LearnDash LMS helps you create courses for teaching a skill or providing an overview of a subject. You can use the Course Builder to design, organize, and deliver content easily without any programming skills. Here you can create the lessons for your courses.
Lessons are the individual pages of your course, and you can add new lessons by clicking the "Add Content" button in Course Builder.
All content created for LearnDash is 100% customizable to suit your needs so that it's relevant to what you want to teach or show off. You can also subdivide lessons into individual topics or add images and text as needed.
You can also create a course from scratch by clicking the "Create Course" button in Course Builder, which then asks you to name your course.
The next step is to select what type of content will be included-such as eBooks or PowerPoint presentations-and how long each lesson should last.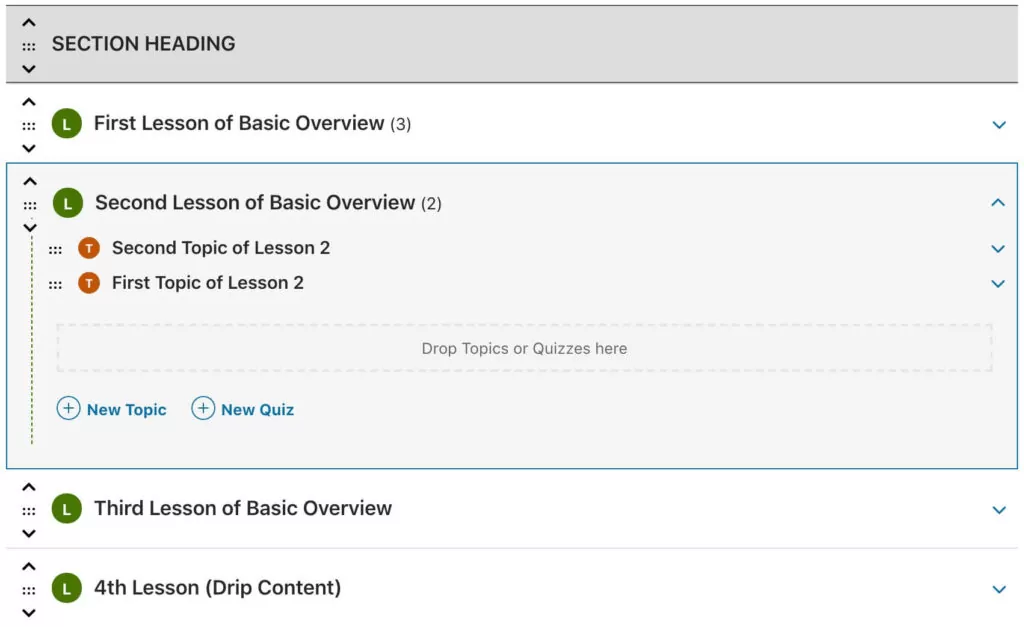 Setting Up Access for Courses
The tool allows you to set up access for all of your courses in one place. You can create and manage your user groups for each course as well as decide who gets access to what content, whether that be the entire course or individual lessons within it.
You can also choose whether you want users to have a free trial before charging them by setting up pricing plans in Settings > Pricing Plans. You can give different access setups for your courses, such as Free, Open, Buy Now, Recurring, and Closed.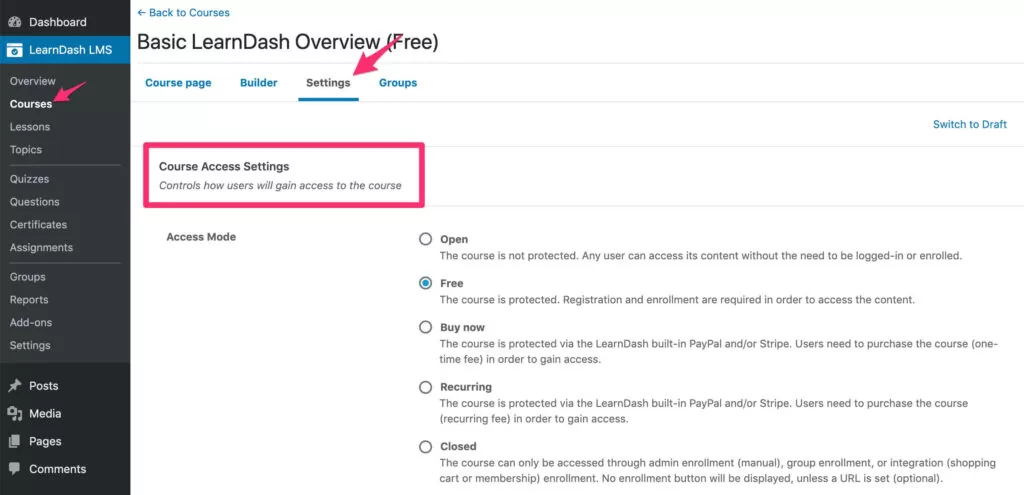 Drag and Drop Course Builder
We all know that the first step in creating a course is to develop its content. With LearnDash, you can easily drag and drop your lesson modules within an intuitive interface that provides full functionality for designing courses.
Many people find it difficult, or even impossible, to make their eLearning from scratch because they lack the technical knowledge and experience to create attractive and money-making online courses. 
The drag-and-drop course builder speeds up the process and saves you time that can be better spent on creating your content.
LearnDash has a wide range of drag-and-drop course-building features for eLearning courses designed to make the course creation process easier, more interesting, and faster. 
All you need to do is add text and media files from your computer or use images and videos to create any course. The feature gives you a visual representation of the course layout.
You can use modules, images, videos, text boxes, and other elements to create your own eLearning courses with ease.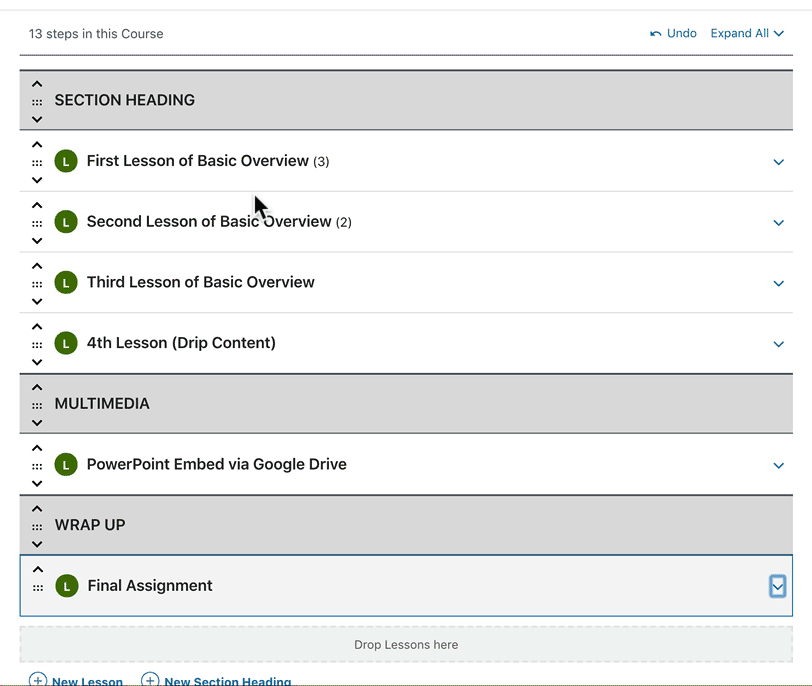 Video Content Support
You