Podia is a powerful software that allows users to easily sell online courses and digital products. Whether you are just starting out as an instructor or have years of experience under your belt, Podia makes setting up and managing your course content easy and streamlined.
With tools for everything from marketing your courses to tracking student progress, Podia gives you all the tools you need to build and grow a thriving online course business.
Whether you are selling courses one-on-one or via larger group events, Podia has the features you need to take your teaching career to the next level.
The list of course features you get with Podia is extensive. Here are the ones you have to keep an eye on:
Show More
Podia Review: How Does It Work?
Getting started with Podia is as easy as navigating to the website and signing up for a free trial account.
Podia offers a 14-day free trial for those customers who have not yet decided to purchase.
So that you don't become clueless after signup, they have created a nice landing page with support links. You can watch the video product tour or the demo video to understand how to get started.
Creating Courses with Podia
Once, you get the idea of the product, you can start creating your courses.
The Podia platform allows you to create your own course or choose from one of their pre-existing courses. There are plenty of templates you can use too if you want to make it easy for yourself and get started quickly.
All this is done with a highly intuitive interface that makes it easy for you to move around and create your content.
Memberships
Memberships are a great way to build your student base and generate revenue.
Podia makes it easy to:
Set up recurring payments
Create a members-only section of your course or website
Collect email addresses for an opt-in list
Promote discounts with custom coupon codes
Manage how many people are on the membership at any given time
Podia enables you to create memberships for people who want to take a particular class or series of classes repeatedly, at set intervals (e.g., monthly).
You can also offer it as an incentive for purchase/subscription from the beginning to make those first few hundred dollars back without having to wait for a few more class offerings.
Podia allows you to integrate memberships directly into your WordPress site, making it easy to manage membership details and offer special content or tools only for those with a paid account.
Create courses
Podia enables you to make Course Pages that can be viewed on the web and mobile phones.
When students are interested in your course, they enter their email address into Podia's checkout form and complete the purchase process through a secure payment system.
Courses are available in Podia in various formats, including video lessons and PDFs of project plans. You get to choose between different course products, such as webinars, live classes, digital downloads, webinars, bundles, and more.
You simply have to add a name of your course, a description, the course duration in weeks or months, and then upload your video lessons.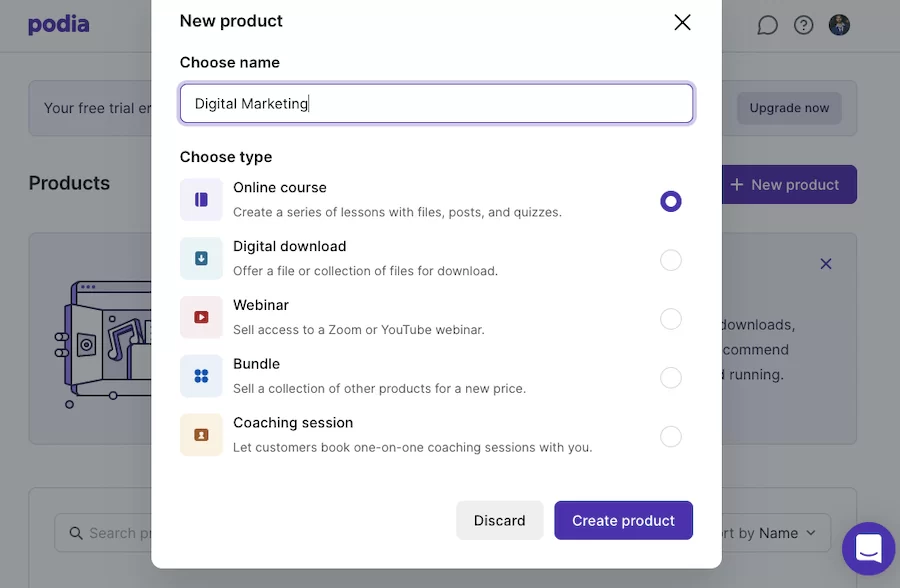 Podia has a clean and simple dashboard that's easy to use. You can manage all of your courses from one place. Get a quick snapshot of all your courses, and see how many students are currently enrolled in each course by the number on the left side of the dashboard.
You can also get started in creating courses by using the video lessons and other content to assemble your own course curriculum.
Podia also has an intuitive and simple interface that lets you easily upload video lessons for various formats, such as YouTube videos or MPO files. You can either drag and drop the file into Podia's editor window or click on "Upload File" to upload your video content.
Additionally, Podia courses have integrations with different social media platforms that you can use to promote your courses and drive traffic to them.
You'll also have access to analytics for each course to see where students are coming from and the most popular content of your course.
Podia Digital Downloads
Along with courses, you can create a digital download page using Podia. This can be a great way to sell e-books, audio files, and other downloadable content.
The best part is that setting up a digital download page on Podia is quick and easy. You can simply upload your files and start selling them in minutes. Plus, Podia takes care of all the payment processing and delivery, so you can focus on creating great content.
You can also use the digital download option as a lead magnet to create your own community so that you can sell your courses to those users later.
Podia Webinar and Live Streaming
Podia gives you the option to host a perfectly branded webinar to engage your potential students. You can connect to YouTube live or Zoon and your users can register using the Podia interface.
You have the option to charge your users a fee for your website or live streaming or you can give it for free in order to attract more students for your courses.
Podia gives you a clean and simple interface to setup your webinar. Just add all the required details and you are good to go.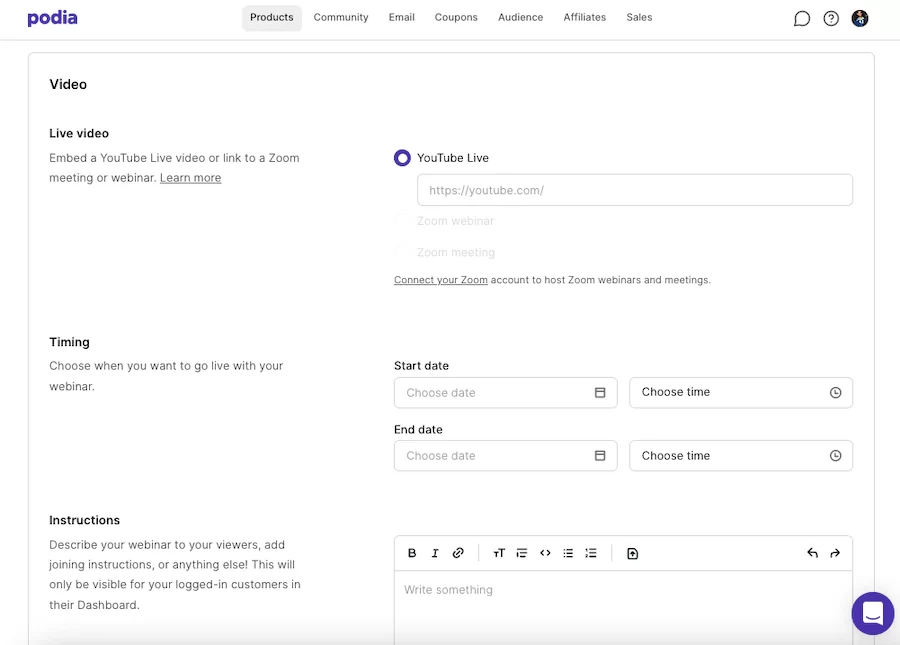 Create Your Website with Podia
Podia is one of the few course creation solutions that allows you to create a website for your course in a matter of minutes.
After you've created your account, you'll be able to create and customize your website to reflect the type of content on your course.
When someone visits this site for the first time, they can sign up directly from within their browser window without leaving Podia's platform or navigating through the tool for another registration form.
The integrated site builder offers a simple-to-use left panel section from which you can drag and drop text, images, videos, and widgets to create the perfect website for your course.
This left panel saves time and effort in building a website. It's easy to use and gives your website a professional look.
At the end of your course, students will have an opportunity to leave you feedback just like they would on a typical website.
In addition, if you want to promote any social media accounts or blogs related to your content, Podia offers options for including these links in the footer section of your site builder.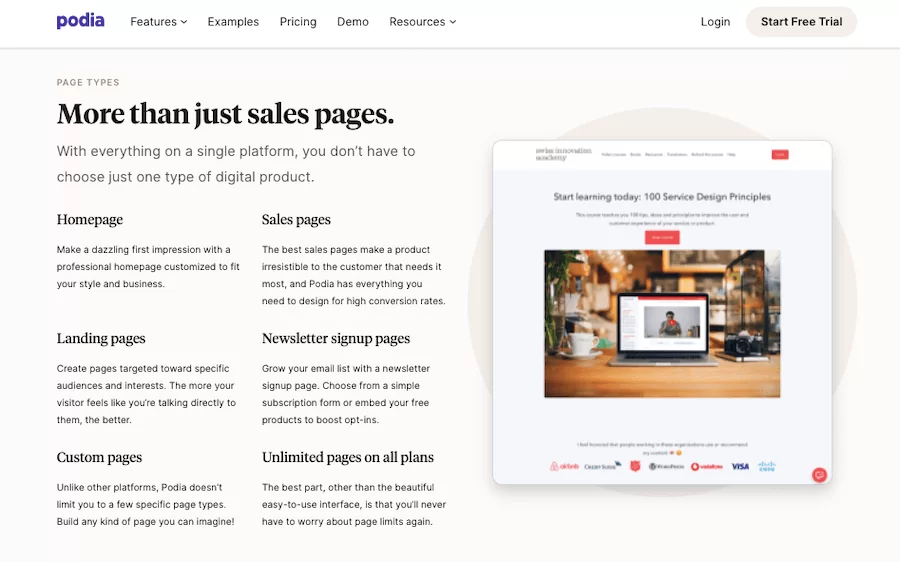 Integrated Email Marketing Solution
This email marketing solution is a great tool to create and send campaigns through an interface.
You can easily set up your form, design messages for different recipients, and test the campaign before sending it out. Once you've got everything in order, click "send" when ready!
You'll then have access to unique email marketing solutions. Podia offers options for setting up your email list: You can import them from another provider (like MailChimp) or add contacts manually.
The Podia solution also has more advanced features, like the ability to create custom segments and send customized messages with different content based on which segment is receiving it.
Another feature you get with Podia is the list of third-party integrations. You get to make use of tools like MailChimp, ConvertKit, Drip, and a few more. You can effortlessly send customized email campaigns for different audiences based on behavior for higher conversions.
Student Communication for Connecting with Students
You can send messages to your enrolled students right from the course interface. They can reply to your messages as well, which is a great way for you to communicate with them and get feedback on their progress in the course.
Analytics
Podia offers strong analytics features for better insights and data about your course. It's easy to see how many people have enrolled in the course, if they've reached your desired completion rate, and what their feedback on it is.