Every company desires to reach the maximum number of consumers through brand marketing. Keeping this thing in mind, Phonexa tried to revolutionize the marketing domain through their highly accurate automated tools.
Phonexa provides an all-in-one suite for marketing automation that helps companies to optimize inbound call and web campaigns, outbound calls, email, and SMS. Phonexa has the tools, scalability, and partnerships to serve clients across all industries, especially those with high customer demand for products and services.
Phonexa Call Tracking and Distribution
The call analytical software
The call analytics data from the Phonexa software makes it simple for the users by identifying the trends by analyzing different data points so that businesses can benefit and take better decisions.
It will help you to plan your marketing campaigns better and make sure that you don't lose any important detail to maximize ROI.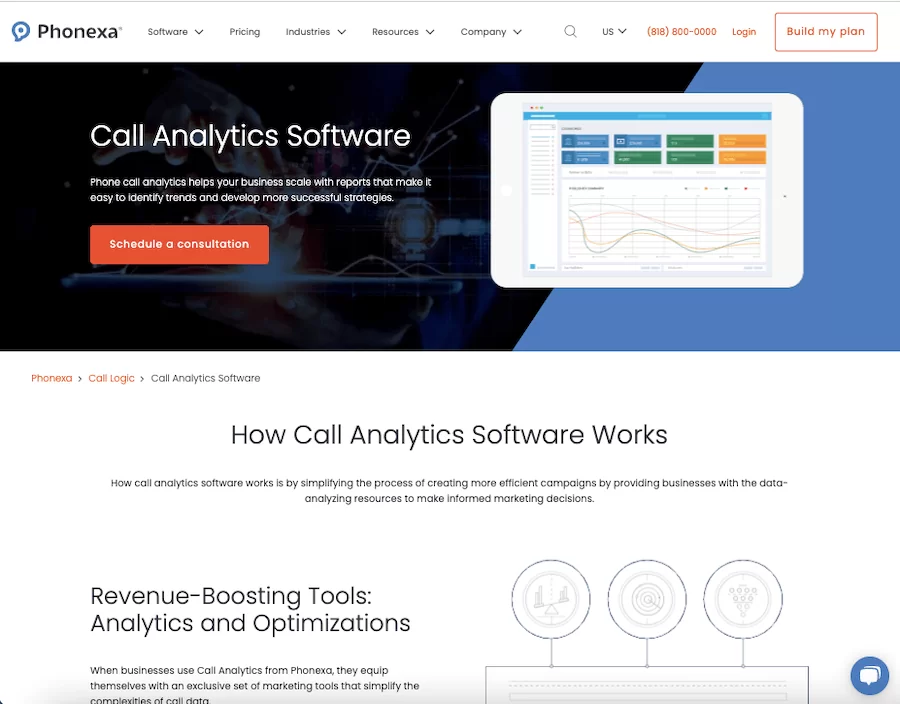 Tracking of calls
The call tracker helps businesses stay updated with conversion rates. While running a smooth operation, it is very much necessary to not overspend on irrelevant market areas.
This feature distinguishes your leads between quality leads and average leads. Once you have these pieces of information about the call traffic, then maintaining the efficiency of the ad campaign won't be any difficult job for you.
Phonexa's call tracking and distribution system will enhance the customer experience by distributing the call to the available agent without any delay and you will have line-by-line data to understand the customers better.
The system will give priority to quality leads in order to increase conversion.
Interactive Voice Response
Happy callers are more likely to convert to regular customers. Use the interactive voice response to welcome callers and collect key information to speed up the job for your callers.
The IVR system can already provide a lot of information to the customer so the engagement time of the support agents is shortened to accommodate more customers.
A Customized Brand Voice
The IVR system gives you the option to choose the voice of your brand. You can easily modify the IVR script as required.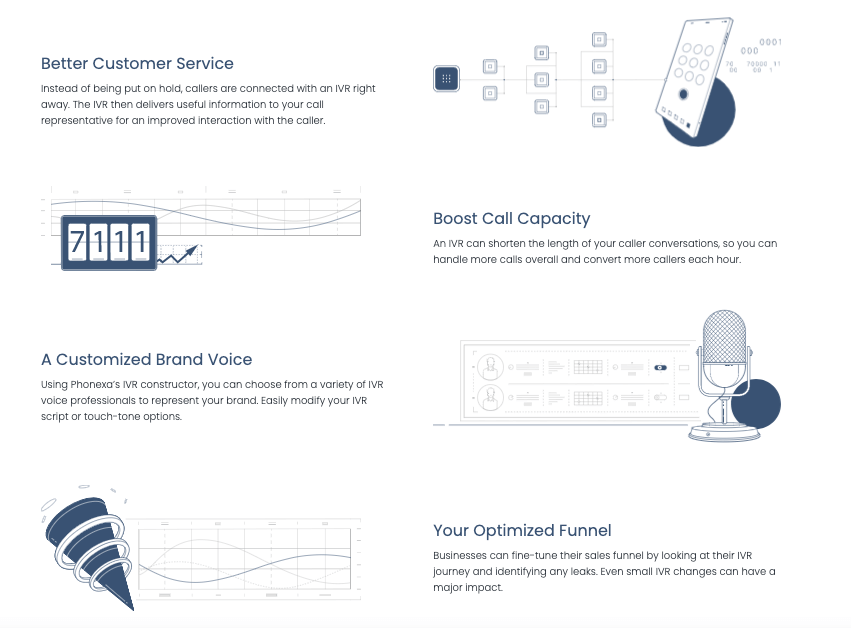 Predictive modeling for marketing campaigns
Design your marketing ad campaigns in such a way that it fits the rapidly changing dynamics of the market.
The intelligent data by the Phonexa system makes a campaign successful by removing the guesswork and understanding the customer better before you even start the campaign.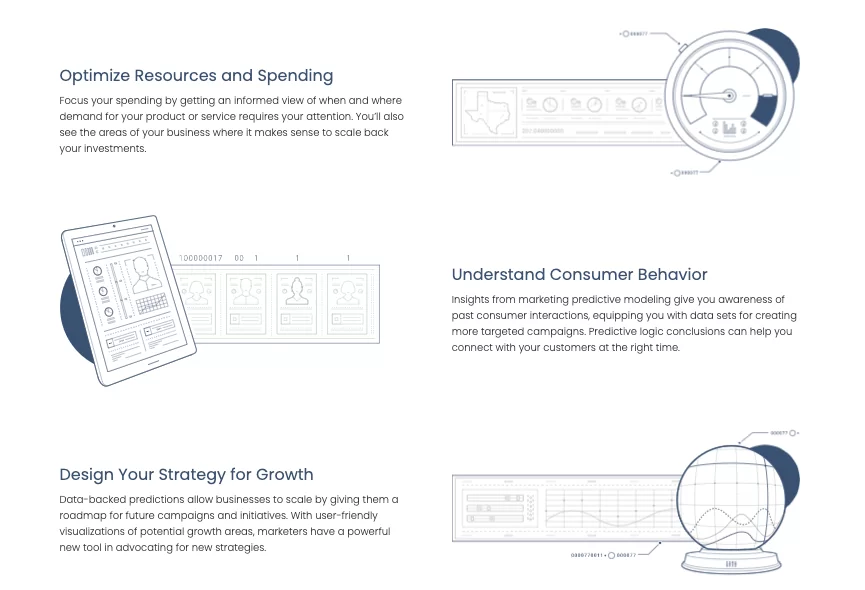 Ping Post Calls 2.0 – Ping Post Calls 2.0 allows sellers and buyers to work in a synchronous motion with a renovated approach to purchasing and selling ping post leads. This updated integration helps publishers bid into the lead journey on only the best call data attributes in the market.
Ping Tree – Latest technology that allows lead generators and buyers to use automated algorithms to strategically buy and sell call leads.
Call Recording – Improve consumer service by keeping track records of interactions between callers and call representatives that can be used for quality control and training purposes.
Professional Recordings – Opt from a broad selection of professional vocal artists to create your ideal IVR customer experience, or upload your own pre-recorded messages.
Real-Time Reporting – With Real-Time Reporting, you can get vital performance statistics that let you pause, boost, or make other minor or major changes to your ongoing ad campaigns.
Phonexa Email and SMS marketing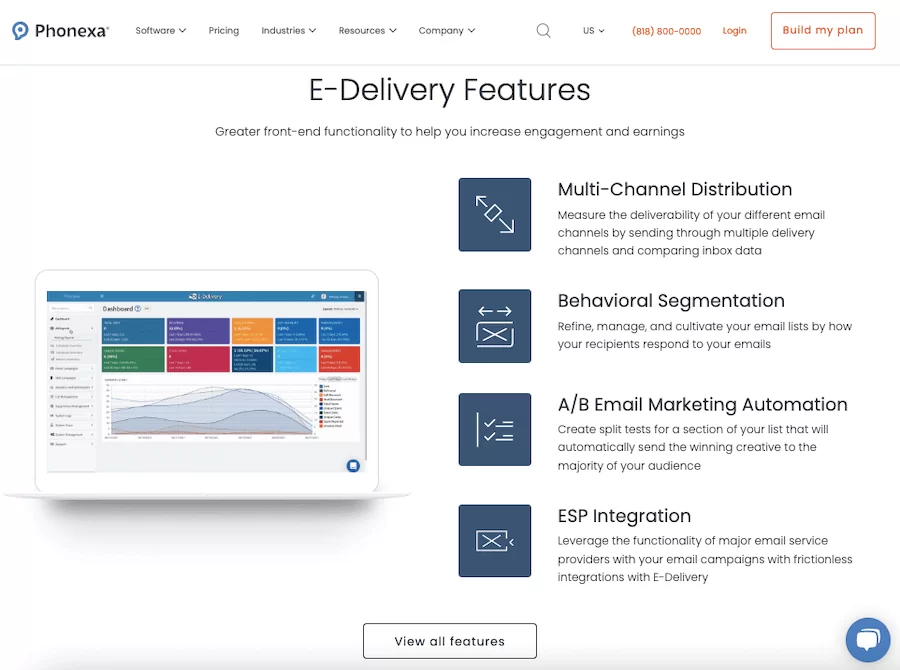 Campaign Analysis – Don't let your email campaign go unanalyzed. Phonexa's email and SMS marketing product E-Delivery helps you to concentrate your efforts in relevant verticals.
Email Templates – Phonexa offers you many email templates that can be easily customized according to your need.
SMS URL Shortener – The link you share to your target audience is very crucial from your sales point of view. Long URLs may result in fewer impressions.
In order to attract consumers to visit your desired website, it is very much required to shorten the URL. Shortening links can be easily done in this segment.
Geolocation Reporting – Start targeting audiences on the basis of their residential location. You can shape your ad campaign in such a way that you reach appropriate consumers using locational analysis.
Deliverability Reports – Reports indicating the delivery rates of emails to different ISPs are a portion businesses avoid analyzing. Such a segment not only helps in making a place in consumers' hearts but also helps in cost-cutting.
Phonexa Lead Tracking & Distribution
Lead Analytics Software
This software provides you with great audience insights and continuously strategizes about efficient and smarter spending methods.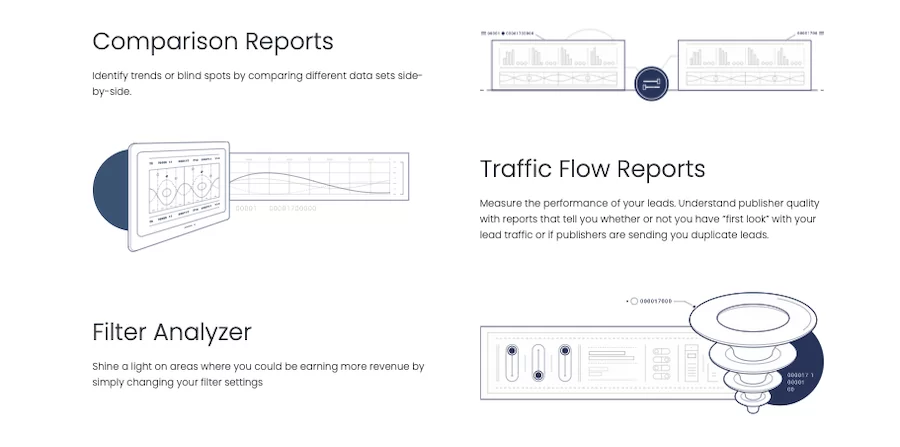 API and third-party Integration – You don't need to change your workflows. You can directly link the marketing tools you use with Phonexa. This way it ensures your productivity.
Lead Tracking Software – Lead tracking system gives you a detailed insight of your leads. The system will study the lifecycle of your leads to let you know the overall quality.
It will track where the leads are coming from and where it is going and other details to give you the complete idea.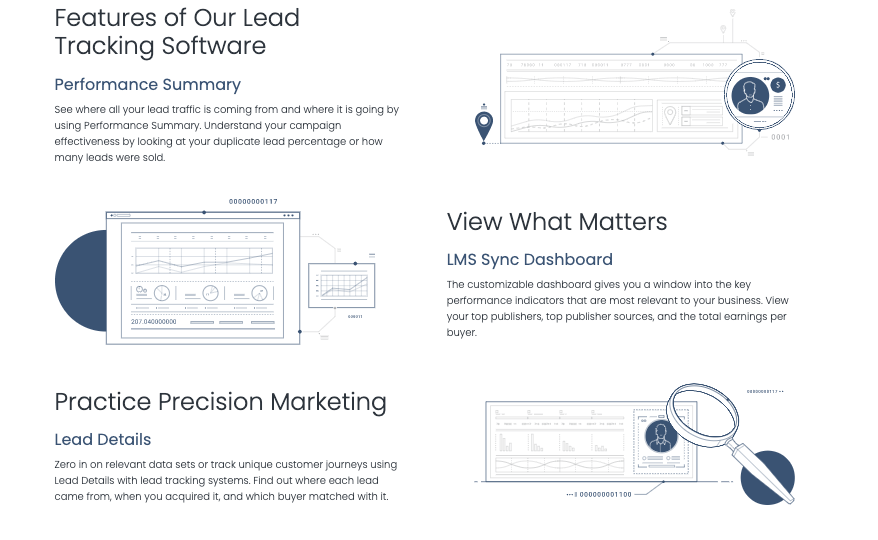 Phonexa Cloud Phone System
Phonexa's cloud phone system is the perfect solution for businesses of all sizes. It comes at a very competitive price point to make it cost-effective for businesses of all types.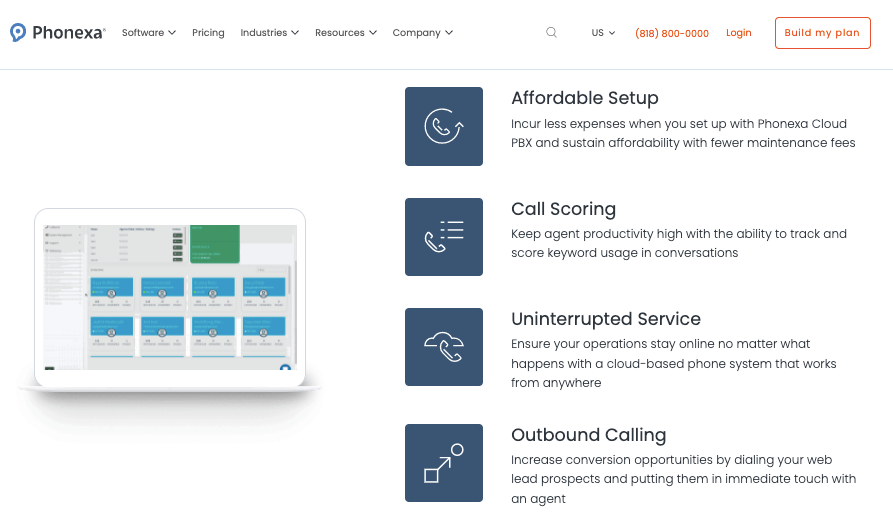 Outbound Calling
You don't want your sales pitch agents to waste most of their time talking to non-prospects. Outbound calling advances conversion possibility by directly connecting agents with web leads.
Uninterrupted Service
The cloud phone system keeps you visible and active 24/7. Your regular active web presence highers the trust factor of prospects.
Call Scoring
Make sure your productive sales agent is being regularly rewarded and average agents keep striving hard for improvement. Count the call score of every agent with accurate data.
Phonexa Suppression List Management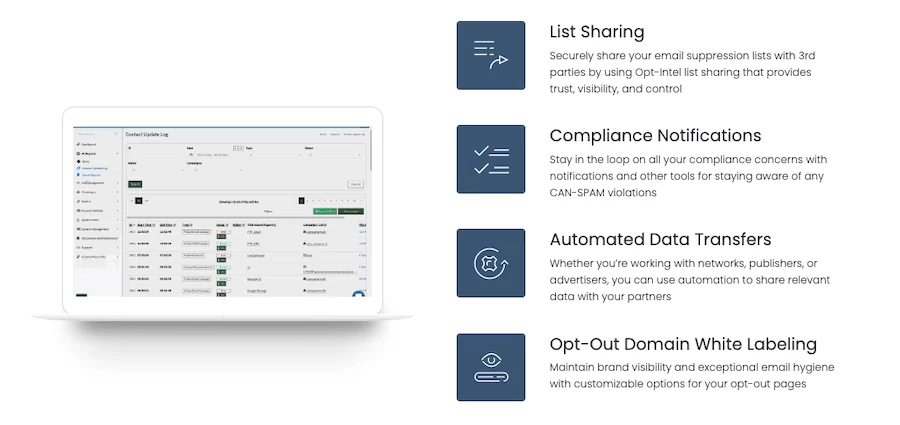 Opt-Out Domain White Labeling
Managing the opt-out pages helps in reducing unhappy lead prospects. Your brand visibility and well-templated email encourage customers to stay a bit longer with you.
Automated Data Transfers
The transfer of data will not be a headache for you anymore. Whether it is a storage issue, or sorting relevant data for transfer, none of it will be an issue.
Transfer highly precise data without any interruption to your partner, publisher, or advertiser with the automated data transfer tool.
Compliance Notifications
Your business system comprises every investment of your life. Phonexa will notify you every time whenever an intruder tries snatching your livelihood from you.
Phonexa Click Tracking
Affiliate Tracking & Marketing Software
It provides an all-in-one dynamic dashboard for impression measurement, tracking down digital sales, and affiliate program management. The comprehensive affiliate management solution will make sure that you never miss a payment and compensate the affiliates on time.
the comprehensive affiliate management solution will make sure that you never miss a payment and compensate the affiliates on time.
The real-time report will always keep you updated about the conversions.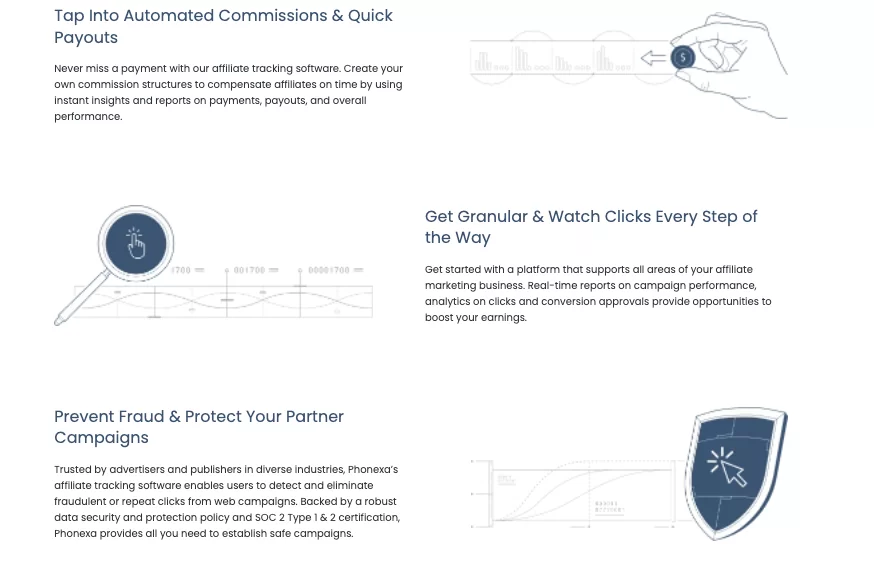 Precise Targeting
Phonexa's Precise Targeting will help the advertisers to target the demographics perfectly and generate leads as desired.
Phonexa Automated Accounting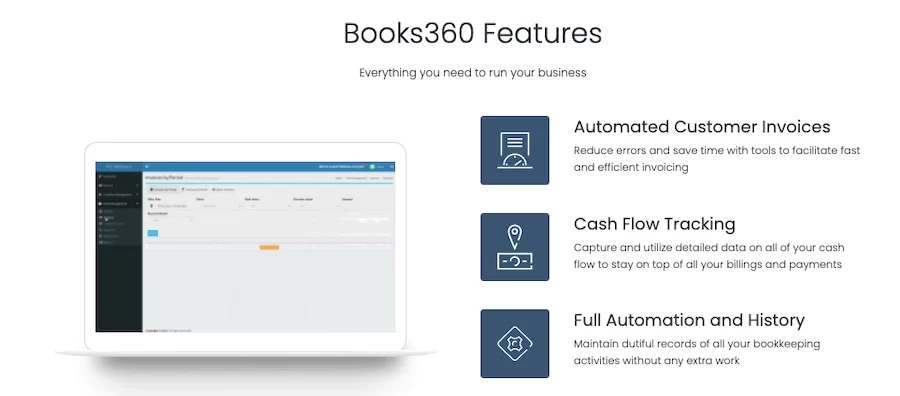 Full automation and history
For a service-providing business, the process of payment can be a complex aspect to handle.
Phonexa's automated accounting tools in Books360 have payment reminders, automated invoice generators to make everything hassle-free. Let the AI calculate the bucks for you while your attention is concentrated on business development.
Customizable Accounting Feature
Tracking everything becomes very easy when it is adjusted in a single dashboard.
You can make an accounting platform that adjusts your dashboard according to your convenience and provides you with complete control over permission access.