As a cloud-based email marketing solution, Constant Contact is one of the easiest to implement in the business.
There are a number of references available from where users can fetch guides like the Getting started with email page to help them in setting up and using their marketing account.
Creating an Email Marketing Campaign with Constant Contact
Setting up an email marketing campaign is super easy, and you won't need much learning to get started. The software allows you to revisit a campaign or simply copy and paste it for building a new campaign.
You can search for your campaigns by the date of creation or their keywords or even view them via the Recents tab. The software has a fully integrated marketing calendar that allows you to schedule your emails based on certain events, like a holiday.
Similar to many of the other tools in the market, you can use a ready-to-use email template to get started.
You can upload your template and add images or video attachments to the email. All these features are easy and intuitive.
The software offers a number of unique features. You can create and customize email templates to suit your needs with the drag and drop editor.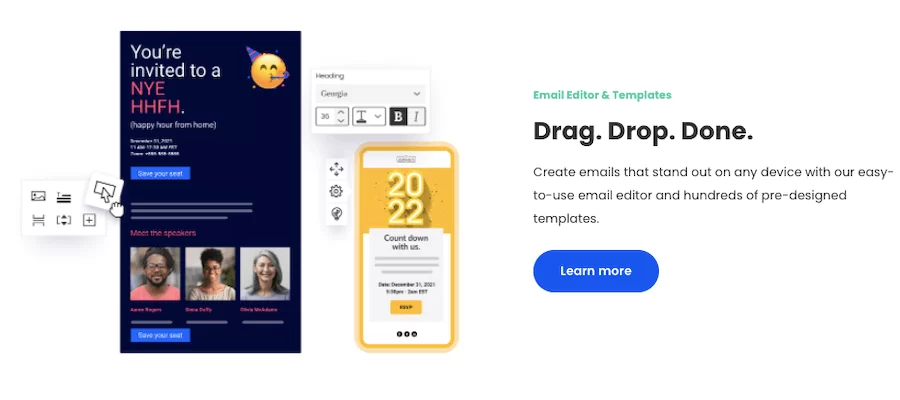 You have access to mobile-friendly design templates that allow for the responsive designing of emails. Moreover, this option is best for the ones who need more customization in emails.
Tracking Campaigns with Constant Contact
This email marketing software offers the ability to track campaigns. There is a full range of metrics available for you, your team, and customers on how emails are performing in terms of click-through rates and unsubscribes.
You can tweak various settings such as time zones and scheduling based on feedback from the recipients. You get to see metrics like open rates, click-throughs, and unsubscriptions with this option.
With Constant Contact, you can track marketing success in real time.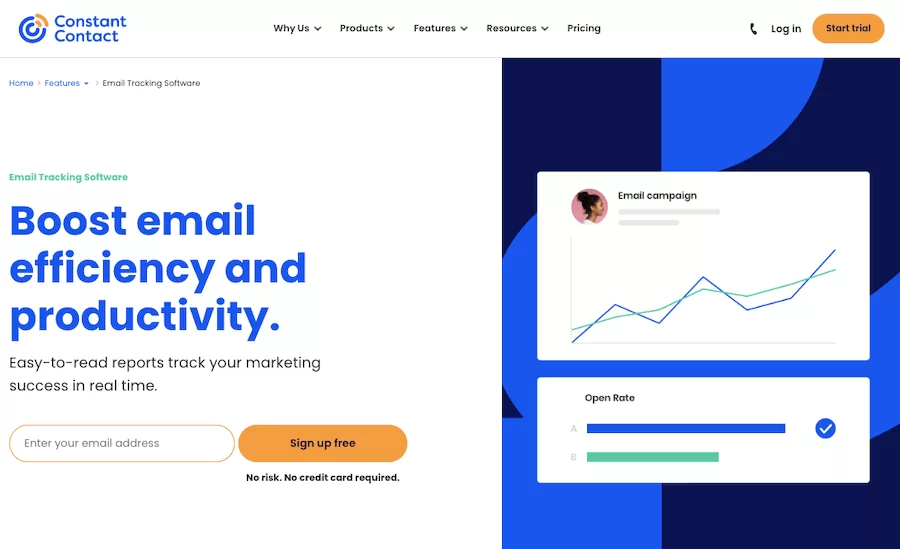 The best part is that the metrics and tracking features work fine for both desktop users and mobile users.
You get A/B testing options, a must for modern business needs. It allows you to manage your emails and their customization based on who opens them.
How Constant Contact Can Help
Constant Contact offers a number of useful features other than email marketing. Here's are some options offered by the software.
Marketing Automation with Constant Contact
This feature of Constant Contact is worth exploring. Marketing automation allows you to set up campaigns with pre-written emails based on certain triggers like a new customer or purchase of your product.
When the trigger fires off, they will receive an email automatically from either yourself or one of your team members for personalized messages.
You can decide and configure the time of how long you want to wait until you send a follow-up email to your contacts and subscribers.
Marketing Tools for Events
The event registration app feature offered in Constant Contact is a great way to keep track of registrations and attendees for events. The app simplifies all of your marketing requirements for events, such as trade shows or conferences.
Named as EventSpot, you get all the must-have tools, such as email invitations, registration form, homepage design, and more. Unlike most of the alternatives of Constant Contact, event marketing tools in Constant Contact are highly effective.