Omnisend is an email marketing service designed to cater to eCommerce users' needs. It is one of the best marketing automation tools, especially for the eCommerce sector. What makes it fit for eCommerce?
The simple fact is that Omnisend can prove to be very helpful in driving sales for eCommerce on autopilot; in addition to that, it also helps the user to improve targeting. Perhaps, this is the reason why Omnisend is so popular amongst the users of Shopify.
If you run an online store, Omnisend can help you deliver a great newsletter to your customers. Let's now put Omnisend under the microscope to understand better how it can help you in your email marketing journey.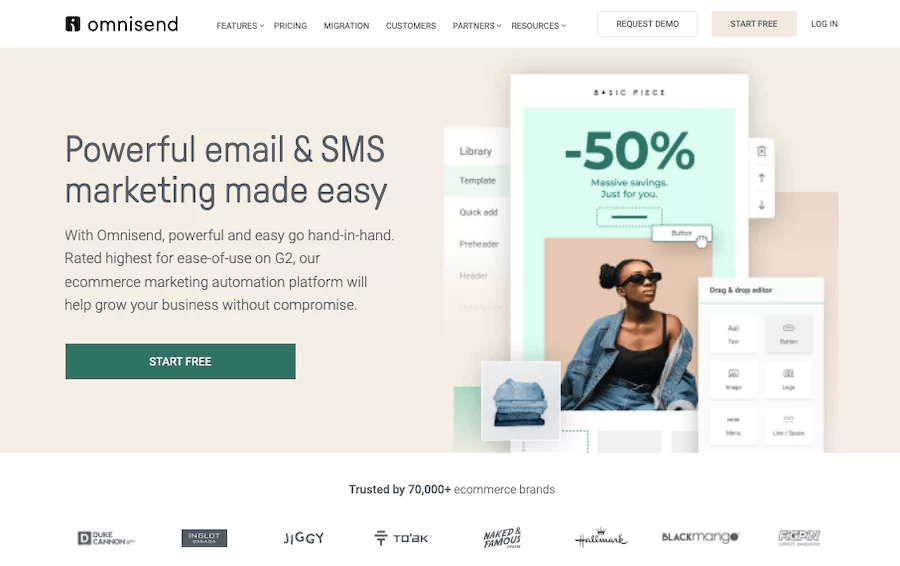 Omnisend Marketing Automation
Omnisend, as discussed above, has a special focus on eCommerce users. The platform single-handedly can boost your online channel's sales and across multiple channels on an autopilot basis.
By studying the customers, you can deliver them a personalized experience by ensuring that you reach out to them on a marketing channel that they offer. The different channels that Omnisend support are email, SMS and web push notifications. You can simply drag and drop the channels to create a single workflow.
This workflow can further be managed by the pre-built workflows that Omnisend supports. The most popular pre-built messages of the platforms are welcome series, product abandonment, cart abandonment, order confirmation, shipping confirmation and cross-sell.
Further, you can know which tactic is working for you with the help of built-in message reports, automation reports, and advanced reports that analyze the workflow's aggregate revenue and data related to engagement.
Personalized And Professional Email Campaigns
The way a brand sends an email to the customer speaks a lot about the brand. It might look tempting to have a designer style these email campaigns, however, this is not a feasible option especially if you are running a small business.
The good news is that Omnisend supports a plethora of templates that can create stunning emails within a minute.
You can quickly select from any of the ready templates and customize it as per your need. It will automatically add your branding details to make it ready almost instantly. You also have the choice to use the drag-and-drop editor.
Omnisend supports dynamic content blocks which again are specifically designed to cater to the needs of eCommerce. When clubbed with the content editor, this makes the entire process of creating a campaign super easy.
Campaign targeting is easy to increase the conversation rate. Omnisend helps the users to do it through segmentation. The user can segment the customers on the basis of the data available on their profile, their shopping history and additional features.
Something like this.
This data can then be used to decide whom to include and exclude from the campaign targeting.
The campaigns that you create using Omnisend can further be analyzed using campaign reports, campaign click maps and advanced reporting for campaigns. In addition to email campaigns, Omnisend also supports SMS campaigns and push notification campaigns.
Built-in Popup & Signup Forms
Just when a user lands on your website, you should be able to collect the information of the user? Why? The data you capture of the user can then be used for engaging with them, which will eventually convert this new visitor into a buyer. This is also the reason why signup forms are so important for any website.
Omnisend supports built-in signup forms. The different variety that the platform offers to the users are popups, landing pages, wheel of fortune and signup boxes. On the basis of the design of your website, you can go for a format that best suits your requirement.
The exit-intent popups that Omnisend offers to its users are extremely handy in giving the last try to capture the abandoning visitors of your websites.
These pop-ups are designed keeping in mind the need of decreasing the bounce rate and checkout abandonment rate.