Systeme.io is a reliable all-in-one marketing suite that is flexible and affordable.
If you're someone sitting on the fence about choosing Systeme.io, this review will help you get detailed insights into this platform.
To help you understand the nitty-gritty details of Systeme.io, we have done an in-depth review of Systeme.io. In this review we'll take various aspects such as ease of use, reviewing all the marketing modules, integrations, pricing, alternatives, and so on.
By the end of this Systeme.io review, you will get to know whether to choose Systeme.io or look elsewhere.
So let's dive in.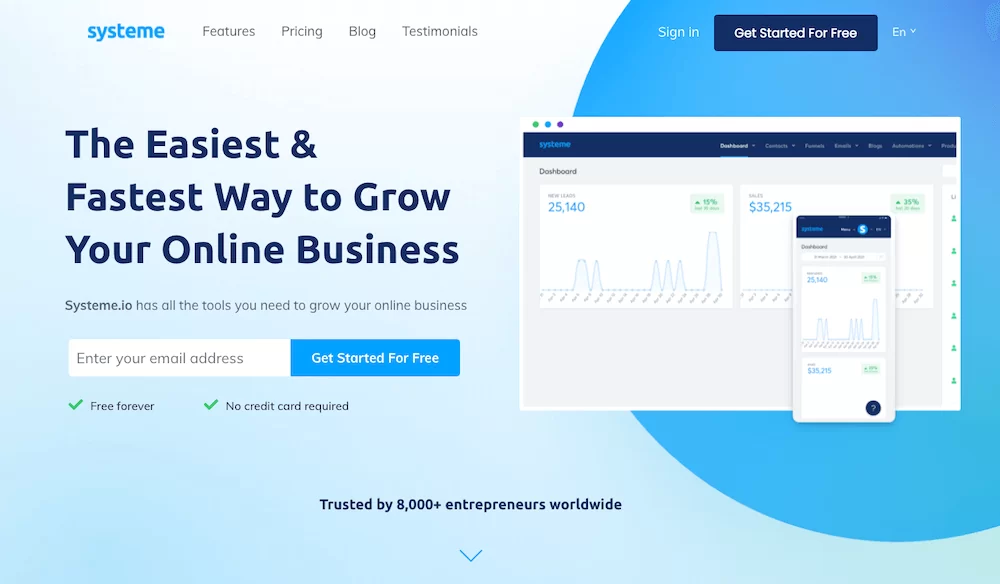 How Systeme.io works (All Features & Module Explained)
In this section, we're going to cover the functionality of Systeme.io and also explain the cores features.
Well, Systeme.io is a multi-functional tool that provides different features and modules in an easy interface. You can make use of all these features and tools as per your needs and requirements.
The functionality of each tool is easy and straightforward, everything you will see in a streamlined interface. To help you get a sneak peek into all the tools and features, we'll review all of them below.
Show More
Sales Funnel Builder
Systeme.io has a robust sales funnel, using the same funnel builder you can easily create converting funnels in a few clicks. It comes with an intuitive editor which is easy to use.
The best part, Systeme.io also provides ready-to-use templates, that you can use with a single click of a button. What's more, you can even customize these sales funnel templates as per your needs.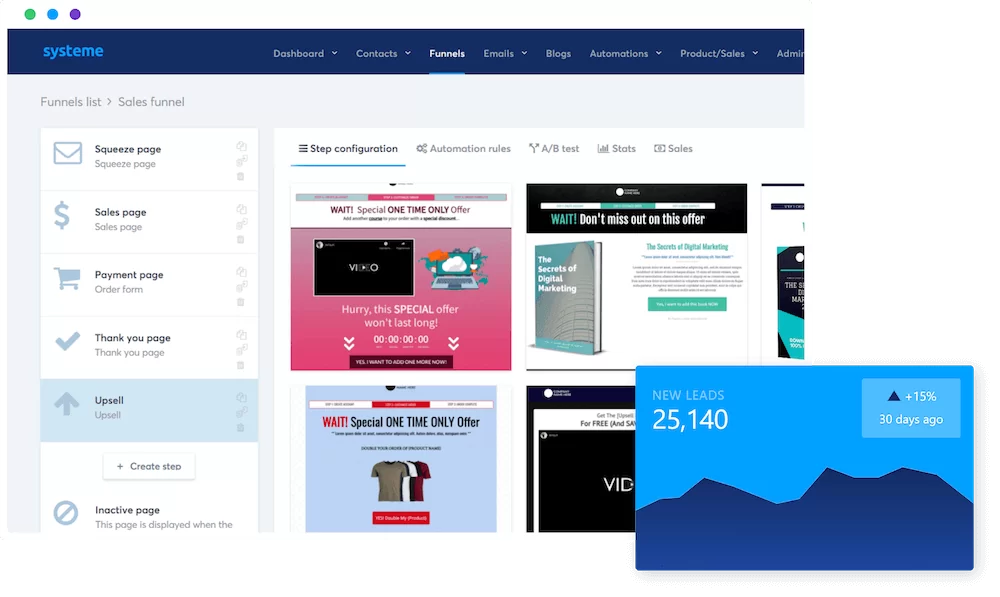 Once you're on the sales funnel builder page you will see various options to create a funnel, you can choose the end goal of the funnel. You have the option to choose from available funnel templates such as — build an audience, sell, custom or webinars.
Within the sales funnel, you can also integrate your email list, payment system, and membership sites. What's more, you also have the option to automate your funnel steps, trigger email sequences and give instant access to your courses.
Everything can be done using the sales funnel builder and the drag-and-drop editor.
Email Marketing
With the help of the Systeme.io email marketing module, you can jumpstart your marketing with flexible and easy emailing.
Systeme.io comes with a built-in email marketing module that allows you to send personalized emails and even automate various sequences. You can easily integrate your email list with your website and funnels.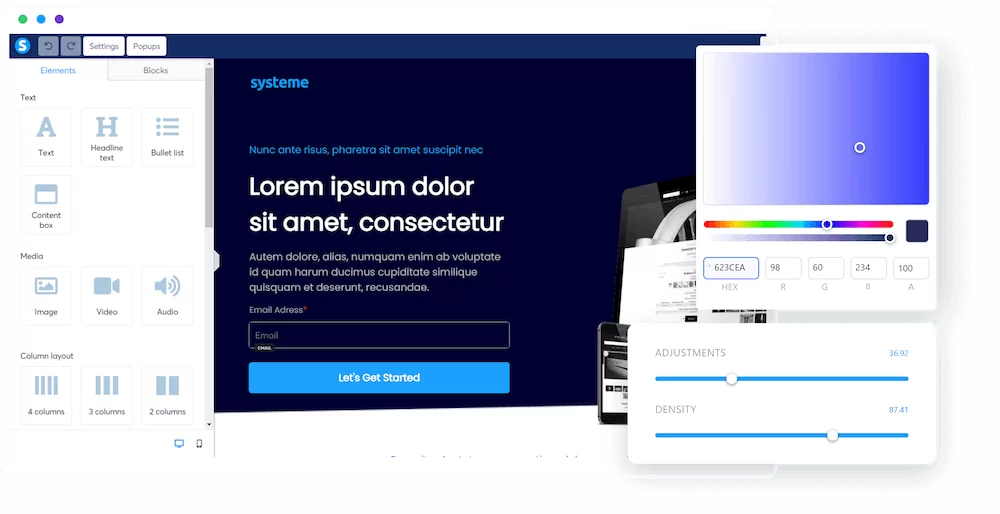 Well, the Email marketing module of Systeme.io is easy, you can create unlimited emails using the Systeme.io easy and intuitive interface.
No matter what your goal is, whether you want to boost a new product launch, or broadcast an event, or even set an auto-response, the Systeme.io email marketing tool has it all.
With the email marketing module, you can also set up an effective email marketing module within just a few clicks.
Even you have the option to categorize your customer and send customized emails to specific groups. The best part is that you can also keep track of your email with in-depth statistics.
Website Builder
Systeme.io also has a robust website builder that helps you build websites in minutes. The website builder of Systeme.io is intuitive, fast, and easy to use, specifically built for beginners.
The best part, Systeme.io even has ready-to-use website templates that you can get started right away. The website building interface is drag-and-drop which makes website creation easy.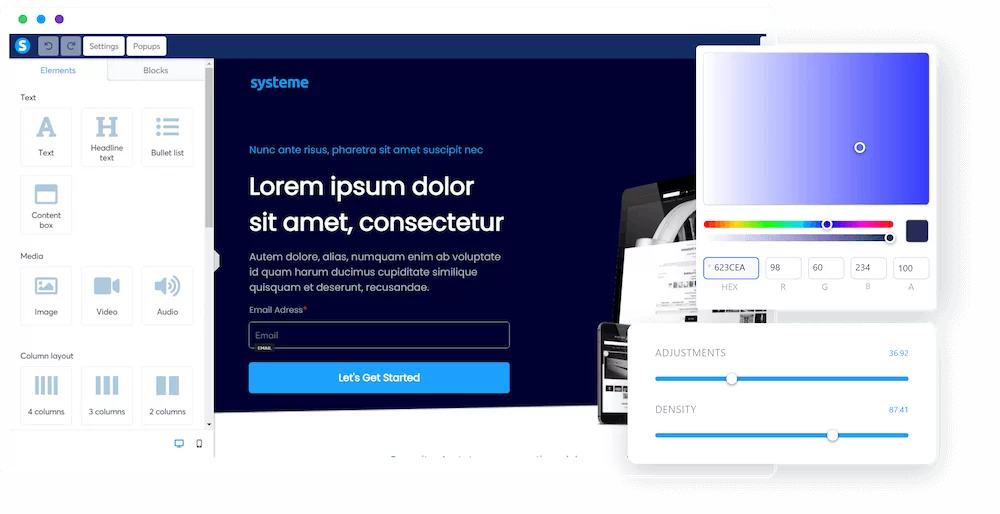 What's more, you can also integrate your email list to the pages you have created and even add a payment system to your memberships and online courses site.
What's more, Systeme.io also gives you the flexibility to create and add a blog module where you can deliver your content to your audience.
Creating Online Courses
With Systeme.io you can easily create online courses and membership sites and manage memebers/students effortlessly. You don't need to be a developer to create a fully-fledged online course with Systeme.io.
The course builder of Systeme.io is easy and straightforward. You can add various rich media types to your course lessons. As you have the option to add — texts, pdf, audio and videos inside your course lessons.
Systeme.io course builder also gives you the option to integrate your course access with payments right from your sales funnels and websites. What's more, it comes with a robust drip content module that gives you timed access to courses.
Moreover, Systeme.io has made it possible to help create, market, and sell your online courses in one single dashboard.
Evergreen Webinars
Webinars are trending these days, from fortune 500 companies to small businesses — everyone is rushing to create webinars for their audience. No doubt, webinars are an effective way to build an email list and get more sales and conversions rolling in.
Systeme.io made it possible to create and run evergreen webinars without any hassle. The webinar module of Systeme.io has made it possible to run evergreen webinars easily.
You can create webinars with the templates that Systeme.io provides and start generating more leads and sales. What's more, you can also build an email list and even sell your online courses, memberships, and products on auto-pilot.
You can create automatic webinars while creating your funnels.
Creating an Affiliate Program
As a marketer, you might know — how booming the affiliate marketing industry is. Systeme.io has made it possible for you to create a fully-fledged affiliate program for your products and courses.
Well, it provides a one-stop affiliate marketing suite where you can create, run and manage fully-fledged affiliate programs easily.
From the dashboard itself, you can create the affiliate program, and decide the commission percentage. You can track your affiliate easily and even manage affiliate commissions and payouts in a streamlined way.
Moreover, you also have the option to integrate your email list, payment system, and membership sites as well.
Overall, Systeme.io has robust affiliate program management where you can create and manage your affiliate program easily.
Marketing Automation Module
Yes, Systeme.io has a robust marketing automation module that handles all the finer details — so you can sit back and relax. It has all the marketing automation tools you need — under one roof.
With the marketing automation of Systeme.io, you can capture leads automatically with integrated emailing and funnels. You can also automate repetitive email sequences for membership sites and products.
The powerful feature is — you can easily add automation rules to any element of your website and funnel. What's more, you can also automatically trigger emails and membership access.
Moreover, there are various things that this automation module can help you with. With Systeme.io you can easily — optimize sales, improve your brand images, A/B test your landing pages, manage contacts, manage workflows, regularly update your content, and all.
Well, now you have the idea, how powerful and Systeme.io is. In a single platform you're getting all the marketing tools and features that you need to start, run and scale an online business.
Systeme.io Integrations
The downside is — Systeme.io doesn't integrate with third-party tools and services. However, it does integrate with payment processors like Stripe and PayPal.
The reason is — the developers of the platform are looking to create an all-in-one marketing solution. However, this seems to be daunting if you're using any third-party tools for emails or generating leads. This is the only downside that we have encountered with Systeme.io.
However, we can confidently say, Systeme.io is the go solution for beginners getting started. As it has all the tools that you need to start, grow and scale your online venture.
Systeme.io Alternatives & Competitors
There are a few alternatives to Systeme.io that we're listing below. You can check them if you needed.
ClickFunnels
Kartra
HubSpot Marketing Hub
Kajabi
So these are some of the alternatives and competitors of Systeme.io.
Conclusion
Systeme.io is a robust and reliable all-in-one marketing platform. All the tools and modules of Systeme.io are easy to use and provide a lot of o value.
You get all the marketing tools in one dashboard from sales funnels to email marketing, Systeme.io has got you covered.
Well if you're looking for an affordable marketing suite of tools, Systeme.io should be your first choice.
Systeme.io has a fully-fledged free plan with essential features to get started. We suggest getting started with the free plan of Systeme.io and then moving to the paid plans.
We hope this detailed Systeme.io review suits your purpose well. If this post helped you can share it on the social media platform of your choice.