Social Snap is one of the most comprehensive social media plugins for WordPress. You can use this plugin to add social sharing buttons, follow buttons, a click-to-tweet option as well as a social login option.
Let's have a look at how Social Snap can help.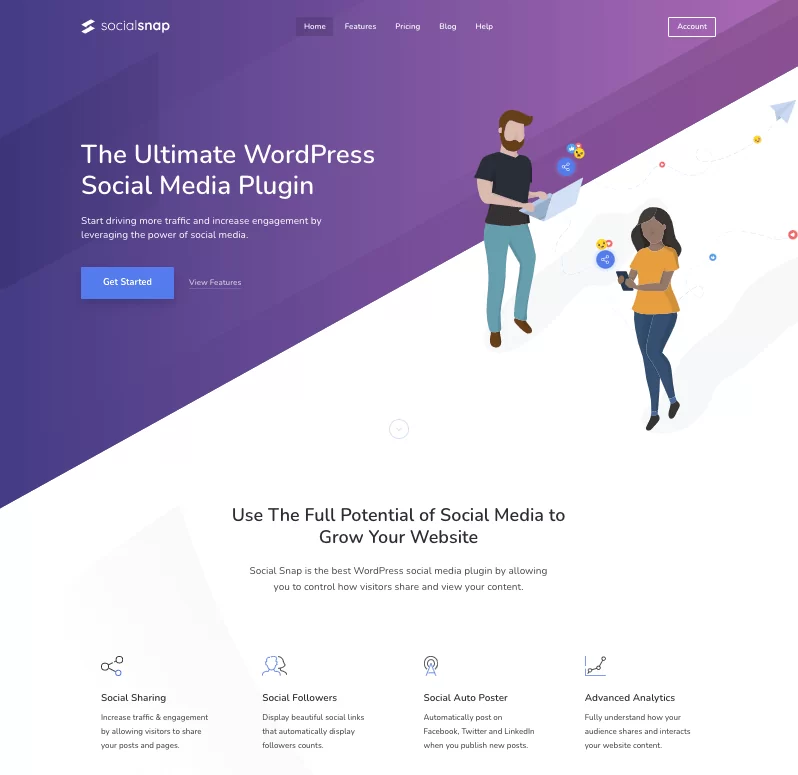 Increase Social Sharing
Primarily Social Snap is a social sharing WordPress plugin that can help you to increase the overall sharing by optimizing sharing buttons and placement.
Over 30 Most Popular Social Networks
Social Snap gives you the option to add over 30 different social platforms to increase social traffic for your business. But, should you add all these 30 or more platforms to your site?
While the choice is yours, the answer is you should not.
Just select the most popular platforms and if there is any specific platform you wish to add you can choose that.
For example, along with platforms like Facebook, Twitter, LinkedIn, you might also like to choose 500px if you are managing a site that has to do with photography and so forth.
Before you choose where you want to show the buttons, you have to choose the networks that you wish to show.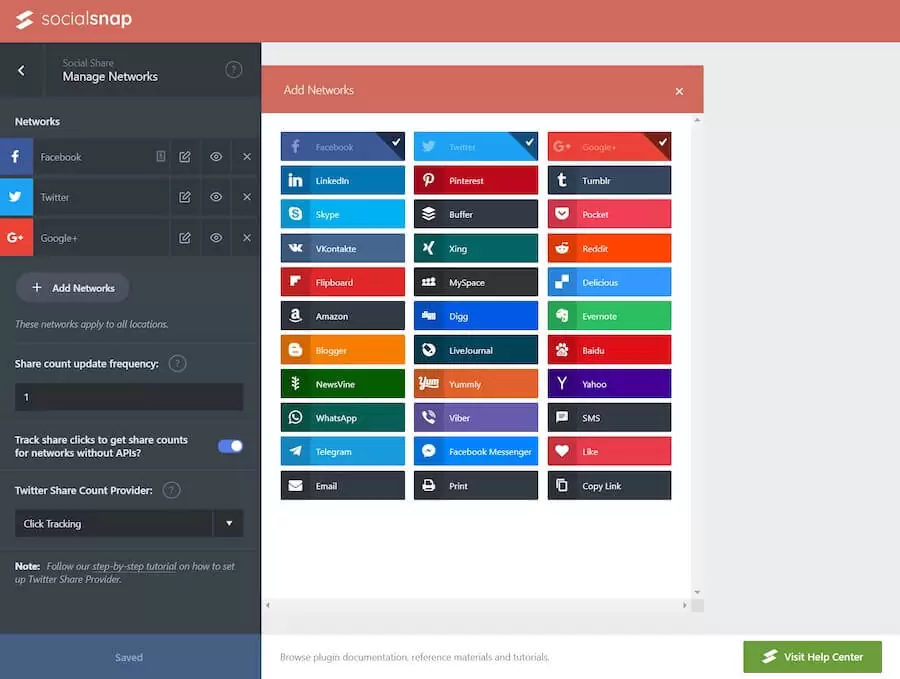 Customize Button Design
Social Snap gives you the option to customize the design of the buttons for your site. It offers you unlimited color options to choose from, so if you want to add custom color instead of the official color of the social network you have selected, you can get that done easily.
You will have complete control over the button share and the size to make sure that it amplifies the overall look of your page. And when it comes to look of the buttons, you also have the option to add entrance as well as hover animation to the buttons.
Please Note: I don't personally suggest you to add animation because at times it adds to overall loading time of the page.
Sharing Button Placement
With Social Snap, you can display the sharing button almost anywhere you want. It gives you multiple placement options as well as shortcode option to place it on custom locations.
Here're the available options for button placement.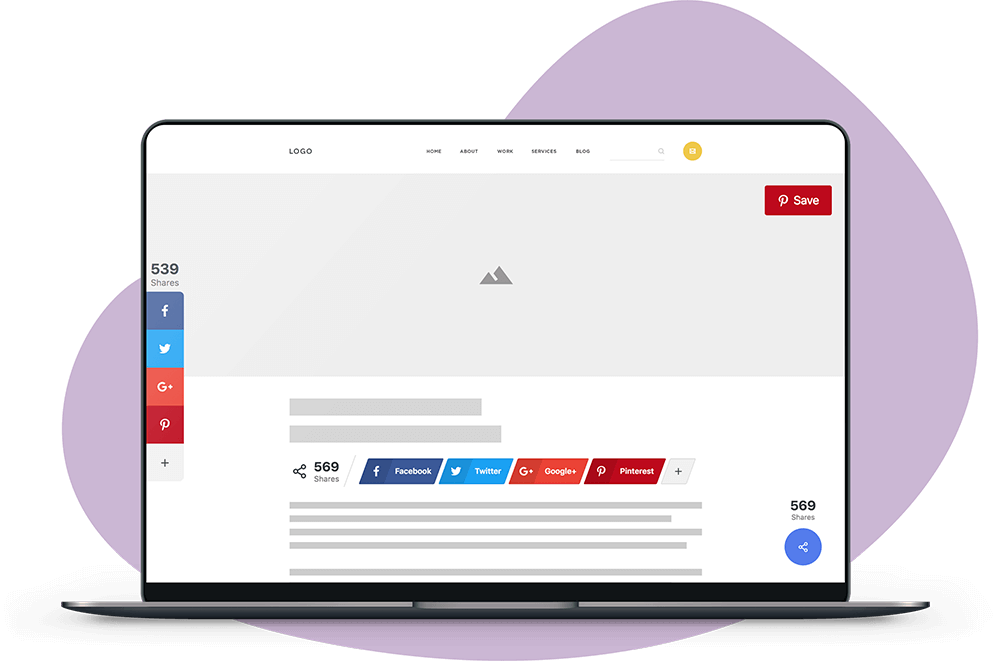 Individual & Total Share Counters (Social Proof)
If you are a regular content publisher or digital marker, you probably know the importance of social proof. It is very important for overall branding.
A blog post that shows the share count and already has a good share count, the probability of new users coming and sharing it increases to a great extent.
The Social Snap plugin gives you the option to display the social share count for individual networks that you have selected or the overall share count of all the networks.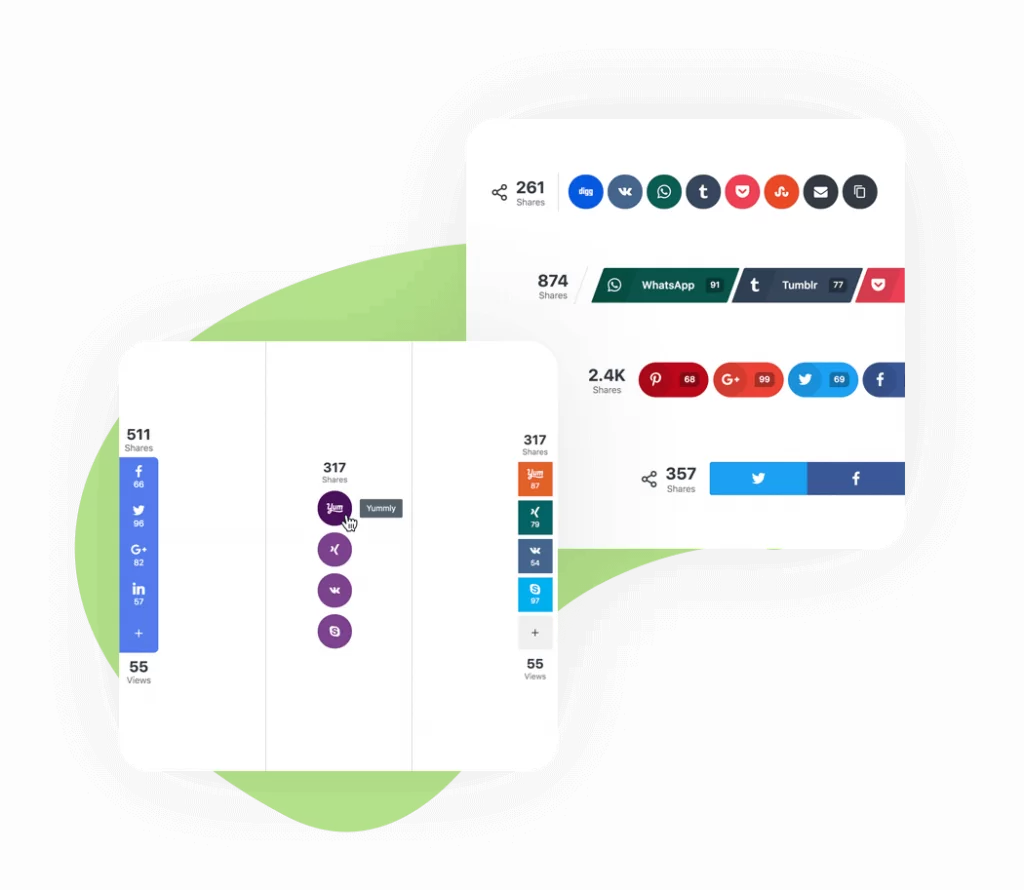 Option to Recover Share Count
It takes time and effort to attain a good number of social sharing counts. It starts with creating a great piece of shareable content which takes a lot of time, research, and effort.
What if you make some changes to your site and you lose all the share count on all of your post? That will be a bad experience right?
I'm sure it will be disheartening.
So, to make sure that you don't lose your old social sharing count while updating your site or migrating your site from HTTP to HTTPS, the Social Snap plugin gives you the option to recover the old counts.
Social Meta Tag Option
With the social meta tag option, you will have complete control over how your post looks when it is shared on social media sites. You have the option to add a custom description, title, and image for social sharing.
Other than that, it also gives you the option to add Open Graph Support as well as Twitter Cards Support.
Click-to-Tweet Feature
As you may have heard, the click-to-tweet feature allows you to customize the content that you want users to share. You can create tweetable quotes about your business or about your post with proper keywords, hashtags and other important elements and make it easy for the users to quickly share your message.
You can add the click-to-tweet button into your content very easily. This button will be added as a clickable link and when clicked, it will allow your readers to tweet your content with one click!
You can make use of the shortcode for your posts to include a tweet button.
This will make it so that you can tweet your content after publishing the post or share it on Twitter as soon as someone clicks on like, comment, and share buttons available for each of your blog posts!
You have complete freedom to design the click-to-tweet box as per your need, you can customize the color scheme to reflect your brand.
Here's an example of click-to-tweet box.

Boost Your Old Posts and Content
Social Snap gives you the option to share your old content on platforms like Twitter & LinkedIn automatically helping you to keep your content fresh with new social share and bringing fresh content from the social sites.
While there are a few other WordPress plugins that help you to revive your old posts, this single plugin has all these options so that you don't have to install another plugin.
Social Auto-Posting & Content Locker
Along with general social sharing buttons and all other features, Social Snap offers two very useful features. The first option is to auto-post your content on social sites. As you publish a new piece of content, it will be shared on Twitter and LinkedIn automatically.
The second feature is the content locker option. If you have not come across the content locker option in the past, it is a very effective way to increase the social sharing of your content.
First, you create an epic piece of content and lock it until the user shares it on social sites. Once they share it the content will be unlocked for them to read.
Social Snap Social Login Option
If you are managing a general WordPress blog, you don't need the social login option on your site because you can use the admin login option. However, if you are managing a site where your users need to log into your site, you will need this feature to make it easier for the users to log in.
Here's is when the social login feature of Social Snap becomes very handy. You don't have to install another plugin for the social login options as this plugin takes care of it along with all the other social features it offers.
You can easily set up the social login option from the Social Snap dashboard.
Detailed Social Media Analytics
You can fetch data about how your posts are performing an hour, a day, or even a year after they are published. You can also compare your posts with those of other users and bloggers to improve the quality of your content.
Social Snap is a complete social media management tool for bloggers and marketers with powerful analytics capabilities. Social Snap offers access to all the statistics that matter, like your total number of followers on Facebook or how many times you've been retweeted by Twitter users.
This powerful social media management tool offers all the statistics to improve content quality and quantity.
Having a detailed report about your various social media posts allows you to take advantage of the power of your social media networks.
You will be able to fetch data about how your posts are performing in a highly detailed and insightful manner after they've been published.
With this detailed report at hand, it becomes easier to find out which post performed better than others and learn from mistakes.
Social Snap Lite
If you don't have the budget to go for the premium version of the plugin, you can go for the lite version. You can install the free version of the plugin right from your WordPress dashboard.
The free version comes with limited features. You don't get features like Social login, automated posting, retina-ready design, social content locker, etc. in the free version of the plugin.