When it comes to WordPress themes, Be Theme is one of the most popular and powerful themes. It has a very big range as far as usability is concerned. It readily offers hundreds of demo design templates that you can use to create your website.
650+ Pre-Made Demo Websites
Starting off, let's talk about the main highlight of the theme. As we already mentioned, you will get over 650+ pre-built ready to use websites.
All of them can be easily imported with 1-click demo installation technology.
The demos can be categorized into 8 categories – Business, Entertainment, Creative, Blog, Portfolio, One Page, Shop, and Miscellaneous.
Under these categories, you will find a further division that offers websites curated for a specific niche. On top of that, there are also variations to a particular niche website.
As you can see, BeTheme gives you a huge variety of design options. You will rarely find an equal, that offers such a diverse collection of ready to use demo websites.
Dedicated Page Builder Plugins
If you are creative, then you might want to add your own touch to all the premade demos. Well, the developers have thought of this as well and included two-page builder plugins.
You can use them to tweak the layout structure and create a site design fitting your own unique taste.
You will get the popular and powerful WPBakery Page Builder plugin along with Muffin Builder 3 plugin. WPBakery is excellent to help you create a rich and unique content layout.
Whereas you can use Muffin Builder to create the entire website layout.
Both tools offer drag and drop control. All you have to do to reconfigure your site layout is simply drag one the content module or design element you wish to alter and drop it into the position where you want it to be.
As you can clearly imagine, even a beginner can build a stunning page layout without the problem. There is no need to have any coding knowledge. You will only be limited by your own imagination.
Fully Compatible with Elementor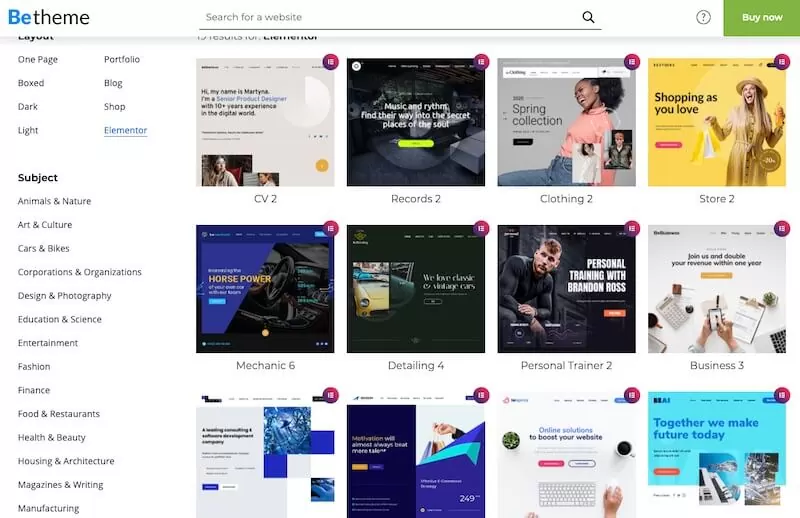 As Elementor is the most popular website builder at the moment with over 5 million active users, you might be one who wants to use it. The BeTheme is fully compatible with Elementor.
If you have used Elementor before, you probably know that you can completely custom design a website without writing a single line of code with the website builder.
You can custom design your header and footer section. In fact, Elementor provides you a number of templates for header and footer.
Another advantage is that you don't have to use another email opt-in plugin once you have Elementor Pro installed on your site as it comes with amazing pop-up builder and offers you great looking templates to help you create the email subscription forms.
Header Options
Your site's header is what you use to greet your visitors. It is where you showcase your brand's logo, provide social share options, and even provide navigation tools.
Having a good and appealing header layout is fundamental to improving your site's user experience.
That is why with BeTheme you will get access to 20 customizable header styles. All these different header options are also not restricted to the top of your website.
You can even have sidebar header, and side slide menus to do the same job. Also, there is a dedicated minimal header layout particular curated for mobile users.
You can upload your company logo, change the color of the header, set a different font style, tweak its size, and much more. You will have total creative liberty as to how your site's header will look.
Different Layout Options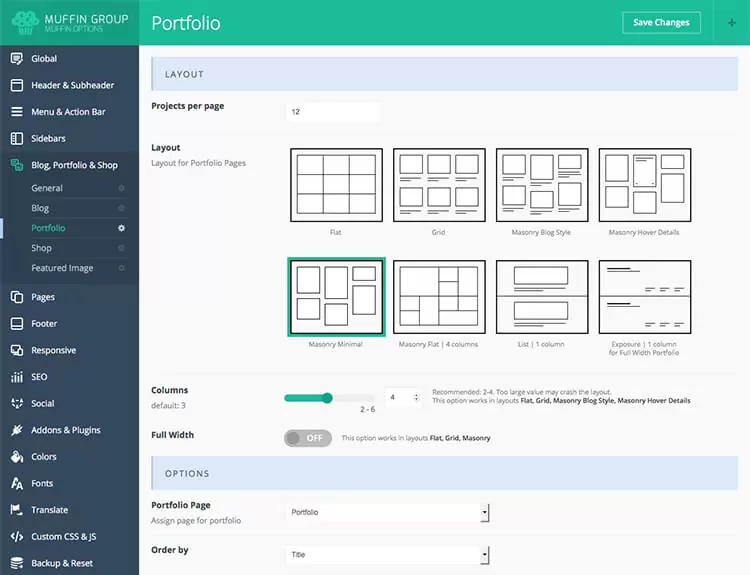 After playing around with all the different header styles, you can then start customizing around with your site's layout.
The theme gives you the option to start with a base grid and then pick a layout style that you like. There is an option for a full-width layout, boxed layout, and three more sidebar oriented layouts.
So you see, you are not particularly limited with premade options that you get with the theme. If you want to design your own layout then you have all the tools at your hand.
Just pick a layout of your choice, combine it with one of the 20 different header options discussed earlier, and then add the final touch with WPBakery and Muffin Builder.
There is also the option to mix and match all the different design elements and content modules from the different demo websites into your own custom layout.
Blog Layout Options
BeTheme offers you beautiful layout options for the blog section. You have a simple classic blog layout option, modern grid layout options, timeline style layout option, and more.
You just have to select the layout for your blog and it will instantly make it look great with the trendy design options that are ready to use.
Portfolio Options
The BeTheme offers you the option to create great-looking modern portfolio designs. You have the ready layout for the portfolio section, you just have to select the one you like and get started.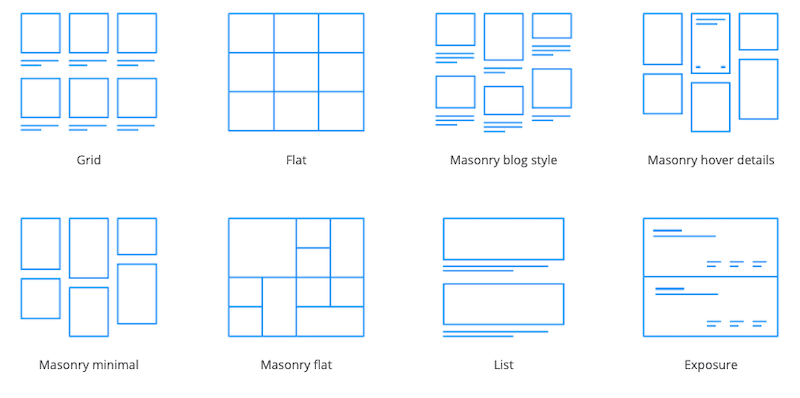 Customization Options
Up till now, we talked about how you can change the theme's layout, the header, the content modules, and the design elements. Now let's talk about all the customize features that extend to the finer details of the theme.
You will get a dedicated Options Panel and Admin Panel with a comprehensive list of settings which practically gives you complete customization control over almost all aspects of the theme.
The interface is super easy to understand and extremely beginner friendly.
Besides all these, there is even support for unlimited color schemes and a dedicated color picker. You have the potential to change the color of almost all the elements in your theme.
On top of that, there is also custom CSS and JS support. So if you are a developer and know a little coding, you can apply your own changes if the settings seem limited.
WooCommerce Compatibility
Along with the different design options and demo content, you probably have noticed that the theme offers plenty of e-commerce oriented premade websites as well. This is thanks to WooCommerce compatibility.
WooCommerce is a WordPress plugin which helps users to implement e-commerce functionalities to their website. All the powerful, advanced options that you get with WooCommerce are also available with the theme.
You will get all the necessary features including a product layout for showcasing all that you are selling, a dedicated cart where customers can store all the products before making the purchase, integrate payment to help you sell products, and much more.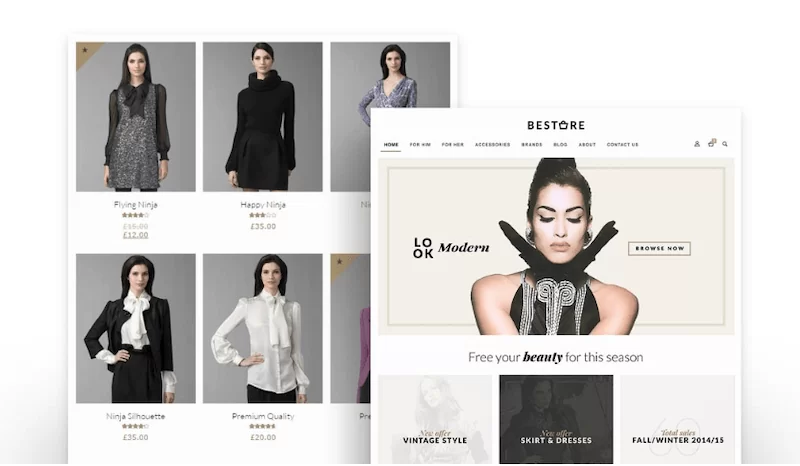 Shortcodes
The BeTheme comes with a huge collection of shortcodes that you can use to insert amazing new functions to your pages with just one click.
You have over 200 different shortcodes with a modern and classic design. Contact box, article box, grids, list, tabs, sliders and almost everything that you will ever need on your page.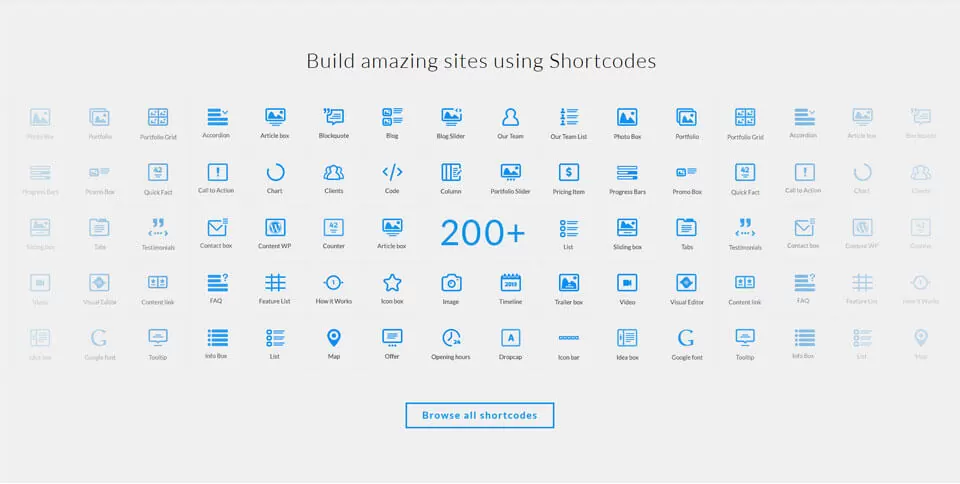 Others
By know, you should have a comprehensive understanding of all that the theme has to offer. But there is still more. You will get many more core features and functionalities which will definitely add to your experience of using BeTheme.
And much more.
Apart from all these different options, the theme also brings in plenty of useful plugins right out of the box. This includes:
In Conclusion:
All in all, BeTheme is one of the most flexible WordPress themes you can find in the market. It is filled with awesome features and options which will allow you to build any type of website.
Now, with that in consideration, it is worth pointing out that theme will be most valuable if you a web developer creating different websites for different clients, or a webmaster managing a lot of different websites belonging to different niches.
Otherwise, you will not be able to fully utilize all that you are getting with the theme.
BeTheme Review: A Few Reasons to Buy It
BeTheme is one of the very few WordPress themes that offer so many demo templates.
This means for one single theme, you get access to over 650 different design options. While this may not be a big deal for a pro user, it will make a difference to newbies with no design experience.