ThirstyAffiliates plugin review, one of the highly recommended plugins for the affiliate sites as it offers you a 360-degree cover for your affiliate site.
If you are an affiliate marketer and looking for the best solution or tool to better manage your business? Well then, the ThirstyAffilate could be the answer.
In this ThirstyAffilate review, we will try to look at all the top features and options offered by this amazing plugin.
But, First Let's Understand What is Affiliate Marketing?
Affiliate Marketing is one of the best and proven ways for bloggers to make money from their blogs. In fact, some people have based their entire livelihood around affiliate marketing.
If you are an affiliate marketer of a certain product or service, then your goal is to get people to buy that product or service, and in exchange, you will earn a little commission off every successful sale.
To help you promote these services or products, you will need to have a website, or blog. Most people use WordPress to handle this department.
Next, you will have to sign up with a particular affiliate program like the ones offered by Amazon, and many more marketplaces. These sellers will give you a link that you can use with your content.
Now, when one of your blog readers/visitors comes to your site and clicks on that link they will be taken to that purchase page of that particular product or service. And if they make a purchase, you will earn a commission.
So Why Do I Need an Affiliate Marketing Plugin?
As we stated, for some people the whole profits around an affiliate marketing business.
If you want to go to that extent, then you will have to tie with multiple affiliate marketing programs.
Furthermore, everything should be kept as organized as possible. This might seem easy, but it is not, especially when we are dealing with long ugly looking strings of URLs.
This is where an affiliate marketing plugin like ThirstAffiliates for WordPress can come into play. It comes loaded with a ton of features and functionalities that can help handle all your affiliate links, and optimize your income.
Starting from better organizing your affiliate links, to even cloaking/shortening them so that they don't look spammy or untrustworthy to your users.
So with that being said, here is a comprehensive look at all the different features and functionalities that ThirstyAffiliates brings to the table.
Creating Customizable Links With ThirstyAffiliates
Once installed, the plugin allows you to customize all your links. There is also the option to customize the links on a global basis or a per-link basis.
After activating the plugin, you will notice a new "Affiliate Links" section in your WordPress dashboard. Click on it and head on over to "Settings."
First, let's have a look at the main settings panel of the plugin. It offers you a number of different options to make things easier.
To start with, you have the option to select the link type, you can go for the link URL or shortcode type.

Block Bots
This is an important setting to make your site safe. A search engine like Google doesn't like pages with a number of affiliate links. So, it is important to block the search bots for affiliate links.
ThirstyAffiliates plugin offers you a built-in option to block the important bots, and have the option to add new bots manually as per your requirement.

Affiliate Link Settings
On the settings page, you have the option to set up the affiliate links as per your preference. You have a number of options that you can fine-tune on this page.
Go to ThirstyAffiliates settings >> link appearance
From here you can select the link premix and create your own redirection URLs. You have a number of options to choose from, let's select recommends and proceed.
Select the redirection type, 301 redirections is selected for the permanent redirection. So, you can select 301 and proceed.
Another important setting is the option to set the page open in a new window so that your users don't leave your site. You can have the option to set it to yes or no.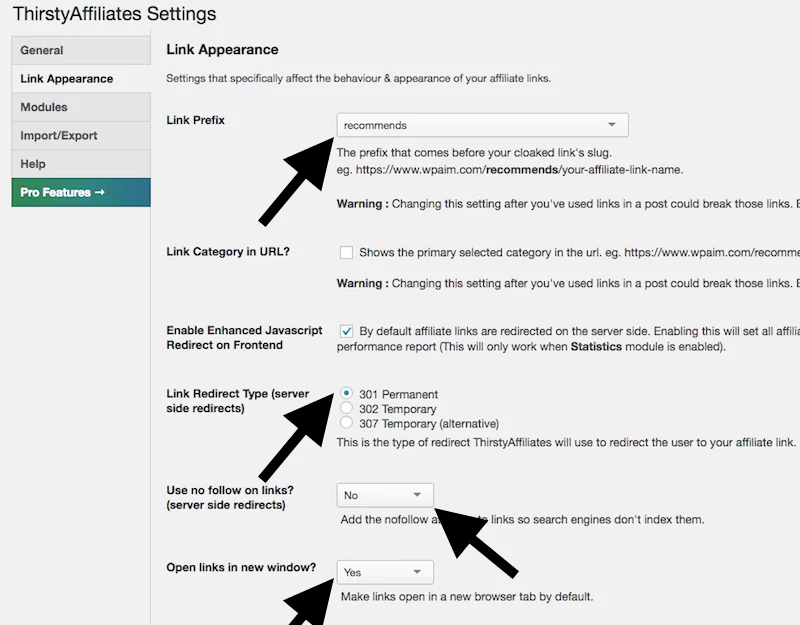 Besides this, you will also be greeted with plenty of other options to help you customize your links. This includes options like:
And much more.
To add your first affiliate link, go to Affiliate Links >> Add New.
Now to add your first affiliate link, all you have to do is go to "Affiliate Links" and click on "Add New." For better organization, you can name your link, paste the corresponding affiliate URL, and even attach an image to the link.
This can act as a call-to-action, product image, or logo.
Adding Important Tags to Your Links
When you promote affiliate products on your WordPress site, you have to make sure that all the links have proper tags attached to them so that your site is safe from any Google Update.
Generally, affiliate marketers used to add nofollow tags to the affiliate links so that search engines like Google ignore them and your site doesn't get affected.
Recently there was a lot of discussion around the proper tags that have to be attached to the affiliate links. And the team at Google recommends using "rel=sponsored" tag instead of "rel=nofollow"
ThirstyAffiliates plugin gives you a quick option to add sponsored tags to all your affiliate links to make your site safe.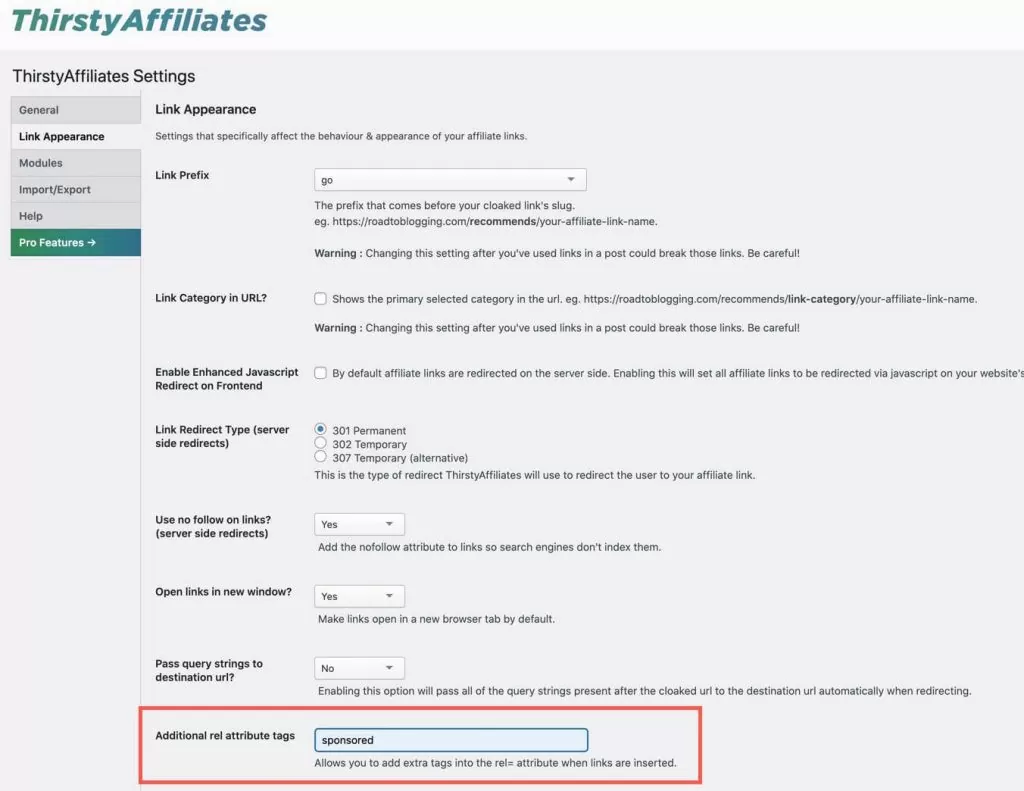 Detailed Affiliate Click Reports
When it comes to a business, statistics are very important. You can check the stats and define your approach and plan your business accordingly. If affiliate marketing is your primary monetization method, it is important to have the stats so that you understand which products have more potential to perform better.
ThirstyAffiliates offers you complete analytics in terms of the clicks that you get for your affiliate links. Even in the free version of the plugin, you get the click numbers and in the pro version the reports are more detailed that will leave aside the bots and give you the perfect click numbers.
ThirstyAffiliates Features
Now, if you wish to try out ThirstyAffiliates then the plugin is available for free. However, there is also a paid version of the plugin that comes with advanced options.
Now, if you are confused as to which version is suited to your needs, here is a rundown of all the features that you get with the free version as well as the paid version.
ThirstyAffiliate Free Version
The free version of ThirstyAffiliates is available to all users. You can fetch it directly from the WordPress plugin repository.
Here are some of the features that you get with the free plugin.
ThirstyAffiliate Pro Version
Here you get all the free features coupled with plenty more advanced functionalities. This includes stuff like:
And much more…
ThirstyAffiliate Add-Ons
In case if you are not happy with all the features that you are getting with the premium version of the plugin, you will have the option to add extra add-ons to include even more advanced options.
Now, it is worth noting that all these add-ons are sold separately and comes with a price tag. However, since these are add-ons, you can just select the ones which you think will be necessary for achieving success in your affiliate marketing efforts.
With that being said, here is a look at all the different types of add-ons available with the ThirstyAffiliates: