Pretty Links is a popular affiliate link management plugin that gives you the option to create short links for affiliate links with your own domain name to make them look better and SEO-friendly.
The plugin offers a free version that has more than 300K active installations as well as a premium version with more features and options.
If you are a blogger or an online marketer and create content with affiliate links, you must consider using a link cloaking plugin like Pretty Links to make sure that you don't land into any SEO-related issues with tons of affiliate links making your post look spammy.
Free Pretty Links Plugin
First, let us look at what the free version of the plugin has to offer.
To get started, you can download the plugin from the WordPress plugin directory and install it on your site or you can directly install it right from your WordPress dashboard and activate it.
Go to your WordPress dashboard >> Plugins >> Add New and find Pretty Links and install the plugin. We already have the plugin installed on our site.
Pretty Links Plugin Settings
As you install and activate the plugin, you will have a new option in your admin dashboard for the plugin. You will get a number of important settings options that you need to set before you start using the plugin.
Redirection Type
You get three options when it comes to the redirection type.
Depending on your need, you can select the redirection type. Mostly the users will use the 301 redirections because you want to redirect the affiliate links permanently to a clean link with your domain.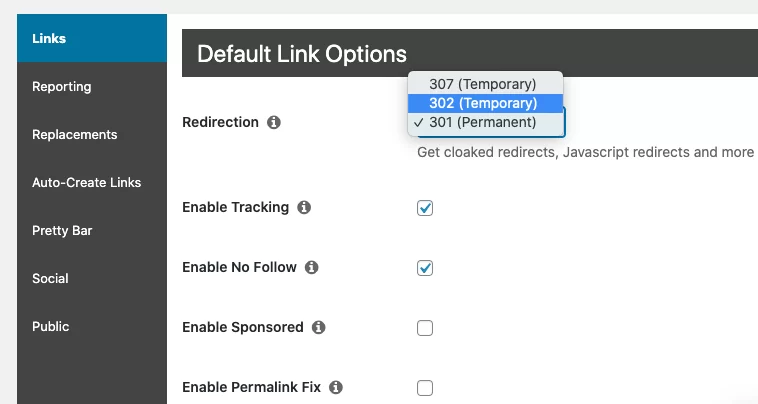 You have other options like.
It is important to add a nofollow tag to the affiliate links. So, you can enable this option to make all the links that you create with this plugin are considered nofollow.
Creating a New Link With Pretty Links
Creating a new link with the Pretty Links plugin is simple, you can go to Pretty Links settings on your WordPress dashboard and click on add new.
You also get the option to select the redirection type for each link that you create. You don't have to do anything here if you are ok with the default settings that you have done in the step above.
Add the title of your link so that you can easily track it even if you have thousands of links on your site. You can also add your desired prefix to the links. Prefix like Go, Refer, Recommend are some of the regularly used prefixes.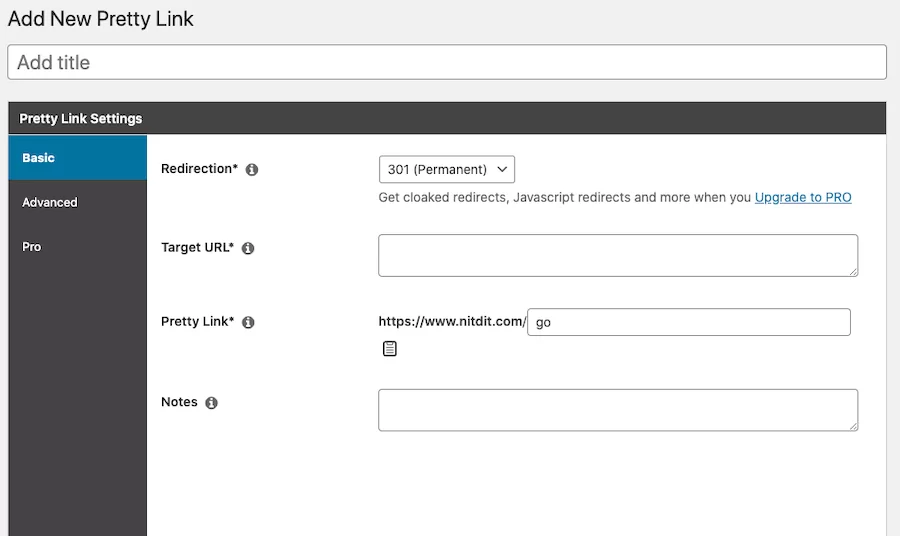 Pretty Links Pro
Now, let's have a look at what extra we get in the premium version of the plugin.
You get the option to upgrade to the pro version of the plugin right on your WordPress dashboard when you access the plugin settings. You can simply upgrade it and add the license code to activate the license.
Automated Keyword Linking
The auto-linking keyword is the best feature when it comes to the pro version of the plugin. When you have hundreds of pages on your site, it is not possible to check manually and add your affiliate links to the appropriate keywords.
Pretty Links Pro plugin will make the process easier for you. It offers you an option to set the keywords for a link, and once done it will scan your entire site and link those keywords to the respective affiliate link.
This feature will help you to make more revenue for the same amount of traffic.