Extra Magazine WordPress theme comes from the talented folks over at ElegantThemes. It is powered by the super-powerful Divi Builder.
This means you have the power to create stunning and beautiful layouts for your magazine website, just by simply dragging and dropping a rich collection of design elements.
The Extra theme is created for bloggers and news sites that produce a lot of content. The theme is created to showcase your content in a way that maximizes the visibility of your content.
You can even use the Extra theme to create a product review site or an eCommerce site. The theme is loaded with all the features and options you need.
It offers you a number of design options to showcase your content in the most elegant and modern way.
If you are a storyteller, the Extra theme will give you stunning ways to present your content in the most attractive ways.
Here is an overview of all the features that the theme has to offer.
In this Extra Theme Review
In this Extra theme review from the ElegantThemes, we will look at the following.
Extra Theme Modules
Extra Theme comes with an "extra" set of new Divi builder modules which will be specifically relevant to bloggers and online publications.
This includes:
Will all these advanced design modules just a simple "drag and drop" away, creating the perfect content is only a constraint on your own creativity and imagination.
What is more fascinating is that all these modules are completely customizable. Starting from font sizes, color, spacing, and much more can all be adjusted in the frontend in real-time. There is also the option to add custom CSS.
Posts & Pages
Apart from all the fun you get to have with the categories and content structure, there are also 40 unique content modules for creating stellar webpages.
These range from simple Call to Actions and Contact Forms, to Countdown Timers, Galleries, Portfolios, and so on.
You can pick any one of the modules, customize it using the advanced set of comprehensive options, perfectly arrange them in your desired order, and you are done.
All this is handled in the front-end and the changes you are making are in real-time, so you can see what you are building.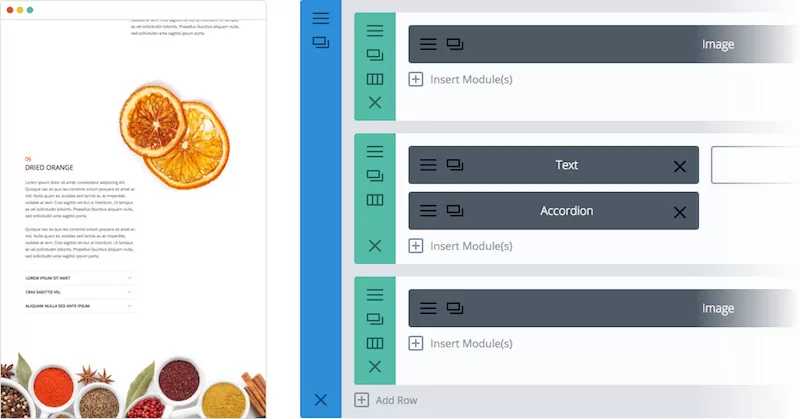 Unlimited Layout Possibilities
Extra does come with a set of free pre-made demo websites which you can use as templates for building your own site. However, the possibilities don't end there.
You can tweak around with all the design modules we discussed earlier to completely customize the premade layouts to create something brand new.
And if you are feeling up to it, you can start from scratch and create your own unique layout from the ground up.
Custom Category Page Layout
Generally, the default WordPress category pages are simple and boring. It only display the archive of your posts that doesn't create much value fo your site while they can be a great asset for your site. You can create strong Silo pages with your categories that can bring in a lot of traffic to your site.
If you look at the top authority sites, the category pages rank really well for important keywords. They are also good as it keeps getting updated with new posts. So, these pages are more dynamic then any other pages on your site.
Extra gives you the option to create custom layout for your category pages. You can make them look very attractive at the same time, you can add custom content to those pages in order to improve the overall SEO quality for those pages.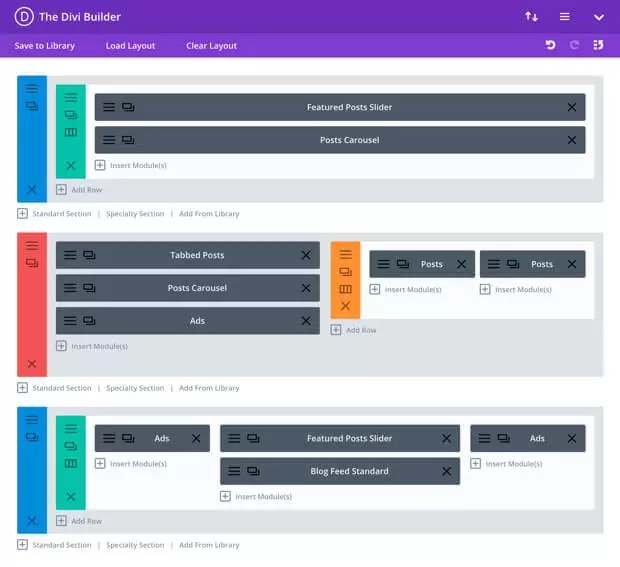 Header Options
The customization of your site will start from the header. The header section is one for the most important section in any site and the Extra theme make sure that you can easily make the header section unique for your site.
The theme offers you ready-to-use design options for the header section, though you can create your own design easily without any coding.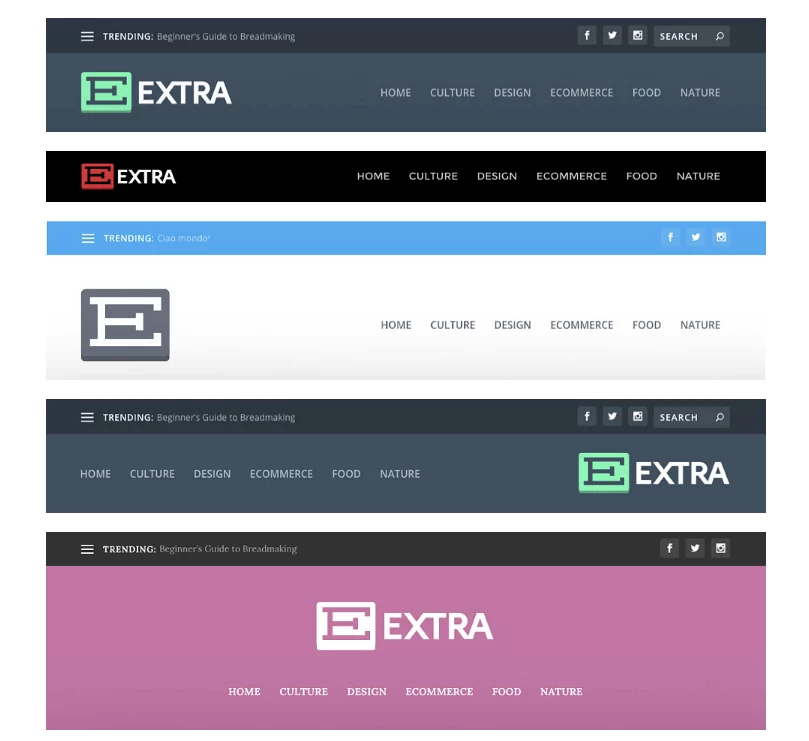 Responsive Design
The theme comes with a fully responsive design to make it looks great on mobile devices.
These days, a lot of traffic comes through mobile devices so you need to make sure that your site responds perfectly to the screen size.
With the extra theme, you don't have to do anything additional to optimize the site for different screen sizes, it will adapt itself perfectly.
WooCommerce Ready
The theme is also WooCommerce ready, which means you have a dedicated online store on your website.
However, it is worth noting that everything about the WooCommerce storefront has been tweaked to fit the modern design style and aesthetics of Extra.
Many of the different modules we discussed earlier also apply to your storefront, and you have the option to include them to make a rich online shopping experience for your visitors.
On top of that, there are also plenty of options to include custom styles into the mix.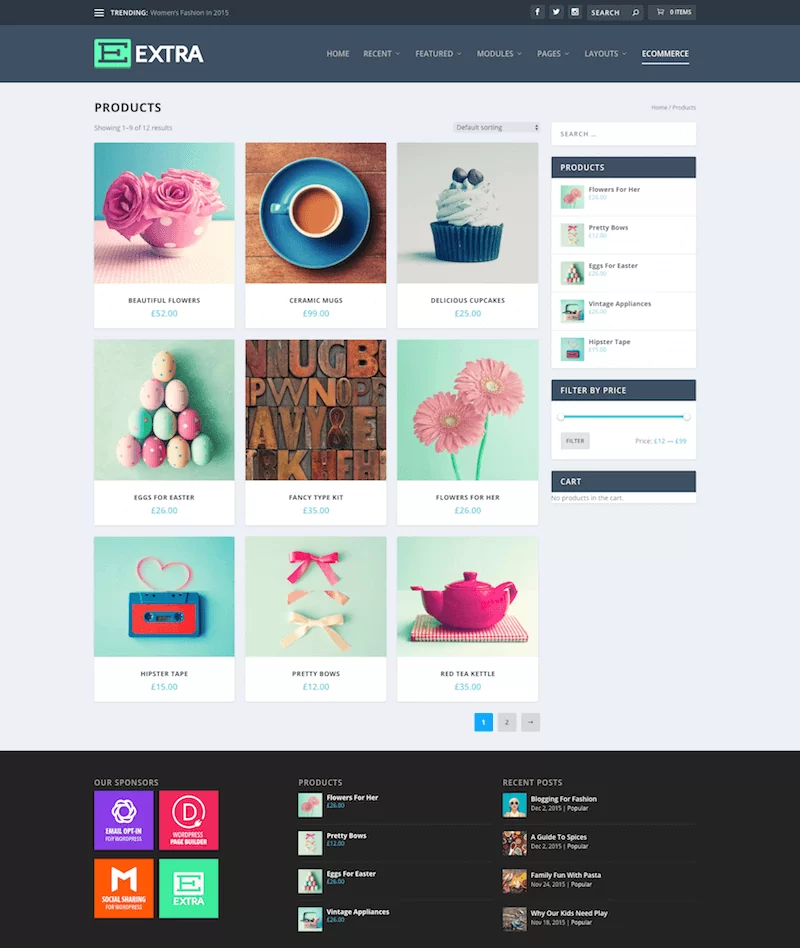 Gorgeous Project Portfolios
Also, if you want to showcase all your work and fix a dedicated portfolio to your website, then Extra Theme can help in this area as well.
You will get access to a new custom post type for projects which makes it super simple to create and add beautiful portfolio pages to your site. On top of that, the Divi builder comes with some dedicated modules for creating filterable portfolios as well.
All in all, if you want your work to shine, and give it a flamboyant exposure, then Extra comes packed with all the right bells and whistles to help you do just that.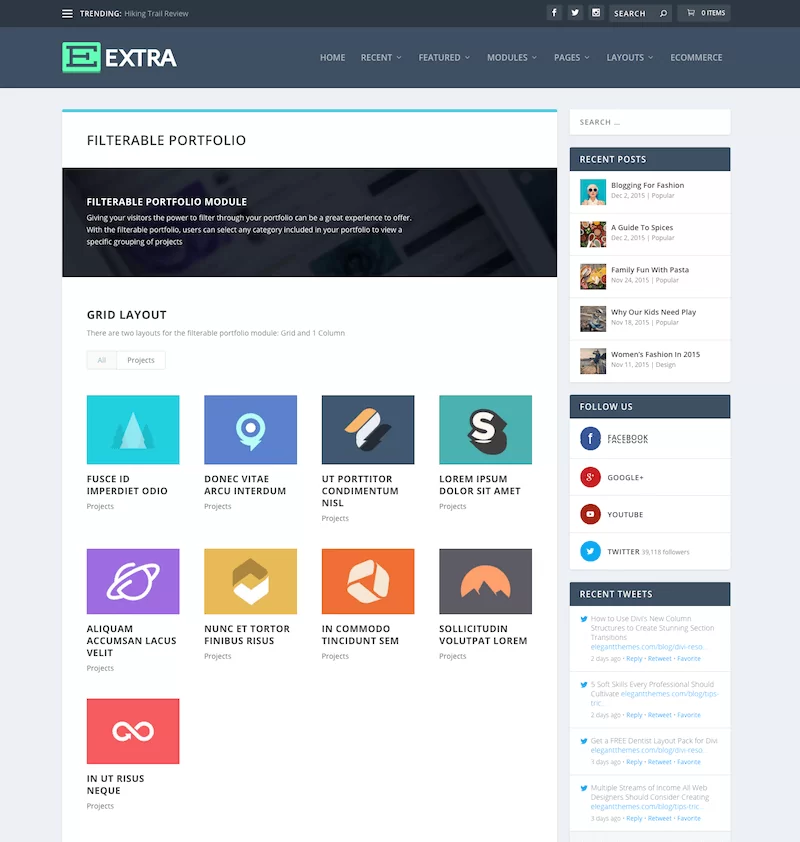 Customization Options
Along with all the powerful content modules and design elements, Extra also offers a comprehensive set of options to help you customize everything.
There is no need to think that you are given a particular set of elements and you have to use them as they are.
Everything about the elements and the modules can be tweaked, starting from their dimensions, to color, typography, and much more.
What is more important is that all these changes can be viewed in real-time. Therefore, you can literally see how each little tweak and adjustment that you are making is influencing the overall look and feel of your website.
Product & Post Reviews
Extra packs in a dedicated review and rating system. This can help make your content all the more engaging for your readers.
If you are planning to do a detailed analysis and review one of the products on your website, then you can do that easily with the dedicated review system.
There are also custom review widgets that can display all the reviews showcase review scores and integrate them into all the post feeds.
Also, if you want to give your readers the opportunity to leave their own reviews and rating on some of the products, or even your posts, then that can also be managed with the simple star rating system.
There is even the option for sorting posts based on the number of ratings they have received.
This can help you increase user engagement on your site, as well as help you understand what type of articles are performing better with your audience.
The Divi Builder
The Divi Builder is a drag and drop page builder from ElegantThemes. It can help you create custom layouts by simply dragging and dropping design modules anywhere on your website.
All the changes you make can be viewed in real-time, which makes customization a breeze.
There is no necessity for you ta have any coding knowledge. All the design modules are made available at your disposal.
Just by playing around with different column structures, modules, and different design elements, you basically have unlimited design possibilities.
Here is a list of the different design modules and elements that you get with the theme.
Divi is a front-end website builder that means, you can point and edit any section of your site without even going to the backend of your site.
You can click on any section and start editing.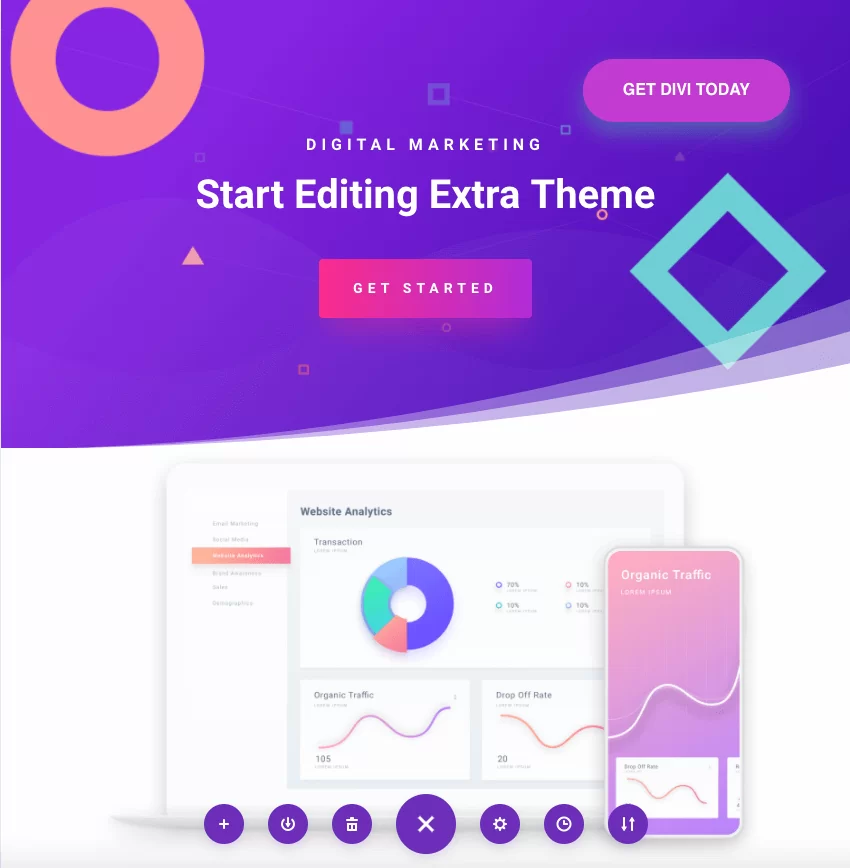 Using Premade Layouts
The Divi Builder makes it easier for the users to create beautiful layouts by using the ready-to-use premade layouts.
Divi comes with a library of designs that you can access and use any design on your page as per your need. In fact, you can create a custom design yourself and save it in the library so that you can use that in the future on any other page.
The process of adding a custom layout from the library is simple.
Create or Edit a New page
You can use the Divi Library and add a design to your page while you create a new page or edit any old page.
For example, if you are editing you about us page on your site; you can create a very professional-looking about page just by adding a new design from the library.
It will save a lot of your time as you don't have to design a page from scratch.
As you edit your page using the Divi Builder, you will get the option to choose a pre-made design from the library for your page.
Choose Your Option
In this step, you will get the option to choose the source of your design within the library. You can access a design from the premade layouts that are created by the ElegantThemes team, your own layouts that were saved before, or replicate an existing page on your site.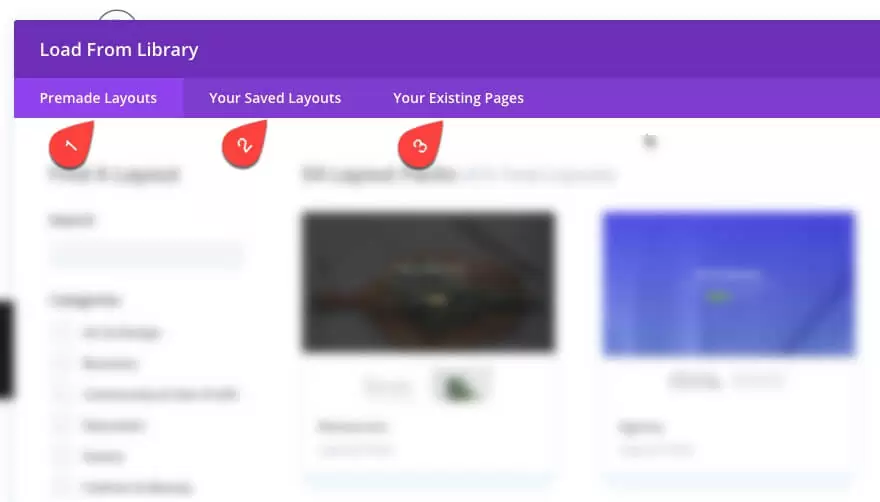 As you choose to use a design from the premade library, you will see the available options. You can check the demo of the template you chose before clicking on "Use This Layout"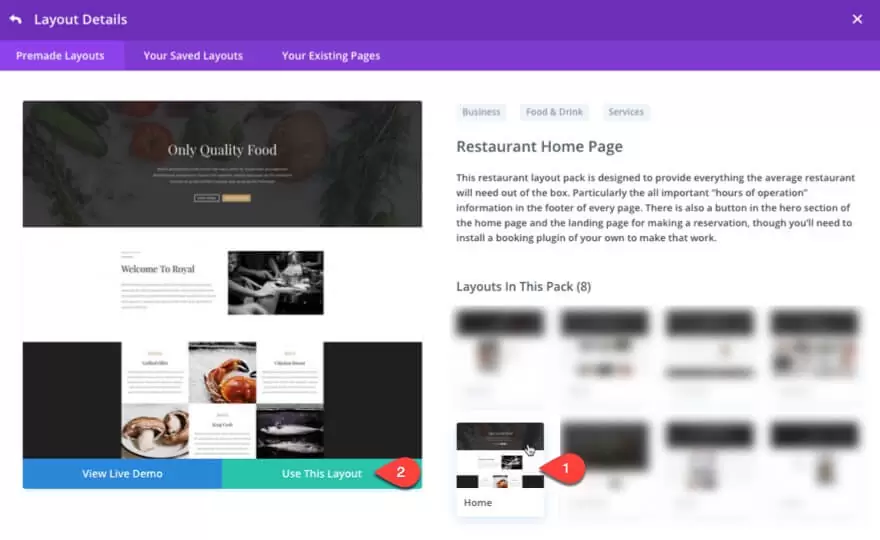 Add Layouts to Existing Content or Replace Existing Content.
here is another advantage of using the premade layout. It gives you the option to use the content on your page on the design you choose. That will simply add the layout with your own content.
Also, if you choose to add the layout by completely replacing your content from the page, you can do that by clicking a button.
Once you have the design, you can click on each section of the page and start adding your content.