All In One SEO is one of the leading SEO plugins that can help you to optimize your WordPress site. It comes with all the features that you may need to improve organic visibility.
Let's have a look at how All In One SEO can help.
TruSEO On-Page SEO Optimization
It is very important to optimize your blog posts properly so that they get ranked. All In One SEO comes with TruSEO Score option to offer you in-depth SEO analysis of your posts before you make them live.
You can add the
Title tags
Meta descriptions
Keywords
It also supports other elements to optimize the on-page SEO optimization. After adding the necessary details, you can check whether it is SEO optimized or not.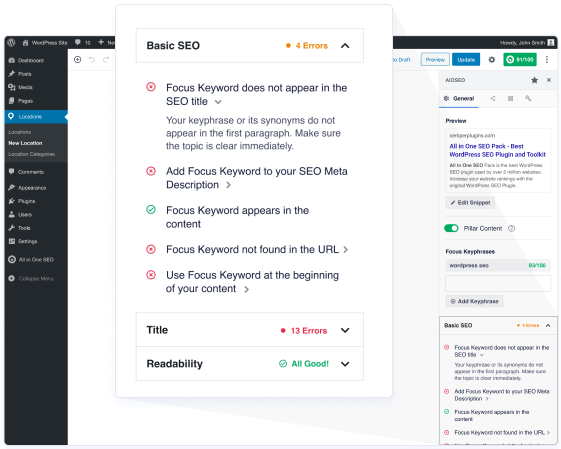 The plugin supports detailed, actionable insights to ensure that you attract maximum traffic to your website. Furthermore, it empowers users to set a canonical URL too.
Additionally, its smart tags dynamically add all the relevant information to the meta descriptions and title tags. The plugin also automatically adds information about the current year, author info, and custom fields.
SEO Audit Checklist 
You can use the SEO Audit Checklist to analyze the overall SEO score within seconds. It provides insights on
Critical Issues
Recommended Improvements
Good Results.
With the help of this analysis, you can identify the critical errors that harm the website's ranking. Not only does the All In One SEO Plugin identify the errors, but it also provides you with detailed instructions which you can use to fix the problem.
Once you have fixed all the issues, you can redo the audit to see an improvement in the SEO score. Fixing the issues pointed out