The Rank Math Plugin is one of the best premium SEO plugins in 2021. Ranked as "Best Premium SEO Plugins 2020" in many different listicles on the internet, this tool has more than enough features to please any business owner looking for an easy-to-use, versatile plugin that will make your website stand out.
Here's a highly detailed and researched review of the plugin to help you decide whether to purchase this WordPress SEO tool.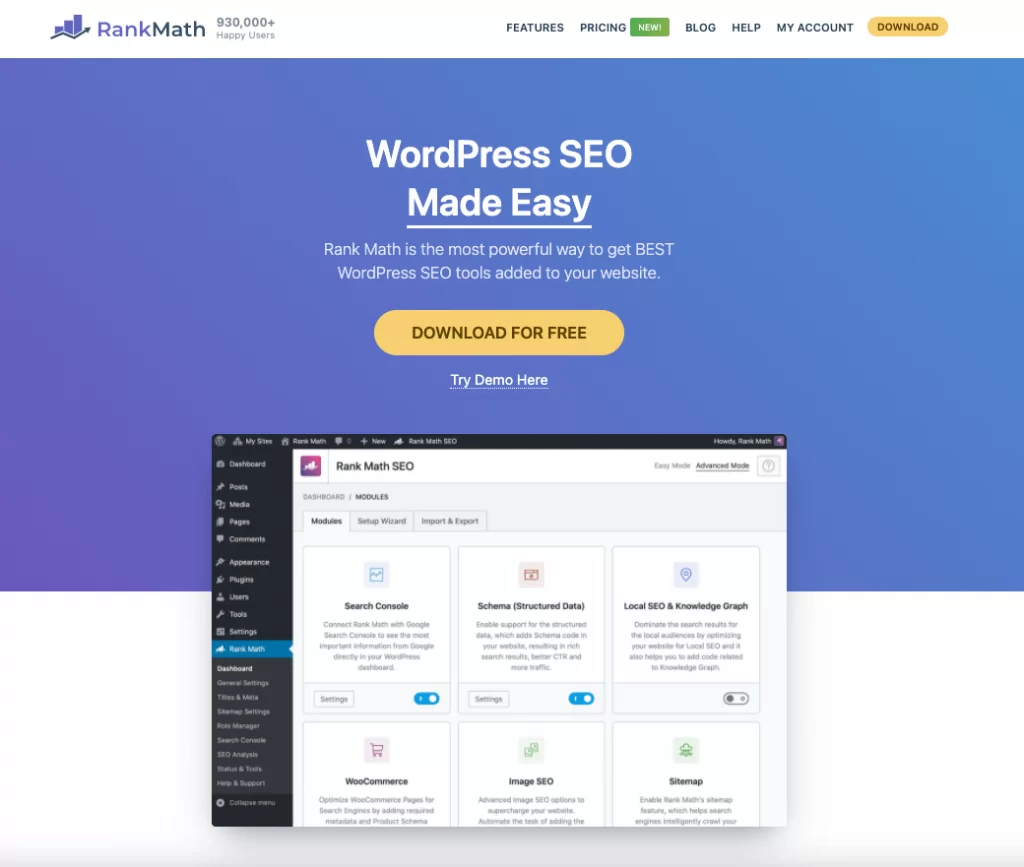 Rank Math Review: How Does It Work?
Rank Math has been one of the most popular WordPress plugins that was adopted by many WordPress users in the recent past. While Yoast SEO plugin is still there and considered as one of the top SEO plugins for so many years, Rank Math is able to break a lot of its users with the comprehensive SEO solution it offers.
Rank Math plugin is an all-in-one SEO solution for WordPress sites. It offers you all the important features and options to help you optimize your website.
Starting from optimizing your homepage to blog posts to creating sitemaps, this single plugin will do it all.
So, let's check how to get started with the Rank Math plugin.
While the Rank Math plugin does offer a premium version with some additional features, the free version is good enough. We are using the free version on this site and other sites that we manage.
Getting started with the Rank Math plugin is quick and simple. You can install it like any other plugin from your WordPress dashboard. Go to your WordPress admin >> Plugins >> Add New and find Rank Math.
Install and activate the plugin.
Use the Setup Wizard for Configuration
The Setup Wizard will guide you through the process of configuring your website for Rank Math. Rank Math will offer you to set up a free account if you don't have one.
If you already have an account, enter your login and password information to proceed with the Setup Wizard.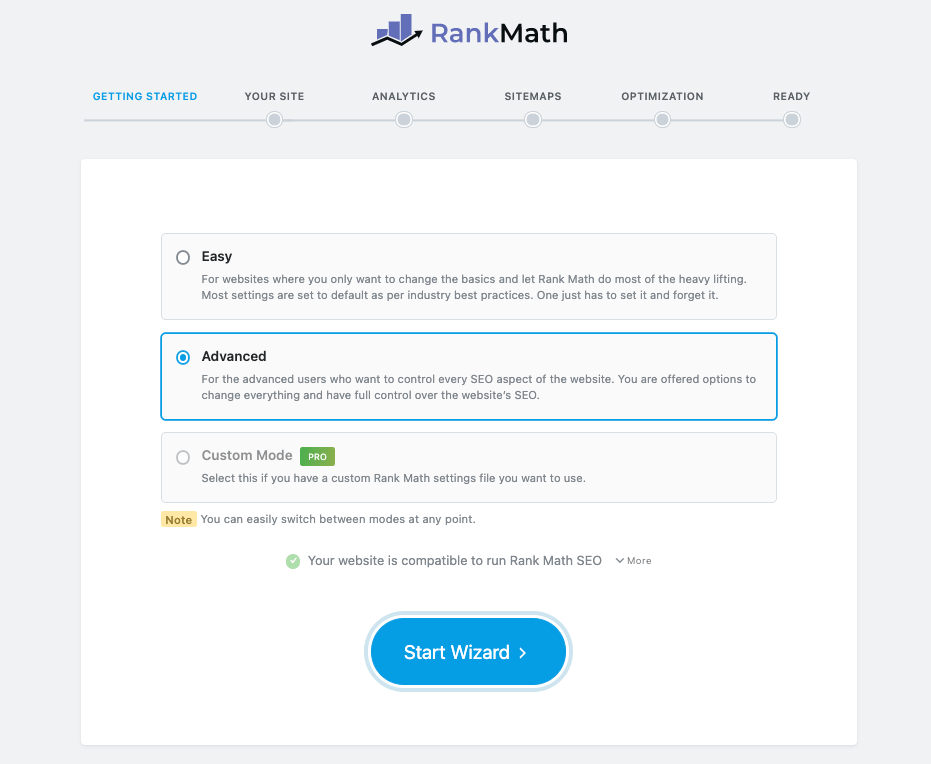 You get three options in the setup wizard. If you are a complete newbie user, you can go with the easy setup option and the plugin will take care of most of the settings.
If you are advanced user, you can select the advanced option where you can control all the settings as per your need. And if you are apro Rank Math user, you can use the Pro option.
We have selected the Advanced option and while running through the settings, you will get option to add your website details.
In the Analytics settings, you will get the option to add the details of Google services such as Analytics, Search Console details, AdSense etc.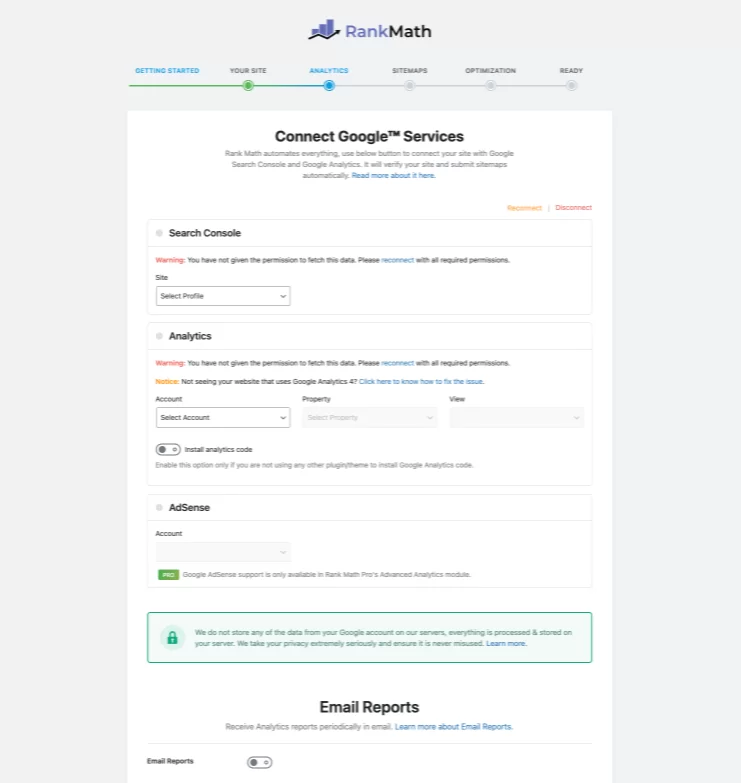 You can add these details and move forward or you can skip if you are using any other ways to add these details for your site.
In the next step, you will get the option ot create sitemaps for all the post types on your site. You can update the option by selecting the post types that you wish to create a sitemap for. Or you can skip it to do it later.
Importing Settings fro Yoast and Other SEO Plugins
Rank Math is a relatively new SEO plugin and if your site is old, you are probably using Yoast or any other popular WordPress SEO plugin. The Rank Math plugin gives you quick option to import the settings from the old SEO plugin as it is.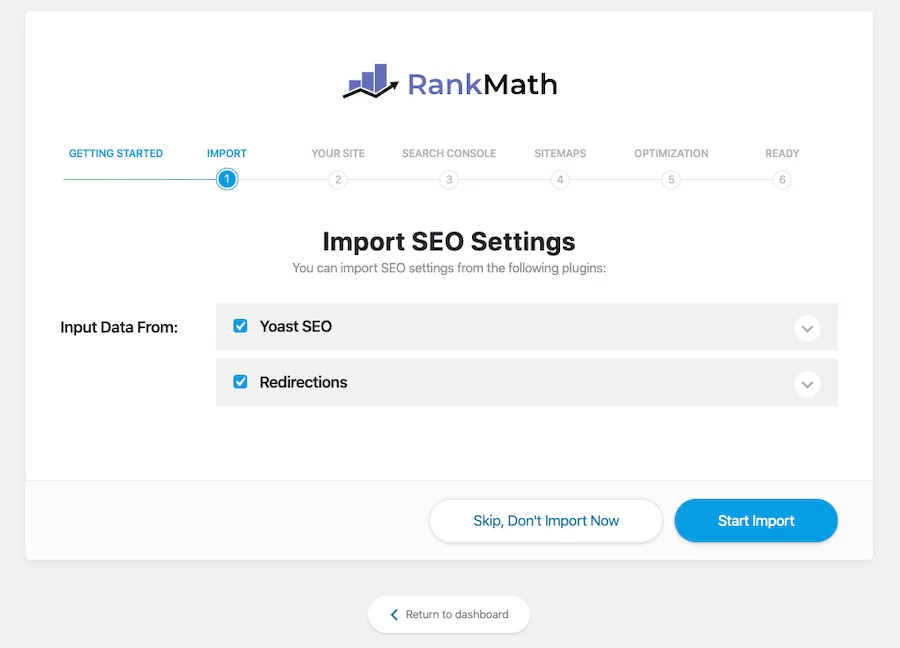 Another advantage is that you can import all the redirections that you have done one your site using the redirection plugin as Rank Math comes with built-in option for redirection.
To add a new redirection, you can click on the redirection option, add the source link and the destination URL to redirect a page. You also have the option ot select the redirection type.
Rank Math General Settings
Once the installation is done, you can come back to the Rank Math settings options on your WordPress dashboard. There are a number of options that you can manage as per your need.
Start with general settings. This tab includes a number of important options such as link management, Webmaster tool details, robots.txt file management, and others.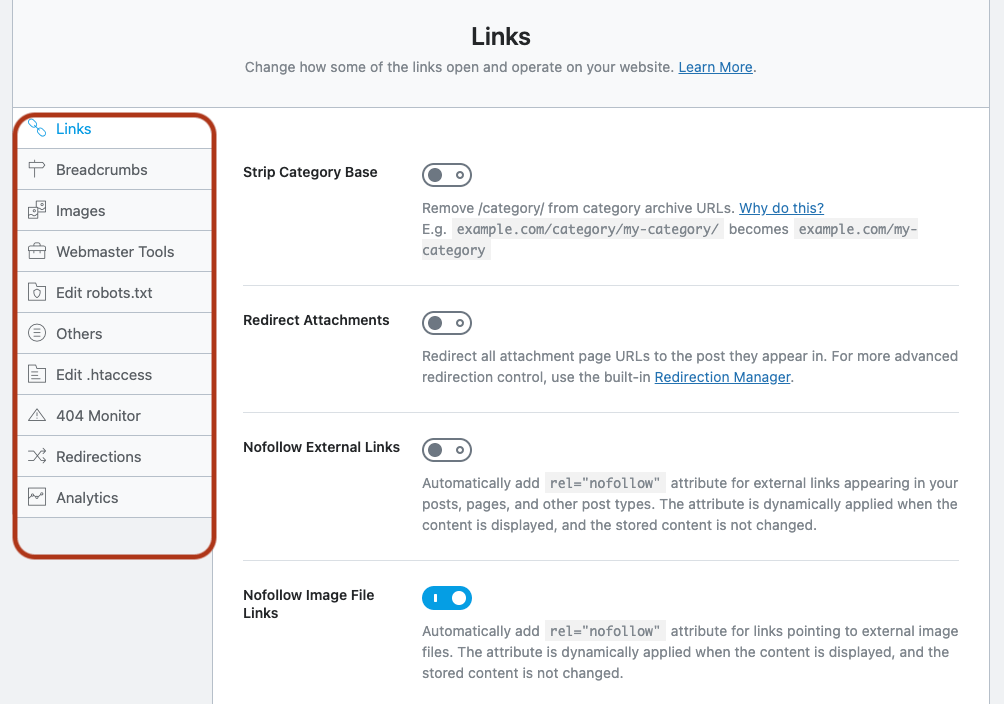 Rank Math Role Manager
The Role Manager toolset by Rank Math is another very handy option. Earlier, you had to use a separate plugin to manage different roles and the capabilities if you are managing a site with multiple authors and manager.
Here, you can define the role and the capabilities for each role type.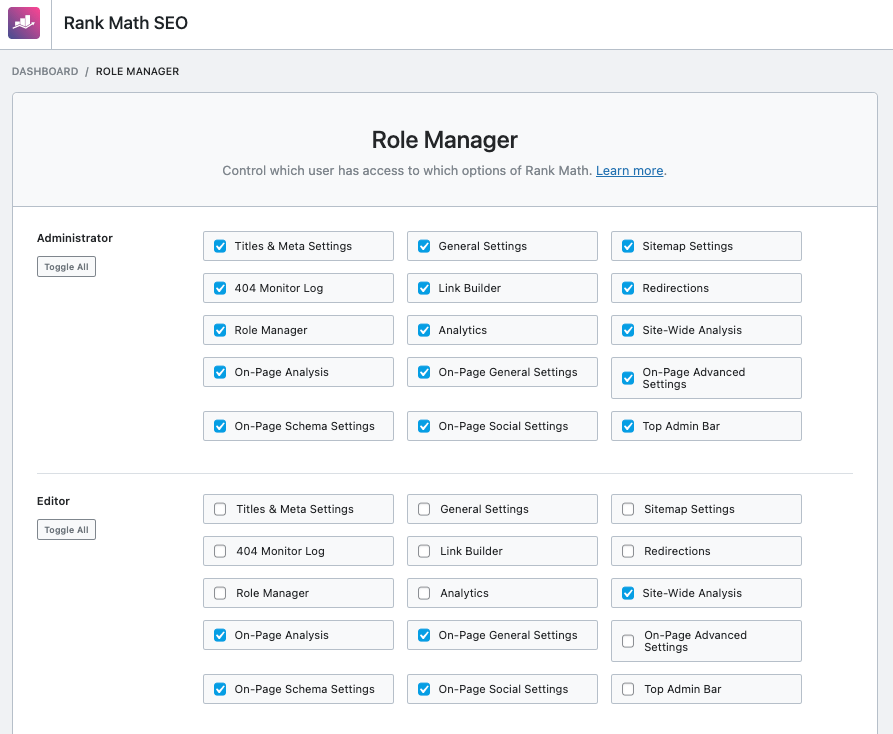 Comprehensive SEO Analysis: SEO Score
Rank Math has an amazing SEO analysis solution to diagnose your website's SEO and rank potential. It also offers an in-depth analysis of your content before publishing it.
You can set a focus keyword and check how well your content is optimized for that keyword. You will get overall optimization score for each article so that you understand how well it is optimized before you click on the publish button.
Site SEO Audit
Rank Math comes with site SEO audit option. This one-click audit option will analyze your site and give you the report on the improvements you need to do in order to optimize your site perfectly.
It will quickly analyze your site and give you a overall SEO score for your site and you will have details report below that understand the parameter that you need to improve.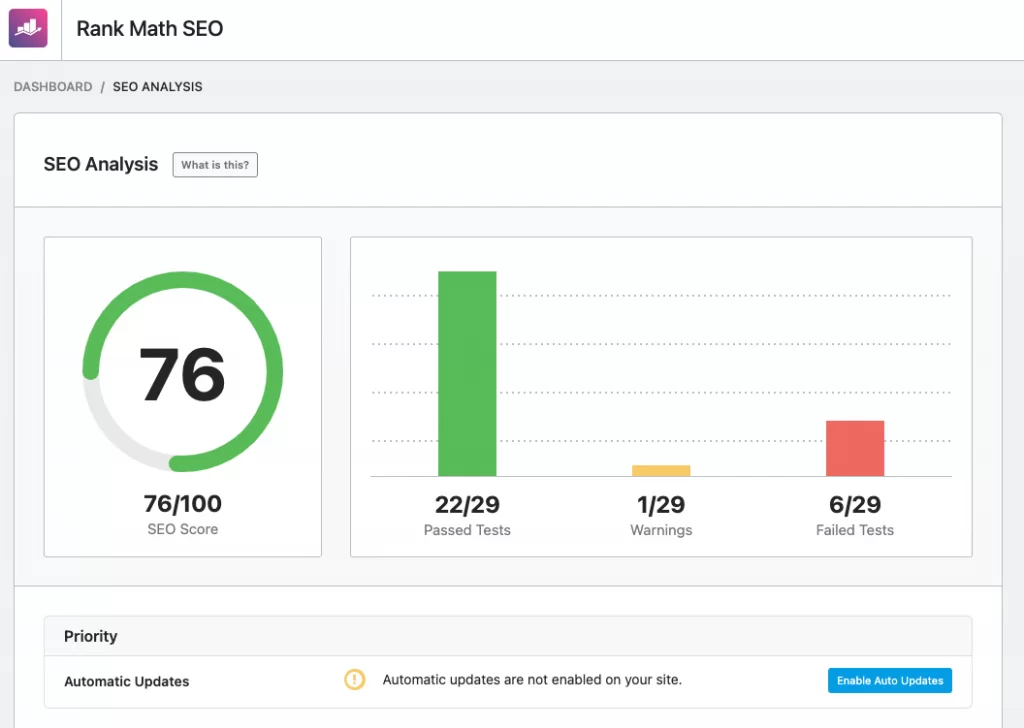 Rank Math Schema Markup for Each of Your Webpages
Rank Math's Schema markup is available on all public pages to provide search engines with information about your content.
Accessible by clicking the "Schema" tab in Rank Math, this tool can be used for adding custom meta-data that will help you rank better in Google's SERPs.
For example, if a user is looking up what food trucks are offered at an event, one could use our schema markups to add specific categories of food, like Mexican or Greek cuisine. Those who find the page through a Google search would have more relevant options when viewing it.
You can choose the type of schema markup that you want to appy for your site. You can also change the Schema type based on the content type on a page.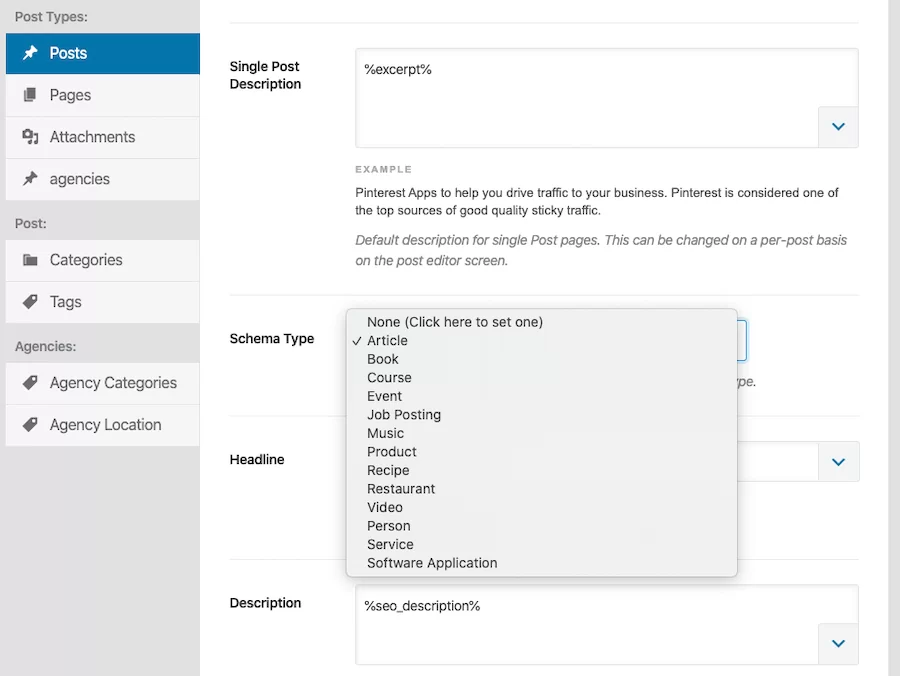 Manage 404 Pages
Sometimes, you miss the error pages on your site. While certain number of 404 pages are fine and almost every site have them, it becomes critical when the number grows. So, it is important to keep a track of all the 404 error pages on your site so that you can make a decision to redirect those pages to the most relevant page on your site.
The Rank Math plugin comes with a built-in option to keep a track of all your 404 pages.