Best recipe WordPress plugins that you can use on your food blog to present your recipes in the most professional way.
When it comes to blogging niches, food blogging is one of the most popular niches and it gets tons of traffic. While food is a large niche with so many big authority blogs already around, there is still a lot of scopes to create niche food bloggers.
There are food bloggers making thousands of dollars every month through their blog. You can do it too.
Here is a simple step-by-step guide to help you start a blog. So, if you are passionate about food, why not start a blog and share your recipes with the world.
Once you are ready with your blog, you will need to install custom recipe plugins that will help you to present your recipes in a better way and optimize it for rich snippet.
How Can The Recipe Plugins Help?
If you are managing a food blog where you publish your own recipes, do you really need a recipe plugin?
Well, the answer is yes as well as no. If you are using a custom WordPress theme where you have all the features built-in to publish your recipes and optimize it properly, you don't need a custom plugin.
However, if you are using a general WordPress theme, you will need a plugin to present your recipes pin a professional way.
Here is how a recipe plugin can help.
Present Your Recipes in Style
While a normal blog post where you describe everything about the recipe works and you can still drive traffic.
Presenting your recipes in a custom style with the table for ingredients along with the description, it will make your recipe posts look a lot more professional.
If you look at the top authority blogs in the food niche, you will understand how they present their recipes and these plugins follow the best practices to optimize your recipe posts.
Use Any WordPress Theme
If you add the recipe related features by using a plugin, you can use any WordPress theme of your choice. You don't need a custom theme that is created for food and recipe related blogs.
This is a much better idea because if you use a custom theme, it becomes really difficult to change the theme later of your site when you have hundreds of articles.
So, keep the custom recipe related features in a plugin while you use any popular WordPress theme or a page builder like Eliminator.
Add Recipe Schema
Adding proper recipe Schema Markup for your recipe post is very important to make the search engines understand your content better.
It will also help you to get the rich snippet for your recipe posts in the search results to make your post stand out and increase the click-through rate.
Don't miss our article about the best Schema Markup WordPress plugins.
So, let's have a look at the top recipe plugins that you can use on your WordPress site.
Top Recipe Plugins for WordPress
Here is a list of the best recipe plugins for WordPress that you can use on your food blog to make your recipe posts look better and to add the necessary schema markup for your recipe posts.
01

. Total Recipe Generator
Another plugin from the premium plugins edition, Total Recipe Generator has made the uploading process much easier. It provides ease drop-and-drag option.
If you don't want to start writing your recipe content from the scratch, Total Recipe Generator's pre-built templates will be there to help you. Moreover, it allows you to post recipes on pages and on custom post types.
For a beginner, you should definitely look forward to using the easy page builder that this plugin has to offer.
Best Features: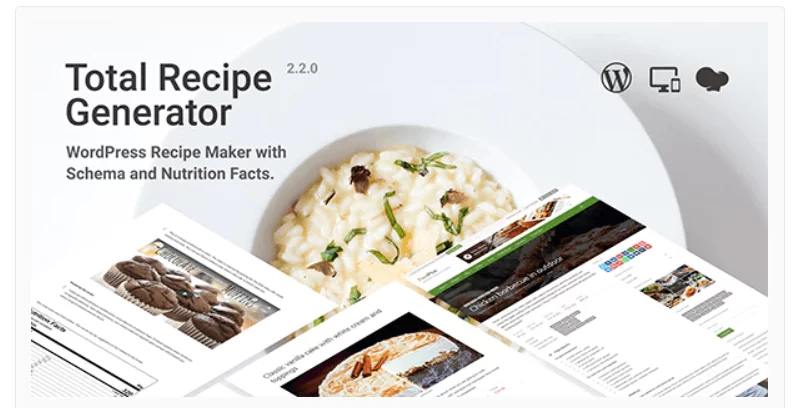 02

. Le Chef
Le Chef has gone one step ahead of its competitors when it comes to displaying the recipe content beautifully. It provides a special provision to add a grocery list and estimated duration for each step in the recipe.
It also provides a timer that will help the readers estimate how long the recipe takes to prepare. The readers can pause the timer feature as per their desire. It is filled with some of the best features, some of them are listed below
Best Features:
03

. WP Recipe Maker
In terms of active installations, WP Recipe Maker is one step ahead of WP Recipe Maker but the best features of this plugin are available on its premium version. This is what separates the plugin from getting the first spot on our list.
Nevertheless, this plugin is known for simplifying the process of uploading recipes on your WordPress site.
Best Features: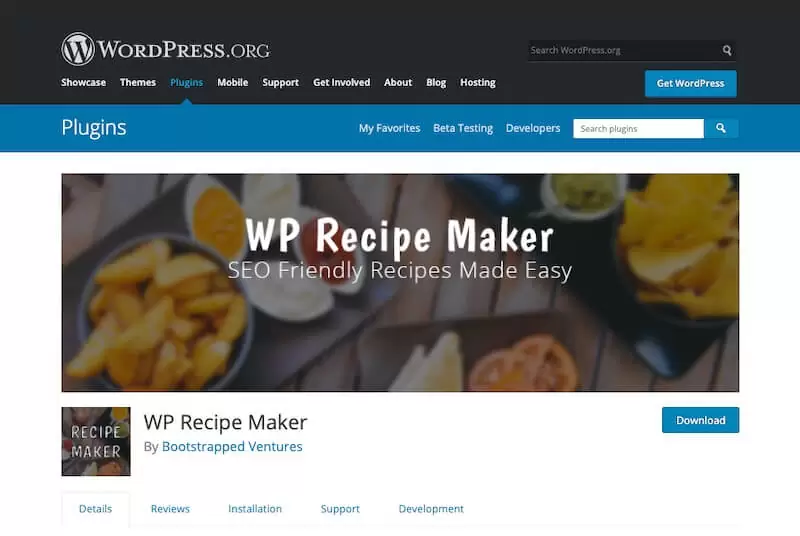 04

. Tasty Recipes
Tasty Recipes is another sound option for the best WordPress recipe plugin. The advantage of having this plugin is that you won't face any problem in importing your recipes from Ziplist, Cookbook, Meal Planner Pro, or any other WordPress recipe plugin.
Tasty Recipes will also readers to find your recipes on the search engines.
Best Features: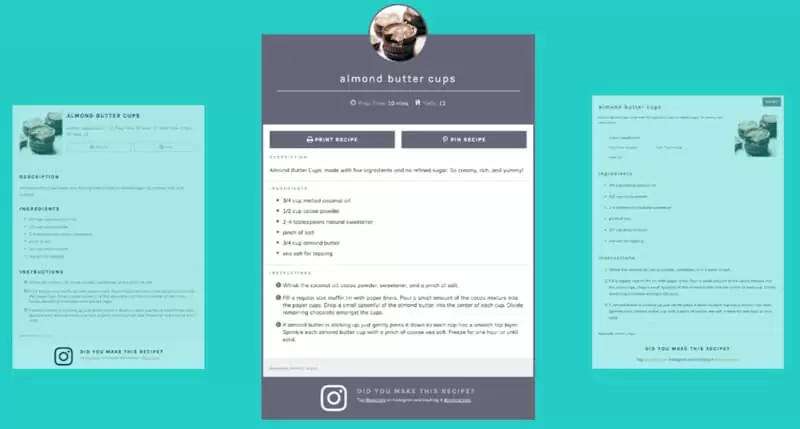 05

. Cooked
If you're looking for an easy way to create and display recipes on your WordPress website, Cooked is the plugin that you should try as it offers a drag-and-drop feature.
The drag-and-drop feature allows you to add ingredients, directions, nutrition, and much more to the recipes. It's not jam-packed with features as WP Ultimate Recipe is but it covers all the necessary elements you're looking for in a WordPress recipe plugin.
Best Features: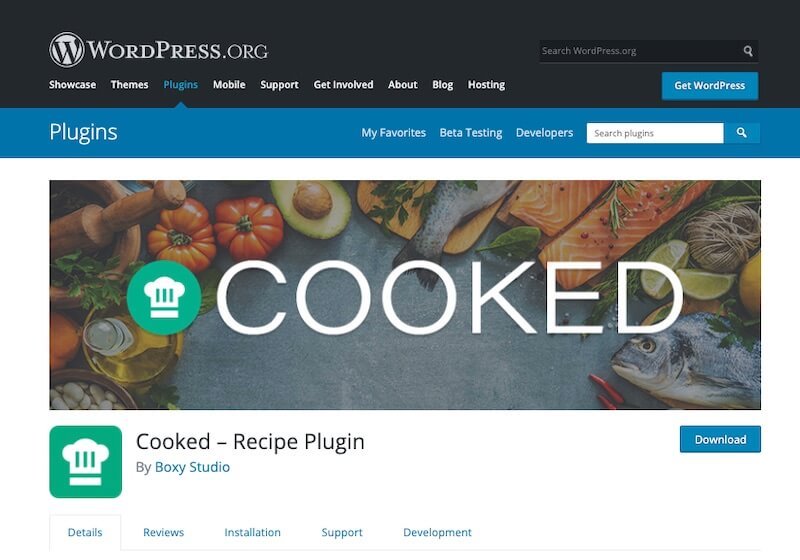 06

. Recipe Card Blocks
If you enjoy using Gutenberg, the Recipe Card Blocks plugin is specifically built to add beautiful-looking blocks to create recipe cards.
The best thing about this plugin is that it occupies the position right inside the WordPress editor as its block. So, you won't have to deal with separate blocks and interfaces.
Just like the rest of its competitors, the plugin is very capable of adding schema markups to all your recipe content. This will help in creating an enticing rich snippet to attract more readers.
Best Features: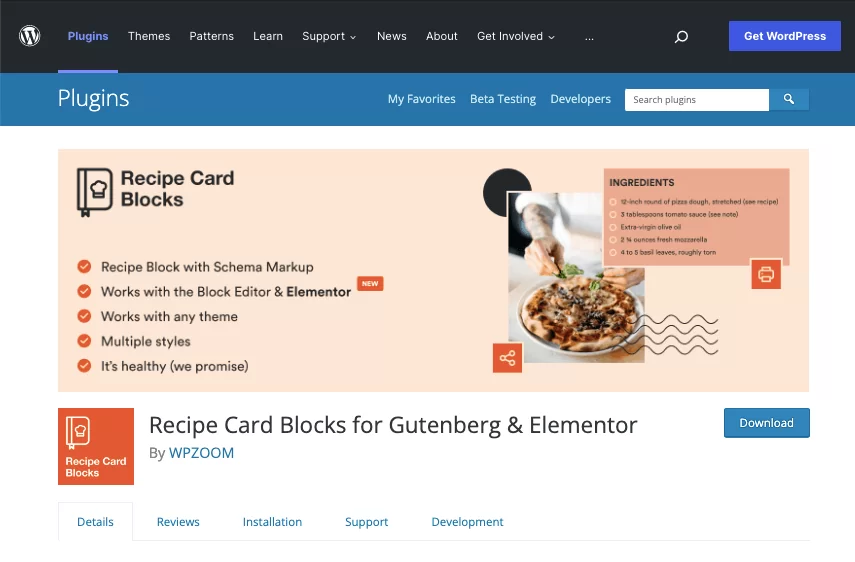 07

. Zip Recipes
If you don't want to invest time in learning for creating recipe content, Zip Recipes is the plugin you should try. The plugin helps you to create professional-looking recipes with the help of a user-friendly interface.
Just as the rest of the plugins in the list, this plugin also complies with Schema.org and JSON LD to show Google rich snippets for increasing the traffic.
Best Features: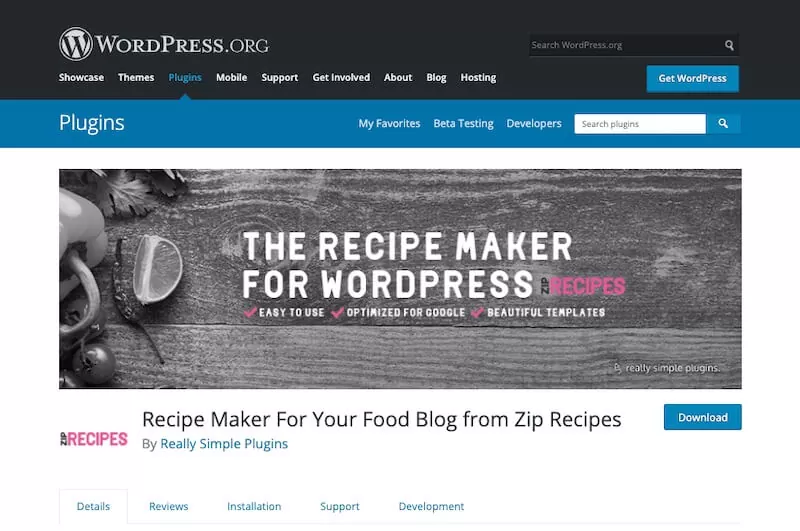 08

. Cookbook
Cookbook claims to be the world's simplest WordPress plugin. While you can argue with that claim, what you can't argue is its incredible capability to publish recipe masterpieces.
This plugin has covered all the aspects of a valuable recipe plugin. This is what you expect from a plugin that doesn't offer any free plan to its users. Nevertheless, with features such as SEO optimization, nutritional data, rich formatting, Cookbook is definitely worth a try.
Best Features: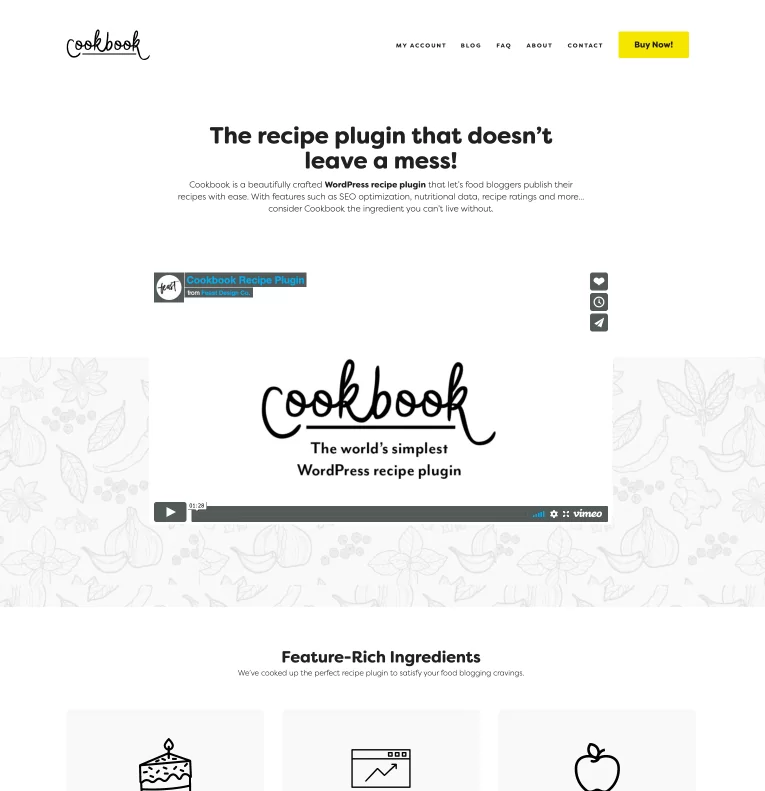 09

. Recipe Box
Recipe Box has been recently updated and it's safe to say it has gained its popularity to be one of the best recipe plugins on the internet.
The plugin is packed with features that will not only induce readers to check out your recipe blogs but also make search engines rank your site higher. Moreover, the layouts of the recipes would be retina-ready and responsive.
Best Features:
10

. Boo Recipes
If you know the basics of running your site on WordPress, you won't face any difficulties using Boo Recipes plugin for your recipe website.
Its impressive user-friendly interface makes the uploading process easier. The plugin gives you full control over the elements of the recipes as well as an option to select from 3 recipe index styles – Grid, Masonry, and List.
Best Features: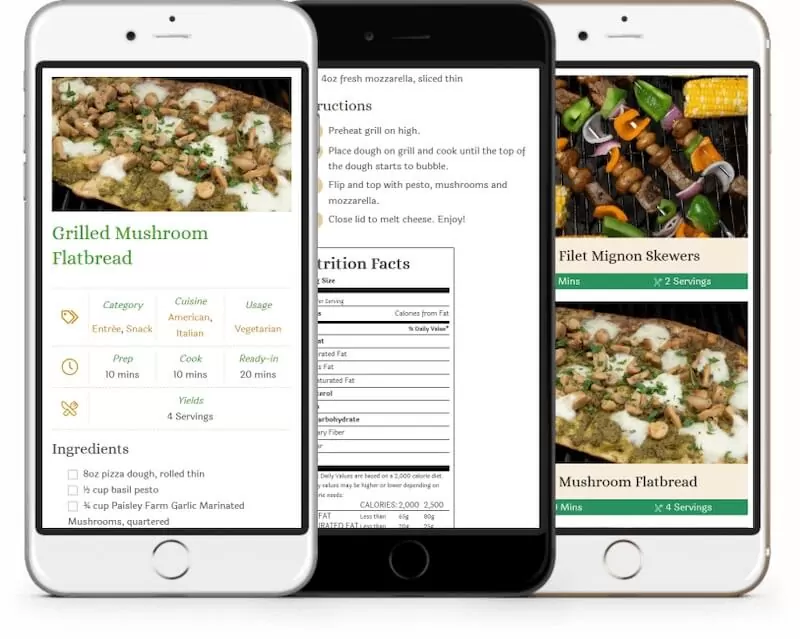 11

. Blossom Recipe Maker
If you want to create a recipe blog for your website in less than 5 minutes, you have to install the Blossom Recipe Maker plugin. Although you might not found this plugin as interactive as the rest of the plugins on this list, you have to explore it more to get the best out of it.
From adding new recipe blogs to existing blog posts to allowing your visitors to translate the recipes on your site, this plugin is filled with astounding features. Some of them are explained below.
Best Features: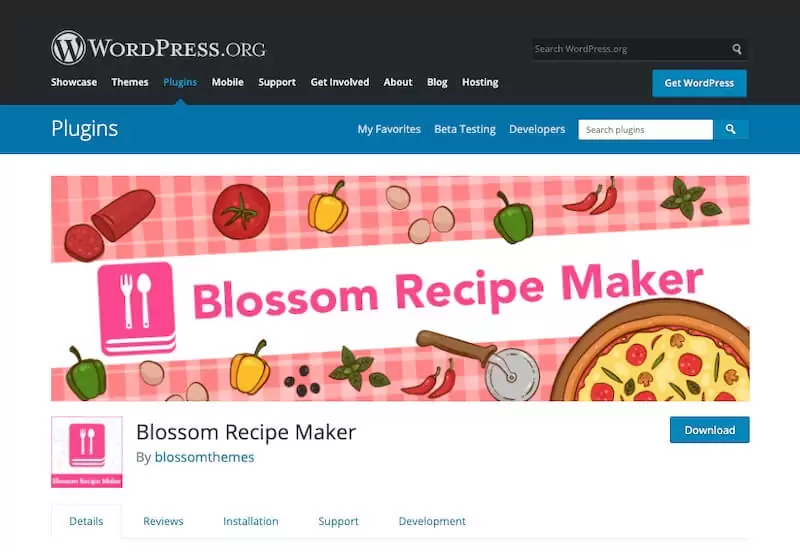 12

. RecipePress Reloaded
RecipePress Reloaded is a simple-looking WordPress recipe plugin that will not only help you create beautiful recipe posts but also organize them in the way you want.
The pre-defined recipe categories would help you organize your recipes on the website.
It further allows you to publish recipe posts as a standalone post or merge it with any existing post or page.
Best Features: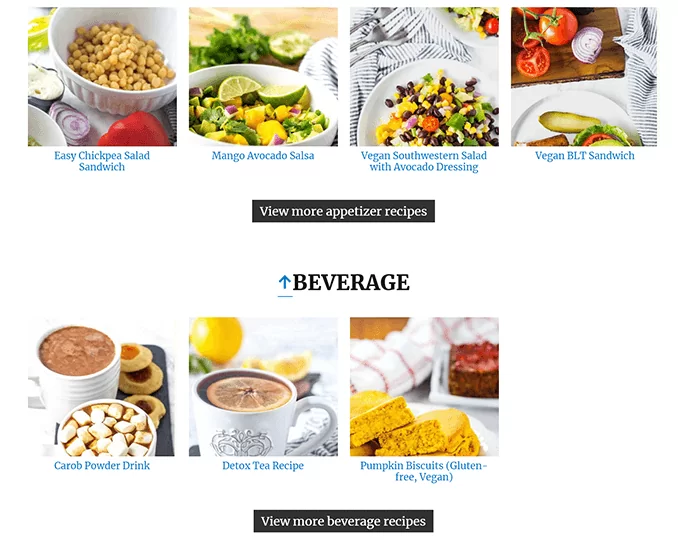 13

. Create
If you're already using some other WordPress recipe plugin, you won't face any difficulty importing your recipe content from it. Create will help you create an attractive recipe card that will support all types of content.
Apart from being an ease-to-use plugin and providing the facility of importing, Create is a lightweight plugin that will help your site load faster.
Best Features: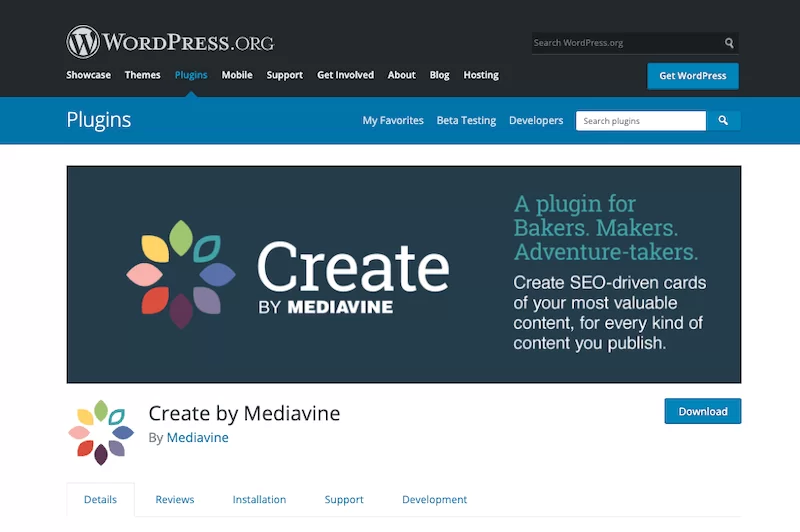 14

. SEO Recipe Snippet
Although this plugin was designed specifically to show rich snippets on Google that will help your recipe content rank higher, don't let its name confuse you.
The plugin allows you to create attractive recipe posts where you can add title, images, ingredients, preparation time, and much more.
The advantage of using this plugin is that it showcases all the information including prep time, ratings, and description in the rich snippet.
This plugin can help you gain a lot of organic traffic for your recipe website.
Best Features: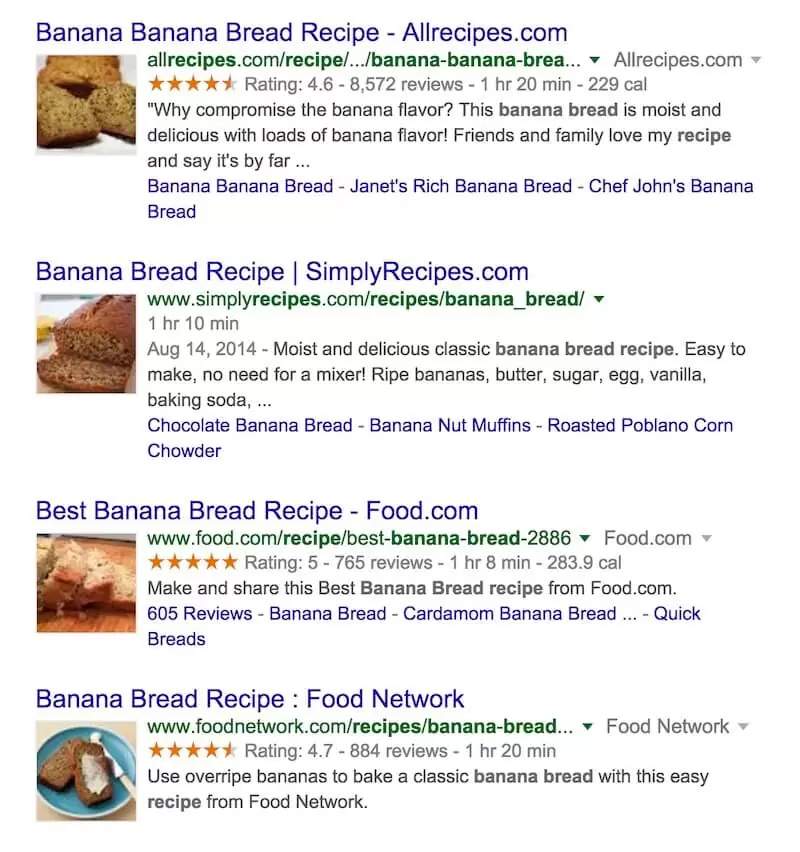 15

. RecipePress Reloaded
RecipePress Reloaded is a free recipe WordPress plugin that you can use to create engaging recipe posts on your site.
As you install the plugin, it will create a new post type called recipe with important categories. You have the option to add your own categories as per your need.
You can use the new post type to create your own recipe collection with all ingredients and detailed process that is easier for the readers to folllow.
Best Features: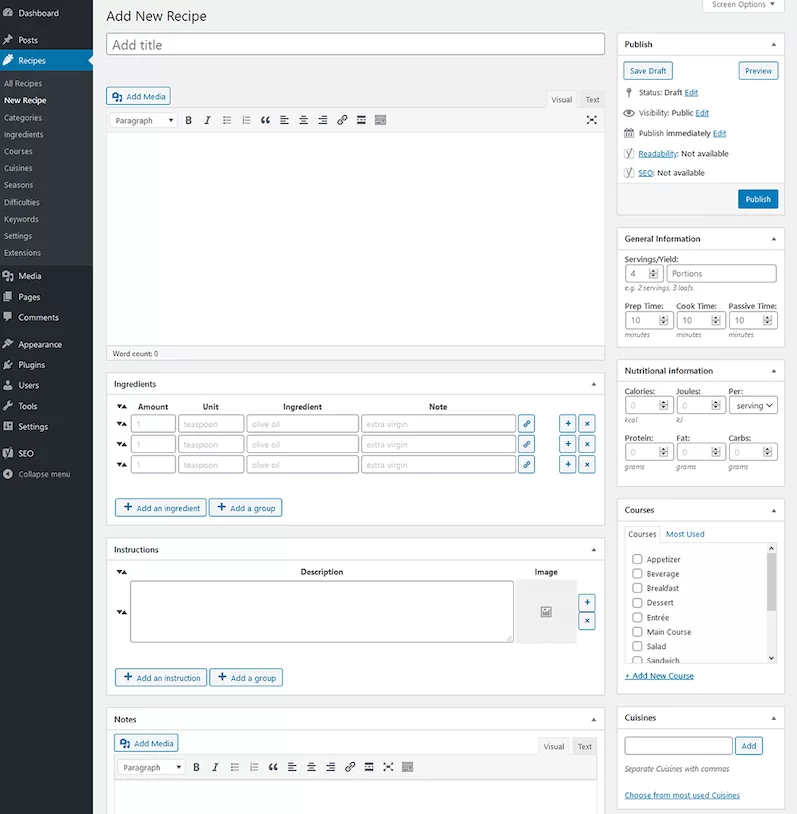 WordPress Recipe Plugins FAQ
---
Q1. What are the best recipe WordPress plugins?
There are many great recipe WordPress plugins available. Some of the most popular include Total Recipe Generator, Cookbook, and EasyRecipe.
Q2. What are the benefits of using a recipe WordPress plugin?
Using a recipe WordPress plugin can help you to easily create and manage your recipes. It can also help you to easily share your recipes with others.
Q3. What are the features of the best recipe WordPress plugins?
The best recipe WordPress plugins will offer a variety of features. Some of the most popular features include the ability to easily create and manage recipes, the ability to easily share recipes, and the ability to easily add photos and videos.
Q4. How do I choose the best recipe WordPress plugin for my needs?
When choosing a recipe WordPress plugin, you will want to consider your needs. If you only need a basic plugin, then a free plugin may be sufficient. However, if you need more features, then you may want to consider a paid plugin.
Q5. What are the pros and cons of using a recipe WordPress plugin?
There are both pros and cons to using a recipe WordPress plugin. Some of the pros include the ability to easily create and manage recipes, the ability to easily share recipes, and the ability to easily add photos and videos. Some of the cons include the fact that you may need to pay for a plugin if you want more features and the fact that some plugins can be difficult to use.
Final Word
So, these were our recommendations for the best recipe plugins for WordPress that you can use on your food blog to add different recipe related functionalities.
I hope you are able to find the best plugin for your site here.
We have tried to add more of free plugins so that even a complete newbie with very limited budget can take the advantage of these free plugins to create a successful food blog.
Do let us know your feedback, suggestions by using the comment form below.