What is Schema Markup?
Schema markup is a structured data format that helps the search engines to understand your content better and is responsible for the rich snippets of websites that appear in search results.
It is basically a bunch of code that you enter into your website to make sure search engines display important and helpful information related to your website to your visitors.
WordPress is a Content Management System that offers a certain level of robustness and reliability.
For Schema plugins, the name defines a lot. These kinds of plugins are specially developed to simplify the tedious tasks of incorporating schema markup for WordPress-based websites.
From compressing the content of your website to developing a feature-rich snippet, Schema Markup Plugins are all about raising your search engine rankings. Coding for Schema markup and adding schema content manually is a very tedious task.
Why is Schema Markup Plugins Important?
Let's take an insight into the benefits and importance of Schema Markup Plugins for WordPress websites:
It Helps in Adding Schema Markup Easily
One of the obvious benefits of using a Scheme plugin is that it will help you to add the required markup to your WordPress site easily.
So, you don't have to go through all those technical steps to add that manually to your site.
Often just named "Schema", Schema Markups are a set of organized functions that search engines use in order to generate information-packed, rich snippets in search engine result pages.
It Helps Search Engines with The Context of Your Content
When you expect machines to understand your content, you will have to make it as easy as possible so that there is no doubt about the bots.
Search engines can only read out your website's backend codes. For ranking, you will have to rely on the algorithm for the search engine and your website's context.
Schema streamlines this complexity with a lot of ease for your search engine. When any crawler enters your website,
The schema plugins help them in structuring the content of your website.
It Boosts Your CTRs and Ranks by Showing Rich Snippet
Having a schema plugin not only helps you in boosting your website's ranking, but it even boosts your click-through rate.
In order to make it big on the internet, having good CTRs is very important. Search engines these days closely monitor your website's CTR while ranking as well.
The CTR tells the number of people who enter your websites by clicking on specific URLs compared to the number to see that URL.
As the Schema plugin helps you to add the rich snippet for your content, your article will stand out in the search results increasing the overall click-through rate for your posts.
To give you a better perspective of the rich snippet and how it shows in the SERP, here is an example.
We have looked for the "best mexican chicken recipes". Now have a look at the result page.
As you see in the image above, those sites with star ratings at the top and in the regular results have implemented rich snippet schema markup on their sit. So, these articles will certainly have a better CTR than other normal results on the page.
Like the recipe example above, you can implement rich snippet markup for a number of different article types. For example, book reviews, product reviews, person, companies, restaurants, and more.
Best Schema Markup Plugins For WordPress
We have listed the best Schema Markup plugins below that will help you to add the rich snippet to your site.
0

1

. Schema Pro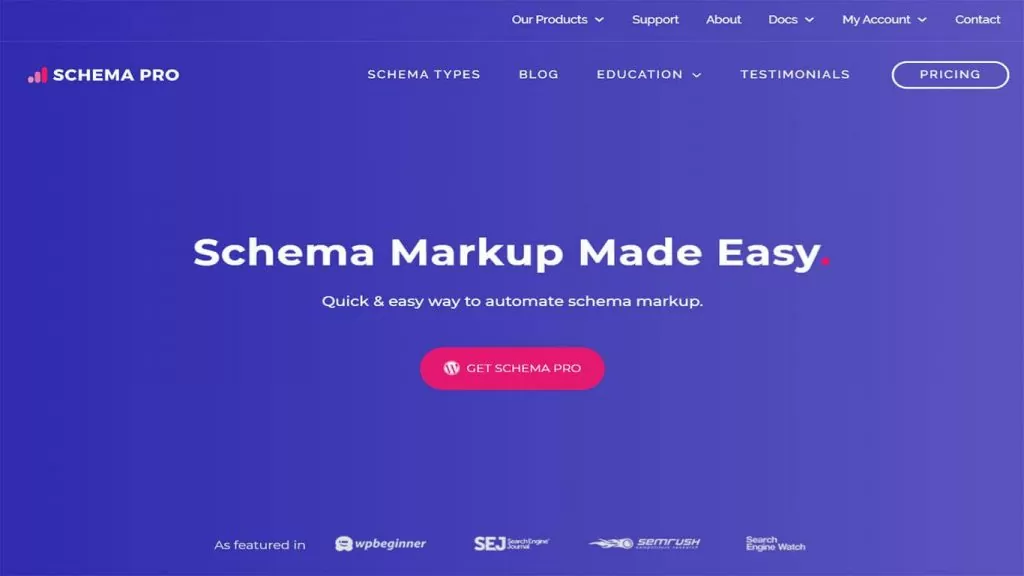 Schema Pro is one of the most popular Schema Markup plugins for WordPress in this list. The plugin automates all of your major schema markup needs with ease.
Once you have the Schema pro plugin, you don't have to do anything extra to implement schema on your site.
Designed and developed by the team of Brainstorm Force, Schema Pro offers a comprehensive schema markup plugin for WordPress.
Here are the Schema types supported by this plugin
Getting Started With Schema pro
Once you activate the plugin, you can implement different schema types in just two simple steps.
For example, if you wish to implement how-to schema for your how-to kind of articles. You can select the how-to schema type from the list of available options.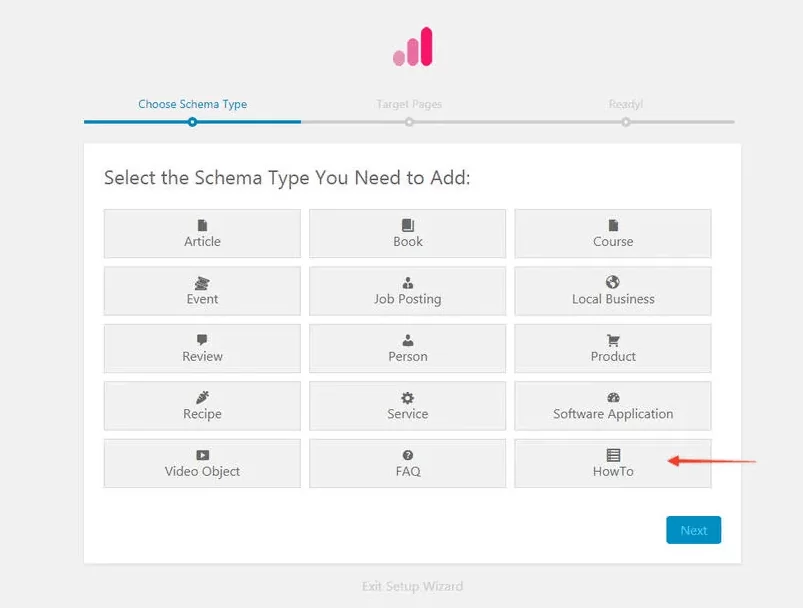 In the next step, you can select your how-to category to apply this schema type. Save these changes and done.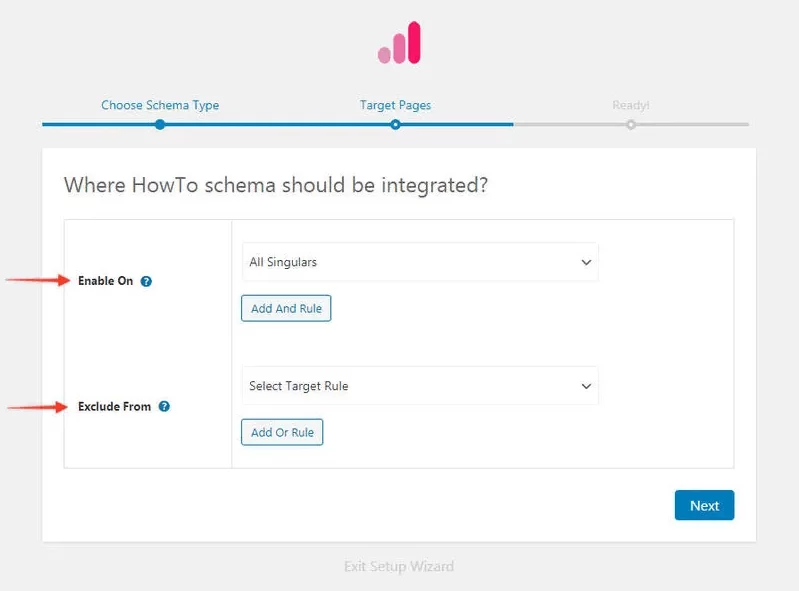 The Schema Pro plugin supports WordPress custom fields (ACF compatible). It is a lightweight, highly optimized plugin.
Price: The plugin offers you two different packages to choose from. The first one is for $79 which will get you access to Schema Pro. And the second is for $249 which will give you access to all the products such as the Astra Pro theme, Convert Pro, and others.
---
02

. WP Review Pro
WP Review, as the name suggests is a popular product review plugin with schema-rich snippets. So, if you are planning to create a product review site, you can use this plugin.
You must have seen those high authority review sites where users can submit their own reviews and rating for any products. You can use the WP Review Pro plugin to create a similar site and allow your users to submit reviews on your site.
The user-based review sites are always popular as genuine users submit the reviews, which makes them trustworthy to the general followers.
WP Review Pro offers rich snippets for a number of unique scheme types. This scheme markup plugin specializes in the review scheme type.
Creating review cards and templates is also very easy using the WP Review Pro plugin. Also, the plugin includes features to adjust the look of your ratings and reviews.
The plugin currently offers nineteen different rich schema types. So, it covers almost all scheme types that are popularly available.
It also gives you the option to implement Google reviews, Yelp reviews, or Facebook reviews on your WordPress site to make it more interactive.
You can showcase reviews in a great-looking way on your site using the WP Review Pro plugin. It offers you sixteen different design options to choose from.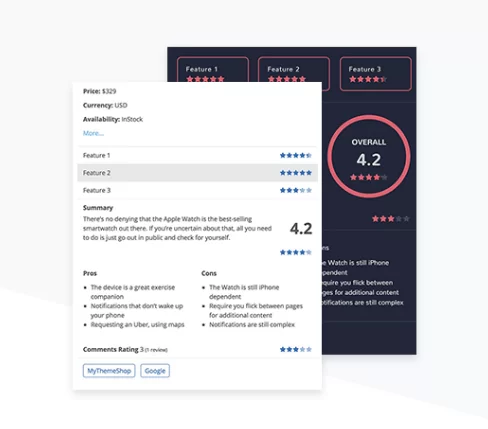 Even your visitors will be able to write reviews on your site making your site a lot more interactive.
You can add the star rating option to the WordPress comment section or you can use the comment and rating option provided by this plugin.
Top Features:
Price: You can get the plugin for 3 sites at a cost of $87 or you can go for the membership option at $99 per year which will give you access to all the MyThemeShop plugins and themes.
---
03

. WordPress SEO Structured Data Schema
This plugin simplifies a lot of different complexities involved in the process of adding structured data and schema to your website.
The best part here is that you get to use this plugin on multiple different WordPress websites.
Another interesting feature here is that it can decipher data taken directly from JavaScript code and embedded unique widgets.
Different Schema Types:
Price: Offers you a free version. The pro version is priced at $49 for one site and $99 for five sites.
---
04

. WordPress Review & Structure Data Schema Plugin
As the name suggests, this is a plugin created to add various Schema options to your WordPress site. It is a very handy plugin to add a review feature to your website.
You can allow your users to the products and services that you offer on your site. It comes with complete support for the WooCommerce plugin.
So, if you are managing an online store created with WooCommerce, you can allow the buyers to add reviews to the products.
You can add many other details to the reviews such as pros & cons, images, videos, multiple review criteria, etc. So, you can create a complete review site like the top review platforms.
From articles to products, it offers a number of different schema options that you can choose as per your need.
In fact, it will auto-generate schema for your pages, posts, or custom post types as per your selection.
Top Features:
Price: Free & Paid versions
---
05

. Ultimate Blocks
Ultimate Blocks is a free-to-use Gutenberg block plugin that offers a number of very useful blocks that you can use while creating your post or pages.
Blocks such as the Click to Tweet option, table of the content block, call to action block, social share, image slider, and others make this plugin a great solution to add a number of different functionalities with a single plugin.
While we look at the Schema option and the rich snippet option, this plugin comes with a star rating option, a review block option that will help you to add a rich review option to your WordPress site and show the star rating in the search engines.
The review block feature is Schema Markup enabled which will enhance the overall quality of your site. The review block gives you the option to add a perfectly optimized review box to your blog post that you can showcase along with the review parameters and individual ratings for each review parameter.
Here's how it looks.
FAQ Schema Block
If you are an active blogger, you probably understand the benefit of FAQ Schema these days. It helps you to display the question and answer in a rich result display in the SERP along with the questions and answers along with other post details.
Here is how it looks in the search results.

The Ultimate Blocks offers you a Content Toggle (Accordion) Block where you can add FAQs and enable Schema Markup to display the rich result in the SERP.
Please Note: Adding the FAQ Schema doesn't guarantee a rich result, there are many other factors that influence the FAQ Schema result and search engines decide if they want to display it or not.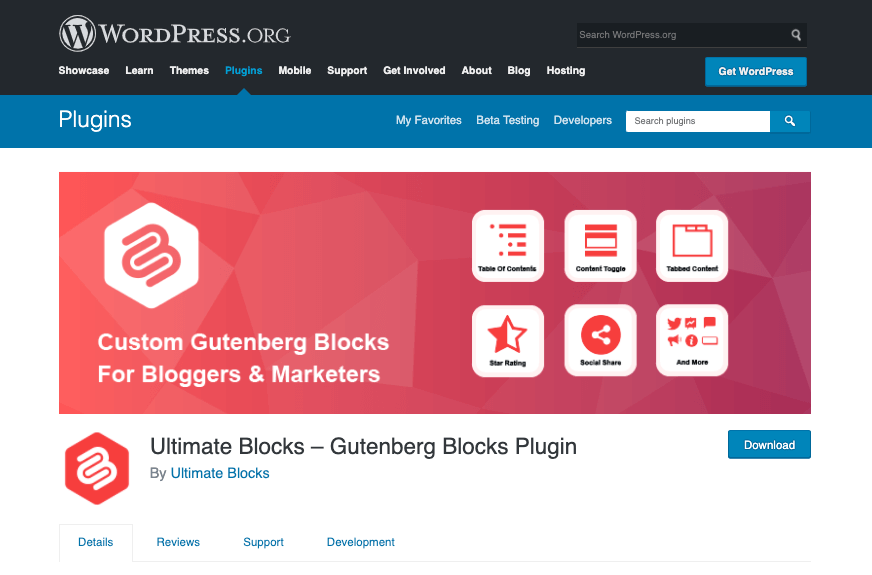 ---
06

. WPSSO Core
WPSSO Core is another free WordPress plugin that is developed by JS Morisset. An all-inclusive solution for major SEO and markup needs, WPPSO is packed with a lot of different functionalities.
The plugin allows you to include a lot of different meta tags and schema markup for Facebook and other important platforms, like Google.
Top Features:
Price: Free to download.
---
07

. Schema
Developed by Hesham, Schema is one of the most intuitive WordPress plugins on this list. Schema plugin empowers you to make scheme markups easily and quickly, unparalleled to any other competitor.
With more than 70,000 active users, the plugin supports a number of different schema markups, such as logos, social links, graphs, and so on.
Top Features:
---
08

. WP Rich Snippets
One of the most popular and widely used Schema markup and rich snippet review plugins, WP Rich Snippet simplifies the process of adding an optimized review box to your WordPress site. The plugin offers great support for local businesses and online articles.
With additional functionalities like translation and WooCommerce reviews, WP Rich Snippets is one of the few comprehensive plugins you'll find on the internet.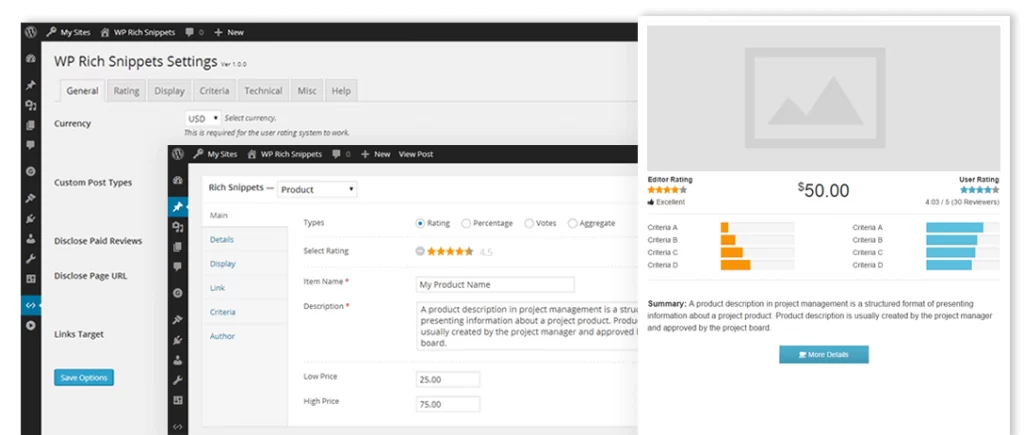 Top Features:
---
09

. SNIP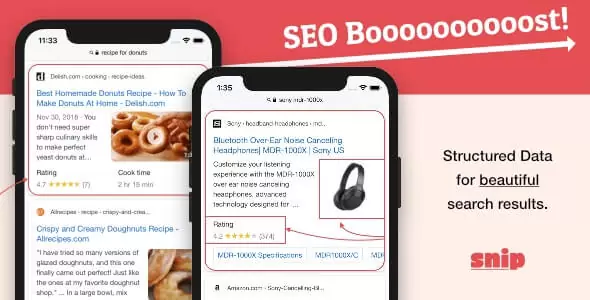 Also known as Rich Snippets, this plugin is another very popular WordPress plugin that helps you in ranking better.
Rich Snippets plugin also integrates a lot of unique functionalities, such as a number of different schema types and function that allows you to fill posts of default pages, as well as on different posts.
This plugin takes the structured data implementation one step forward by offering you an option to generate custom structured data. It will help you improve the visibility of your posts to a large extent.
Top Features:
---
10

. All-In-One Schema Rich Snippet
This is the free version of the Schema Pro plugin that we have listed at the top. It includes a number of different schema types, such as support for movies, postings, music, books, courses, TV episodes, and even recipes.
All-In-One Schema Rich Snippet also offers a comprehensive solution for all kinds of users.
Top Features:
---
11

. Five Star Business Profile and Schema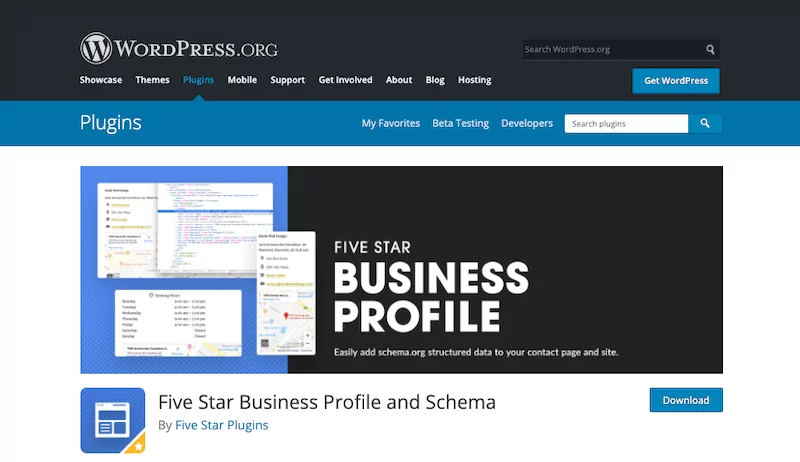 The Five Star Business Profile and Schema plugin include feature-rich integrations and features for movies, books, games, products, software, and so forth.
This plugin is a go-to solution if you are looking for business profiles, contact pages, and so on. The plugin is incorporated with a lot of support options and updates also.
Top Features:
---
12

. Schema App Structured Data
The Schema App Structured Data is a very handy WordPress plugin to improve the overall quality of your articles on the search results page with additional information.
The plugin will help the search engines to understand your content better and improve ranking.
The plugin will automatically add the required structured data for your posts, pages, category pages, author pages. You just need to activate the plugin and add basic information such as logo, site name, etc.
It also gives you the option to customize the schema markup using the settings if you have a proper understanding of what you are doing.
The Schema App Structured Data is a premium plugin and the premium version of the plugin brings in a lot more possibilities when it comes to adding Schema markup.
Top Features:
---
Concluding
So, that was our list of top schema markup WordPress plugins. You can start with any of the plugins we have mentioned in this list.
The Schema Pro plugin that we have listed as number 1 is by far the most comprehensive option in the list. Though it is a paid plugin, you will get a return for your investment with the kind of features it offers.
Schema Markup allows different search engines to know more about your website and defines what your website is all about. And it will help you to increase the click-through rate of your posts as we mentioned above.
Make sure you choose the best schema markup plugin for your WordPress website. And if this list has missed any of your favorite plugins, then do let us know the same in the comment section below.