You must have already come across the web browser push notification on the big sites. All the big websites ask you to subscribe to their push notification service these days.
So, should you be using the push notification on your site as well?
The answer is most definitely. The push notification can be extremely effective in bringing regular traffic instantly after you publish a new piece of content.
With push notification, you will be able to bring back regular traffic and engage users with your new post increasing the possibility of fresh social sharing of your content.
If you are managing an eCommerce site, the push notification can be extremely effective in bringing you fresh new sales.
Push Notification Vs. Email Newsletter
Push notification and email newsletters are two different things, so it is not an apple to apple comparison. However, both these activities are targeted towards the same goal.
Bringing your subscribers back to your site.
The advantage with push notification is that you can send it more frequently than the newsletters. Also, the open rate of push notification can be much higher than the email newsletters.
However, push notifications can't replace the traditional email newsletters as the email marketing is still considered as one of the best ways to increase revenue for any website.
In this article, we will look at the best push notification WordPress plugins that will help you to set up the browser notification for your site quickly.
What Are The Top Push Notification Plugins for WordPress?
Push notification is a must-have marketing option for any website these days. If you don't have the push notification setup for your site yet, you are probably missing a lot of highly targeted potential traffic.
Use these plugins to get started quickly.
01

. OneSignal
OneSignal is one of the best push notification WordPress plugins. We have used this plugin on most of our sites, and it works perfectly.
This is a plug and play type of service; once you set up the plugin, there is nothing much to do after that. It will keep on doing its job silently.
The plugin has over 80k active installations. OneSignal system sends over 2.5 billion notifications every single day.
Once the set up is done, your users will see the option to subscribe to the push notification for your site as in when they visit your site.
This plugin supports most of the browser type such as the Google Chrome, Firefox, Microsoft Edge (Desktop & Android), Opera (Desktop & Android) and Firefox(Desktop & Android).
The system will send out of the notification automatically whenever you publish a new piece of content. You also have the option to send out reminder notification.
So, depending on your geography, you can have custom notifications sent out at a custom timing. The plugin also gives you an option to send out notification whenever you update your old content.
The plugin offers you the option to customize the notification opt-in on your site and make it look like the big authority sites.
OneSignal gives you the option to carry out A/B testing on for your notification which is a great feature to know what type of messages are getting more traction.
The plugin comes with comprehensive settings panel where you can set up the notification for your site. Once the plugin is installed, you will get the option on the admin dashboard of your site.
You will have to link the plugin with the some site to make the system work properly.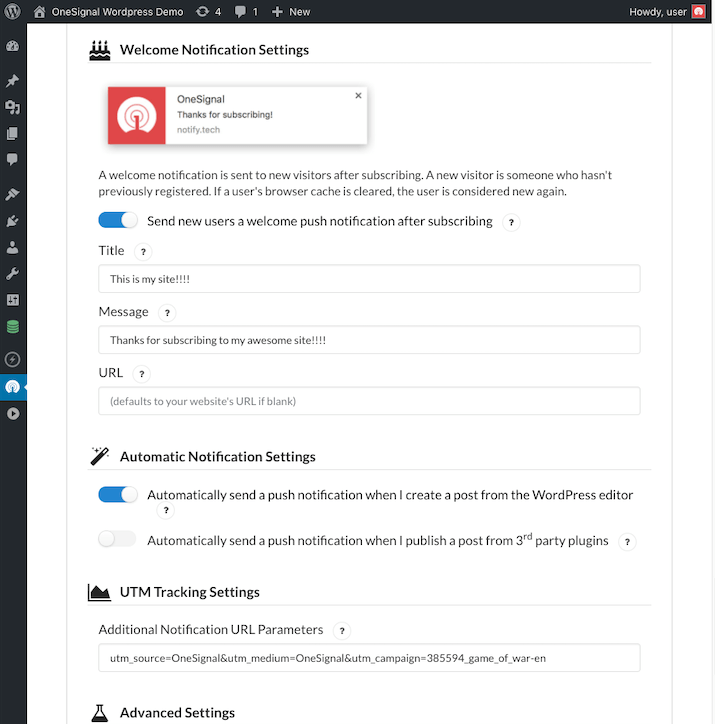 The option to schedule notification based on time zone is a great feature offered by the tool. If you are based in any of the Asian countries are publishing your content as per the Asian timing, you can target US or UK users by using the notification schedule feature.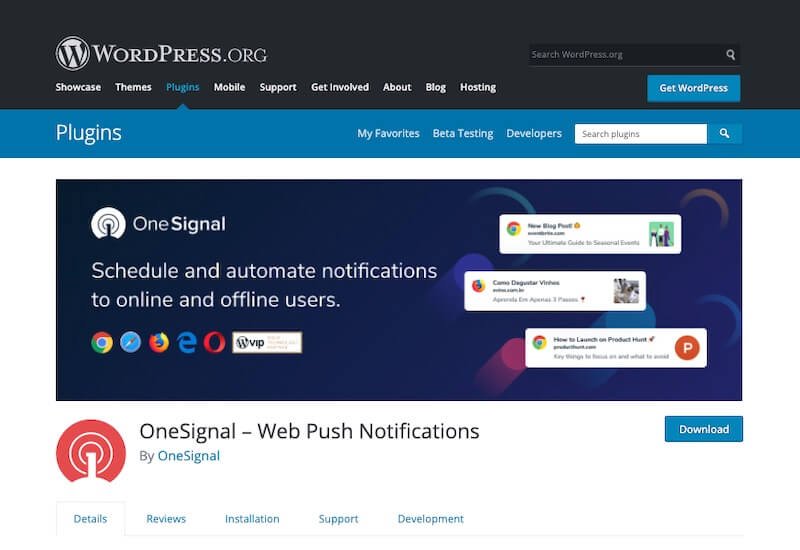 02

. Smart Notification WordPress Plugin
One of the most comprehensive plugins in this list, the Smart Notification WordPress Plugin is not just a web notification plugin but it can do a lot more.
This plugin is a combination of many services such as web push notification, email newsletter service, Facebook messenger, Facebook notification and more.
So, you just have to buy this single plugin for $39 that will do a lot of tasks on your business site. This plugin perfectly supports WooComerce, BuddyPress, bbPress so that your users get the notification as in when there is a new event.
So, if you are looking for a plugin or tool to increase the engagement on your WordPress site, this plugin can be very effective.
03

. PushCrew
PushCrew is another push notification service that you can use for free upto 2000 subscribers. With this tool, you can send unlimited notifications.
Their RSS to push service makes it simple and automatic to push the message whenever there is a new addition to the RSS of your site.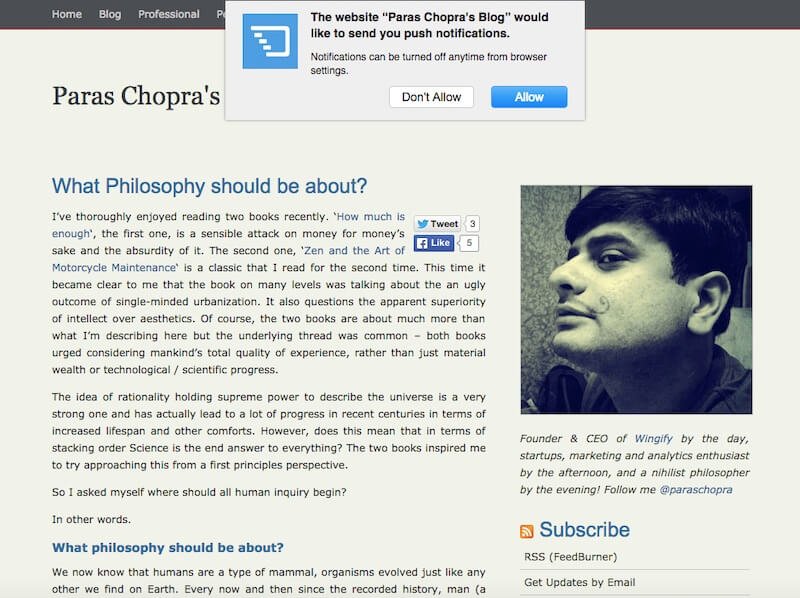 04

. WonderPush
Compatible with most of the web browsers such as Chrome, Edge, Opera, and Firefox, the WonderPush is another great option when it comes to push notifications.
Your audience will get the intimation as soon as you publish any new content on your WordPress site. So, you will get instant traffic to your new post through the web or mobile devices through the notification sent.
WonderPush offers you the widgets that you can place on your site to help your users to quickly subscribe to your web notifications.
It offers you complete statistics at your fingertips so that you are aware of how your push notification system is working.
Here is another great advantage of the WonderPush plugin. If you are managing a WooComerce based shop, it will help you to increase your conversion by re-engaging your customers by tracking and sending notifications for the abandoned cart.
As far as the design of the notification is concerned, it gives you complete freedom to customize the notification design.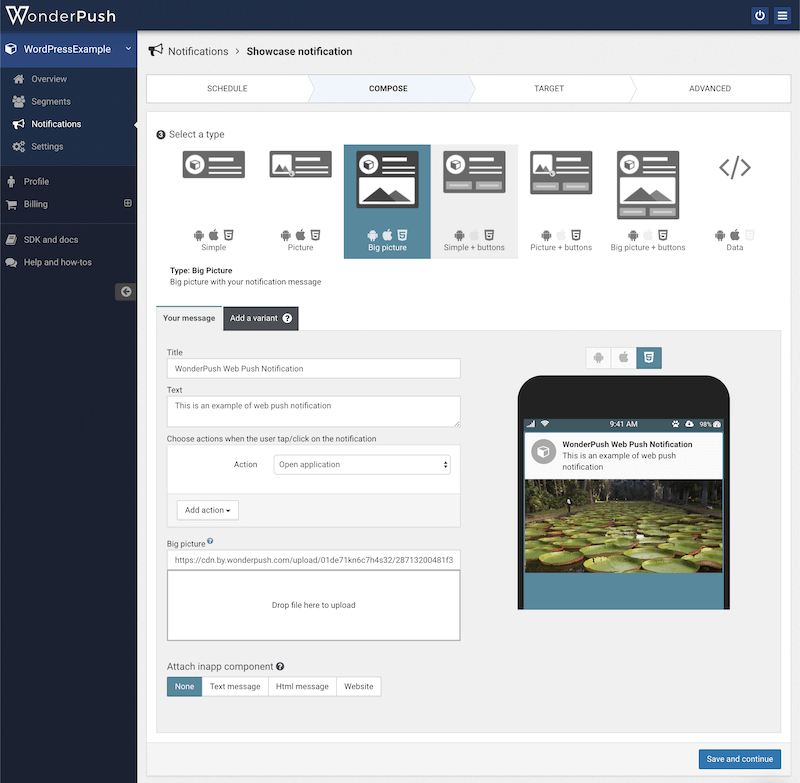 05

. SendPulse Free Web Push
As the name suggests, this is a free push notification plugin for WordPress. However, there is a limitation on the free service as expected. You can send free notifications upto 2500 subscribers.
This plugin supports the important browsers such as the Google Chrome on both the desktop as well as Android, Safari (Mac OS X), and Firefox (Desktop) on both HTTP and HTTPS version of the URL.
The test part about the SendPulse services is that you can segment your subscribers and send them customized notification based on their geography and other details so that your notification becomes even more effective.
06

. Pushup Notifications
Pushup Notifications by the 10Up team is a premium browser notification service that you can use for your WordPress site.
Their offer pay as you go tyle of the package, you can pay depending on the number of subscribers you have on your site and the number of notification you wish to send out.
It is a lot easier to send the push notification with this plugin. You get the send notification button right above the publish button on your WordPress panel so that you can be selective about the messages you send out.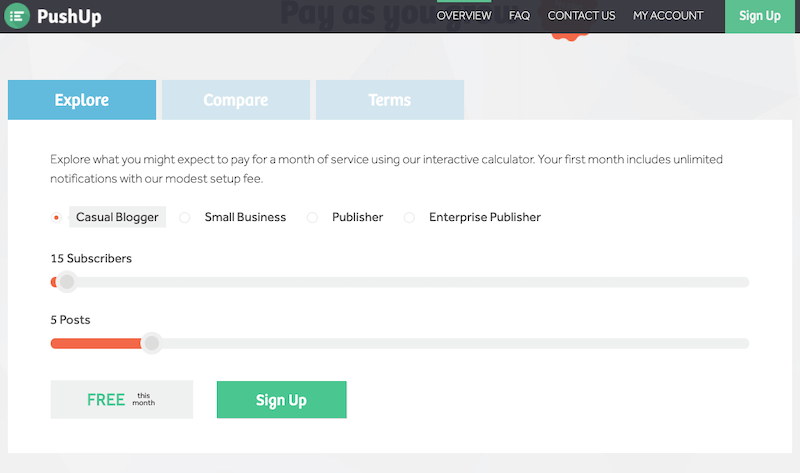 Final Word
The above-mentioned WordPress push notifications plugins are the top options to send out quick browser notification as your site gets fresh content.
I would recommend you to go for the OneSignal plugin as this is one of the most comprehensive solutions to send the push notification.
If you are looking for a plugin that can do a lot more than just push notifications, the Smart Notification WordPress Plugin is a good option as it offers you a number of different user engagement features along with web push notifications.