Top AdSense Themes in Detail
While you can use any theme and manage the ads using the best AdSense plugins, it make sense to use a theme that comes with build-in ad management option.
Generaly, when you use a magazine style WordPress themes like new sites, they offer comprehensive ad placement options.
Why Do You Need an AdSense Optimized Theme?
Beforw we go ahead with the AdSense theme collection, the question you might have is "Whay Do I need an AdSense optimized theme?"
Well, you certainly can use any quality WordPress theme to create your site and add AdSense ads manually or the plugins that we mentioned and linked above.
However, a theme with custom ad slots and ad management option certainly makes it very simple for the users.
The important question is — how to choose a suitable theme? Well, that's the reason we have curated a handpicked list of best AdSense Optimized WordPress themes.
The thing that makes an AdSense optimized theme different from other themes is — the templates of these themes are optimized to make the ads placements easy. All the AdSense optimized WordPress themes come with predefined ads spaces to help you effectively showcase the ads.
There are various AdSense optimized themes available for different kinds of websites. There are various types of magazine themes, corporate themes, blog themes, and fashion blog themes are available.
Let's dive deep into the list of the best AdSense Optimized WordPress themes without further ado.
So here's the list of best AdSense optimized WordPress themes.
Top Recommended AdSense WordPress Themes
01

. Newspaper
As the name suggests, Newspaper theme has a responsive – news, and frequently updated blog design. Newspaper Theme also enables you to embed YouTube videos within your posts and pages. Newspaper is a super accessible theme and is AdSense optimized.
The Newspaper theme comes with 429 ready-to-use prebuilt templates for posts and pages. With the support of tagDiv Composer drag and drop page builder, you can harness the power of the drag and drop page building experience.
You can make real-time changes to your site as you can easily — edit articles, search, categories, and other posts & pages in the front-end.
With the Newspaper theme, there are many display adverts, especially for AdSense and HTML banners. You can easily publish the adverts on the sites by adding simple codes in relevant boxes.
The best part is that the Newspaper theme even detects Google AdSense codes, and it makes sure the advertisements are responsive on all devices.
Key Highlights: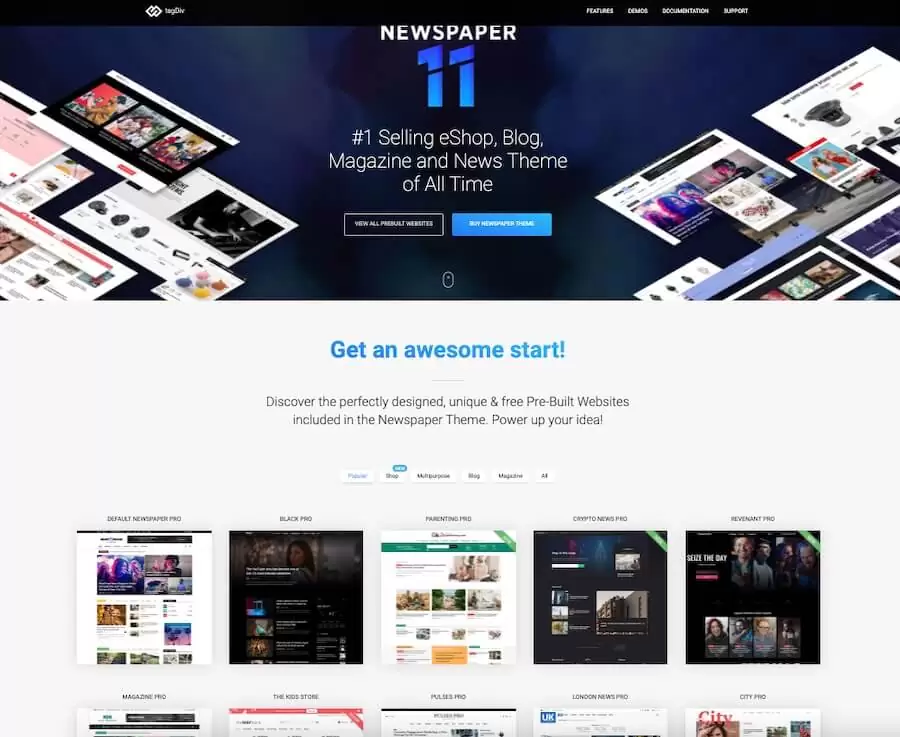 02

. AdSense Theme – By MyThemeShop
AdSense Theme is one of the most popular AdSense WordPress themes available on the MyThemeShop marketplace. The theme comes with various robust design features that make it unique and best-suited to AdSense powered website.
The AdSense Theme comes with predefined layouts and complete websites templates. You can choose from different niches such as — tech blogs, fashion blogs, food blogs, sports blogs, news blogs, etc.
The AdSense Theme comes with built-in features of an anti-adblocker that will show up a pop-up to visitors if they are using AdBlock. If the user wants to continue with the site, the user has to disable the AdBlocker. The ad-blocker features can be easily enabled on single posts or pages without any hassle.
Overall, it is SEO optimized, lightweight, and tends to provide fast loading time.
Key Highlights: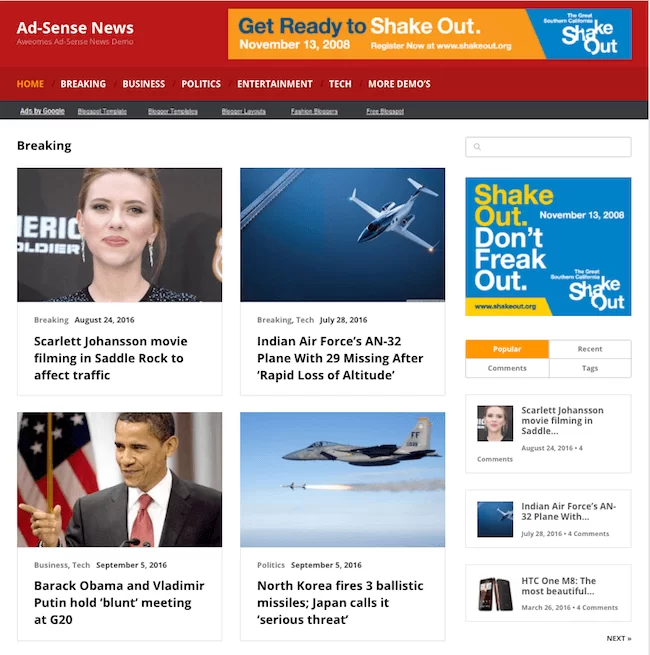 03

. Divi Theme
Divi Theme needs no introduction. One of the top multipurpose WordPress themes, Divi offers you all the features and options to help you create a successful website.
The theme is powered by the Divi Builder which is a powerful drag and drop front-end website builder. You can create a completely custom design for your site without any coding.
You will have complete control over the design of your site and you can build anything that you can imagine using the Divi Builder. It comes with a number of ready-to-use design modules and demo design templates so that you can get started with your site quickly.
The theme is constantly evolving with time and new features are getting added with the changing design trend.
Don't miss this Divi Theme discount offer.
Key Highlights: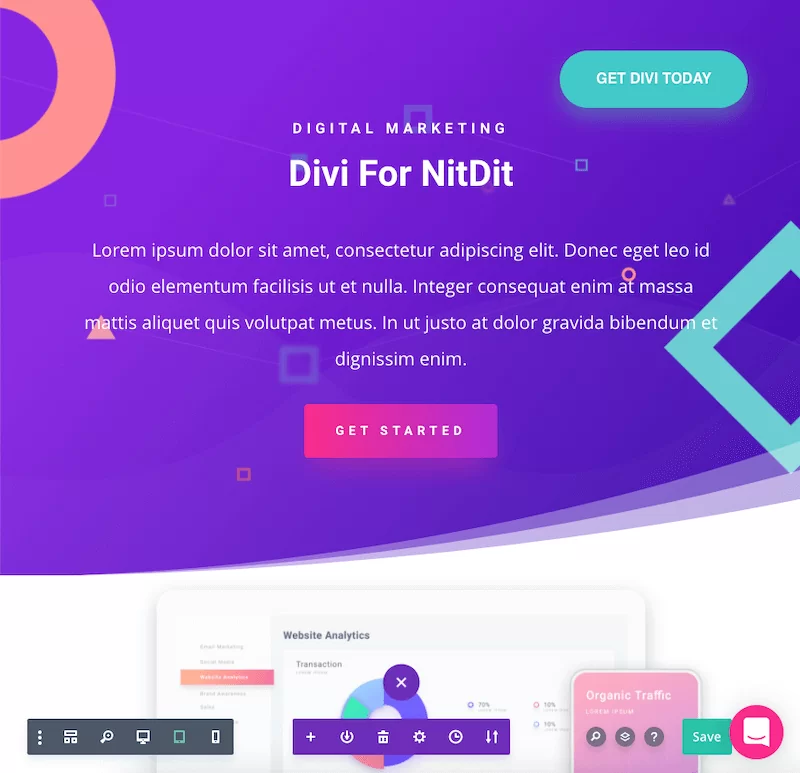 04

. Admania
Admania is a crafty AdSense WordPress theme with Gutenberg compatibility. The theme is designed to boost your ads revenue earning by improving the CTR (click-through rate). It also provides AdSense ready-to-use templates that are 100% Gutenberg friendly.
It has a drag and drop website building interface that makes it easy to create stunning design real, quick, and easy.
The theme comes with a dedicated "Homepage Widget Builder" to help you design personalized homepages. The theme also supports AMP (accelerated mobile pages) which means it has a dedicated mobile design.
The Admania theme comes with more than 20 impressive layouts that allow you to insert ads at the right places. The theme also comes with some of the robust features such as ad-blocker detection, ad-rotation and even allows you to do the split testing.
Key Highlights: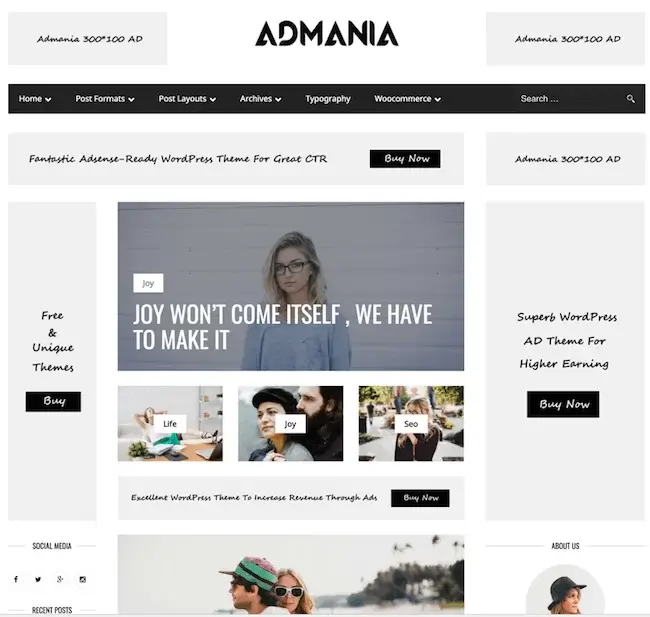 05

. Kadence Theme
One of the best and highly recommended WordPress themes, you can use the Kadence Theme to create any kind of website.
The theme comes with a great loading speed and perfectly optimized for the search engines to make sure that you have advantage over your competitors.
The Kadence Theme offers you amazing customization option. You can change the color scheme of your entire site with just a click and same for fonts.
It is loaded with features and if you wish to use the theme wlong with a website builder like Elementor you can do that too.
Kadence Theme offers you amazing flexibility when it comes to layout of your site. It comes with built-in option to customize the layout of your pages, posts or even custom post types.
The theme works perfectly with all the important plugins like Elementor, WooComerce, LearnDash, LifetrLMS and others.
Kadence Theme comes with a. number of ready to use templates that you can choose to use on your site and you can customize theme as per your need.
Key Highlights: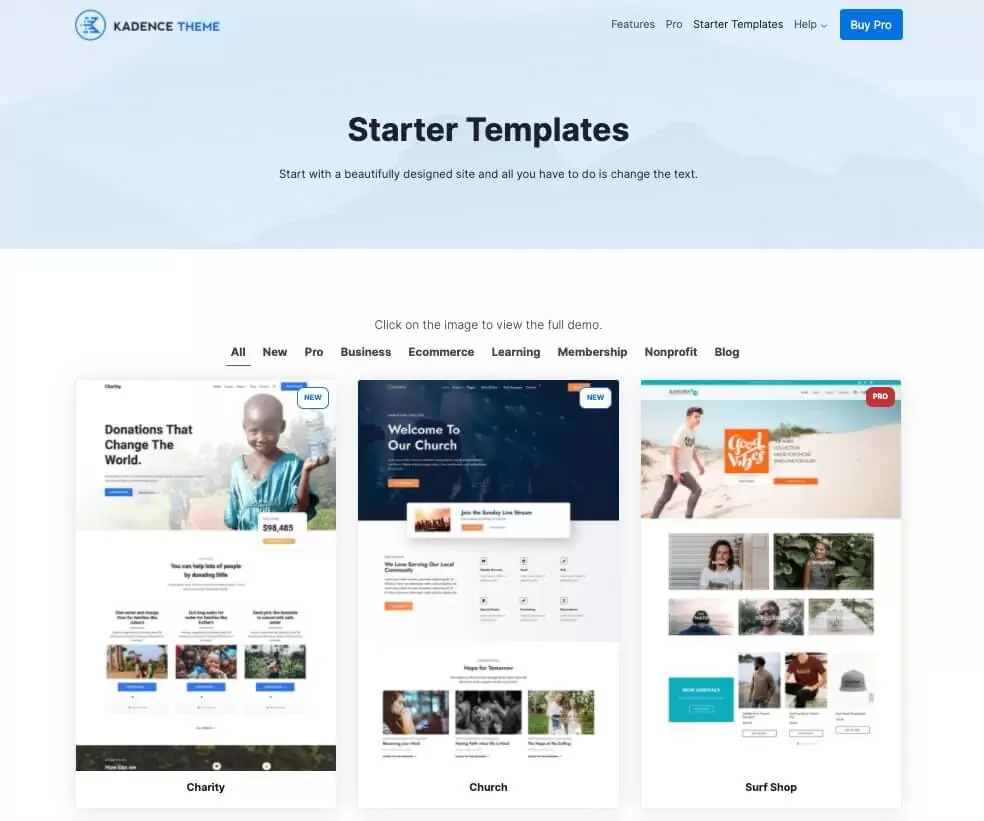 06

. Astra Theme
With over a million active users, Astra is one of the most popular WordPress themes. While you an use the theme for free, you have the option to upgrade to premium if you wish to have access to all the features it offers.
Astra is a great base theme if you are using website builders like Elementor to build your site. It is known as one of the quickest loading and SEO friendly WordPress themes.
Astra theme works perfectly with the Gutenberg editor and you can build a completely custom design even with the Astra theme and Gutenbereg. In fact, the theme offers a number of starter templates that are created with Gutenberg.
The Astra theme comes with a wide collection of starter sites (template designs) that you can use to create your site. You have the option to customize your site completely with or without any website builder.
So, if you are looking for a Gutenberg friendly WordPress theme, Astra is a good option for you.
Key Highlights: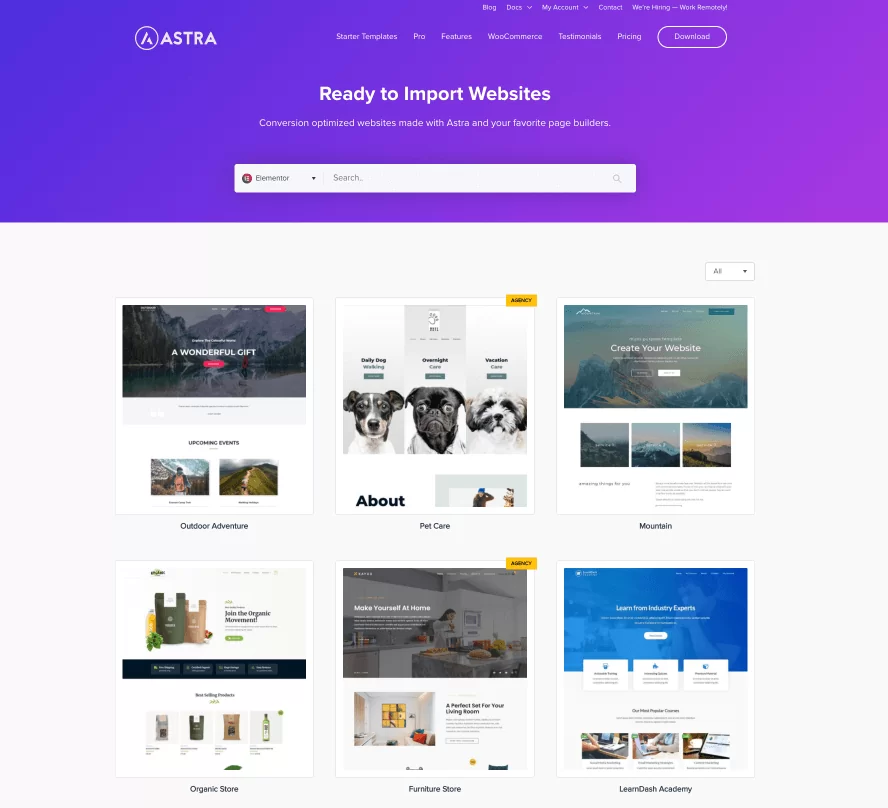 07

. The Fox — (Modern Blog & Magazine Theme)
The Fox Theme is a simple yet robust AdSense optimized WordPress theme. This theme has a modern blog and magazine design. It comes with various demos options for a range of blogs and content websites.
The prebuilt content and designs of The Fox theme fall under the minimal end of the design category. With The Fox Theme, you will not find flashy colors and animations. However, you will find responsive, clean, and minimal designs.
The Fox Theme comes with full customization options, making it easy to customize colors, fonts, typography, and other design aspects. The Fox theme comes with multiple headers and a footer layout to get started. Overall, The Fox theme is full of power-packed features to help you monetize your content through AdSense.
Key Highlights: