Are you looking for the best WordPress SEO plugins? Well, we have listed the top options that you can use on your WordPress Site.
The search engine traffic is free, most effective, and profitable. However, search engine traffic is not as easy as other forms of advertising traffic.
Search engine traffic needs time, consistent effort, a lot of patience, and the best most effective tools. If you are not using the right kind of tools on your site, you will not be able to optimize your content perfect for the search engines.
SEO or search engine optimization is the process to optimize your content for the search engines to achieve a better ranking on the results page.
When comes to website building platforms, WordPress is considered one of the most SEO-friendly content management systems. And this is one of the main reasons behind the great success of WordPress software.
Still, the default WordPress setup is not good enough to get the first-page ranking for a search term. You will need to optimize your content and use the right kind of tools and plugins.
There are some SEO WordPress plugins that can help you to get a better ranking in the search results. But you must know which one to use because using a number of different SEO plugins will not help but only deteriorate the process by increasing the loading time of your site.
So, how to choose the best SEO plugin for your site?
This is a very critical question. While installing an SEO plugin for your site is mandatory to optimize your posts and pages. It is equally important to know which plugin to use.
There have been reports of issues with the Yoast SEO plugin which is the most popular SEO plugin for WordPress users. So, should you still use it on your site?
The answer is yes. The Yoast plugin is still the most widely used SEO plugin. However, it is important to keep yourself updated with the latest changes this plugin is doing so that your site doesn't get affected negatively.
You can surely try new other SEO plugins with a proven track record. We have included a number of options for you to choose the best one.
Before you install any SEO plugins, you must have a look at the following
In this article, we have put together the best WordPress SEO plugins that are being used by millions of users, and we have used most of the toons on our own business to improve our ranking.
Please note: This article is a collection of the best WordPress SEO plugins as well as the third-party tools that will help you to improve your search engine ranking.
Don't forget to check the collection of the best SEO-optimized WordPress themes.
Yoast SEO
The Yoast SEO plugin is the most popular and widely used SEO plugin for WordPress. This plugin has over 5 million active users, and it is increasing at a rapid pace.
This plugin has been around since 2008, and it is constantly evolving with the current SEO trend. Yoast comes in free as well as pro versions; the free version is good enough for any smaller or bigger blog.
As we talk about the SEO features offered by the Yoast plugin, it will take care of all the SEO needs for your site. Starting from optimizing your homepage or every page of your site.
The plugin offers you a built-in XML sitemap that you can submit on Google Search Console so that your blog articles get indexed quickly.
The on-page optimization feature by the Yoast plugin is another highlight of the plugin. If you are a newbie blogger, this feature will be extremely effective.
When you write your content, all you have to do is to follow the instructions given by the plugin to make sure that your blog post is perfectly optimized.
You will find the on-page optimization panel just below your WordPress editor, you can use the options for optimizing your post for search engines.
You can add a custom meta description for your article with the focus keyword in it. Now set the focus keyword for the article and check how well it is optimized.
You can customize your article title, meta tag, readability, etc. to make sure that your article is perfectly optimized.
You have the option to set up a focus keyword and check the overall SEO score from that keyword perspective.
The plugin will suggest to you all the changes you need to do to make your article SEO friendly.
So, let's have a look at the SEO score of this article. Please note, that I'm just writing this article, and it is not the final version of the article.
I have set SEO plugins as the focus keyword, and as expected there are a lot of changes we need to make to make this article SEO friendly. As we make those changes, the red colors will turn green.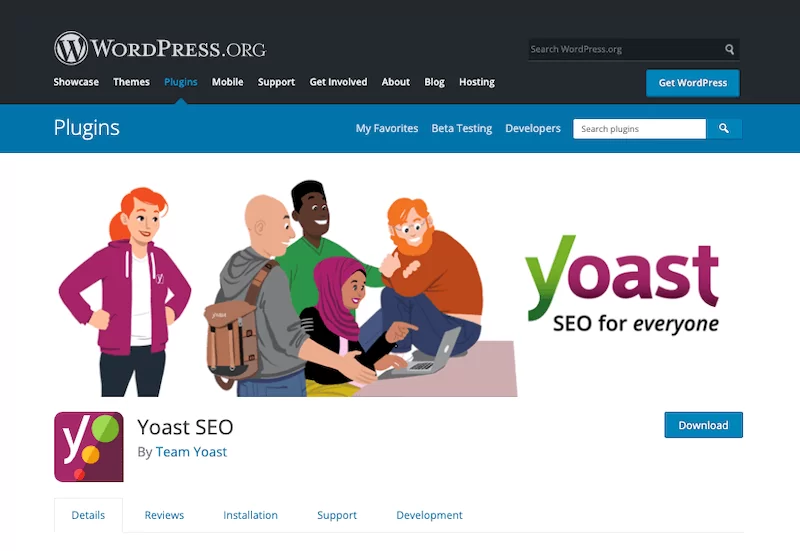 Rank Math
One of the most popular SEO WordPress plugins at the moment, Rank Math has quickly created a name for itself in a short span of time.
It has over a million active installations at the moment and it is increasing fast. Rank Math is built by the MyThemeShop team which is known for creating SEO-friendly products for WordPress.
The Rank Math plugin offers comprehensive options to optimize a WordPress site, WordPress posts, WordPress Pages, and custom post types.
It gives you all the options to add the required metadata to your posts and pages to make sure that you are able to optimize it for the search engines.
Rank Math offers a number of features for free that come in the paid version of the Yoast SEO plugin such as analyzing your content for multiple focus keywords.
So, overall Rank Math is a great SEO plugin that will make sure that you are able to customize every post on your site perfectly.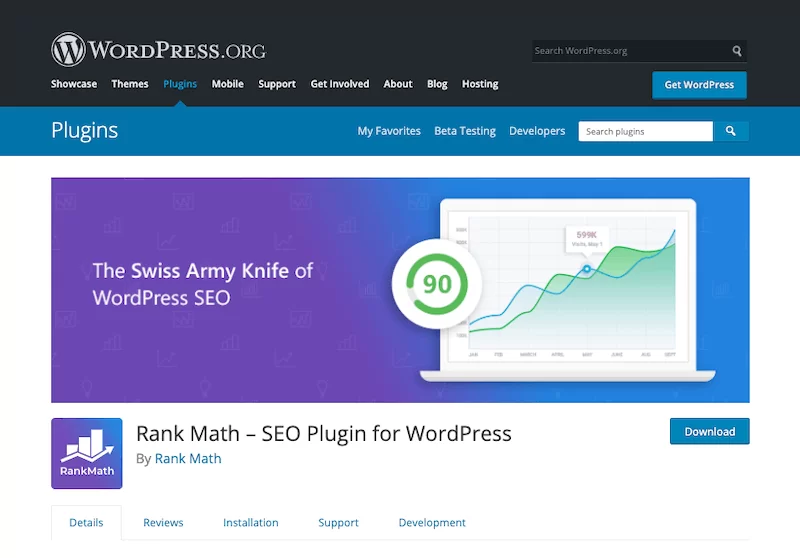 The SEO Framework
Another preferred SEO solution by bloggers and developers. As this is an unbranded SEO plugin, it is probably the most suitable solution for developers and web design agencies dealing with external clients.
This is a free plugin, and it perfectly takes care of all the basic level as well as advanced SEO requirements on your site.
The plugin offers you the sitemap option with all your posts, pages, and custom post types to help you get your content indexed faster.
The SEO Framework plugin takes care of all the important structured data requirements such as the data for the Breadcrumbs, Google Knowledge graph data, and more.
The plugin takes care of the canonical URL requirement to make sure that your site is free of any duplicate content.
The plugin automatically creates the SEO title, description, and all other required data. However, you have the option to manually edit all the details on a post-to-post basis.
Overall, this is a very good replacement for the Yoast WordPress plugin.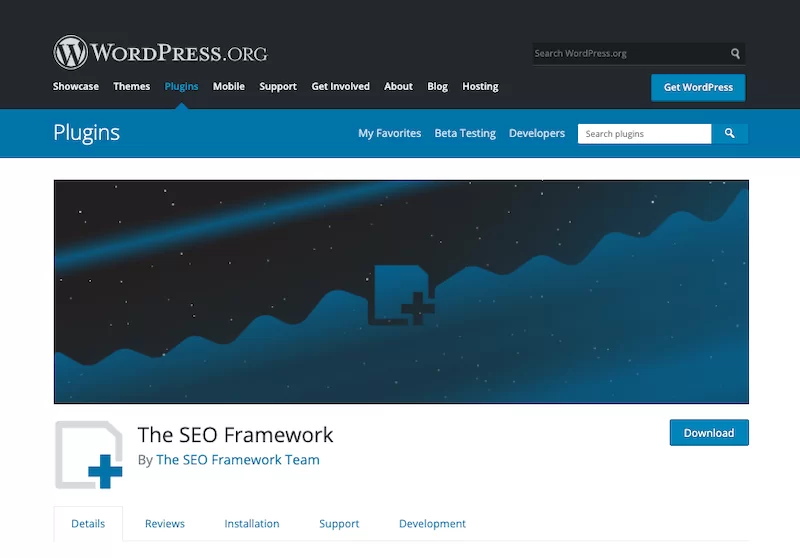 All in One SEO Pack
All in One SEO pack is another very popular name alongside the Yoast SEO plugin. With over 2 million active installations this plugin has great trust among WordPress users.
This is a newbie-friendly SEO plugin that will perfectly take care of all the important SEO needs for your WordPress site.
The plugin comes with XML sitemap support so that you can submit your site to the search engines like Google, Bing, etc.
Another advantage of this plugin is the Google AMP support, so you don't have to use another AMP plugin separately to make your site perfectly optimized for mobile devices.
Other than the normal WordPress blog posts and pages, the All in One Pack also supports custom post types, eCommerce platforms like WooCommerce, etc.
Advanced Canonical URLs, attachment management, and duplicate content filter are some of the other options offered by the plugin.
Semrush
Knowing your competitors' strategies is extremely effective in creating a successful business. Semrush is a tool that will help you to analyze your competitor's site and understand its strategy so that you can replicate that for your business as well.
The Semrush tool will help you to analyze the backlink profile of your competitors' sites; you can do a deep analysis to find out the page they are getting the backlink from so that you can easily replicate those backlinks for your site.
Other than the backlink, you can use the Semrush tool to analyze the traffic of any site, the top traffic-driving keyword of any site, and the number of backlinks that the popular pages of a site have.
You can also use this tool to do a detailed SEO analysis of your site so that you don't miss anything. SEO audit is very important even for an older blog because the top sites in the world also make small SEO mistakes.
Semrush is a complete SEO suite that offers a number of different SEO tools, marketing tools, and social media management tools that will help you to grow your business. Read this comprehensive SEMrush guide to understand more about the tool.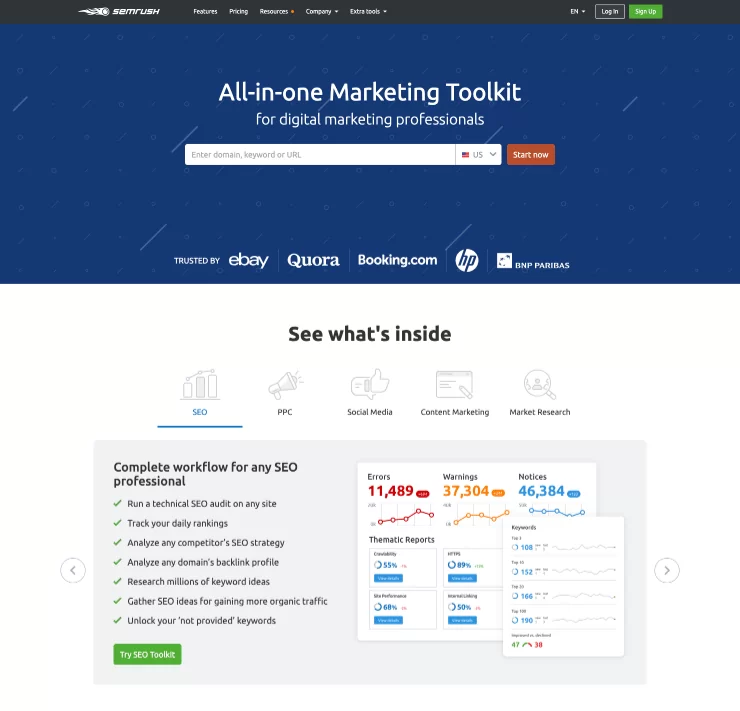 SEO SQUIRRLY
SEO SQUIRRLY is another comprehensive WordPress SEO plugin that you can use on your site to make sure that your content stands tall in the search results.
This is the perfect plugin to fire up your content strategy with strong SEO, analytics, SEO audit, and rank tracking.
SEO SQUIRRLY will offer you the required information, knowledge, and tools so that you can create the full proof SEO strategy for your business.
Online marketers spend thousands of dollars on keyword ranking and strategy. And all these start with finding the right kind of keywords that can drive a lot of traffic to your site.
This SEO plugin offers you the built-in keyword analysis tool that you can use to find the perfect long tail keyword so that you can grow your site easily.
SEO Live Assistant
The on-page SEO assistant is another key highlight of this plugin. No matter if you are a newbie blogger or a pro, a quality on-page assistant is always useful.
The plugin offers you the most comprehensive on-page SEO solution. You will be guided while you write your content to make sure that you can create 100% perfect SEO-optimized content to outrank your competitors in the search results.
Audit Suite
The SEO audit feature offered by this plugin will carry on the regular maintenance job so that you never go wrong at any point in time.
The audit result will help you fix the important issues on your site so that you don't land into any trouble shortly.
All In One Schema Rich Snippets
As the name suggests, this plugin is created for the Schema Rich Snippet which will help the search engines to understand your content and display it in a way that will attract visitors' attention.
You must have seen those search results with the star rating on them. The ratings can dramatically increase the overall click-through rate of your content.

Adding proper Schema Markup is very important for every site these days. It will help search engines to understand your content better and rank accordingly.
Read this list of top Schema Markup Plugins.
This plugin helps you to add multiple schema types to your content such as the following.
AMP for WordPress
AMP (Accelerated Mobile Pages) is an open-source project to make the web better and faster. As the number of mobile users is increasing across the world, it is important to make your website load quicker on mobile devices.
The AMP plugin for WordPress will take care of the AMP requirement as far as the WordPress sites are concerned. This plugin is developed by the Automattic team who is behind the WordPress.com and overall WordPress project; Google is also an important contributor to this project.
With this plugin on, all your content will have the AMP-enabled version to make sure that it loads faster on mobile devices.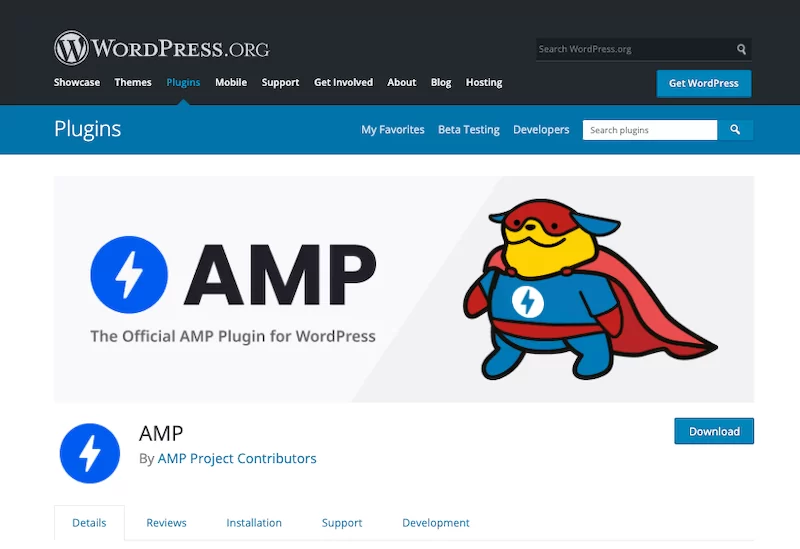 WP Super Cache
A cache plugin is important for every website. However, depending on your hosting type the requirement will change, there is some managed hosting provider who uses their built-in caching system so you will not need a caching plugin.
If you are using a shared hosting server, VPS or any other hosting plan, you will need to install a caching plugin.
There are some quality cache plugins like W3 Total Cache, WP Rocket, etc. I am recommending you to go for WP Super Cache if you are looking for a free and simple option.
The W3 Total Cache plugin is also a free option, but their extensive settings panel might confuse you.
The cache plugin will create a static version of your post, and whenever a user visits your site, it will create a version of your site in the browser so that when they visit your site the next time, it will load much faster.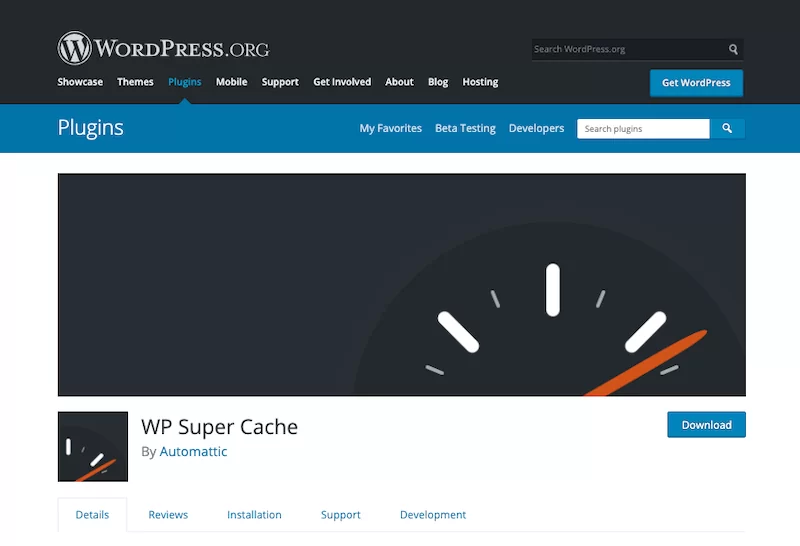 SEO Image Optimizer
Whenever you check your site's speed on GTmetrix or any other similar tools, the one common thing that slows down your site is the images on your site.
So, it is very important to compress your images for maximum performance. Also, it is important to optimize your images for the search engines so that they show up on Google and other search engines' image search.
This is an SEO plugin to optimize your images to make sure that they are being optimized in the correct way.
This plugin will dynamically replace the table and the alt tag of your images which is very important from the SEO perspective.
Along with adding important tags, this plugin will also compress and resize the images to maximize the loading speed of your site.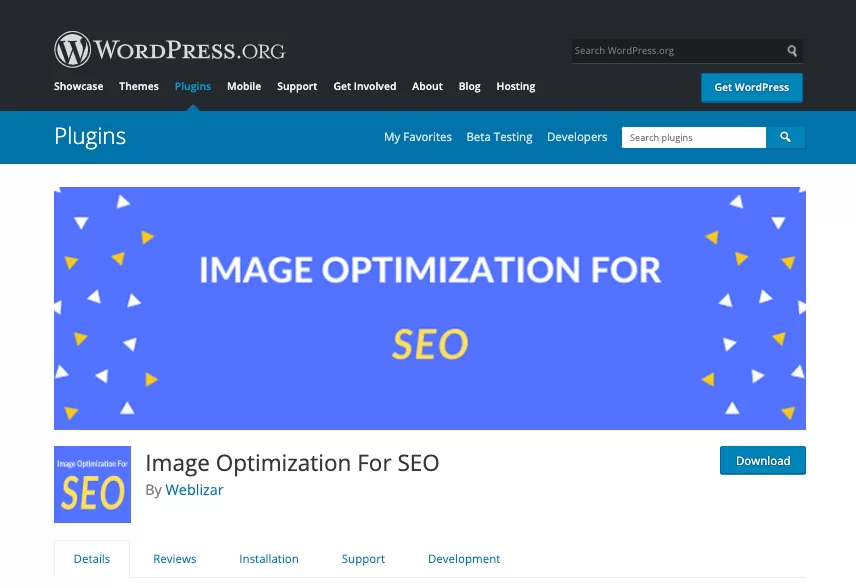 Final Word
There are some other SEO WordPress plugins that we will be analyzing and adding to the list soon. So, don't forget to come back and check the list again.
However, it is not recommended to use more than one SEO plugin on your site. Though you can combine it with other SEO-related plugins like a cache plugin, one for image optimization, etc.
More the number of plugins you use, the more time your site will take to load.