Scoro is a complete solution for project and business management, especially for small and medium-sized business organizations across the globe.
This end-to-end business management solution not only gives you a single-screen control of various business processes but also streamlines your entire business process.
Users can access data in a very transparent and cross-platform manner. The software automatically takes care of all your multiple entries, input errors, and workflow, providing you a great amount of control and oversight on your business processes.
Scoro enables you to access your business processes from anywhere, anytime, via any kind of device.
The solution integrates an in-built planner that allows you to schedule work, tasks, and workload overview in just a few clicks. Other major features include task lists, time tracking, and invoice generation.
Manage Everything from A Single Dashboard
Managing a team and a business is a time-consuming job. You need to shift between different apps, tools, services to get things done. You can check emails from your team check reports etc.
With Scoro, you will be able to manage everything from a single dashboard making you and your team more productive so that you can focus on the important tasks for your business.
It comes with a comprehensive dashboard that you can customize according to your need and make sure that all your KPIs are in front of your eyes all the time.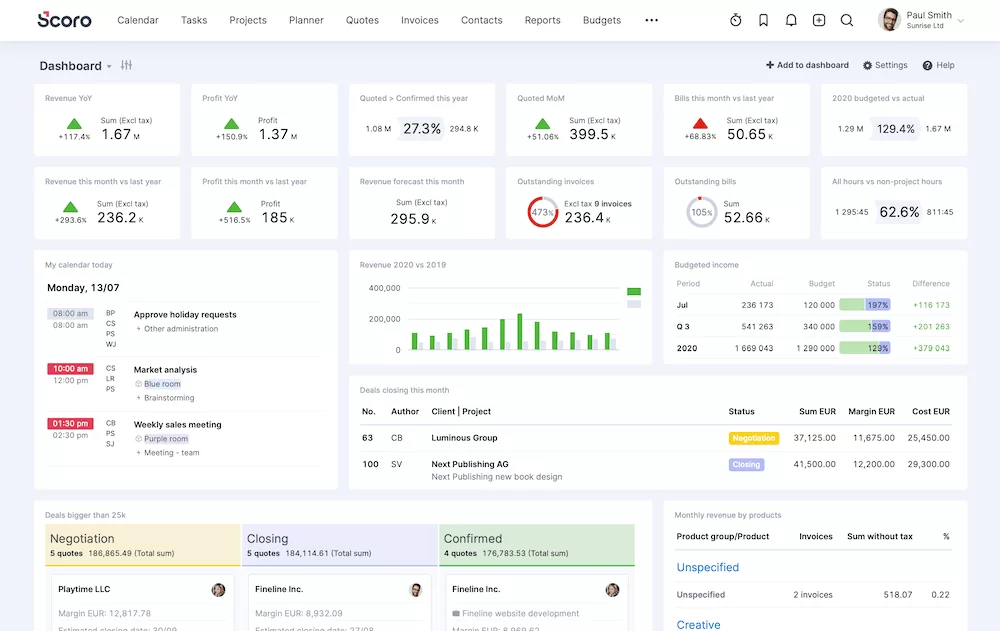 Project Planning and Management
Scoro is a project management software at its core and it gives you all the features and options that you might need to plan and deliver every project on time.
The drag and drop interface to plan your project and setting a timeline for each activity makes it easier for a project owner to manage everything effectively.
As all the details will be in a single dashboard, you can make changes to timeline and other details as the work progress and keep all the team member aware of the timeline so that you never miss a deadline again.
With Scoro, you will have all the details such as the project guideline, timeline, planned and past activities, time spent and billed, income and expenses, files in a single place making it super easy for you to manage everything.