Freshworks is one of the most comprehensive platforms to manage your business. It offers you a number of tools that you can use along with the CRM service.
Freshworks CRM Automation
Freshworks CRM can help you to get started by automatically adding new leads and contact information into your CRM.
This ensures that your sales team is always following up on the most engaged prospects, and never misses an opportunity to make a sale.
For sales teams, time is of the essence. The faster you can get in touch with a lead, the better your chances are of making a sale.
With Freshworks CRM automation, you can automate repetitive sales tasks so that your team can focus on more important things, like closing deals. You can also set up automatic reminders for follow-ups and tasks so that nothing falls through the cracks.
Get Real-Time Notifications
With Freshworks CRM, you can get real-time notifications whenever a
lead is contacted, or a deal is won or lost. This way, you can always stay on top of your sales pipeline and make sure that your team is on track to hit their targets.
Visualize Your Sales Pipeline
A sales pipeline is a great way to visualize your sales process and see where each lead is in the buyer's journey.
With Freshworks CRM, you can easily create and manage your sales pipeline, so that you can always see where your team is at, and what needs to be done to close more deals.
Customize Your CRM
No two businesses are the same, so why should your CRM be?
With Freshworks CRM, you can easily customize your CRM to fit the unique needs of your business. You can add custom fields, and workflows, and even create your own reports.
Integrate with other Freshworks products
Freshworks CRM integrates seamlessly with other Freshworks products, like Freshdesk, so that you can get the most out of your investment.
You can also integrate Freshworks CRM with over 200+ other business applications so that you can have all your data in one place.
Manage Your Sales Team
If you have a complete team of people trying to boost your sales, Freshworks CRM's Team Management feature is a great tool. This feature will allow you to do various team management tasks in an automated manner.
Freshworks CRM is a great way to keep everyone on the same page. This tool also allows you to monitor the progress of each member of your sales team so that they can stay motivated and productive with their work.
You can track the number of leads each person has contacted, the number of emails sent, and lead conversion rates to see who is doing well or who needs help.
This tool will help boost sales and organize your workforce for long-term success.
Freshworks CRM Contact Management
With Freshworks CRM, you get a complete view of your customer. You can see all their contact information, communication history, and sales pipeline in one place. This helps you provide better customer service and close more deals.
You will have complete detail of a prospective customer in one place so that you can view the details and take proactive actions to convert them to your customer.
Intuitive and Detailed Reports
You will see a detailed report for each member, including their sales KPIs, the number of contacts they have made, the number of emails sent out per month, and how many leads converted into customers during that period, among other similar metrics.
This way, you are better equipped to decide who should work with more clients or what areas need improvement.
Scoring Leads in Freshworks CRM
You can also track the sales lead scoring system in Freshworks CRM to see which leads are more likely to convert.
You will know who has contacted your company regularly and how many people they have reached out to.
It is beneficial for companies that need help with customer retention. It helps them retain their current clients by making sure they remain relevant in the eyes of the client or prospect.
To make profitable sales and long-lasting leads, the key is to determine how you can better interact with your leads and how you can make better connections.
Freshworks CRM gives you control over your leads and the complete sales pipeline process. The scoring leads feature is also important because it helps you get a better idea of how valuable they are to your business.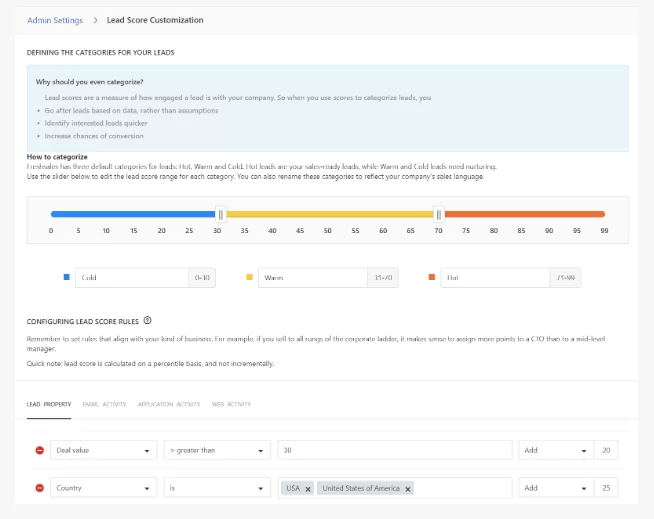 Freshworks CRM Pipeline Management
Freshworks CRM Pipeline Management tool goes beyond that by providing a visual representation of your sales pipeline, allowing you to track progress and conversions at each stage of the funnel.
This makes it easy to see where bottlenecks are and take corrective action. The tool also offers insightful reports and data visualizations, so you can track your performance over time and identify trends.
The Freshworks CRM also has a built-in AI-powered assistant that helps you manage your deals. The assistant automatically updates the status of deals and notifies you of any changes. It also provides recommendations on what actions to take next, so you can close more deals faster.