Are you looking for the best landing page builders? Well, we have listed some of the top software that you can use to create a fully optimized page.
A well-made landing page is one that will give you the best results possible. This includes something that can help with taking in information from clients and making your work more visible.
If you are managing a product or service-based site, the landing pages that you create to showcase your products makes a lot of difference to the overall success of your business.
You need to make sure that your landing page is attractive, it offers all the required details and works perfectly on all devices.
Fortunately, you have various landing page builders that can work for your site's needs. This listing of the ten best landing page builders for your convenience includes many that can work for whatever needs you might have.
Take a look at each of these options, and look at how well these are going to work for your promotional efforts.
Top Landing Page Builders to Create an Attractive Page For Your Product.
Here, we have listed the top landing page builders that you can use to create your page.
01.

Instapage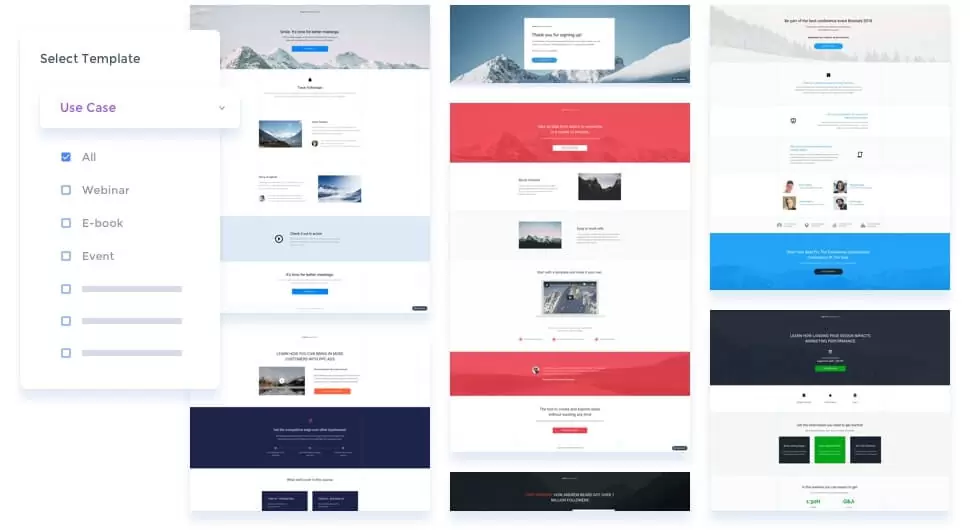 You can start by looking at Instapage when finding something that is suitable for whatever you want to do with your site.
The platform uses a setup that lets you personalize all the things you want to include on your landing pages. You can also use experimentation tools to review how well your page may work.
You can test individual pages out at random to figure out how well they might work for your plans.
The Instapage tool directly works with WordPress integration for your plans. The user interface also provides a simple design that won't be too hard for you to handle.
Top Instapage Fetures:
Instapage Pricing:
Instapage offers two plans to choose from. The Bu8ilding plan will cost you $299 per month. And the second option is the custom plan as per tour need.
02.

Leadpages
You won't have much of a hard time bringing people to your site when you use Leadpages. The tool touts itself as one of the top options for landing pages thanks to the simplicity that comes with the setup.
The tools that Leadpages offer make it more than just a landing page-building software. Other than creating stunning landing pages and websites, it offers you pop-up builders, alert bars, and other marketing tools to help you grow your business.
You can use Leadpages to grow your email list which is one of the most important aspects of marketing that can help you drive sales. You can offer freebies and digital products to capture leads on your site. Leadpages comes with the tools to capture leads and offers a digital downloading option so that your new leads instantly get what you have promised.
Leadpages come with high converting templates that you can use to create your landing pages. Once you select a template, you can customize the design as per your need by using the tools it offers.
You can use many templates for your work, but you can adjust individual features on each template as you see fit.
Once your site is ready, you can integrate it with the leading marketing tools and services so that you can start growing it quickly.
Top Leadpages Features:
Leadpages Pricing:
Leadpages offers three plans to choose from. The Standard plan starts at $27/month and it is billed annually. The Pro plan comes at $59/month and the Advanced plan at $239. All the plans are bulled annually.
03.

Ucraft
As the name of the site promotes, Ucraft lets you produce content as well as you might wish. Ucraft focuses on all parts of your website, although it also has a separate section that you can use for your landing pages.
The site uses many templates that will help you with your site creation needs. You don't even have to know any bits of code to make a landing page work, as the drag and drop nature of Ucraft makes it a valuable choice.
Top Ucraft Features:
Ucraft Pricing:
Ucraft offers you a completely free plan to get started. The paid plan starts at $10/month, billed annually. You can create unlimited pages in any of the paid plans.
04.

Unbounce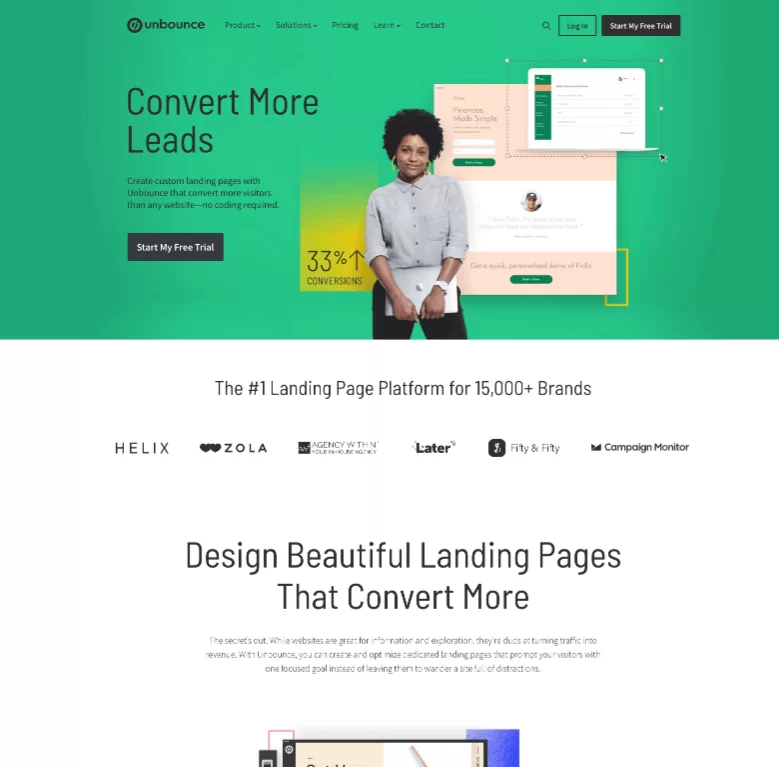 More than 15 thousand brands use Unbounce as a tool for their general work needs. With Unbounce, you can review the content you plan in moments.
You can build any page with a template of your choosing, but you can also create unique templates based on whatever you prefer to work with for your site needs.
The CSS and JavaScript support features on Unbounce make it easier for you to produce distinct sites that are more intriguing or unique.
Unbounce promotes itself as one of the oldest landing page services around. The extensive experience that the team that operates Unbounce has for different tools and efforts is particularly noteworthy, as it gives people the knowledge necessary to move forward with a task.
Top Unbounce Features:
Unbounce Pricing:
Unbounce offers four plans to choose from. The price starts at $80 per month and goes up to $300 per month. You get 10% off if you go for the yearly billing cycle.
You also get a 14 days free trail of the software to check if it is good enough for you.
05.

ClickFunnels
The unique templates that ClickFunnels provides give you many options for controlling the things that you might want to do on your site.
You can use a template for a landing page that adds people to an email list, incorporate sales details to add value or produce a one-click upsell segment.
The functionality of ClickFunnels lets you work with many buttons and images, including buttons for social media links, online wallets, and various designators letting people know what forms of payment you might accept.
You can use a follow-up setup to get in touch with your customers even when they leave. The design lets you send different bits of content as necessary.

Top ClickFunnels Features:
ClickFunnels Pricing:
ClickFunnels pricing starts at $97 per month and goes up to $2497 per month. You can use the software for 14 days for free to check if it works for your business. You also get a 30 days money back guarantee.
06.

Wix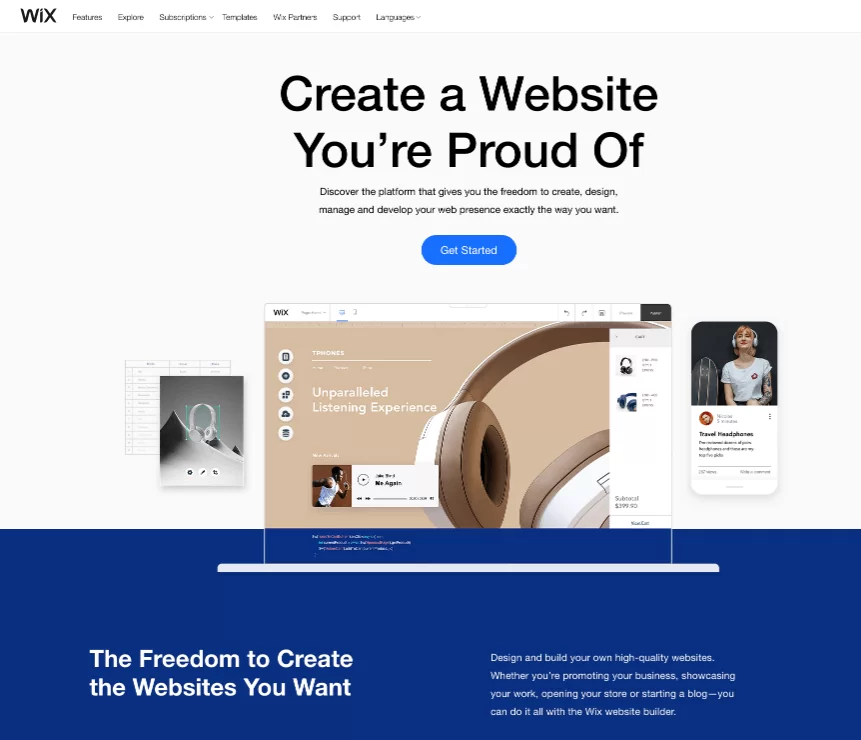 One of the most popular website and landing page builder software, Wix is a comprehensive solution to create a custom design without any coding.
Wix comes with over 500 ready-to-use unique custom templates that you can use to build your website. Other than a landing page, you can use Wix to create an eCommerce site, a blog, or any other kind of website with ease.
Wix comes with its own logo maker, SEO tools, and all other important tools and features to help you build and grow your online business.
Top Wix Features:
Wix Pricing:
Wix offers you a completely free plan that will give you access to hundreds of free-to-use templates that you can use to build your website. If you go for the premium option, you will get even more features and options to create a stunning landing page site.
The premium plans starts at $14 per month and billed annually.
07.

Site123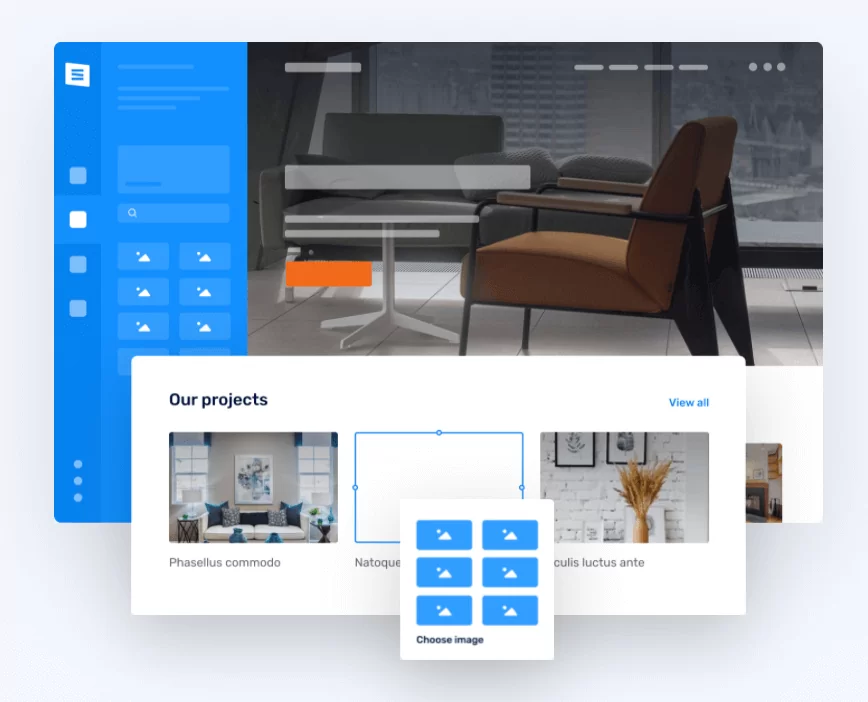 Site123 is a newbie-friendly website builder and it is specialized in creating great-looking landing page sites. You will get access to a big collection of ready-to-use templates that you can use to create your landing page.
The best part is that you can start using the Site123 website builder for free. You will get free hosting to make your business live online. All you need to do is to choose a template and start building your website.
We have published a detailed review of Site123 here, you can read this article to know more about the software. Also, if you can want more features and create a comprehensive site with premium options, you can get a 40% discount on Site123, don't miss it.
The simple design options of Site123 make for a good way for people to highlight the newest things that they want to show off.
Top Site123 Features:
Site123 Pricing:
Site123 offers a completely free website builder that will offer you free hosting and access to hundreds of templates to help you get started quickly without spending anything. If you need more features, you can upgrade to premium plans that starts at $12.80 per month.
08.

GetResponse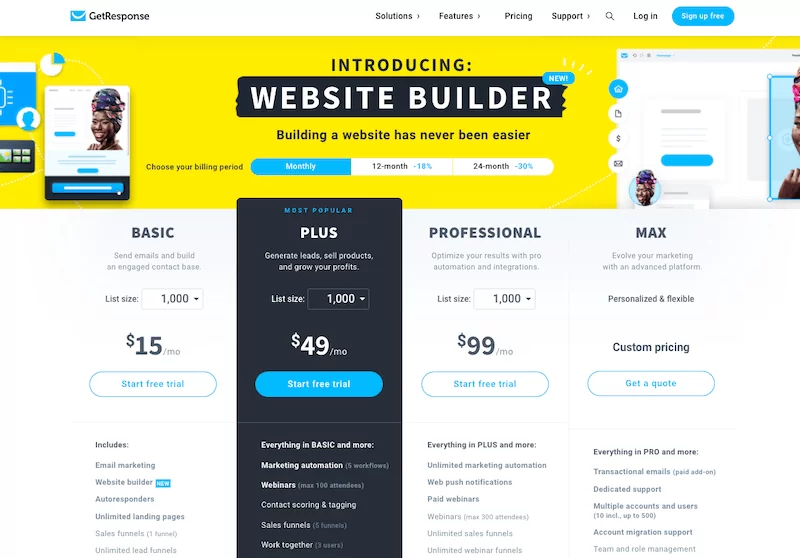 While GetResponse is known primarily for its email marketing software, it is a lot more than just email marketing. It is a complete marketing solution that starts with building a high converting landing page.
The marketing automation tools offered by GetResponse make it a great choice for marketers to build and grow the product pages on this platform.
You can use GetResponse to create a perfectly optimized sales funnel to grow your sales and revenue. It offers all the marketing automation features, webinar solutions, form builder, live chat systems and more.
When we talk about the landing page builder by GetResponse, it offers you over 200 ready-to-use landing page templates to choose from. These are high-converting templates that are created with the best-proven practices.
The easy drag and drop mobile-friendly builder makes it super simple even for a complete newbie to create a perfectly optimized page.
Top GetResponse Features:
GetResponse Pricing:
GetResponse pricing starts at $15 per month and for this price, you will get access to email marketing tools, website builder, unlimited landing pages, and more. You will also get an option of custom pricing depending on your need.
09.

Landingi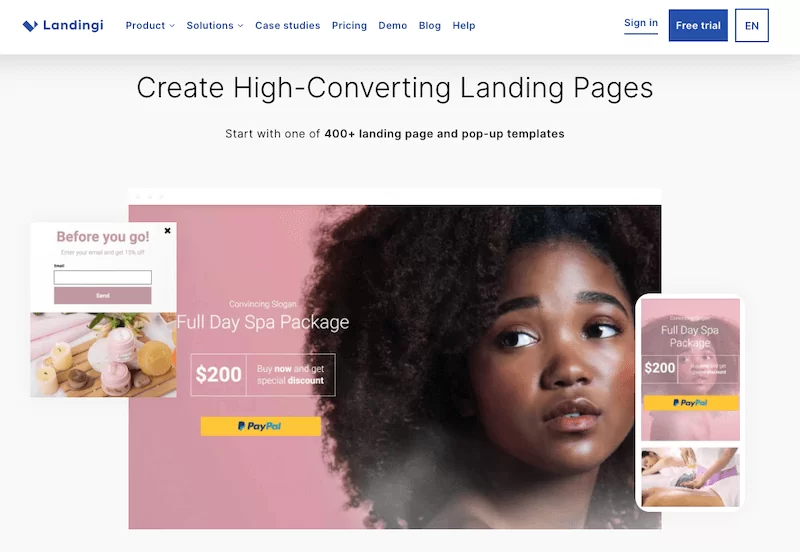 Your next option to see is Landingi. Another comprehensive solution to create high converting landing pages by using drag and drop builder.
The software offers more than 400 ready-to-use landing pages and popup templates to help you create attractive landing pages and lead capture popups.
This includes a separate landing page for cases where people fill out unique forms.
Top Landingi Features:
Landingi Pricing:
Landingi pricing starts at $55 per month and is billed annually. You will get 14 days trial to check the software if it fulfills all your need.
10.

ActiveCampaign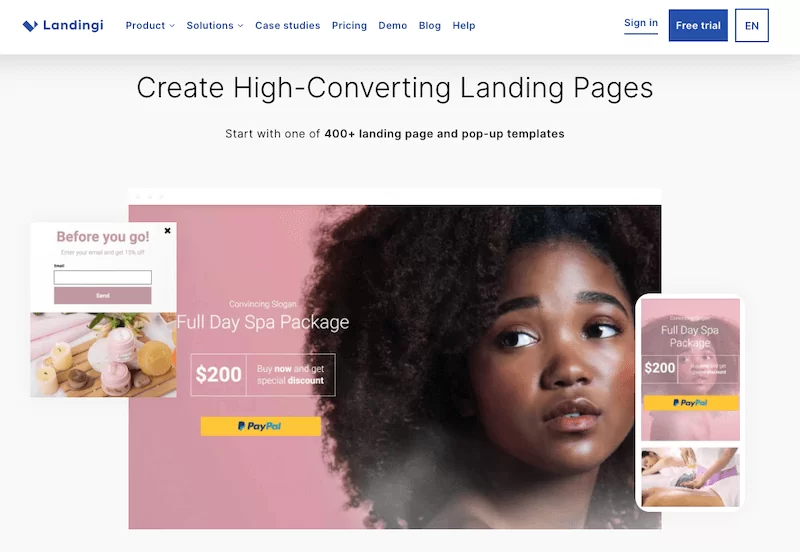 This popular email marketing & landing page builder is perfect for a number of things that you want to do. ActiveCampaign can be integrated with most email marketing platforms, so it can help you with promoting your products and services.
This makes the tool very easy to use in many ways. The cost-effective response from ActiveCampaign will also work well when trying to determine how much this service will be for your business's needs.
There are multiple customizable options on this platform. You can choose from a variety of pre-built templates in order to create a nice-looking landing page that works well in a variety of settings. You can also manage different types of email lists using one simple interface.
Top ActiveCampaign Features:
ActiveCampaign Pricing:
ActiveCampaign pricing starts from $9 per month for individual plans, and enterprise plans start at $258 per month.
11.

HubSpot Sales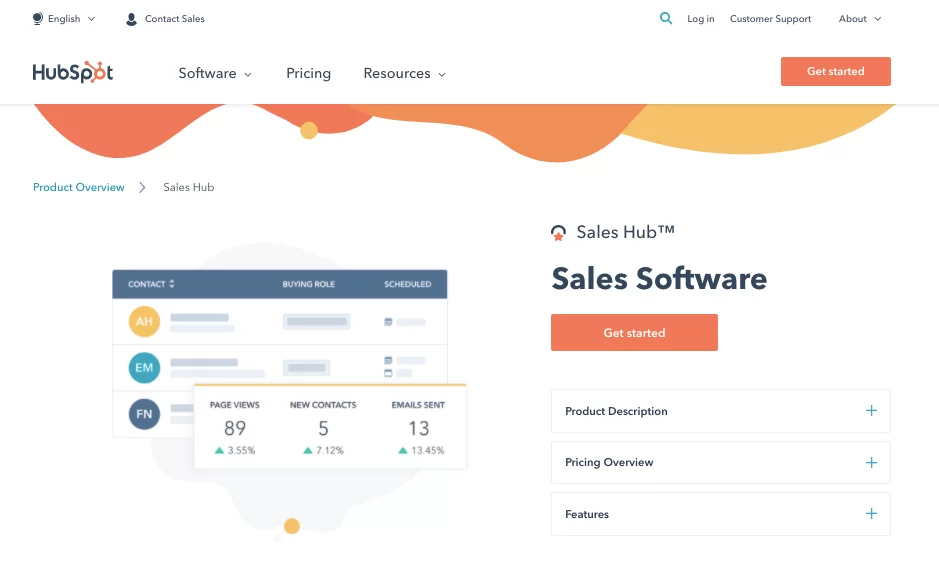 This sales platform makes it easier than ever before to create a landing page for your business.
The clean interface will make setting up the page very simple, and you should be able to see how well the website itself might work immediately. You can also choose from various customizable templates that meet any need that may arise.
Another feature on HubSpot Sales allows you to improve conversion rates even more by updating the landing pages based on real-time analytics. This provides an easy method of improving your overall results, resulting in increased profits for your efforts.
Top Hubspot Sales Feature:
HubSpot Sales Pricing:
You can get the starter pack of HubSpot Sales at $45 per month, and the Enterprise edition starts at $1,200 per month.
12.

Makeswift
The main marketing point that Makeswift offers is that you can use it to adjust your pages in moments. It is a website builder that needs no coding skills to create attractive pages for your products.
You can select individual sections, rows, or columns on your pages. You can create headlines, add a navigation bar, or incorporate a button. You can use buttons that link to various prominent social media or online wallet tools.
It is a one-stop hosted solution to help you create a great-looking landing page and with an autoscale hosting option as per your traffic volume.
Top Makeswift Features:
Pricing:
Makeswift is currently offering a free option only.
13.

SharpSpring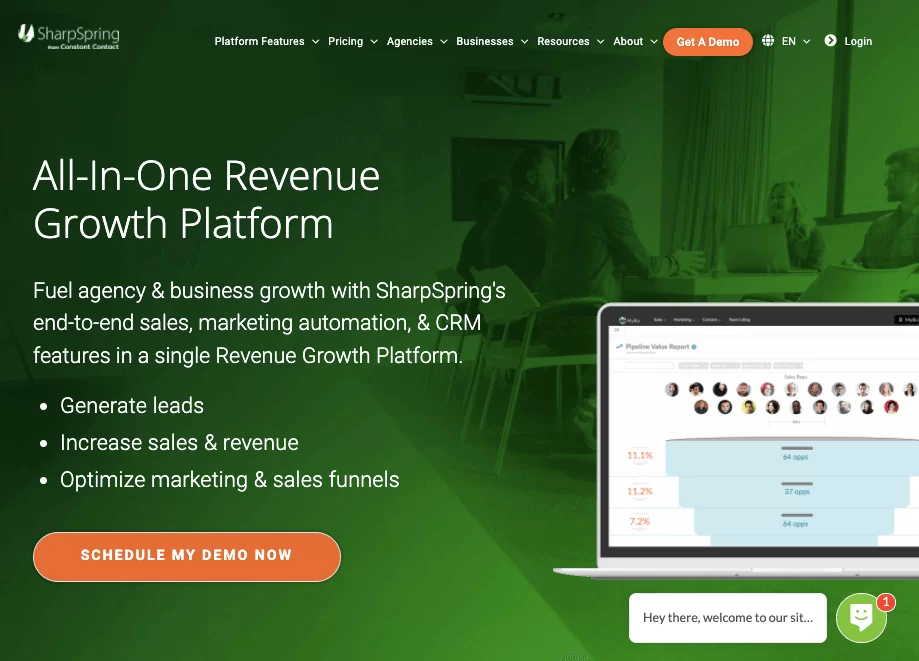 This landing page builder is known for its easy-to-use interface and its quick setup. You can be up and running in a very short amount of time, and you'll be able to see how well the page is going to work for you.
The platform also includes a number of features that will be very helpful for your business.
For example, SharpSpring lets you integrate with other CRM programs. This can make it easier than ever before to get started on your marketing efforts. The tool also comes with a built-in form builder that will help you to get started immediately.
Top SharpSpring Features:
SharpSpring Pricing:
Small business plans start at $399 per month, and for custom enterprise and agency plans, you need to contact their sales team.
14.

Duda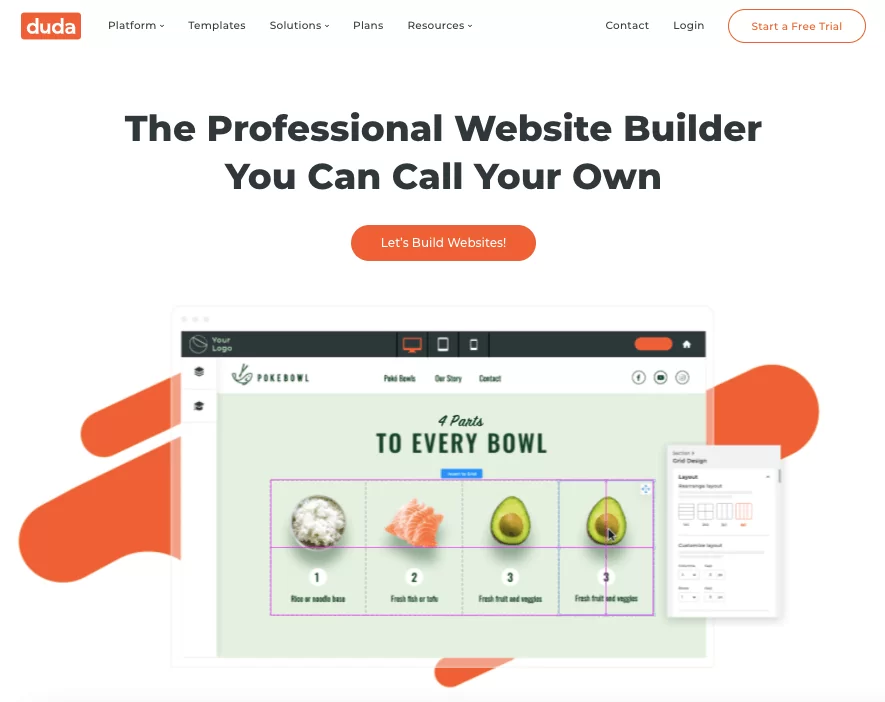 Duda is one of the most popular landing page builders on the market. It comes with a wide variety of features that can be used for your business.
You can create pages that are responsive to different devices, and you can also use the builder for creating pages for multiple languages.
The team at Duda also offers a wide variety of support in order to help you get started right away. The company offers phone and email support, as well as online chat sessions. You can also find video tutorials and articles to help you out with creating great pages.
Top Duda Features:
Duda Pricing:
The basic plan of Duda will cost you $14 per month, and if you need a plan for your agency, then it will cost you $44 per month.
15.

ShortStack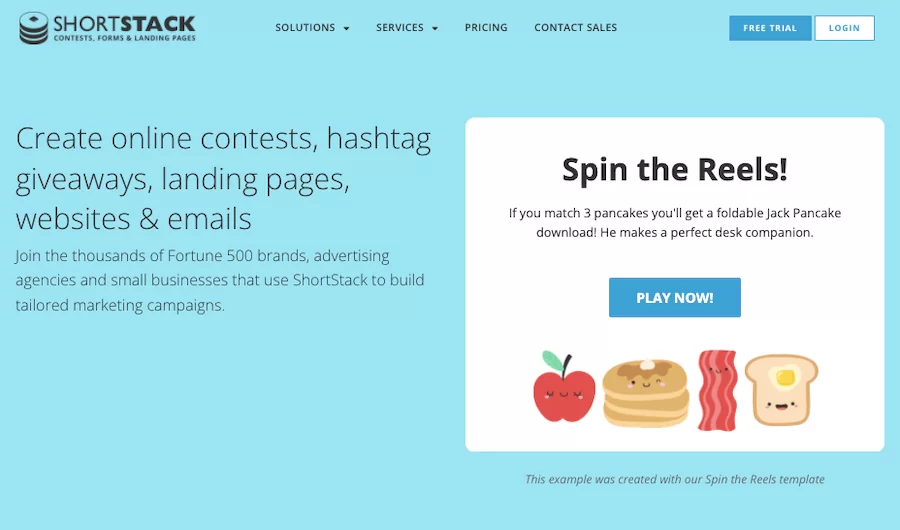 ShortStack is a great choice for a landing page builder thanks to its effective customization. You can use this service for creating campaigns that are highly flexible and useful in a variety of settings.
You have the ability to start from scratch or choose from one of the many templates designed by professionals.
There is also a wide range of analytics tools available to help you determine how well your campaign works out. The best part about ShortStack is that you can use it for free if your needs are basic.
Top ShortStack Features:
Flexible campaign creation that is easy to use
Wide variety of templates to choose from
Analytics tools to help with optimization
ShortStack Pricing:
The small business plan is for $99 per month, and if you need a brand enterprise plan, it will cost you $499 per month.
FAQs About Landing Page Builder
---
Q1. What is a Landing Page?
A landing page is a webpage that is primarily created to showcase a product or a service with high converting lead capturing elements and all the features nicely outlined that a potential customer needs to know.
Q2. What Are The Best Landing Page Builders?
While you can use practically any website builder to create a landing page. There are some custom software that we have listed in this article that comes with ready-to-use landing page templates and all the conversion-focused elements to maximize conversion.
03. Can I Use WordPress to Create a Landing Page?
Yes, you can. In fact, there are a number of custom-created landing page builder plugins that will help you top to create a fully optimized landing page with ease. You can also use WordPress builders like Elementor to create your landing page.
04. Is There Any Quality Free Landing Page Builder?
You can use a website builder like Wix or Site123 to create your landing page for Free. However, you need to know that the free options will always come with limitations. If you need a fully optimized landing page with all the modern features and options, it is good to go for a paid solution.
Q5. Are Landing Pages Good for SEO?
Why not? You can apply all the SEO best practices to your landing page and optimize it for your desired keywords.
Final Word
Be sure to review the sites for each of these landing page creators. The terms for using these tools and how they operate will vary based on the choice you wish to work with.
You can check on the expenses required for using these landing page builders through these sites, although you may find that they don't cost as much as you might assume they could.