If you are a complete newbie in the internet ecosystem and wish to create your presence by publishing your content, SITE123 is a great place to start with.
Here, you can create your website for free. Don't need any technical knowledge to start your website. You can register in a minute, select your template, and get started.
You can use your custom domain name for your online business. Not just a simple website, you can use this platform to create your online store or any other kind of website.
The platform offers you a very easy-to-use website builder to make your website look unique. They also offer you 24×7 support in case you face any issues.
An intuitive website editor makes it very easy even for a complete newbie to create a custom website in a few minutes. You will not need any technical knowledge to create your website.
The website you create on SITE123 will be fully responsive to make your site look great on all devices including mobile phones. Overall, SITE123 is one of the best platforms to create a completely free website.
You can create a website on SITE123 in three simple steps. Select the type of website you wish to build, upload your content and publish.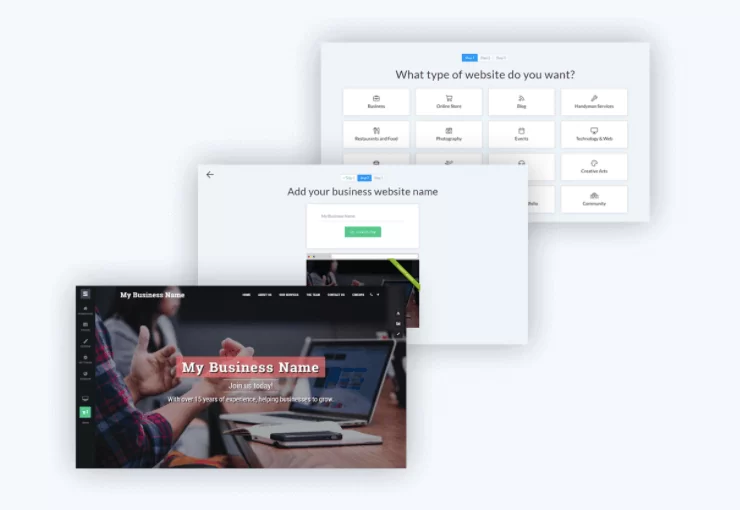 SITE123 Website Templates
As already mentioned above, you don't have to know coding in order to create a website on the SITE123 platform. You can use the ready template for your site to get started quickly.
SITE123 comes with a big list of ready-to-use website templates. And the best part is that all the templates are free to use. You can select any of the templates that are close to your requirement and make your site ready.
You have the choice to select a template based on the niche of your site. There are some great-looking templates for blogs, landing pages as well as eCommerce sites.
All the templates offered by SITE123 are fully responsive to make your site look great on all devices.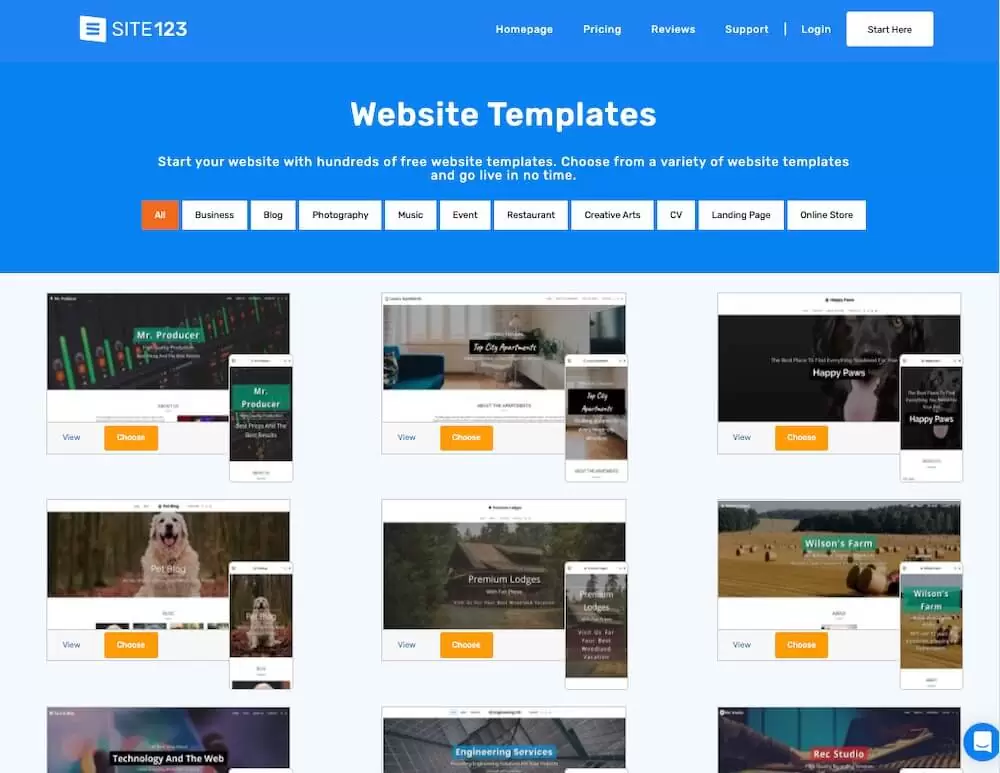 Responsive Website Layouts
All the templates offered by SITE123 are fully responsive to make your site work perfectly on all devices. The users coming through the mobile devices will also get a pleasant experience on your site.
It will also make your website nicely optimized for the search engines so that your content gets ranked well.
Free Website Builder
The website builder offered by SITE123 is another highlight of the platform. So, even a complete newbie user can create a great-looking website without any coding.
You just have to add the components that you want to your page and edit it.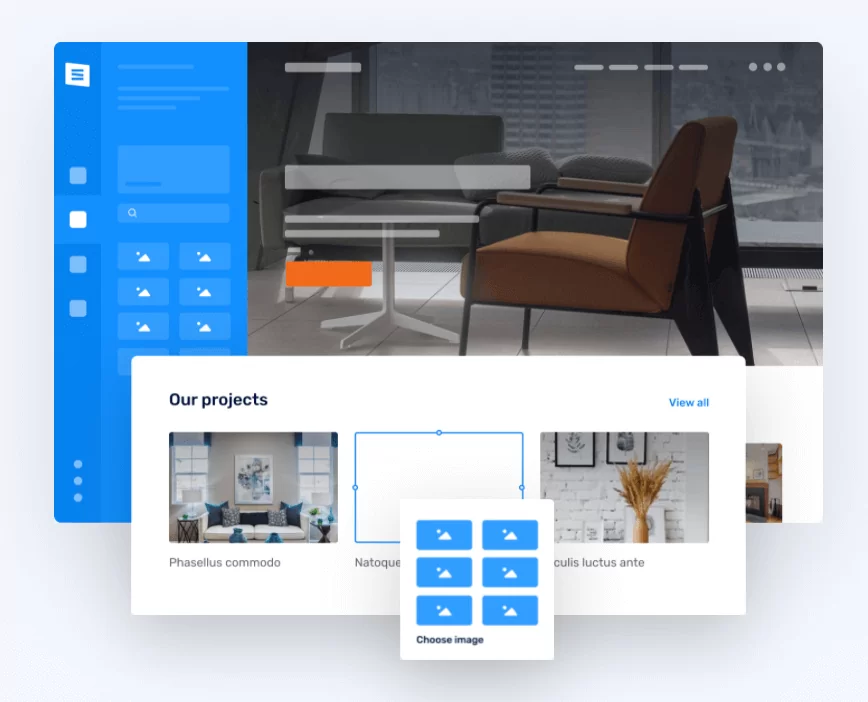 Creating an eCommerce Site With SITE123
SITE123 is a suitable website builder for any kind of website. However, it is great for blogs and eCommerce sites. When it comes to creating online stores, the SITE123 platform offers a number of features and options to make your site work perfectly.
To start with, you can select a website template that is created for the eCommerce site and use the website builder to customize it as per your need.
You can upload your products, the description, and images for your product and showcase them in a professional way.
You will also have a number of payment gateways that you can use to receive money from your customers. It will also offer you the SSL certificate to build much-needed trust among your customers.
To make things easier for you while managing your product inventory, you will have the option to manage it automatically or manually as per your preference.
SITE123 also gives you the option to offer coupons to your customers and manage discounts.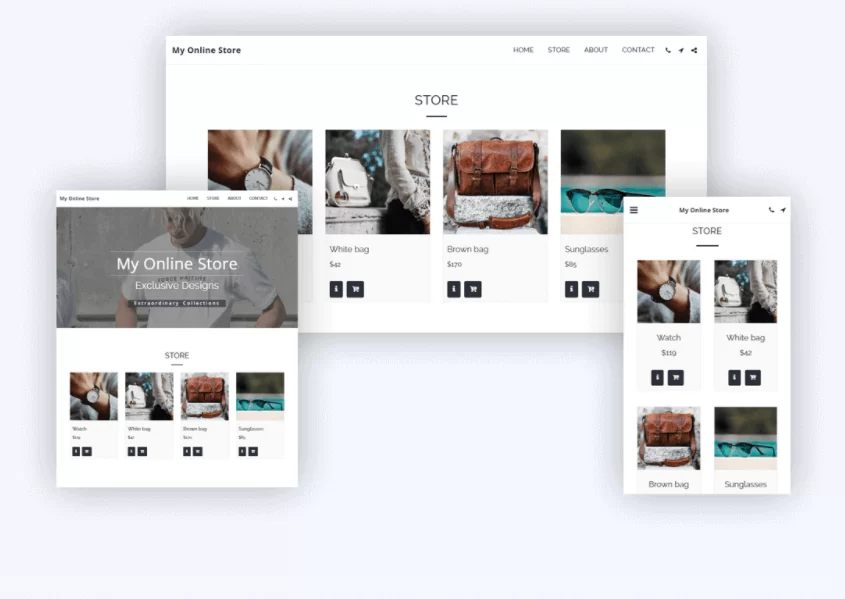 How to Get Started on SITE123?
SITE123 is a very easy-to-use platform. You can make your site ready in 3 simple steps. No matter, you are going for the free plan or the paid plan, you will need to select the website type in the first step.
There are a number of website types to select from such as eCommerce site, Blog, Technology site, Photography, etc.
In the next two steps, you will be asked to add the name of your site and then signup using your email or social media handle.
SITE123 offers a completely free plan that you can use to create your website. However, the resources allocated in the free plan might not be enough for you. So, you have the option to select a premium plan from the multiple options that you get.
When it comes to the premium plans, you have the option to select the duration of the payment period. So, you have the option to select from 3 months to 120 months at a time.