Are you looking to know more about the popular content management system Drupal for your next website project? If yes, then look no further as here we bring you a well-researched and analyzed guide on how you can leverage Drupal for your business success.
More than 1 million developers contribute to Drupal making it one of the biggest open source content management systems that you can use to build your website.
In the market having names like WordPress and Joomla being at the top, Drupal has steadily made a name for itself since its very inception. Drupal is one of the easiest to use and powerful content management systems that is preferred by users who are in the hunt for highly customizable and personalization features from their CMS solution.
The platform is packed with a ton of amazing and very easy to use themes that are pre-integrated to further simplify and fasten your website design process. You can just simply choose your favorite theme and start editing it for your next website project.
Drupal: How Can It Benefit Your Business?
Drupal has tons of different features and functionality for all kinds and sizes of business organizations around the world. First of all, Drupal is very convenient to use and as compared to many of its alternatives offers a very clear and sorted interface.
The website building platform allows you to effortlessly extend and grow your sites' functionality by quickly adding modules into your website.
One of the few things very interesting about Drupal is that the terms "upgrade" and "update" mean completely two different things. By updating, Drupal means that you are shifting from the minor version to another higher version, for example, from the 8.1 to the 8.2 version.
On the other hand, the term upgrade would mean that you are taking your Drupal version from 7 to 8. Drupal, similar to many of its alternatives, allows users to create websites in a very easy and quick manner.
People with no or minimal coding and design knowledge can create websites in a very quick and intuitive manner. If your business demands high-level services and advanced features, you can download and install Drupal in the manual version.
This is one of the most popular features if your web hosting provider doesn't provide you with an auto-installer integrated. You can also use the same for installing it on your local host or VPS service.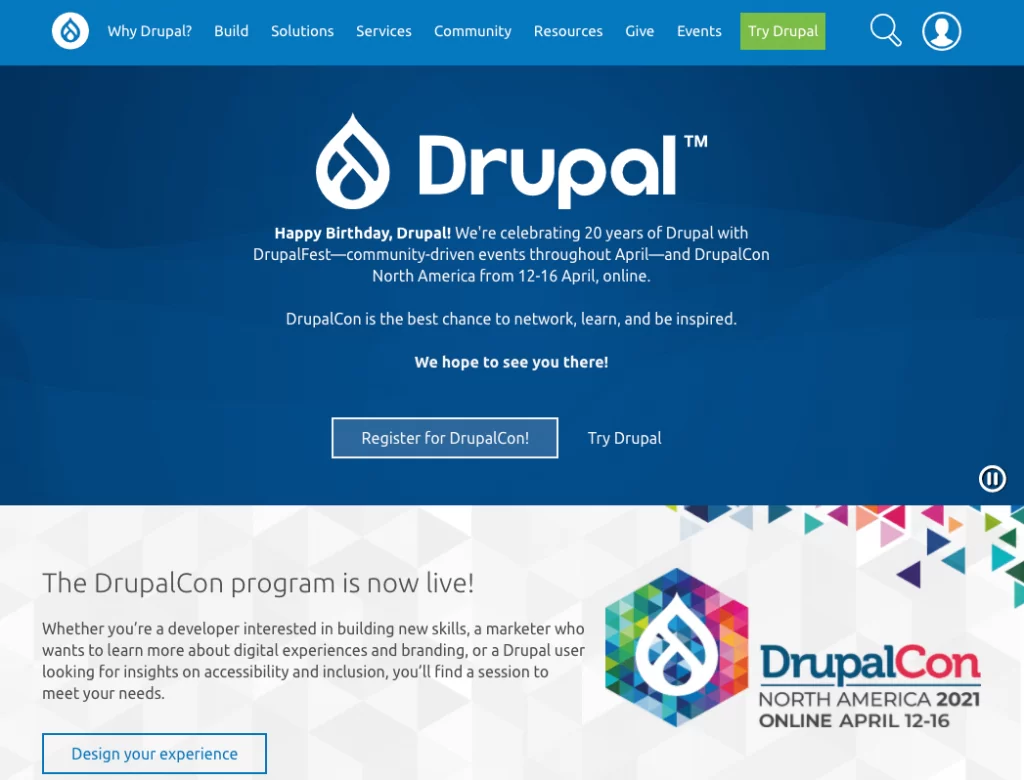 Why Drupal
The list of features available in Drupal is quite long. Here are the ones you should look out for:
Suitable for All Industries
Drupal is a platform that is suitable for all different types of industries. You can build a big corporate site on Drupal for Retail, Fintech, eCommerce or any other big industry site.
Security
Drupal is created with robust security parameters to make sure that your site build on Drupal is secure. Along with the big pool of developers who suggest the best security measures, Drupal has dedicated staff members to look at the security of the platform.
So, even if you are managing a site that needs large transactions of money, you will have your back all the time.
Drupal is Multilingual
Drupal is one of the best platforms when it comes to the multilingual options. You can use Drupal in more than 100 different languages.
So, if you wish to create your website in a language other than English, you will have not problem with Drupal.
Third Party Software Integration
Drupal integrates perfectly with most of the leading software that businesses need to use such as HubSpot, Shopify, Salesforce, and more.
Taxonomies
Taxonomies are something very unique in Drupal which you will not find in many of the other alternatives like WordPress and Joomla. This feature is used for easily and effortlessly classifying your website content. Creating taxonomy in Drupal is feasible for all kinds and types of business organizations.
Easy to Create Menus
Creating menus in Drupal is very easy and quick. You can create menus in Drupal for organizing the content of your website and making your navigation easier. Creating and adding menus in Drupal is the simplest in the category.
Drupal Blocks
These are specific content blocks that can be inserted in specific places, such as articles, blogs, forums, and so forth. You can also adjust and configure the visibility, region, and title of your blocks very easily in Drupal. That said, adding blocks in Drupal is quite convenient.